Women's Hoop Report 67
March Madness: Cleveland State wins WBI, FIU takes consolation title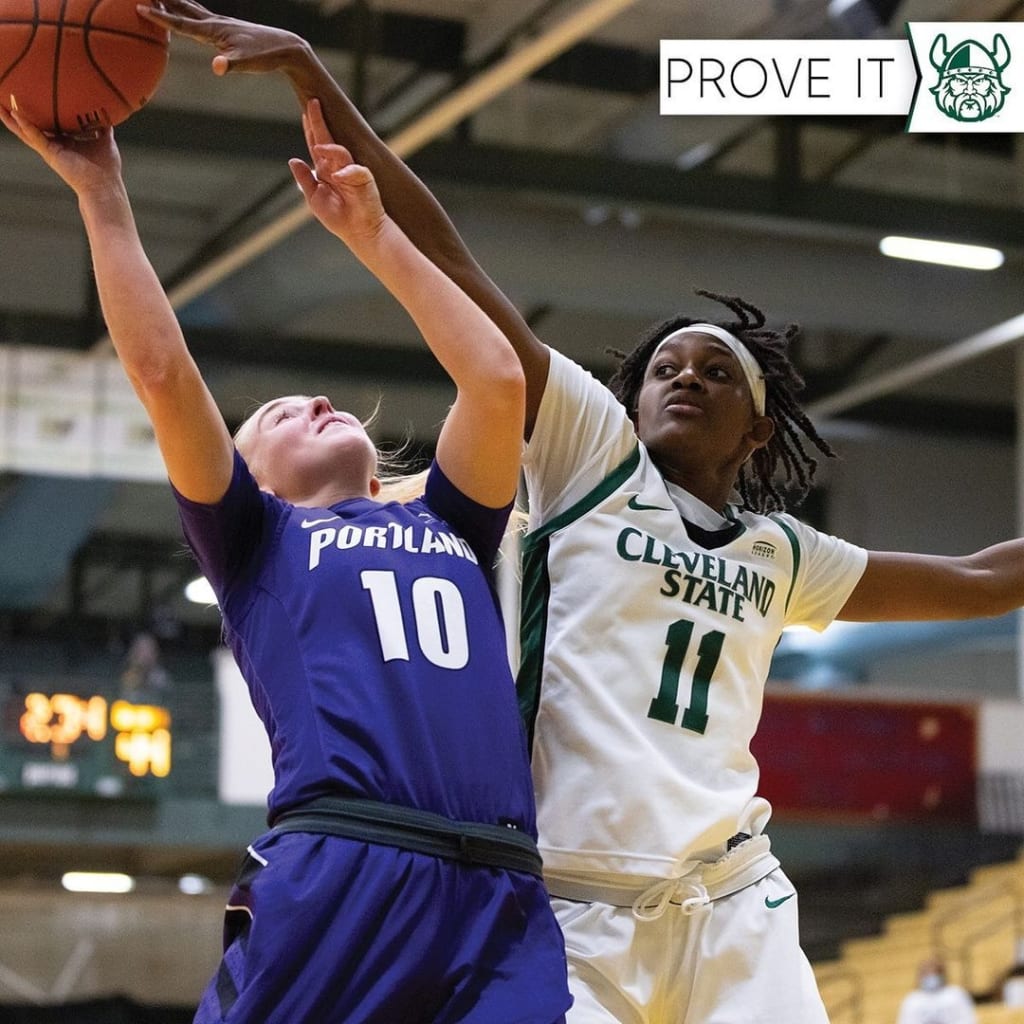 Hayley Andrews (10) & Aminata Ly (11)
Women's Basketball Invitational Championship Game
Cleveland State 67, Portland 64
Cleveland State won its first ever postseason title when it defeated Portland 67-64 in the Women's Basketball Invitational Championship game, Sunday night.
Portland's last lead came with one minute to play at 62-61. The game was tied 62-62 when Destiny Leo drained a three with 20 seconds to play to put Cleveland State ahead 65-62. The Vikings kept the lead the rest of the way as forward Isabelle Gradwell hit two free-throws with five seconds left to hold on for the win.
Cleveland State's top scorer Mariah White snapped out of a slump to lead her team with 24 points and a team best six steals. White, who scored at least 21 points in all of her Horizon League Tournament games, averaged just 15 points in her first two WBI tournament games. She also hit just nine-of-31 shots as well. In the championship game, White got things right with nine-of-17 shooting (52.9 percent). It was her best percentage since Jan. 15 when she made 57.9 percent of her shots draining 11-of-19 buckets in a 29-point performance against Wright State.
Leo continued her amazing shooting, finishing the game with 15 points, knocking down five-of-12 three-point attempts. The freshman led the Vikings in the semifinal game with 21 points, in a game where she knocked down five-of-nine threes. Reserve center Aminata Ly had yet another strong postseason game. The developing sophomore grabbed a season best 14 rebounds off of the bench. After averaging just 3.2 rebounds in her first 17 games of the season, Ly averaged 13 boards per game in Cleveland State's three wins during the Women's Basketball Invitational. The Vikings got a double-double from Gradwell with 13 points and 10 rebounds. Cleveland State completed its season with a 14-9 record.
Portland received 22 points from forward Alexis Fowler in the defeat. Guard Haylee Andrews posted 14 points, 12 rebounds and six assists for the Pilots as well. Maddie Muhlheim led all players with seven steals, while scoring 13 points for Portland.
WBI Consolation Championship Game
Florida International 59, Manhattan 58
The Jaspers brought their gritty and raw style of play to the Women's Basketball Invitational Consolation Championship. It did manage to slow down the previously high flying style of Florida International but the Panthers held on to win 59-58 on Sunday afternoon.
Above: Kyla Nelson
Florida International entered the fourth quarter down 46-42, before it outscored Manhattan 17-12 in the final period. Manhattan dominated most of the game. It had an 11-point lead in the second quarter when the score was 26-15. With three seconds left in the ballgame guard Kyla Nelson rifled in a three-pointer to bring Florida International to within one point at 58-57. The Panthers won the game when Manhattan guard Emily LaPointe fouled FIU forward Emerald Ekpiteta who hit two free-throws with no time remaining.
Ekpiteta is FIU's top forward, averaging 11.3 points per game. She scored just five points, going one-of-six. She went from having a hard night to becoming a hero with the game winning free-throws.
FIU was led by Nelson who made seven-of-16 shots, including five-of-11 from three. She posted a double-double with 21 points and 11 rebounds. Guard Jiselle Thomas almost had a double-double for Florida International, when she had 18 points and nine rebounds.
Manhattan's offense slumped in the second half. The Jaspers scored 35 points in the first half and just 23 in the second. FIU survived having 21 turnovers and just nine assists by making defensive stops and outrebounding Manhattan 48-39. The Jaspers had two players get double-doubles. Center Courtney Warley had 11 points and 16 rebounds. Reserve Jenna Jordan posted 10 points and 10 boards. Manhattan was led in scoring by DeDe Davis' 21 points.
Reader insights
Be the first to share your insights about this piece.
Add your insights