Without fans, it just isn't the same
My before Covid-19 flashback - Travel, Rugby and Rome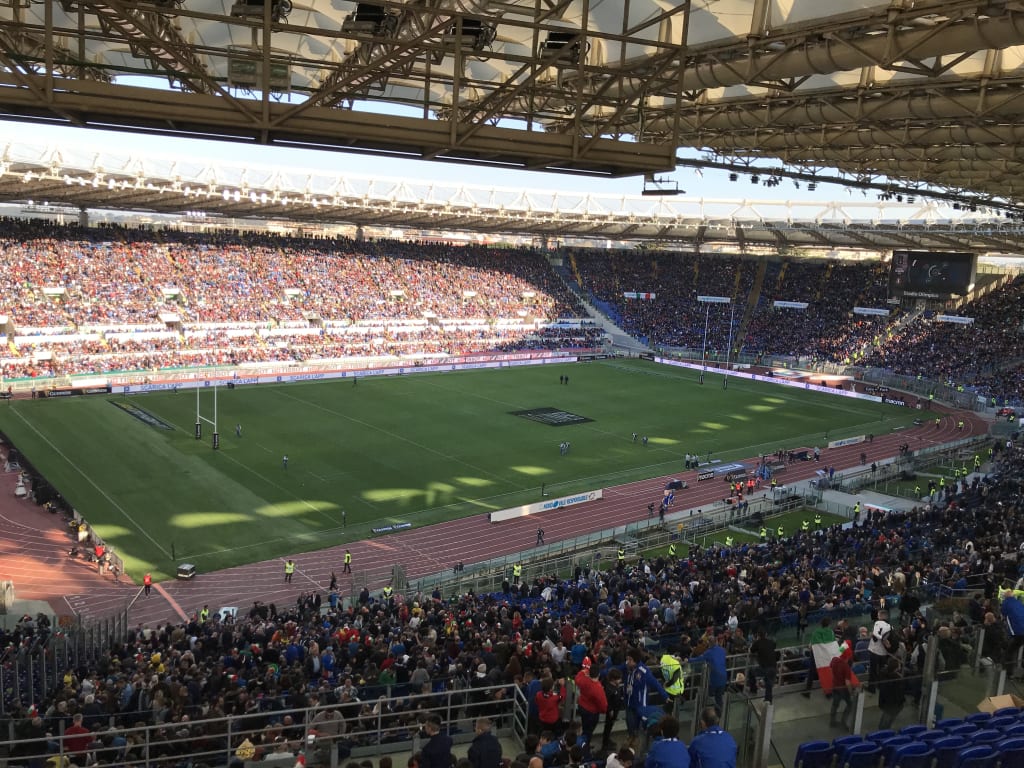 Stadio Olimpico in Rome
It seems like a lifetime ago that we were allowed to hop onto aeroplanes and fly to cities that would show us a little additional piece of the world puzzle. It was a regular occurrence for me to travel all over the United Kingdom and various other locations in Europe because of the work that I do. I work in the sport television industry and the last destination that I got to enjoy visiting was the magnificent Rome. Thus my flashback encompasses the sad truth that we cannot gather together at sporting events anymore, something I most certainly will never take for granted again.
An early morning on the 21st of February saw me arrive at Luton Airport, excited and ready for another incredible work experience. The preceding weeks had already brought their share of unfortunate events, as the year 2020 would exact revenge on the world's inhabitants for unknown reasons. Not long before my trip to Italy, Storm Ciara had grounded all flights while I was in Limoges, France. Who would have known that this would become the least of our worries in the upcoming months?
To have safely managed to arrive in Rome without too much turmoil was in itself an accomplishment. The pilot did however have to make a loop before approaching the Leonardo da Vinci–Fiumicino Airport. It wasn't safe to land just yet. This wasn't so much a glitch as an opportunity to see Rome from a completely different angle, as we made our way towards the ocean. The water was glistening below in the warm and welcoming sun, which only fuelled my excitement. To have witnessed the Italian coastline along the Tyrrhenian Sea for the first time in my life was something special indeed.
There is always that moment of relief, no matter how many times you've flown, when the aeroplane touches down safely. And so my journey to one of the most extraordinary cities that I had ever had the privilege to see was about to begin. After having collected all of my luggage and found a taxi, it was off to the Stadio Olimpico to prepare for the Six Nations match between Italy and Scotland.
Caesar Augustus once said, "I found Rome built of bricks; I leave her clothed in marble." Everywhere the eye stretched were historical depictions of the great Roman Empire. An empire that was brutal and yet devoted itself to art, infrastructure, religion and so much more back when it was the ruler of various regions. The Stadio Olimpico was no different. I had never seen so much history surrounding a stadium before. Much like Rome itself, as I would later discover, everywhere you looked was an 'ode to the past'.
After having ensured that I was ready for the big rugby match the next day and having accomplished all of my preparations, it was time to explore this majestic place. Each monument visited and historical landmark deserve an entire book series dedicated to it. The Vatican City, the river Tiber, Castel Sant'Angelo, the Colosseum and so on and so forth. I walked for hours, passing people from various countries, that were also marvelling at a city exuding historical information wherever one went. I walked until I found some Scottish supporters playing the bagpipes and I joined in with a song or two. The beauty of sport is that it connects so many people from all over the world. I walked until I was too tired to and enjoyed a Pizza before heading back to my hotel.
The next day thousands of people came to watch Italy versus Scotland. They were dressed up, singing and of course the Scots brought their bagpipes and kilts. People were dancing to various bands and musicians that could be found scattered all around the outside areas of the Stadio Olimpico. Who could have predicted that in the coming weeks these scenes would seem surreal as this magnificent country would be forced into a war against an invisible enemy. Italy would become a country that was horrendously affected by Covid-19 and thousands would die. Although their men's national rugby team would go on to lose 17-0 to Scotland, it was still a day to cherish. My heart bleeds when I think of how many people have been affected by this pandemic.
It was the last time that I got to experience a sports game with fans and for it to be a Six Nations game was amazing. While the Bundesliga has been an incredible source of entertainment since we all became legally bound to our apartments, there is nothing that I have learnt to appreciate more than hearing the sound of a crowd in a sold out stadium. Sport is meant to be lived, not merely just watched. Therefore I cannot wait for the day when all of the supporters will be allowed back into stadiums again. To hear the buzz, the talk and the excitement before kick-off. To see the little kids wearing their favourite sides' shirt and the parents telling them all about the traditions of the place they are visiting. If Covid-19 has taught us anything, it is that when we do things together, they are so much better.