Winters shakes up Snow Globe Invite at Otterbein
Three-time NCAA champ dominates at Ohio meet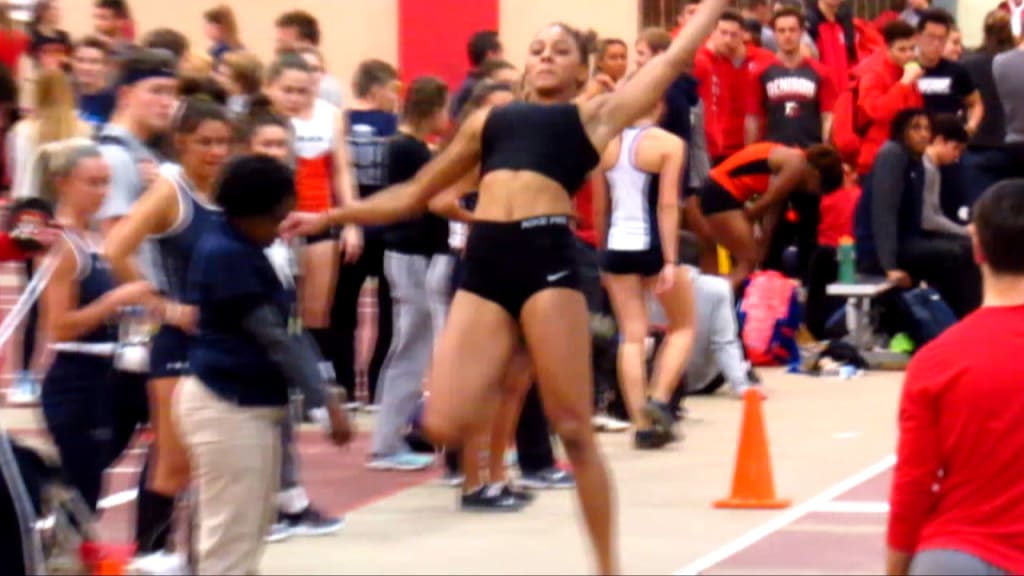 Melanie Winters
Melanie Winters took wins in the 60-metet dash and long jump competitions at the Otterbein Snow Globe Invitational, Saturday, Jan. 18 in Westerville, Ohio.
The unattached 26-year-old pro took on a field of collegiate competitors in her second meet in as many days.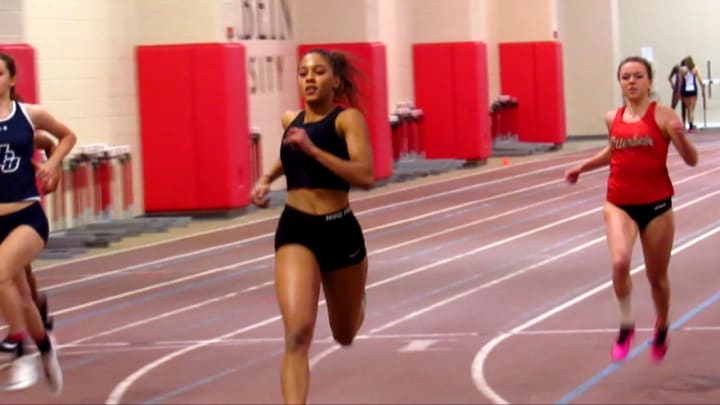 "I did a meet last night so I'm a little bit sore now," Winters said before competition started. "Right now we're just trying to experiment. I'm experimenting with pre-loading before meets. I'm experimenting with what I eat, how I sleep. My lifting has changed completely this season, compared to last season. I was a multi-event competitor last season, now I'm just a long jumper so this right now is just experimental. We're trying to figure out what's good for me, what's going to work and trying to get me to the best level that I can."
At Otterbein University, Winters took the long jump, besting 16 other competitors. Her jump of 5.97 meters placed her ahead of Courtney Phoennik of John Carroll (5.34) and Destinee Rencher of Otterbein (5.21) who finished second and third respectively.
Winters outpaced the field in the 60-meter dash. She ran the top time of 7.79 in the prelims before winning the finals round at 7.75. In both events Winters took on all collegiate contenders. "Sometimes I feel old," she joked. "I'm like gosh, I can't move like you guys anymore ... I'm 26, not really that old but when I'm at college meets and everybody's 22, I'm like crap," she said with a laugh.
On a serious note, Winters is working to compete in the Olympic trials. During her days in college at Baldwin Wallace she took NCAA Division III national titles in the 200-meter dash, long jump and 100-meter hurdles. "After my senior year of college, I was kind of done with track," she said. "An Olympic coach from California messaged me on Facebook and asked me if I was considering continuing my career."
Over the past three seasons behind the guidance of coach Jeff Petersmeyer, Winters was competing in pentathlons and heptathlons. This season she has decided to focus only on the long jump. Petersmeyer is an assistant at Louisville and is also a product of Baldwin Wallace where he was placed in the school's Hall of Fame.
"He actually went to Baldwin-Wallace 20 years before I did," Winters said. "We're both alums and that's how he heard about me so he was just really interested and really helpful."
During her senior season at Baldwin Wallace, Winters helped lead the team to a national championship. The school in Berea, Ohio actually gave the team a parade. "There was no confetti like I wanted it to be ... but it was really exciting," she said with a smile. "Just coming back everybody was happy for us. We were the first national champion in like 30 years or something. I think it changed the school as a whole of just like, 'Okay, we can be a part of something big.'"
Winters almost didn't make it to her senior season as she considered leaving the sport through her ups and downs as a freshman. "The person who recruited me actually wanted me to be a national champion in the multies but he ended up going to Case Western Reserve so that actually changed everything," she said. "I was really down my freshman year. Everything wasn't going how I wanted it to. I almost quit so many times. I was just hanging on to track because I love track so much. It's crazy that I'm here now after everything I've been through."
The talented athlete said that track has prepared her to keep going in life. "My biggest lesson is [I'm a person who] refuses to give up, come any adversity that I've come through. Hardship comes and some times it breaks the camel's back but you have to pick yourself up and keep going. I've found so much respect for myself through all the things that I've faced and overcame through track."
As of last week Winters ranked 40th in the long jump among US competitors according the World Athletics rankings. Her 5.97 jump from Saturday, is also one of the top 40 marks of the season in the US.