Will LeBron Make History?
Becoming All-Time Scoring Leader Over Kareem Abdul-Jabbar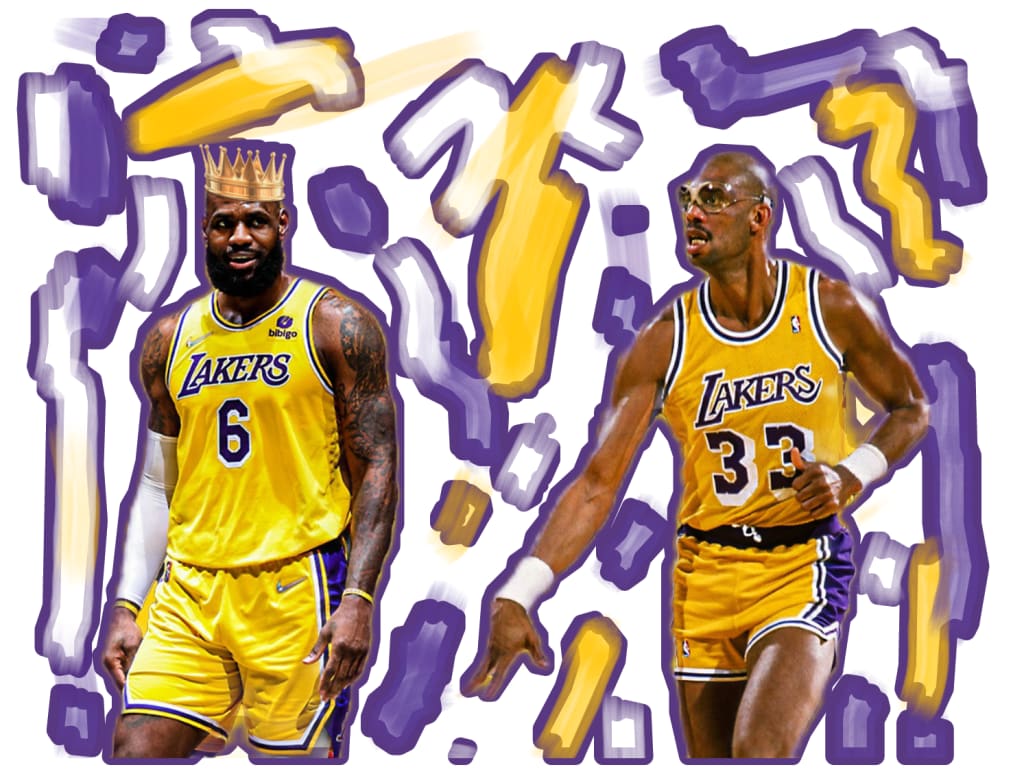 King James walking into history in year 20 by breaking Kareem Abdul-Jabbar All-time scoring record.
Year 20 will be history making
Wow, LeBron James what a season he had as fans watched this 2021-2022 NBA season. The expected stars played well, but it was the unexpected stars that gave the fans a show. The NBA showed they were back in full force after the Covid-19 shutdown and vaccine protocols. From Durant back from ACL injury, to the Bucks coming ready to defend the trophy, to Harden to the Sixers and now Durant and Kyrie back on the court together. The excitement was so much that the star power we expected to be the highlight was overshadowed once again by the King. LeBron was on a mission, but the memo wasn't given to the rest of the Lakers team. While LeBron James was having one of the best season of his career it was spoiled by the Lakers not making the playoffs and trade rumors. His stats for season 30.3 PPG, 8.2 RPG, and 6.2 APG and would've actually won the scoring title of the season if he would've played the last few games of the season. Honestly, I think and I heard other media say, they believe he done that far as sitting so it wouldn't seem he was stat chasing. Especially when his team didn't make the Playoffs.
Will he make history?
Well according the site ClutchPoints, Lebron James has 37,062 points scored and the legend and Hall of Fame Kareem Abdul-Jabbar has 38,387 points scored as he sits at the top of the All-time scoring list.
LeBron James would only need to average 16.2 points per game. That's a season low and I think on his worse day he can average this amount in his sleep.
With him accomplishing this record as long there's no interruptions in his playing time this upcoming season will this make him THE GOAT over Michael Jordan who most see as THE GOAT?
LeBron once said Brady is not The GOAT, but Jordan is a great player of course but all around player of the game there's no one like LeBron James. By the time he retire he will be at the top of most records and to be looked at as a passer of the game, being able to be at the top of All-time scoring list is amazing. People debate at home, schools, barber shops, in the media, and even church of all places. Debating about two accomplish men. One that got put on JV and taken off varsity because the young MJ was told he wasn't good enough. Then the other who on his first interview at 16 yrs old told the interviewer he wanted to be the best player to ever play the game and to become a champion. Well we all became Witnesses to the young kid from Akron, Ohio who had dreams grew up admiring the one he's now debated against. Let's just agree to disagree, it can be two goats on a farm it's just one is built different and roam to his own drum.
This season haven't even started, but already you've heard and seen LeBron James in the headlines.
He's been giving the fans a preview by playing in different summer league games such as LeBron 42 point Drew League performance. He's been up by 4am training already getting prepared for year 20 of his career. Besides the side shows that been going on with trading issues and players staying or going. One thing we all know and wasn't surprise to read, is LeBron James resigning and staying with the Lakers. People, LeBron James is mad and has stated he couldn't take it being at home during the Playoffs and deem to never do it again. Strong words from a guy 20 years in. The league and the GM's make someone else the face of the NBA, but they either get into a scandal, injury, or bad season. Let's face it, LeBron James take his game seriously and stays ready. He's ready to take his throne back by gaining the top seat from Kareem Abdul-Jabbar all-time scoring record. Can he do it? Will he make history once again? Let's enjoy this season, because LeBron James about to show us all while he's still King.
About the Creator
Wil McMurran Jr is an exceptional man of many talents, but of all talents, Wil McMurran found his passion and love with writing. He loves creative writing and also has ways to use his writing to help give back. please contact and follow.
Reader insights
Be the first to share your insights about this piece.
Add your insights