Why the Ducks Are Not a Measuring Stick for Your Program
The Oregon Ducks offensive style is defined by their fast-paced, no huddle football.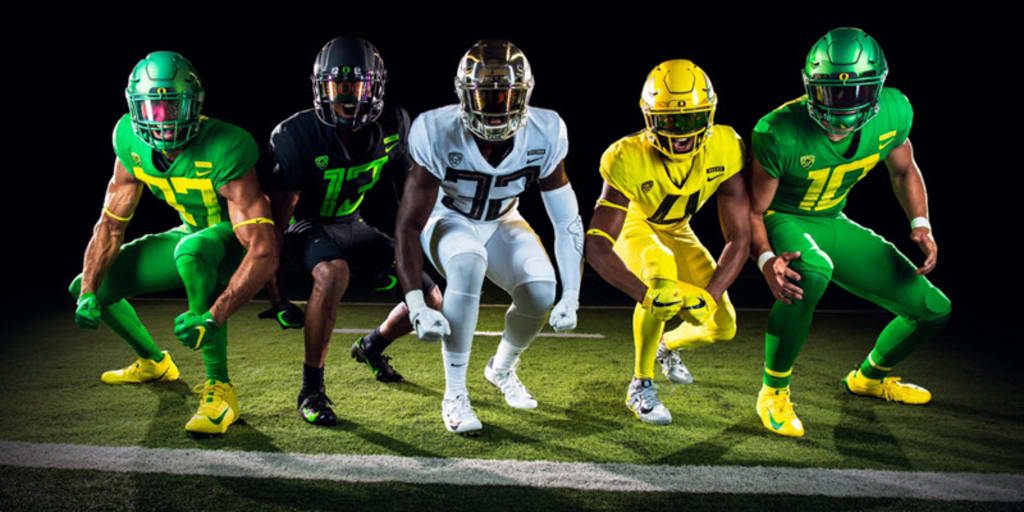 The University of Oregon football team changed the landscape of college football over the last 10 years. They set trends with many uniform combinations, fast-paced, no huddle football. The program was defined by Coach Chip Kelly, Heisman Trophy winner Marcus Mariota, and consistent winning. Being that football is a copycat sport, a lot of high school coaches tried to emulate this style, under the assumption that what works for a Pac-12 Powerhouse will help them win on Friday night.
I'm not trying to bash the Ducks. They have had much success, and their style has worked for them—but not for many other people. I listened to Mario Cristobal, the current Oregon Head Coach, present at a coaches clinic last year. He is an old school no-nonsense coach I am inspired to be. I am also a fan of strength coach Aaron Feld. I"m thinking of putting a "Fill the Sleeve" sign in my weight room.
Their offense is built for the players they recruit.
The Oregon Ducks offensive style is defined by their fast-paced, no huddle football. They led college football in scoring multiple seasons. Unfortunately, a lot of local coaches try to imitate this style on Friday night. It is a reoccurring mentality amongst Oregon high school coaches, "We are gonna do that cause it looks cool and the Ducks do it!" Keep in mind that having had some success with this style of play. They have a lot of talented student athletes. However, most of us at Oregon public schools have to play with what we have.
I was an offensive line coach for one season in a similar system. It was frustrating teaching below average athletes zone block in a read-option scheme. It ended up becoming, "We are gonna give you a shove and then let you kill the running back." It is also tough to block from a Two-Point when you are undersized. Being in that stance put my undersized linemen at a disadvantage.
At my current coaching post, we play eight-man football out of a Double-Tight I formation. We coach a gap blocking scheme that is easy to teach, effective, and keeps us to be competitive with what we have. We also utilize tight ends and fullbacks to help the linemen out with blocking in both passing and running the football.
Comparing our local kids to Oregon five-star recruits kills the college ambitions of local players.
In Oregon, we do not have a large amount of college football programs, especially in Lane County, where the Ducks are the main event in town. The Ducks are a Division One program, which is made up of the top one percent of all high school athletes. Arm Chair experts compare our local kids to the four- and five-star recruits and discourage them from playing at the next level. "You are not gonna make it cause you're not 6'4" and run sub 4.4." It keeps a lot of our local talent from pursuing a playing career past high school.
If you go outside Oregon, many states will have three times the college programs and will be less picky when recruiting student-athletes. I played my college football at Tabor College, a small Midwest liberal arts college located in the farm hamlet of Hillsboro, Kansas. All of our league games were inside the state of Kansas. We rarely traveled more than two hours for a game. To survive as a program and be competitive, Tabor College has to recruit nationwide—mostly out of state. The population of our program was made up of 18 different states where I was the only kid from Oregon.
Oregon is a member of the Pacific-12 Conference, which is noted for having teams built around speed, finesse, and offensive firepower. It is a west coast mentality that is bad for the sport. Oregonian football players are not the fastest or the strongest bunch, but we have one highly underrated trait amongst college athletes, in the fact that we are mentally tough and we play physical.
When you go outside the pacific northwest, especially in the midwest, these attributes are highly valued—especially amongst small college programs that play hard old school, hard-nosed football. Any program that plays this way would be glad to have your sons on board.
football
About the author
A High School football Coach and a teacher in training. I was diagnosed with Autism Spectrum Disorder at a young age. I don't let it define who I am. Also, Football done right is a beautiful thing!
Reader insights
Be the first to share your insights about this piece.
Add your insights