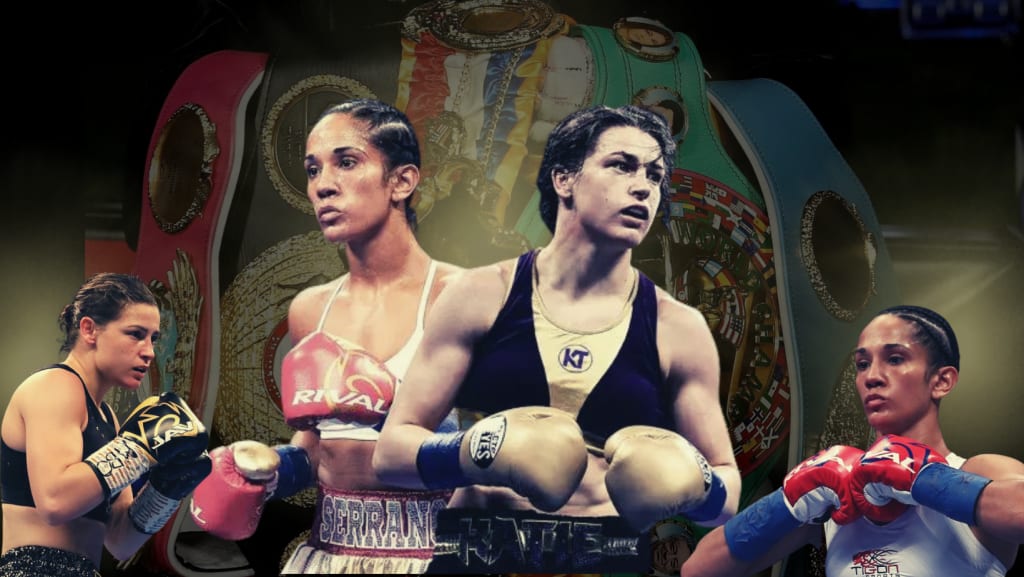 Boxing has an unspoken method within the sport to build a star. Fighters are selected based on personality or athletic prowess and cautiously brought one hand-picked fight at a time into the public eye. Some bouts are set up to puff up their fighter's confidence and to create viral knockouts. Sometimes it's simply the right time for them to step up and take a challenge, so they grow as a contender.
However, these benefits are often reserved for male fighters. Camera crews stampede into their training camps and put a professional score in the background of their workouts. They are included in photoshoots and get documentaries to build the suspense around their upcoming fight.
Their brands are built individually from their boxing careers. The audience knows where they grew up and in what conditions. We know what they've had to overcome to achieve what they have. They are placed on big cards and promoted with more passion. Their paychecks are typically double or triple that of their female counterparts.
The female stars of this era have earned their keep through years of hard work. They've waded through rejection and created an audience where everyone told them there wasn't one. Yet, two women will meet on April 30th in Madison Square Garden to settle a long-awaited score. Both have risen to the sport's top, but they took different paths.
"At the start of my pro career, every time I was fighting, I felt like I had to prove myself, even to the people watching. And you're thinking to yourself, 'OK, are they looking at me as if this is a circus act, or are they going to treat me like a genuine fighter?' "

-Katie Taylor
One riveling in the support of her nation, picking up accolades and shining a spotlight on women's boxing through her amateur career. Another, who for years toiled in the dark. Having only ten amateur fights but dominating the professional ranks across seven weight divisions- at times fighting for as little as a thousand dollars a fight.
Katie Taylor, who has the fundamental crisp fighting style of the amateurs, will face Amanda Serrano with one-punch knockout power and the grit and skill to keep on coming forward. Both women have earned their spot in history, but which will be recorded as the best?
Madison Square Garden's Importance to Boxing
Taylor versus Serrano will be the first women-headlined fight at MSG. A venue that has been the cornerstone of combat sport mega-events. This bout will be no different, already cementing itself as the second highest-grossing presale in Madison Square Garden History. But to truly understand the importance of this venue, we have to visit the fights that created it.
Coined "Fight of the Century" this bout took place at The Garden on March 8th, 1971. Ali's contentious lead-up included harsh fight words as he sought to get back the titles stripped from him for refusing to fight in the Vietnam war. Ali was more emotional, fighting for political ideals, while Frazier was stoic throughout the build-up. When they met in the ring, it was the first time two undefeated heavyweights fought for the title.
The fight itself was a war that ended with Ali getting dropped in the 15th round, losing a decision, and picking up the first loss on his record.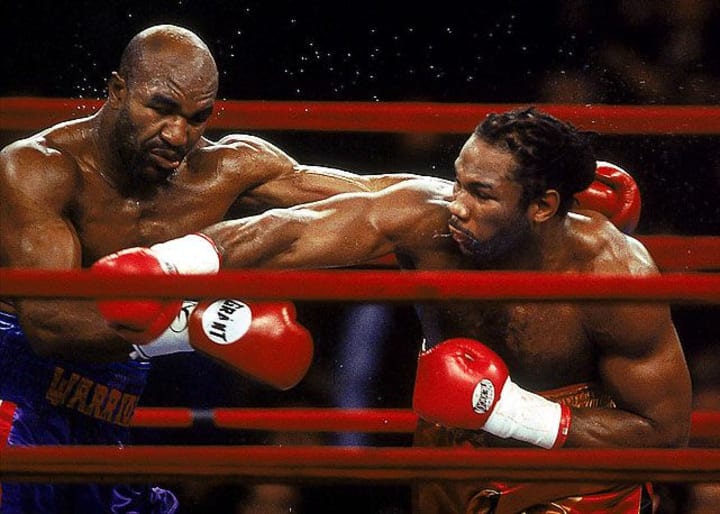 Real Deal Holyfield and The Lion Lewis met in the Garden in March 1999. Lewis, who is regarded by some as the best British heavyweight, was thought to have edged out the decision. Yet, the judges ruled it a draw. The crowd booed the decision, but ultimately it stood, and Lewis went on to get revenge in the rematch.
Anthony Joshua was well on his way to thoroughly cleaning out the heavyweight division as he set to make his American debut against Jarrell Miller. Mere weeks out from their June 2019 bout, Miller tested positive three times for banned substances. Andy Ruiz, who casual fans thought was overweight, slow, and an easy touch for AJ, stepped in on late notice to challenge for the titles.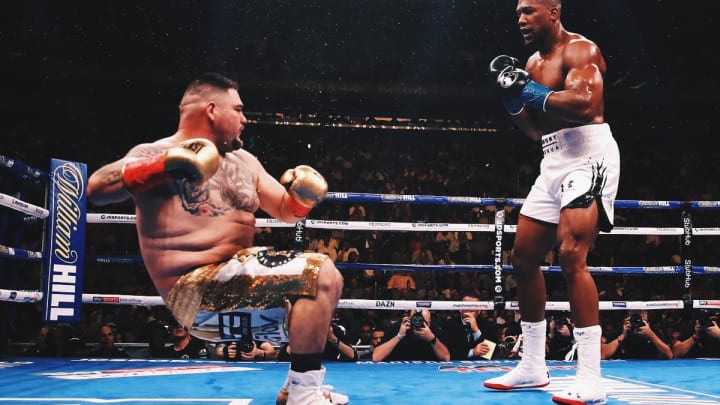 In the first few rounds of the fight, it looked like AJ would make easy work of Ruiz, sending him to the canvas early on. However, he would later be caught coming in with his typical forceful style and be dropped himself. After the shot, he never got his legs back under him and was repeatedly sent to the floor before the fight was stopped, and he was stripped of his titles. The night was somber for the megastar, and the fight stands as one of the biggest upsets in history.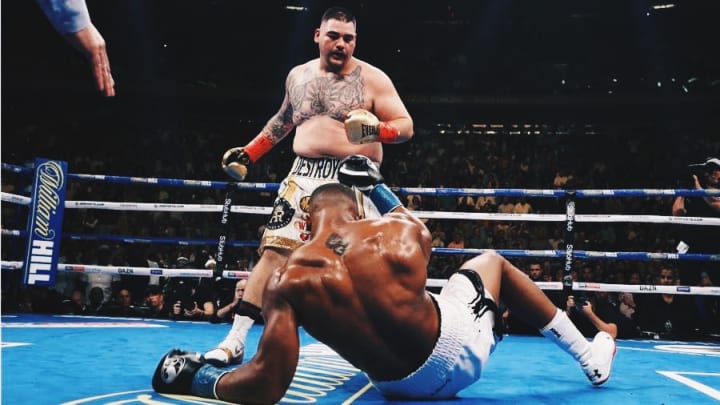 He won the rematch by staying on the outside and boxing. Ruiz came into the rematch heavier than their first fight and struggled to maintain his previous pace. However, Anthony Joshua's style never was the same. He boxed more cautiously and didn't have the same killer instinct we saw in his prior fights.
There have been some monumental events at Madison Square Garden. The venue is always at the precipice of evolution within the sport. It will be no different when Katie Taylor and Amanda Serrano- the #1 and #2 fighters in or around their weight division, meet there on April 30th. However, you may still wonder how these two women found themselves on the doorstep of one of the biggest fights in women's boxing history.
Katie Taylor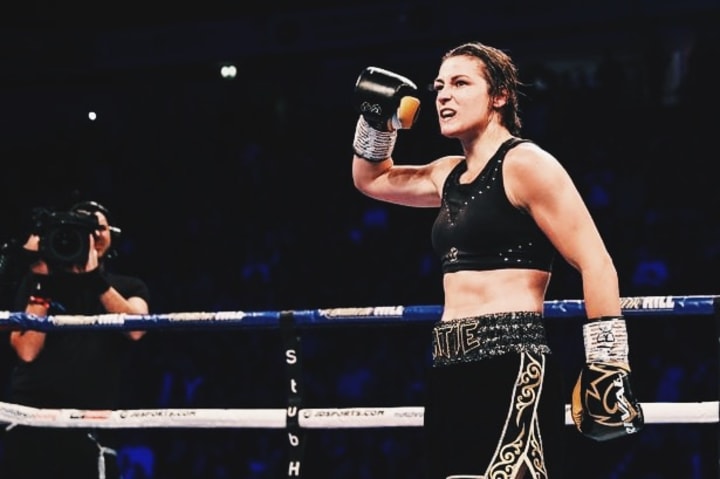 Katie Taylor was born in Ireland and started boxing at ten years old. At the time, she wasn't concerned about a career as a professional and instead only wanted to compete in the Olympics. She had this aspiration at a time when there was no women's professional boxing in Ireland, nor was it sanctioned by the Olympics.
"When I started boxing as a 10-year-old girl, my whole focus back then was to become an Olympic champion... I feel like I have had to break boundaries my whole life, even back then when I was just starting out in the sport."
Taylor's love for the sport propelled her into the public eye despite no clear path forward. During her amateur career, she won five consecutive gold medals at the Women's World Championships, six gold medals at the European Championships, and five gold medals at the European Union Championships.
Taylor grew to immense popularity in Ireland and used her audience to advance women's boxing. In 2012 she was the flag bearer for Ireland in the first Olympics that hosted women's boxing. She won a gold medal that year in the Lightweight division.
She went pro in 2016, signing with Matchroom Boxing and Eddie Hearn. This was the beginning of a fast-paced winning streak that started with a technical knockout of Karina Kopinska in November of 2016. Her record includes notable wins over now 147-pound undisputed champion Jessica Mcasskil in 2017 and a victory over Amanda Serrano's sister, Cindy, in 2018.
In 2019, she became the undisputed Lightweight champion in her clash with heavy-handed and rugged opponent Delfine Persoon. There was some debate amongst fans on if Katie really won that bout, and the two ran it back in another war during the pandemic that saw Katie more decisively victorious. Still, that come-forward style gave Taylor trouble and left potential weaknesses to exploit in her armor.
Fans have called for the Serrano fight throughout her career, but it could never be made because of money disagreements. With formidable competition dwindling, Taylor hasn't performed to her potential in recent contests. Barely edging out decisions when she used to dominate every round. Nevertheless, fans hope a rise in competition against Serrano will bring out the best in Taylor.
How Katie will Have Sucess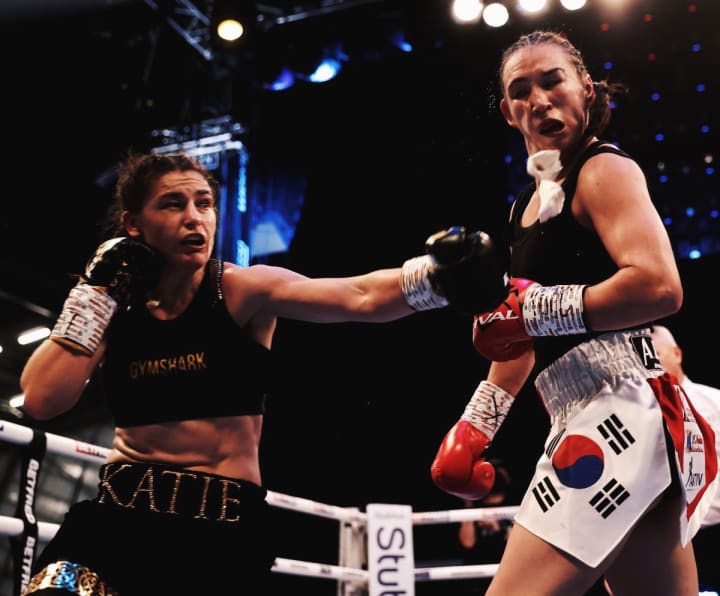 Katie is the more technically skilled fighter of the two. She has a mean one-two that she throws accurately and uses to close the distance very quickly. Serrano is coming up in weight and may not be able to react fast enough to get out of the way of Katie's punches. Taylor isn't known for knockout power, but she is effective in the pocket and has quick hands.
Taylor should box and move, utilizing her jab to set up combinations. She could easily coast to a points victory if Serrano isn't willing to cut off the ring and force the action.
Amanda Serrano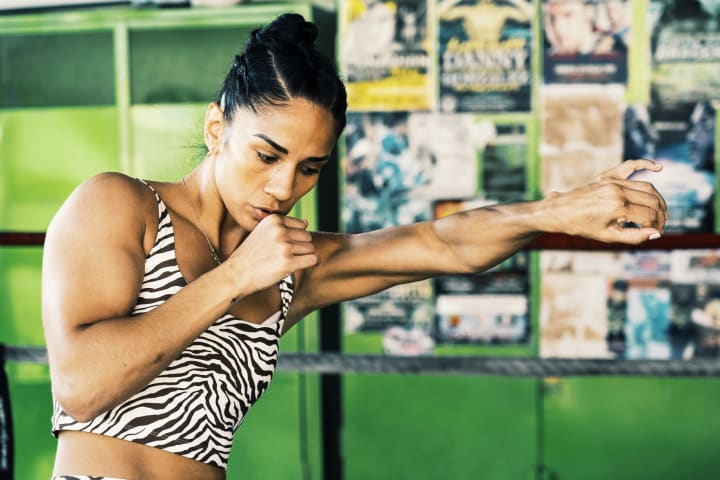 "No matter what I'm always going to be Amanda from the block…from Puerto Rico to New York, nothing will change me."

-Amanda Serrano
Across the pond, Amanda Serrano was raised in a Puerto Rican hub of Brooklyn. She had a passion for swimming, but when her sister started boxing to lose weight, she would tag along to the gym as a way to bond.
She began to go regularly and eventually started working there. In the beginning, boxing wasn't her passion, more of a means to an end. But her love for the sport developed slowly with age. When she told her family about her plans to pursue boxing, her dad was supportive, while her mother was more hesitant. In an attempt to dissuade her, her sister and trainer Jordan Moldonados set up a sparring session with a male they knew would go all out.
Serrano left the ring in tears but kept coming back day after day. She stayed at Moldonados' gym in Queens with him as her trainer and only a handful of others with influence on her career. Earning an income was one of her primary motivators, so her amateur career was short, with only ten fights and a record of 9-1. She did, however, win the Staten Island Amateur Championship in 2008.
She made her pro debut the following year, on March 20th, 2009. From the beginning of her career boxing took the forefront of her life. For a majority, she didn't even own a cell phone. She fought five times within her first year as a professional-knocking out two of the five opponents before the second of four scheduled rounds.
By 2011 Serrano was a world champion, picking up the IBF Junior Lightweight Title with a TKO over Kimberly Connor. Serano dropped Connor to her knees with lethal blows before the referee stopped the fight in the second round.
On April 27th, 2012, Serrano suffered her first and only loss to Sweden native Frida Wallberg. The loss marked the start of a ten-year span of dominant performances. She knocked out her next nine straight opponents. Since the defeat she has won 27 consecutive fights.
She either pitched shutouts, coasting to a unanimous decision, or got rid of her foes before the final bell. Even still, she wasn't paid like her peers at the top of the sport and never got the public exposure she deserved.
"I don't drink, I don't smoke, I don't party. I don't have friends"

-Amanda Serrano
She boasts one of the most impressive records in the sport, 42 wins, 30 by knockout with only a single loss. Yet she was missing something to catapult her to the top of the earnings ranks. She needed someone with influence to get behind her and bring the necessary publicity to catalyze her stardom.
Help from an Unlikely Source
Enter Jake Paul, an internet personality and businessman who added professional boxing to the list of hats he wears in January of 2020. After a string of knockouts (one of the most prominent over previous UFC champ Tyron Woodley), he stormed the sport and solidified his reputation as a respectable fighter. Serrano is also now a prominent part of his boxing cards, in addition to headling her own.
"It's unlike any other thing I've ever seen, she is the most dedicated person I've ever met. To not have a phone in today's culture, to solely focus on boxing is such a statement. This is why she will be remembered forever."
Because he entered the sport a wealthy man, he decided to start his own promotional company to protect his interests and hopefully bring about true change in the sport. Serrano and Paul are currently the only two fighters under the Most Valuable Promotions wing. With Paul's help, Serrano has secured one of her biggest paydays and finally entered millionaire status.
"Meeting Jake Paul, I already got my biggest payday. … They're pushing me. He's giving me a platform in the spotlight where other people who would never know who I am are knowing who I am now."
Where Serrano will find success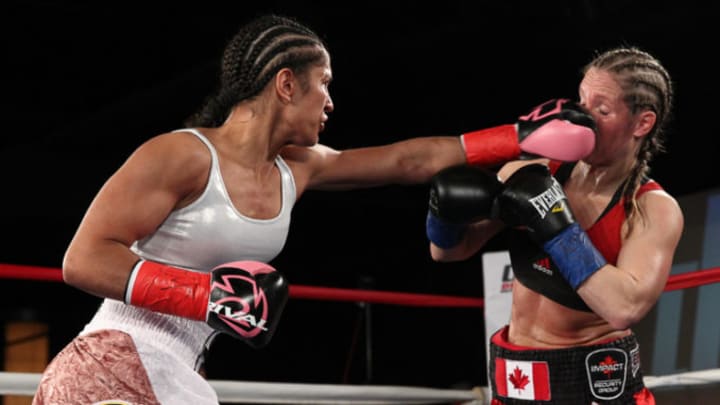 Serrano is one of the hardest punchers in the sport of boxing. If she can maintain that power over the complete ten rounds, she has a good chance of catching Taylor with something big. On the other hand, if Taylor is lulled into a firefight and willing to trade in the pocket (as she sometimes does), Serrano will get the better of the exchanges.
Serrano has excellent balance and fires off shot after shot with fluidity. She creates angles while Taylor typically comes straight forward. Serrano could step off the center line and catch Taylor coming in with a hook. Serano is also known for going to the body with chopping shots; she could tire Taylor out towards the later rounds and slow her ability to jump back out of range.
If the fight goes to decision, it will probably favor Taylor. However, punchers have a chance until the final bell. The skill sets are too closely matched to dilute this fight to a puncher versus a boxer mover. Both women have pop, endurance, and skills-the fight could go either way. The tides could change at any moment.
The stage is finally set for the two most talented to share the ring. The money is correct, the time is right, and both fighters are still in their athletic primes. The betting odds are dead even for a good reason, but I'd go with Serrano if I had to pick a winner. I say this because I think she wants this win more and has put on the better performances as of late.
Parting Words
This fight is important for boxing but even more essential for women's boxing. We need personalities that inspire us and draw a following of interested onlookers. Boxing needs knockout artists like Serrano to show that women can bang too. Women are more than capable of putting on exciting, history-making fights.
This may be the first of many, but these two women will solidify a place for future champions in the fastest-growing sport in America. No other sport is capturing young audiences in the way that boxing is right now. So many young girls will decide to pursue the sport because of what they see on April 30th, and I couldn't be more excited to be a fight fan in this era.
———————————————————————
Thank you for reading! If you like what I do and want to support me consider buying a print here.
I really appreciate your time.
Talk soon,
RJ :)
Reader insights
Be the first to share your insights about this piece.
Add your insights