Who wore number #25 on your team?
And why was he such a slugger?
As a lifelong baseball fan, sometimes I'll think about some of the strange and seemingly coincidental facts about the sport that seem to not have a proper explanation. Things like: How did Stan Musial manage to hit exactly the same number of hits at away that he did at home? How weird is it that Roger Maris hit 61 home runs in 1961? And how could the Giants only win a World Series on every other year between 2010 and 2014? One thought that has followed me since childhood and nobody else seems to realize is this: If there was a player that wore the number 25 on your team, he was probably the power hitter of your team.
This seemed to be especially true in the mid to late 90s and early 2000s. A significant number of sluggers from this era seemed to share the same uniform number for some reason. I'll even go as far as to suggest that most power hitters tend to have a 5 as part of their uniform number (e.g. Frank Thomas and David Ortiz #35, Hideki Matsui #55, Albert Pujols #5 etc.) Now why would so many power hitters gravitate to a uniform number that features a 5 or more specifically the number 25? Honestly, I can't think of a good reason why. Now, I realize what you might've thought once you read the time span at the beginning of this paragraph, "it was right at the height of the steroid era". And you may have a point, but why the number? Was it a calling card/signature for PED users? Maybe, but unlikely. Consider one of the pioneers of PED use, Jose Canseco wore #33. Ken Caminiti? Close, but he wore #21 on his MVP season and never wore #25. Another close call in Manny Ramirez as he wore #24 but not #25. No pitchers under suspicion of PED use wore #25, only Roger Clemens got close at #21 and #22. So PED (confirmed or suspected) use may not be the link. Maybe it's just a cool number? Maybe it's all a coincidence? In any case, here are some notable players who wore #25 that prove my point: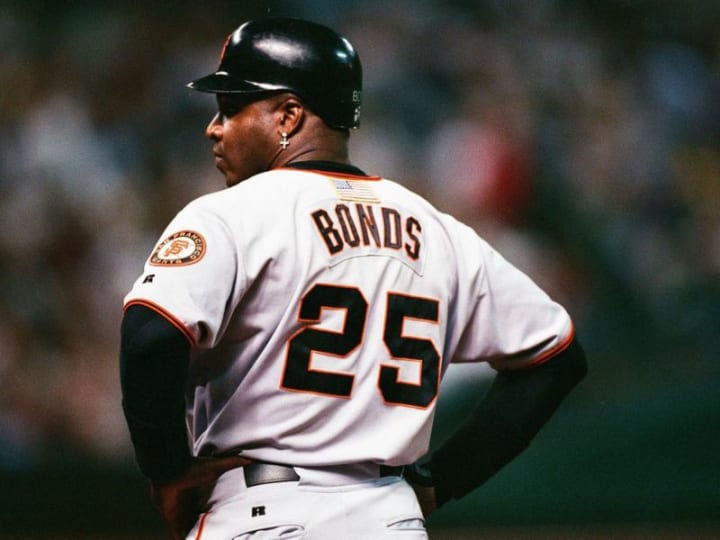 Barry Bonds
So let's start with arguably the most famous (infamous?) #25 Barry Bonds. The slugging left fielder started with the Pirates with #24 likely to honor his godfather Willie Mays. However, when he signed with the Giants, he switched to #25 to honor his father who wore the same number for the same team. Bonds played 15 years while wearing #25 and in those years he hit 586 of his 762 home runs and had a triple slash of .312, .417 OBP, and .666 SLG plus 4 MVP awards as a Giant.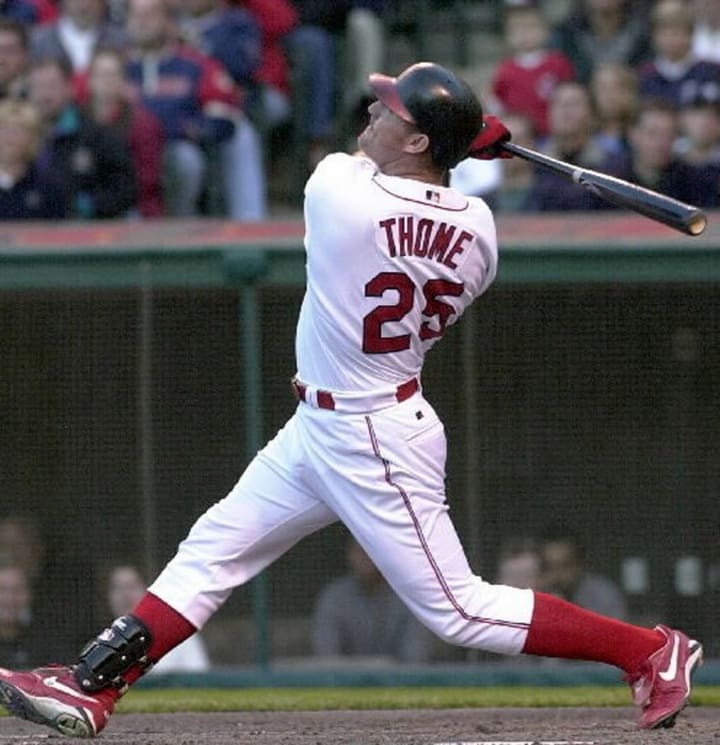 Jim Thome
This Hall of Fame first baseman wore #25 for every team he played for from 1992-2012. 510 of his 511 career home runs were hit while wearing #25 and his career slash line was .276/.402/.554. Thome was a mainstay in the middle of the lineup for the Cleveland Indians and hit 337 homers for them in 13 seasons.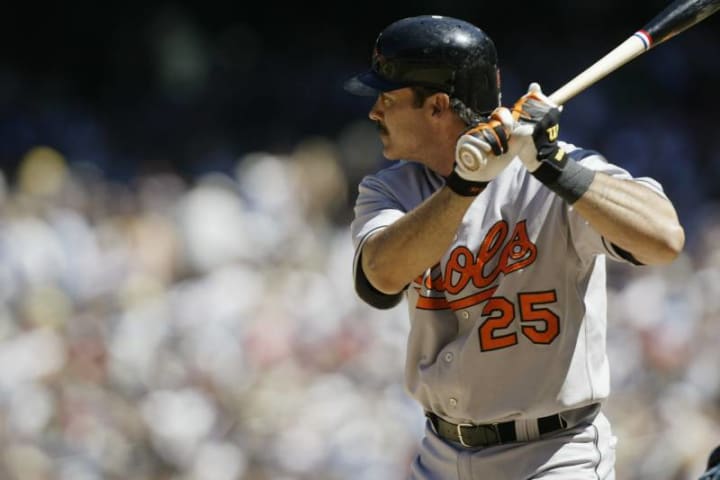 Rafael Palmeiro
Another first baseman that played nearly his entire career wearing #25, Palmeiro hit 3,020 hits, 569 of them were home runs which places him in an exclusive club as he is one of the five players in MLB history with 3,000+ hits and 500+ HRs. His best and longest stint came as a Ranger to the tune of 321 home runs and a slash line of .290/.378/.519.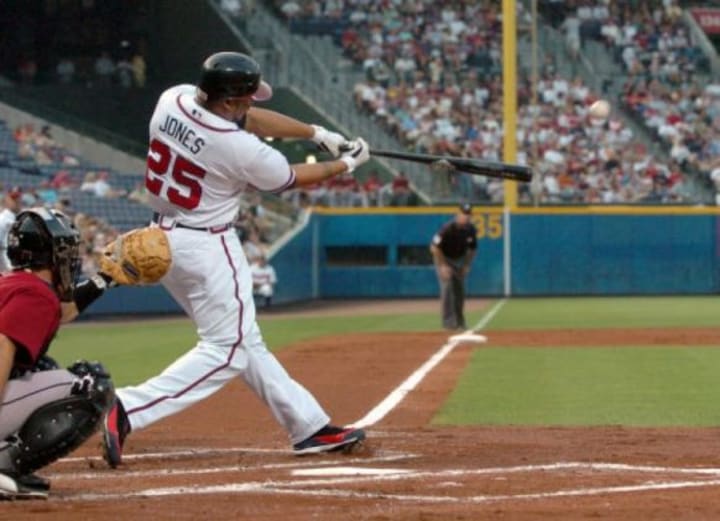 Andruw Jones
During his best years as a member of the Atlanta Braves, Jones wore #25 and was an offensive force in the lineup. In 2005, he hit a league-leading 51 home runs with 128 RBIs. Not only did he impress with his bat, Jones was equally impressive with his glove as he won 10 Gold Glove awards with the Braves.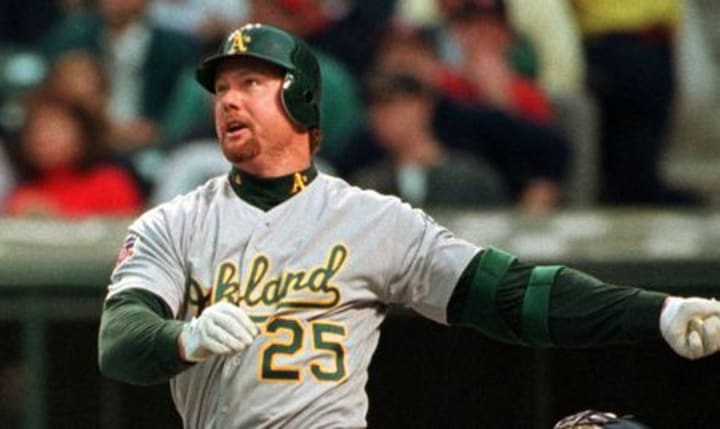 Mark McGwire
The former single season home run king wore #25 his entire career. Between the Oakland A's and the St. Louis Cardinals McGwire hit 583 home runs despite only amassing 1626 hits across 16 seasons. Throughout his career, McGwire displayed some crazy power. In 1987, he had the rookie home run record (49) until Aaron Judge surpassed it in 2017. He set the single season home run record in 1998 with 70 and then hit 65 the following year. A true power hitter till the end, he hit 29 in his final season despite only playing 97 games and only getting 56 hits.
Honorable mentions:
Jason Giambi and Mark Texeira (Yankees)
Carlos Delgado (Blue Jays)
Troy Glaus (Angels)
Derrek Lee (Marlins and Cubs)
So you see, there's a strange, inexplicable link between power hitters and wearing #25 on their uniforms back in this era. Maybe it was a trendy number at the time, not many power hitters today wear #25. Some come close (Miguel Cabrera #24, Giancarlo Stanton and Mike Trout #27) and others have strayed quite far (Aaron Judge #99). Maybe #25 was considered a good luck charm for home runs. Or maybe it was a subtle symbol of status for power. Or maybe this is just purely coincidental, baseball is known to have plenty of weird coincidences In any, case the conclusion is undeniable, if you're wondering who was wearing #25 on your team during this era, chances were that he hit dingers.