What the OBJ Trade Means for the Browns and Giants
Let's take a look at this blockbuster trade and how it affects both teams and their futures going forward.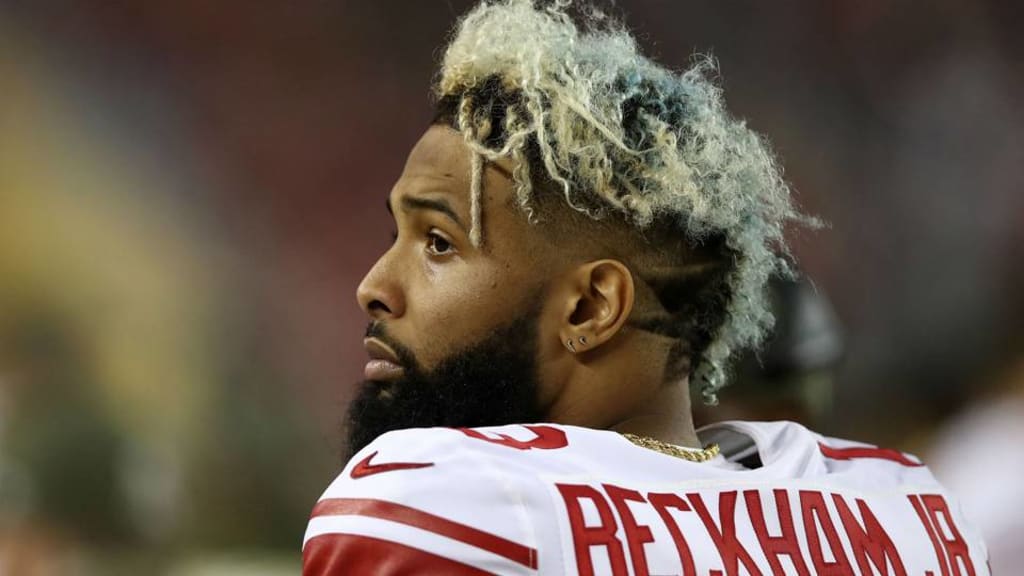 The NFL off season has brought a flurry of drama. From teams signing and trading key players to Antonio Brown's exit from Pittsburgh, we haven't experienced a free agent and trade frenzy like this in quite some time in the NFL.
Well, things just got more hectic as the Giants have traded star wide receiver Odell Beckham Jr. to the Cleveland Browns. This trade means a lot for both teams, as it seems like they are going in opposite directions regarding their futures.
Reset and Rebuild
The Giants weren't shopping Odell Beckham Jr., but they were listening to offers from other teams and were open to trading him, only if it was an offer to their liking. The Browns were a team heavily interested in OBJ's services and have been in talks with New York about acquiring the all-pro receiver. These talks intensified throughout the day Tuesday, and by Tuesday night, the news broke about the trade. If you missed all the moving pieces in the trade, here's a rundown:
Giants Receive:
Browns 2019 First Round Pick (No. 17 Overall)
Browns 2019 Third Round Pick (No. 95 Overall)
Defensive Back Jabrill Peppers
Browns Receive:
Wide Receiver Odell Beckham Jr.
The Giants haven't had the best offseason, and this trade doesn't make it any better. New York has already let Pro Bowl safety Landon Collins walk out the door after deciding not to place the franchise tag on him (he signed with NFC East rival Washington Redskins). They have also traded Olivier Vernon to the Browns as well.
It looks like the Giants have pressed the reset and are looking to rebuild. When you let young, Pro Bowl talent like Collins and Beckham go, it sends a signal that you are in the process of rebuilding the team from the ground up. What makes it odd is that they have let all of this talent go, but they have decided to keep QB Eli Manning on the roster.
This also raises questions as to why they gave him that record five-year extension worth up to $95 million last offseason. Trading OBJ, the Giants are now stuck with $16 million in dead money for this season. If the Giants were looking to rebuild, last year would've been the best year to do so, before they gave OBJ all that money.
The offseason moves GM David Gettleman and the Giants have made have left fans and experts scratching their heads. Why are you letting all of this talent go? Why are you keeping a 38-year-old QB in Manning? Does this mean a rebuild is imminent? Only the Giants know the truth, but the writing is on the wall, no matter which way you look at it.
The Giants are now in a position where they'll be building for the future. With a young core and some good draft picks, Giants fans have nothing to cheer for currently, but in a couple of years that could change. One could only hope, right?
Believeland in Cleveland
After this trade, the Browns have sent a message to the entire NFL. They are ready to win. Browns GM John Dorsey has pushed all his chips to the middle of the table with this trade, letting everyone know that he is in "win now mode."
OBJ joins longtime friend and former LSU teammate Jarvis Landry on the Browns, but their offensive firepower doesn't stop there. The Browns also have running backs, Nick Chubb, Duke Johnson, and former Chiefs running back Kareem Hunt. Let's not forget their rising tight end David Njoku as well.
The person who has all these weapons at their disposal is QB Baker Mayfield. Mayfield had a pretty impressive rookie campaign, throwing for over 3,500 yards and tossing 27 touchdowns. Coming into his second year, he will only improve as a player, and having these talented players will help his progression.
The Browns were expected to make some noise in the 2019 season before the NFL offseason, but with the Bengals being rather quiet so far in the offseason, the Steelers losing AB and Le'Veon Bell, and the Ravens losing key defensive starters, Cleveland could easily become the favorite to win their division.
After a season where the Browns went 7-8-1, they now have a roster that could easily win them 10 games. It seems like the losing era is over in Cleveland, and Dorsey, along with new head coach Freddie Kitchens, are looking to start a new era—an era of winning.
The Browns offseason has been one of the best, and they still have time to make other moves to improve their roster. With a lethal offense and a defense that shouldn't be slept on, Cleveland is preparing themselves for a season where the phrase "Believeland" has some meaning to it.
The OBJ trade has sent shockwaves through the NFL, and it sends the teams involved in opposite directions. The Giants have gone into rebuild mode (even if they won't admit it) and are now focused on acquiring talent in the draft and developing the talent they already have.
As for the Browns, they have catapulted themselves to not only playoff contenders, but Super Bowl contenders. The hype is back in Cleveland, and the dog days are just beginning for New York. At least they still have Barkley to look forward too.