What Kind of Player Do You Think Kawhi Leonard Is?
As Kawhi Leonard lead the Toronto Raptors to their first NBA Championship, NBA fans from all over the country are asking one another: What kind of player do you think Kawhi Leonard is?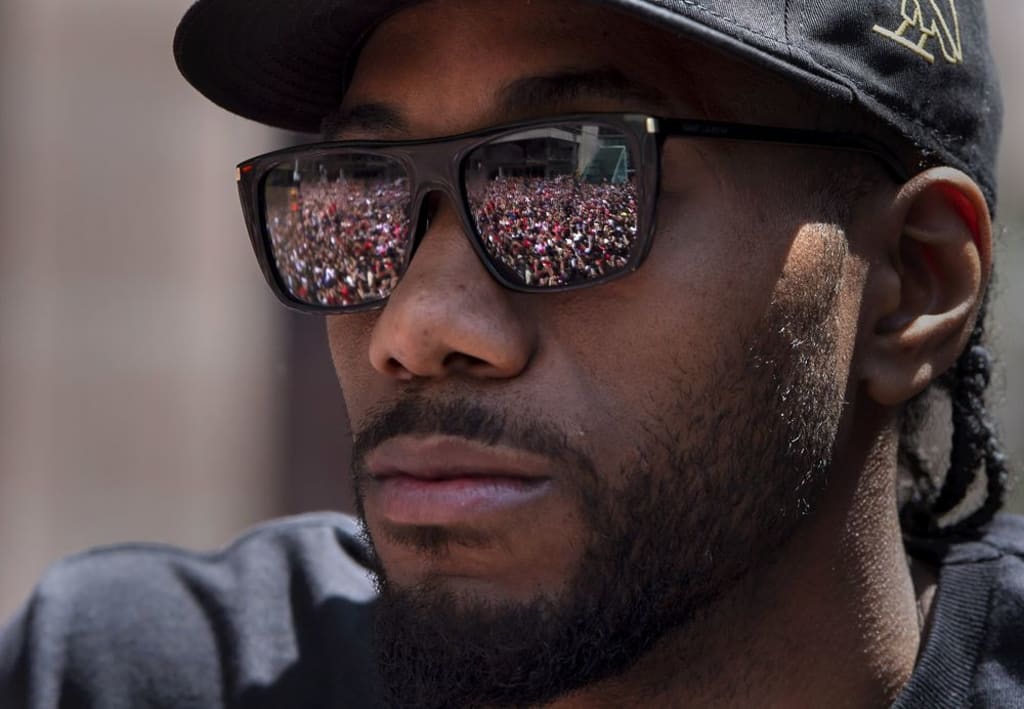 Kawhi staring at his fans during the Raptor's championship parade. Photographer: Frank Gunn/The Canadian Press via AP Photo
On Monday, June 17, an estimated 1.5 million Raptor die-hards packed into the streets of "the 6" to celebrate the city's first ever NBA championship. Toronto fans were not only there to celebrate their first ever NBA Championship, but the city's first title in over 25 years. Many laughed at the idea of Toronto dethroning Stephen Curry, Kevin Durant, and the other great players that made up the Golden State Warriors; but, as we now know, Kawhi and Toronto got the last laugh. For his contribution, it's shocking to hear many people questioning others, "What kind of player do you think Kawhi Leonard is?" Still, this is an important question, and one that should be addressed before considering his impact on NBA Finals, as well as his future in the NBA as a whole.
Throughout the playoffs, Kawhi Leonard reminded the world of how great of a basketball player he really is. From Game 7 buzzer beaters to pure dominance over what some say is the greatest team ever assembled, Kawhi Leonard is proving that he belongs in the conversation as the game's very best. Just to put his performance into perspective, Kawhi averaged 28.5 points per game along with 9.8 rebounds per game, and led his team in four out of the five major statistical categories. These numbers, however, don't define who the Compton-born athlete really is.
While some NBA stars are known for a good three point shot, a killer fade away, hardly ever missing a free throw at the line, or a gifted ability to dribble the ball, Kawhi Leonard steals the spotlight with his unique personality. In a league where players are known for having the biggest of personalities, Kawhi contradicts the stereotypes with his oddly bland persona. While most of the stars in the NBA have big egos and live luxurious lifestyles, Kawhi has always kept it simple and straightforward; on and off the court. As human beings, our personalities are a product of our upbringing and our environment. Many people tend to be curious as to what type of player Kawhi Leonard is, and his path to Toronto Raptors helps us paint the picture as to how he became such a humble superstar.
Youth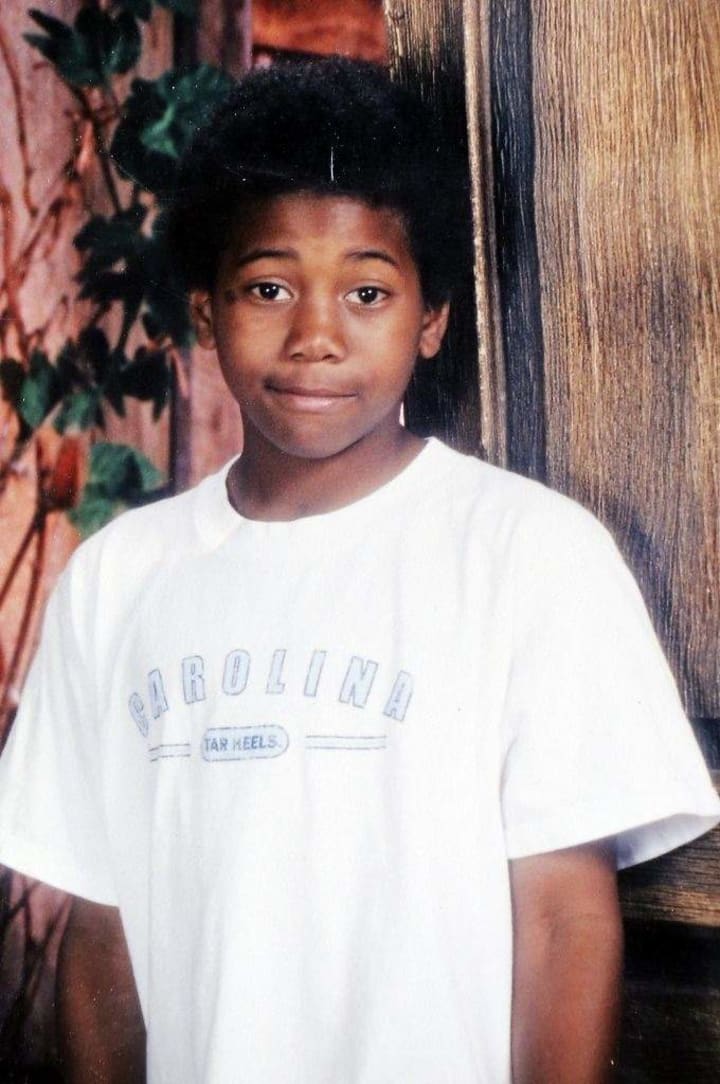 On June 29, 1991, Kawhi Leonard was born in Compton, California. Growing up in one of the most dangerous parts of the country, Kawhi learned street-smarts and independence from an early age. Kawhi was the last of five kids born into his family. Kawhi and his four older sisters were raised by his mother, Kim Leonard, and his father Mark Leonard. His mother said that, as a child, Kawhi was just a normal kid in every way, except for his burning passion for the game of basketball. Growing up in a troubled neighborhood, Kawhi used his love for the game to keep him away from the constant gang violence and criminal activity that swarmed South-Central, LA during the mid to late 90s. When Kawhi wasn't dominating the local kids in basketball, he would help his father run his car wash. On one Friday evening in particular, Kawhi's father was working alone since Kawhi had a high school basketball practice before their big game against Dominguez High School. It was on that night when Mark Leonard was shot and murdered while working.
Det. Frank Salerno of the Los Angeles County Sheriff's Department said there has been no arrest and no motive has been found for the shooting.
Even with the life-changing news, Kawhi knew that his late father would want him to play in their game against Dominguez the next night. The high school phenom went on and scored 17 points that night. As soon as the game finished, Kawhi walked off the court and sobbed in the arms of his mother. According to his mom, Kawhi was not the same innocent boy anymore. That incident put Kawhi's life into perspective. He learned that life and basketball are two completely different things that must be treated different. Ever since that night in January, Kawhi's personality took a drastic shift. He went from a happy kid who loved the game of basketball to a solemn and humble man who was destined to be a great basketball player.
Putting the Country on Notice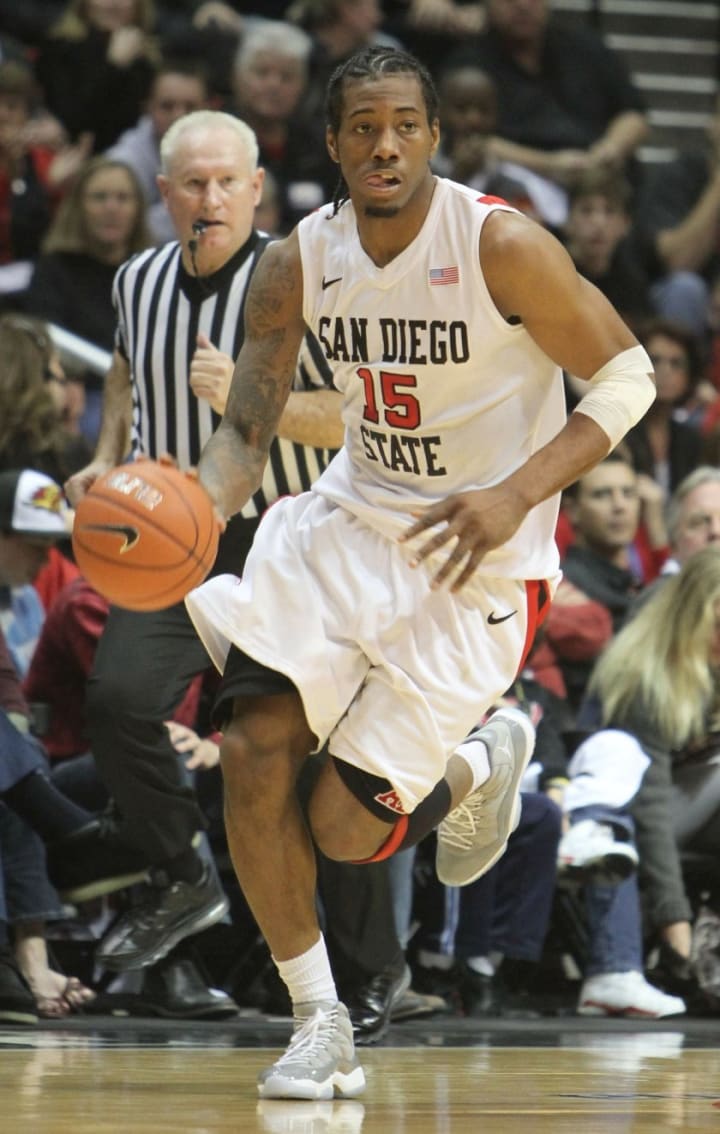 Kawhi Leonard finished his high school basketball career as Mr. California; awarded to the state's best hooper. As the eighth best small forward in the US and the 48th best player in the entire country, Kawhi committed himself to playing for San Diego State University. During Kawhi's two seasons at SDSU, he would lead the Aztecs to consecutive conference championships, as well as consecutive NCAA Tournament bids. After only his impressive sophomore season, it was expected that Kawhi would forfeit his final two seasons of eligibility and declare for the 2011 NBA Draft, and now more than ever, let's not forget about Kawhi Leonard and the Spurs. That night, the humble prodigy joined the San Antonio Spurs. A team most believed would perfectly fit his "business-first" personality. Coached by the legendary Greg Popovich, Kawhi joined humble stars in Tony Parker, Manu Ginobli, and Tim Duncan. The Spurs were unlike any team that ever succeeded in the NBA. While most teams relied on superstar power to defeat superstar power, Greg Popovich Spurs worked as an equal and unified unit. Popovich made sure that all players on his roster checked their egos at the door. He believed that, in order to be a dynasty, you must put faith in everyone on the team rather than only a certain few.
The Jump to the NBA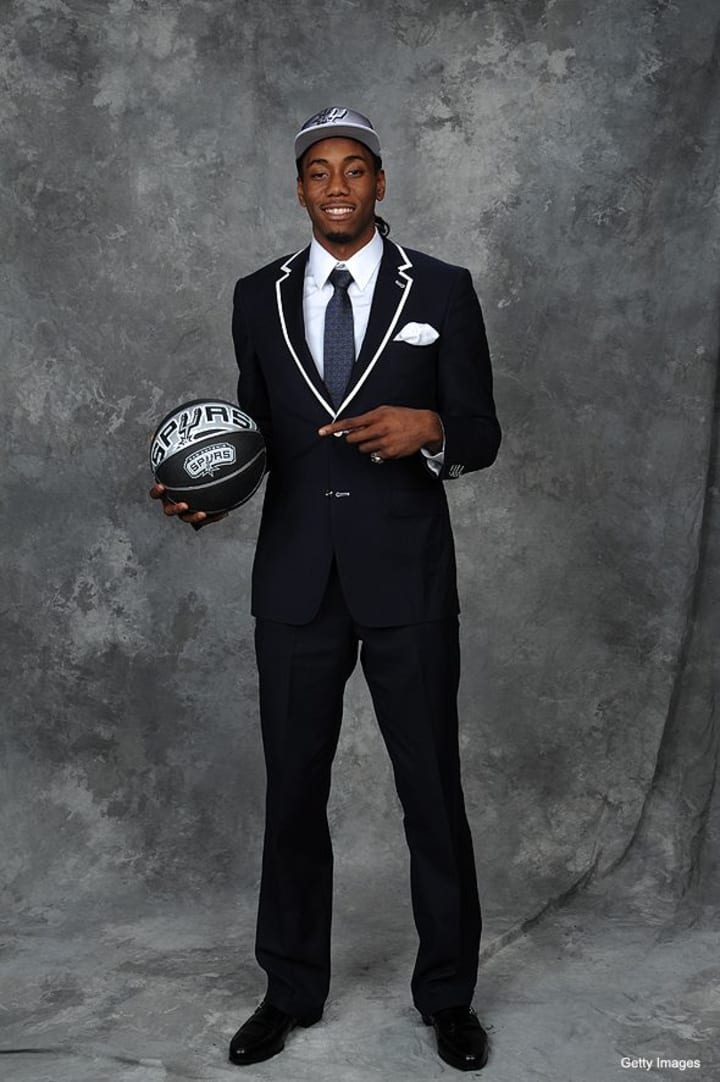 In Kawhi's first season, he made the NBA All-Rookie first team; a huge honor in the NBA community. Thanks to humble leaders like Tim Duncan and Tony Parker, Kawhi learned how to dominate the game while remaining a humble teammate. In the 2013 season, Kawhi saw a huge improvement in his game; his points per game (PPG) increase dfrom 7.9 to 11.9 in just one season. The Spurs also clinched a trip to the NBA Finals, where they were eventually defeated in seven games to Lebron James and the Miami Heat. His trip to the finals for the first time, however, only led Kawhi to be an even more motivated, and successful, player.
Becoming a Silent Superstar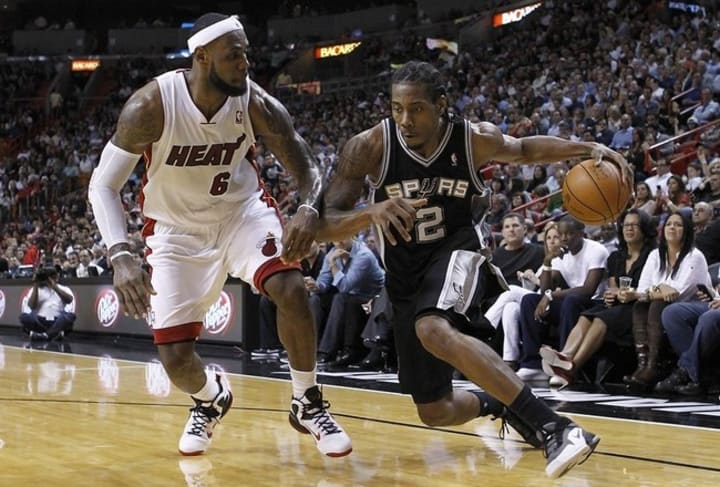 After suffering a demoralizing defeat in the 2012 NBA Finals, The Spurs did not waste any time getting their team and the city of San Antonio back to the promised land. The Spurs dominated the Western Conference all season, and easily walked themselves into the NBA Finals against Lebron James and the Miami Heat once again. This time around, however, the end result was a little bit different. Kawhi led the Spurs to their fifth NBA Championship. Kawhi scored 17.8 points per game, at an outstanding 61 percent from the field. Even though these numbers are quite impressive, they only tell a fraction of the story. Like his influence on a nation, Kawhi's on-court presence lifted everyone around him. His serious demeanor and his unstoppable drive lead the Spurs to an easy series win in only five games. Lebron James, Dwayne Wade, the rest of the Miami Heat had no answer for the basketball-crazed kid from Compton. When the team was on the stage celebrating their glory, Bill Russell walked up to the silent superstar, shook his 11.25'' hands, and gave him the Finals MVP award; a trophy awarded to the most valuable performer during the NBA Finals. It was quite apparent that, even though he was thankful for the praise, he only cared about winning the championship with his team and the city of San Antonio. The Silent Superstar was born.
Remaining Days in San Antonio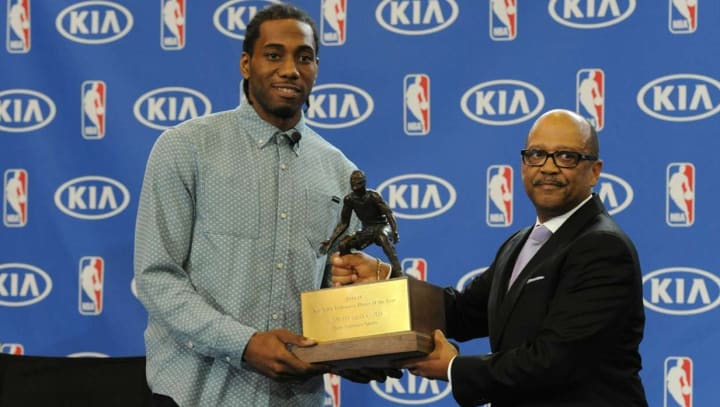 In the 2014-2015 season, Kawhi Leonard battled a few injuries, but managed to only miss 15 games. Although the Spurs did not reach the finals that year, Kawhi received the NBA's Defensive Player of the Year award, which awards the league's most dominant defensive player; a true testament to the type of player Kawhi really is. From 2015 to 2018, Kawhi scored 20.9 points per game and received All-Star status. During the 2017 season, Kawhi battled a tough lower-body injury that side-lined him for all but nine games. The Spurs saw an opportunity to trade the former Finals MVP to the desperate Toronto Raptors; a team who had recently fired Drew Casey (that year's NBA Coach of the Year). The Spurs handed the Raptors Danny Green (2013 Champion with the Spurs) and Kawhi in exchange for DeMar DeRozan, Jakob Poeltl, and a first round pick.
King in the North
Heading into 2018, there was a lot of circulating doubt about if Kawhi would be able to perform to the standard in which he was held to with the Spurs. He faced countless media outlets and journalists asking him about this so-called doubt, but he decided to stay true to who he was and let his play do the talking. In 2018, Kawhi shut all of his doubters up in big fashion, scoring a career high in points per game with 26.6 while shooting 50 percent from the field. Kawhi also racked in an average of 7.3 rebounds per game and 3.3 assists, which were both career highs as well. When many thought they would begin to see Kawhi's play deteriorate, he set career highs in three major statistical categories. For those of you still asking, "What kind of player do you think Kawhi Leonard is?" rest assured that he is one that simply lets his play do the talking; unlike most NBA superstars. Kawhi; along with Kyle Lowry, Marc Gasol, and Pascal Siakam; breezed through the Eastern Conference Finals and, again, he found himself in the NBA Finals.
As the Torono Raptors were only one win away from being crowned champions, the team seemed to have followed in the footsteps of Kawhi. It seemed as if Kawhi instilled his unstoppable drive into all of his teammates; including veteran point guard Kyle Lowry.
"We want to win more. That's the real goal. This is a stepping stone," Lowry, enthusiastically, said when asked about how he felt going into Game 5 up three games to one. Just like many greats in the NBA, Kawhi made his presence felt in the locker room, without saying many words to boot.
So, as we know, Kawhi took care of business that fateful Thursday night. Many believe that, in this championship, Kawhi will have exhibited one of the most impressive individual efforts by a basketball player ever. He is even being compared to some of history's elite players like Michael Jordan. The future may be uncertain for Kawhi (as Leonard is expected to meet with the Clippers on July 2), but for now, the city of Toronto has reason to celebrate. After all the confetti is dropped, all the champagne is popped, and the celebrations have come to an end, Kawhi will probably enjoy his summer with his family while driving around in his 1997 Chevy Tahoe. So, what kind of player do tou think Kawhi Leonard is?
Well, he's the kind of player who signs a 100 million dollar contract and still drives his car from high school. The Silent Superstar.