We Want WNBA
Five Players to Watch in 2021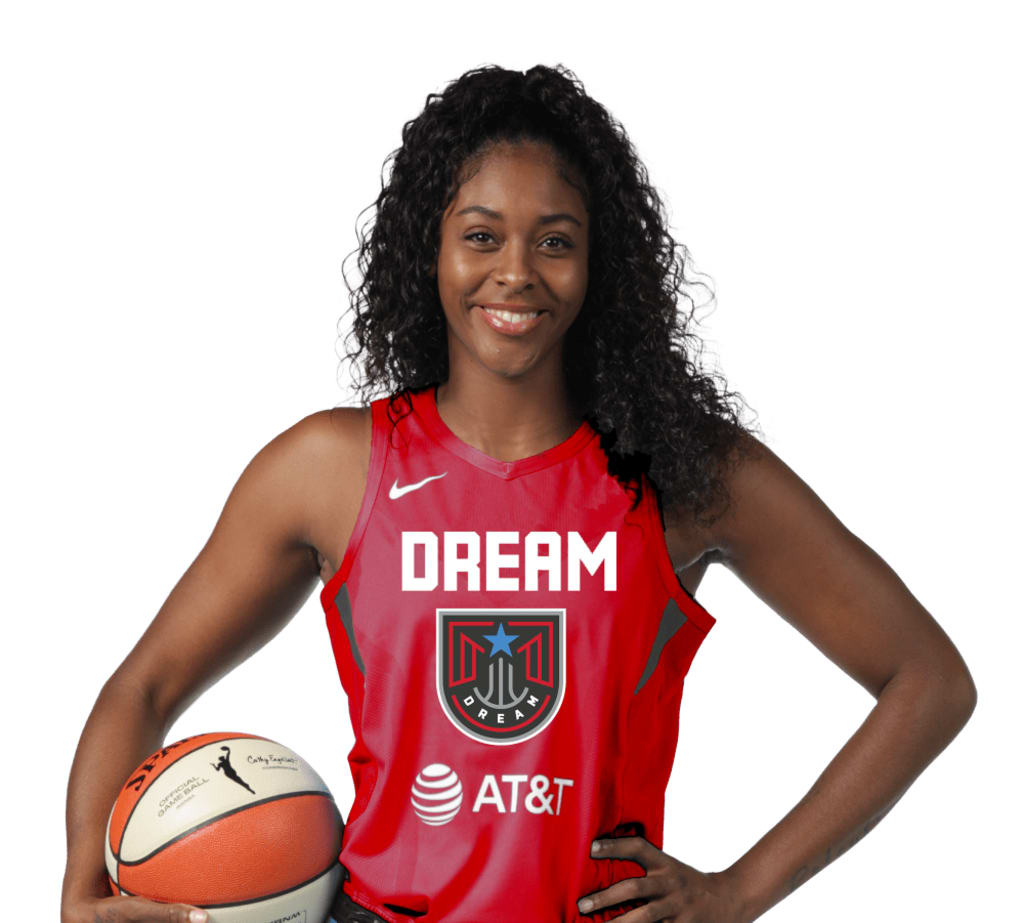 Atlanta's Cheyenne Parker
Here is a look at five players that are due to have very interesting seasons in the WNBA for the 2021 season. Welcome to our newest series entitled "We Want WNBA."
Cheyenne Parker - Forward - Atlanta Dream
Born: August 22, 1992, Hometown: Queens, New York
College: Middle Tennessee State
During her first five years in Chicago she averaged seven points and 4.5 boards per game. In 2021 she stepped up and averaged a career best 13.4 points and 6.4 rebounds per game. The 27-year-old, 6-4 forward is a capable shot blocker as well. During the 2019 season she was 10th in the WNBA with 42 blocked shots. Last season she was eighth in the league with 47 offensive rebounds. She posted three double-doubles and scored at least 20 points four times.
Leilani Mitchell - Guard - Washington Mystics
Born: June 15, 1985, Hometown: Richland, Washington
College: Utah
At 35, Leilani Mitchell seems to be in the prime of her career. Her last two seasons saw her score more points and assists than any other two-year stretch of her time in the WNBA. In 2019 at 34, she was the WNBA's Most Improved Player for the second time in her career, as she averaged a career high 12.8 points and four assists per game. Last season she averaged 9.5 points which was her second highest career scoring output while posting a personal best, 5.4 assists per game. The 5-5 point guard has connected on 458 three-pointers during her career which is 15th best in WNBA history. Her 1,120 assists are 23rd best in league history. Last season she posted one double-double with 20 points and 12 assists in a win against Chicago.
Isabelle Harrison - Center - Dallas Wings
Born: September 27, 1993, Hometown: Nashville, Tennessee
College: Tennessee
Dallas had three of the first five selections in this year's WNBA Draft and it took the best front-court prospects on the planet in Charli Collier and Awak Kuier with picks one and two. Veteran center Isabelle Harrison is entering her fourth season in the WNBA and third with the Wings. With so many eyes on the promising rookies it will also be interesting to see how this 6-3, 27-year-old post player will continue to contribute to what many see as a loaded team. In 2016, Harrison was drafted in the first round by the Phoenix Mercury. She had her best season for Las Vegas in 2017 when she averaged career highs with 27 minutes, 11.4 points and 6.9 rebounds per game. Last season for Dallas, Harrison averaged just 6.4 points and 4.6 rebounds in 20 minutes per game. Her best offensive game of the season saw her score 19 points on eight-of-13 shots in a win against Washington.
Amanda Zahui B. - Center - Los Angeles Sparks
Born: September 8, 1993, Hometown: Stockholm, Sweden
College: Minnesota
Los Angeles Sparks' new center, Amanda Zahui B. is coming off of her most productive season. In 2020, while still playing for the New York Liberty, Zahui B. averaged a near double-double with career highs of nine points, 8.5 rebounds per game. She was sixth in the WNBA with 26 blocked shots and second with 163 defensive boards. She had a five-game stretch with 10 or more rebounds, which included a game where she pulled down a season high 21 boards. The 6-5, 27-year-old had nine games with at least two blocked shots. She also registered three double-doubles last season. In a win over Chicago, Zahui B. posted 22 points, yanked down 12 rebounds, dished out three assists, swiped three steals and swatted three shots.
Jordin Canada - Guard - Seattle Storm
Born: August 11, 1995, Hometown: Los Angeles, California
College: UCLA
In two of her first three seasons in the WNBA, Canada has been a champion with the Seattle Storm. In 2020 she shot a career best 42 percent form the field, while averaging 7.9 points per game. She also dished out a career best 5.5 assists per game (third in the WNBA) as Seattle went 18-4 on its way to its fourth overall WNBA title. Canada had two games last season with 10 assists. She also scored 15 points on seven-of-12 shooting in Seattle's championship clinching win over Las Vegas.
In 2019 she was named to the All-Defensive Team as she led the WNBA with an average of 2.3 steals per game.