We Should Take a Lesson from the Paul George/Oladipo & Sabonis Trade
No sports league discusses potential trades and ramifications from actual transactions more than NBA fans. How they go about it, however, is entirely backwards.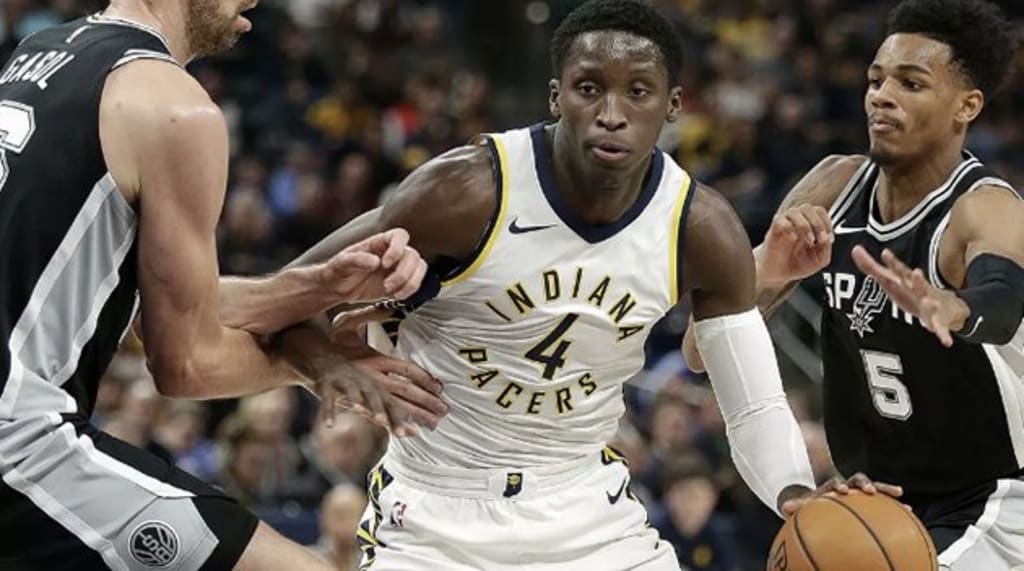 If you're reading this right now there's a good chance you've already read something along these lines. Victor Oladipo and Domantas Sabonis' exponential rise with the Indiana Pacers have been one of the most talked-about storylines of the early NBA season.
That's because they were the most mocked trade pieces in NBA history.
Before I get too deep I should give you my background. I've been the site expert at Thunderous Intentions since May of 2016. I covered Oladipo and Sabonis' entire Oklahoma City Thunder tenure — I know their games more than most.
I liked both players when they were on the Thunder. When I went to Oklahoma City for the first time last December I bought a Victor Oladipo jersey instead of Russell Westbrook. Over the offseason I wrote about how Sabonis was the key to this Thunder season. Even though I believed the trade was a steal at the time, I realized that the pieces the Pacers were acquiring were better than the public perceived them to be.
I just had no idea they were going to play this well this quickly.
Let's be clear: Oladipo and Sabonis have both made drastic improvements to their games since last season. Oladipo suddenly has a mid-range game, something he failed to unleash in Oklahoma City. More importantly, he's playing with a Russell Westbrook-like chip on his shoulder. All the talk about Oladipo's $84 million contract being an albatross gave a player who's always held a grudge even something more to be angry about.
Sabonis' progression is a result of the exact opposite. There's a reason Sam Presti, the league's documented best drafter, traded away Serge Ibaka in part to acquire Sabonis with the 12th pick in the 2016 Draft. There's a reason the Thunder thrust him into a starting role he wasn't read for, let alone that it wasn't his natural position. Or how about this. Russell Westbrook, the man who has done a solo individual workout his entire career, routinely brought Sabonis into it by the middle of the season.
Although the rookie struggled adjusting to the size and speed of the NBA game, Sabonis still was a beloved prospect in Oklahoma City. They believed, like I believed, he was going to take a leap this season. Ultimately it's probably why Sam Presti was able to nab George for so "cheap" — he was able to convince Kevin Pritchard that Sabonis was the best prospect being offered to him.
Now back to the actual trade.
During the offseason anybody who said one positive word about the Pacers move would be ostracized by the NBA community. After eight great games from Oladipo and Sabonis culminating in a 5-3 record, we officially have a debate over the winner. The flip-flopping has truly been amusing.
NBA trades have more impact than any other sports league, hence why the are discussed more than any other sports league. The problem is that discussion tends to over-exaggerate the importance of the present. At the time of the trade we saw the Pacers acquiring a Victor Oladipo who couldn't even score on the Rockets second unit in the Playoffs. We remembered the Domantas Sabonis who was virtually benched once Taj Gibson was acquired.
Now that we're watching Oladipo win a Player of the Week award and Sabonis average a double-double the popular take is the Thunder actually lost the deal. That line of quick-thinking is precisely why we should stop making such rash judgments on NBA trades.
Here's the recipe for most NBA deals: quality-to-All-Star caliber player on a below-average team gets moved to an above-average team for lesser quality-to-young prospect type players. While we know what one team is receiving, the other side tends to be more unknown. The fact this deal didn't include draft picks makes it a little easier to break down.
The Pacers knew they were acquiring a career 16 points a game scorer who plays above-average defense on a four-year deal. They didn't know what Sabonis would evolve into, but they had an idea unlike a future pick. Early signs show the second-year player will be a starting caliber player in the league, a great match next to Myles Turner. That new knowledge doesn't mean the Thunder should now be negatively perceived in the deal though.
To acquire Paul George, Oklahoma City was going to have to give up quality pieces. Oladipo's contract didn't fit into the Thunder's plan to build a contender around Russ quickly, and Sabonis' youth didn't make him a necessity to keep. Yes, OKC gave up pieces who are now building a new culture in Indiana, but they acquired a freaking All-Star. They didn't "lose" this deal.
Which brings me to the Grand Finale. Here's a wonderful idea — it's possible that both teams in a trade (and even the rare three-team theorem) can come out as winners.
NBA trades revolve around the present being traded for the future. The deal between the Pacers and the Thunder is no different. Oklahoma City came out better in the present while Indiana came out better in the future (sorry Pacers fans this hot start won't continue).
That's all we know now. We don't know how much George is going to help Oklahoma City this season. We don't know just how much Oladipo and Sabonis are going to blossom over the next few years.
I understand the infatuation with the unknown, I really do. What I don't understand is how the unknown has such broad terms. One day Victor Oladipo and Domantas Sabonis are trash, the next their future All-Stars.
I beg you — sit back and enjoy George, Oladipo and Sabonis thriving in their new roles. Because the next thing you know it will be 2045, they all will be out of the league and you'll still be trying to figure out who won a trade in July of 2017.