We Are Finally Getting Jordynne vs Masha
After successfully defending the Knockouts World Championship at Emergence, Jordynne Grace finds herself challenged by the undefeated Masha Slamovich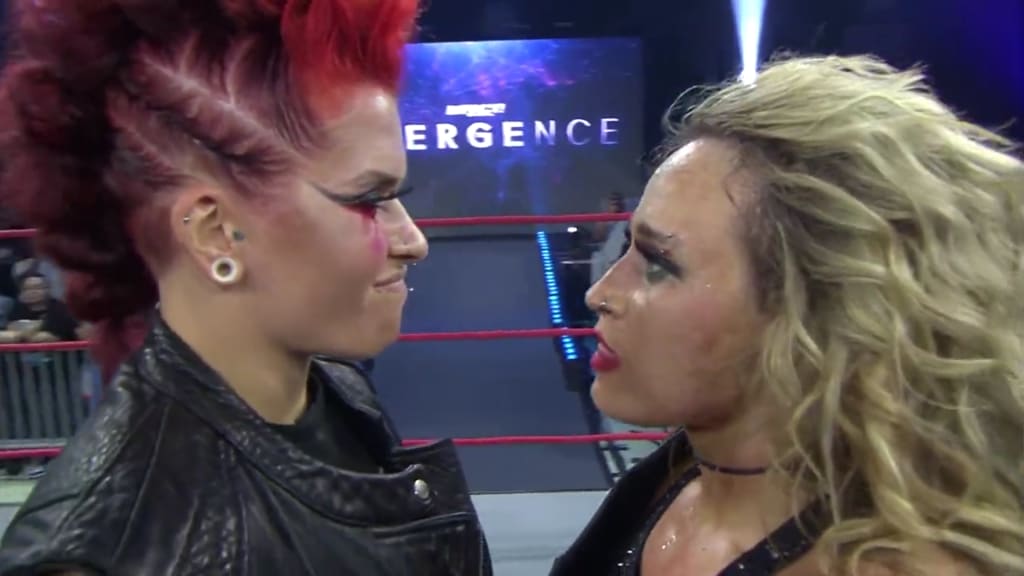 Masha Slamovich (left) has her sights set on Jordynne Grace (right)
Impact Wrestling held their latest pay-per-view event, Emergence, though because I had my hands full watching so many other things, I only watched some of this event. I didn't mind that; only two matches had my focus, and one of them was the Knockouts World Championship contest between two-time champion Jordynne Grace and challenger Mia Yim. The match was back and forth as expected, but in the end, Jordynne emerged victorious and will continue her reign as champion. Just as the two combatants were set to shake hands, they were interrupted by the appearance of Masha Slamovich, and when she appeared, I simply went, "Here it is."
Masha Slamovich has been dominant since her debut. Actually that's an understatement: she's undefeated in Impact. In the recent weeks that I've seen Masha on Impact programming, I've had the same though: "She has to face Jordynne." Sure enough: ask and ye shall receive. Masha came out and handed Jordynne an envelope, which is part of Masha's way of saying, "You're next." Of course, the envelope had a photo of Jordynne, with a big "X" over the pic.
So we are getting Jordynne vs Masha finally, and the reason that I and other fans have been wanting this is simple: they are the same combatant. Both are diminutive but physical powerhouses, so you know this will be hard hitting. This leaves us wondering when this dream bout will take place, and if it were up to me, I would build this up all the way to Bound For Glory, which is Impact's WrestleMania. Their September event is Victory Road, which will take place on the 23rd of that month, but Bound For Glory is two weeks after that, so they could easily extend the build for an extra 14 days. These women are immensely deserving of that big spotlight.
That's not all I'd do, however. There is still a matter regarding who's good and who's evil in this. Though Masha started out as a heel, it seems that she doesn't really have a distinguishing characteristic other than a woman who takes down anybody. Her last three wrestling conquests have been all three members of the villainous Influence faction (Tenille Dashwood, Madison Rayne, and Gisele Shaw), so we could see Masha as a face, if the face/heel roles aren't thrown out.
Honestly, if there's a villainess in this, it really should be Jordynne. A year prior, I wrote a story stating that Jordynne Grace should turn heel, and at that time, it had been a year that I had wanted this to happen. Now it's been two years, and I still hope that we see an evil Jordynne in the remaining weeks leading to their PPV contest. I was actually hoping Jordynne would be a heel against Mia, but that didn't happen. However, we could see that here against Masha. We could see Jordynne driven insane with jealousy due to the attention Masha's getting as a powerhouse, and she could really take that out on Masha in a violent manner.
Jordynne vs Masha will be absolutely epic, and I am definitely looking forward to the build for this title contest every week on Impact Wrestling. The next few weeks will tell us when this bout will occur; either Victory Road or Bound For Glory. Regardless, this anticipated Knockouts World Championship bout will definitely be one to remember!
If you like this story, click the heart, and click the subscribe button for more of my stories! Tips and pledges would be greatly appreciated, as they help support my writing, but only if you want to do so!
fighting
About the author
Born on March 18, 1985. I am an avid fan of sports and wrestling, and I've been a fan of female villains since the age of eight. Also love movies--especially comedy and horror--and among my favorite TV shows are The Simpsons and Family Guy
Reader insights
Be the first to share your insights about this piece.
Add your insights