WBB 2K22: Picture Day
Rise of the Woman: Shakira, Alyza, Jade, Jessika & Isis show off their new unis for 2021-22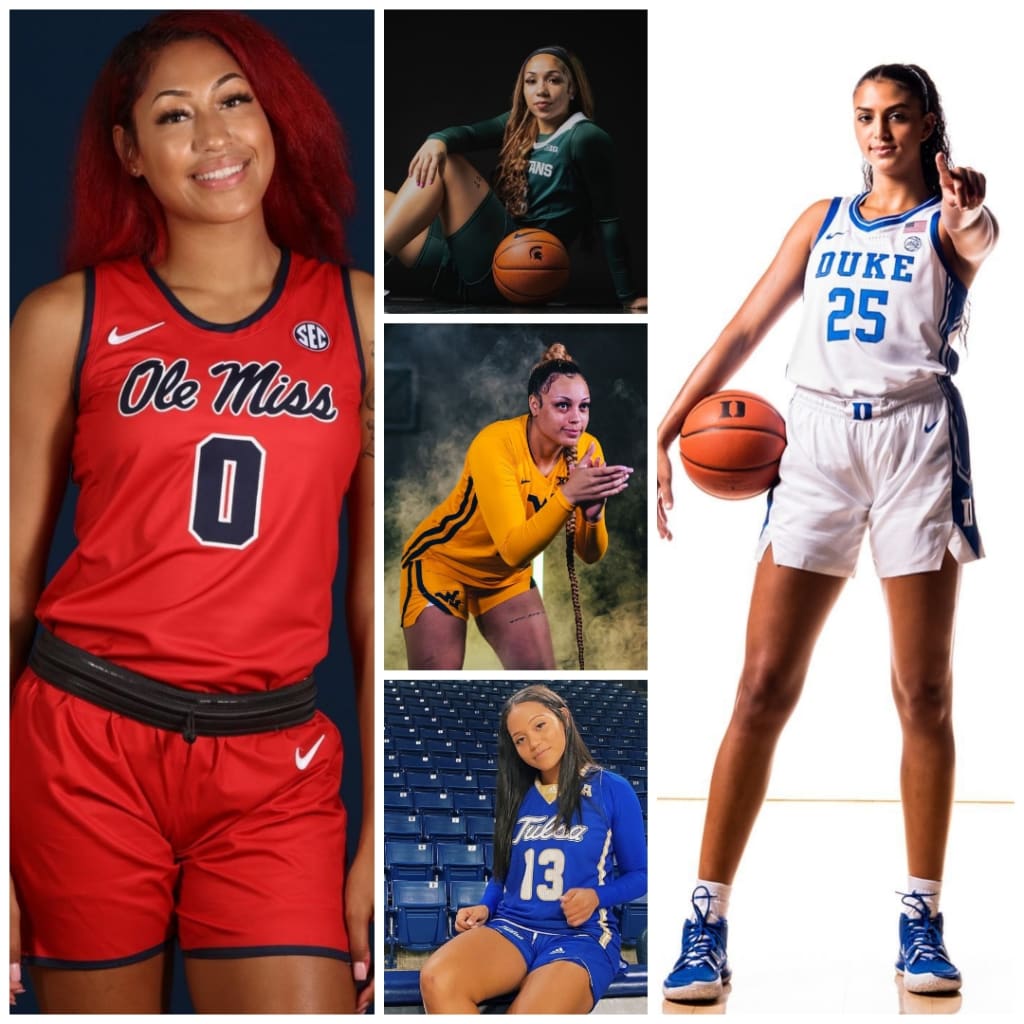 Shakira, Alyza, Isis, Jessika & Jade
As basketball season approaches some of our favorite women's players around the country have given us a glimpse of what they look like in their new uniforms. The beauty of Instagram is that we no longer have to depend on third party outlets to post boring head shots and a bland bio of these athletes. The players have the power to produce content as much and as colorful as possible. Here is a look at what is to come in the 2021-22 college season and how it will look like around the NCAA.
Shakira Austin
We are extremely excited to see how this colorful 6-5 forward will compete during the 2021-22 season. Shakira Austin led Ole Miss to the finals of the Women's National Invitational Tournament and was a dominant force throughout the season. Her averages of 18.6 points, 9.1 rebounds and 1.7 blocks per game were impressive. Here are some of her biggest games from last season. She posted 29 points, 13 rebounds, three blocks and three assists against Arkansas. Against Alabama she had 25 points and 13 rebounds. In the WNIT championship game against Rice, Austin matched her season high with five blocks to go along with 25 points, nine rebounds and two steals. She had a season high four steals to go along with 22 points and 12 rebounds against Kentucky.
Isis Beh
Isis Beh has travelled a long way from Murray, Utah to compete in her first season at West Virginia. The redshirt sophomore started her collegiate journey at UNLV during the 2019-20 season, where she was named to the Mountain West Conference All-Freshman squad. Last season she redshirted while attempting to give it a go at Salt Lake City Community College. This 6-3 forward brings strength and physicality to an already deep Mountaineer frontcourt. As a reserve at UNLV she shot .529 from the field, including 10 games where she shot 70 percent or better.
Jade Williams
A 6-5 center and forward, Jade Williams is currently a grad student at Duke, who looks to return to form after competing in just four games last season after Duke wrapped up its season due to COVID-19. The 22-year-old native of Dallas, Texas was off to the best start of her career with averages of 11 points, nine rebounds, 4.5 assists, one steal and a block per game. She grabbed a season best 15 rebounds against Western Carolina, where she just missed a triple-double with nine points and eight assists. She kicked off the season with a six-assist effort against Longwood, scoring 12 points with five rebounds and two steals. In the final game of the season against Louisville, Williams held her own against the number two team in the country. She shot 6-10, scoring 13 points with nine rebounds and a season best three blocks.
Jessika Evans
Jessika Evans is a 6-0 forward at Tulsa who had a productive freshman season in 2020-21. She averaged 5.7 points and 6.3 rebounds, starting 12 of 19 games. She yanked down a season's best 16 rebounds to go along with 12 points against Wichita State in the final game of the season. Evans also had three blocks and three assists in that contest. She also posted a double-double against East Carolina, with 11 points and 14 rebounds. She showed her three-point capabilities when she knocked down three of seven triples against Tulane.
Alyza Winston
Michigan State guard Alyza Winston looks to get her squad back to the NCAA Tournament in the 2021-22 season. The 5-7 junior guard is a native of Muskegon, Michigan, who averaged 11.1 points per contest. Winston started last season with a bang scoring 20 points or more in two of her first three games. Her season high came against Iowa when she poured in 25 points while draining six three-pointers on 12 attempts. She also collected a season best three steals in that game. Her final game of three with at least 20 points game against Penn State when she posted 23 points making five threes on nine attempts.