WBB2K22: Hoops Report 27
Mununga strikes for South Florida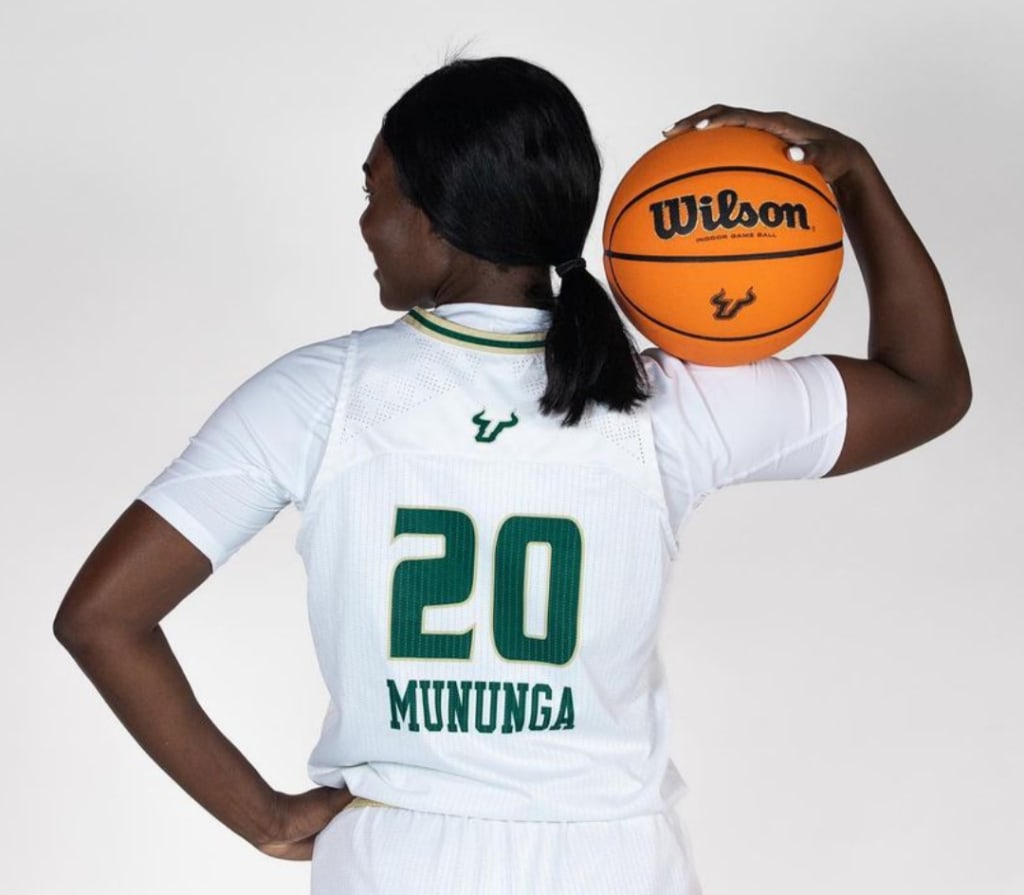 South Florida's Bethy Mununga
No. 24 South Florida 75, Tulane 62
South Florida improved to 12-4 with a road win over Tulane (8-5). Forward Bethy Mununga continued her rise in play with 26 points, 12 rebounds and an assist.
After not scoring 20 points the first 13 games of the season, Mununga has scored 20 points or more in two of the last three games. She scored 21 points with 12 rebounds against Jacksonville, Dec. 29. The senior forward has also recorded three straight double-doubles.
Dulcy Fankam Mendjiadeu shined alongside her teammate as she posted 23 points for the Bulls. She grabbed eight boards with three steals and three blocks. Guard Elena Tsineke shot 2-5 from three with 12 points. The rest of South Florida shot 1-11 from three.
Tulane's Arsula Clark shot a poor 4-17 from the field but she shot 9-11 from the line to score 17 points and lead her team with five assists.
Navy 65, Colgate 62
Navy (5-10) edged Colgate (2-14) in a road win behind Jennifer Coleman's double-double. The 5-9 senior guard scored 23 points with 10 rebounds. She also dished out five assists and two steals. She is averaging 23 points per game and has scored at least 21 points in all but two of her 14 games this season. Coleman has scored 30 points twice but both performances happened in two losses.
Mimi Schrader came off of the bench for Navy to shoot 5-6, including 4-5 from three. She posted 18 points which is her first time with more than 10 points this season. Six-foot sophomore guard Sydne Watts scored 12 points with seven rebounds. She got half of her points from the free-throw line where she shot a perfect 6-6.
Colgate has dropped nine straight games. Morgan McMahon led the Raiders with 21 points. It was her second consecutive game with over 20 points as she posted 24 points in a three-point loss to Army, Jan. 8.
West Virginia 64, Texas Tech 53
The West Virginia (8-5) defense forced Texas Tech (8-7) to turn the ball over 21 times and blocked six shots as Kari Niblack came off of the bench to earn four rejections.
Niblack has blocked six shots in the last two games. She also collected six rebounds and scored six points in the win over Texas Tech. West Virginia's offense wasn't astounding as it shot 35 percent overall and turned the ball over 18 times. The Mountaineers won the game at the free-throw line as they made 21 of their 28 free-throw attempts. Texas Tech only had half as many free-throw attempts shooting 9-14.
KK Deans and Madisen Smith shared the scoring lead for the winners, scoring 15 points each. The combined to shoot 6-18 from the field but were superb from the free-throw line scoring 15 of their 16 attempts.
Deans averages 15 points per game. She has scored at least 12 points in all but one game this season. Deans also recorded three steals in the win. The 5-8 junior guard has stolen the ball at least once in all but one game. Smith also matched Deans with three steals which matched her season high.
Texas Tech was led by Vivian Gray's 16 points. She also collected seven rebounds, three assists and three steals.
Florida Gulf Coast 100, Kennesaw State 65
Kierstan Bell put up another dominant scoring performance as she led Florida Gulf Coast (14-1) to a 35-point win on the road.
The 6-1 junior guard entered the game averaging 24 points per game. She posted 30 points in the win going 12-19 from the field and a perfect 4-4 from the free-throw line. This was Bell's fifth 30-point game of the season.