WBB2K22: Hoops Report 26
Basketball in the Dirty South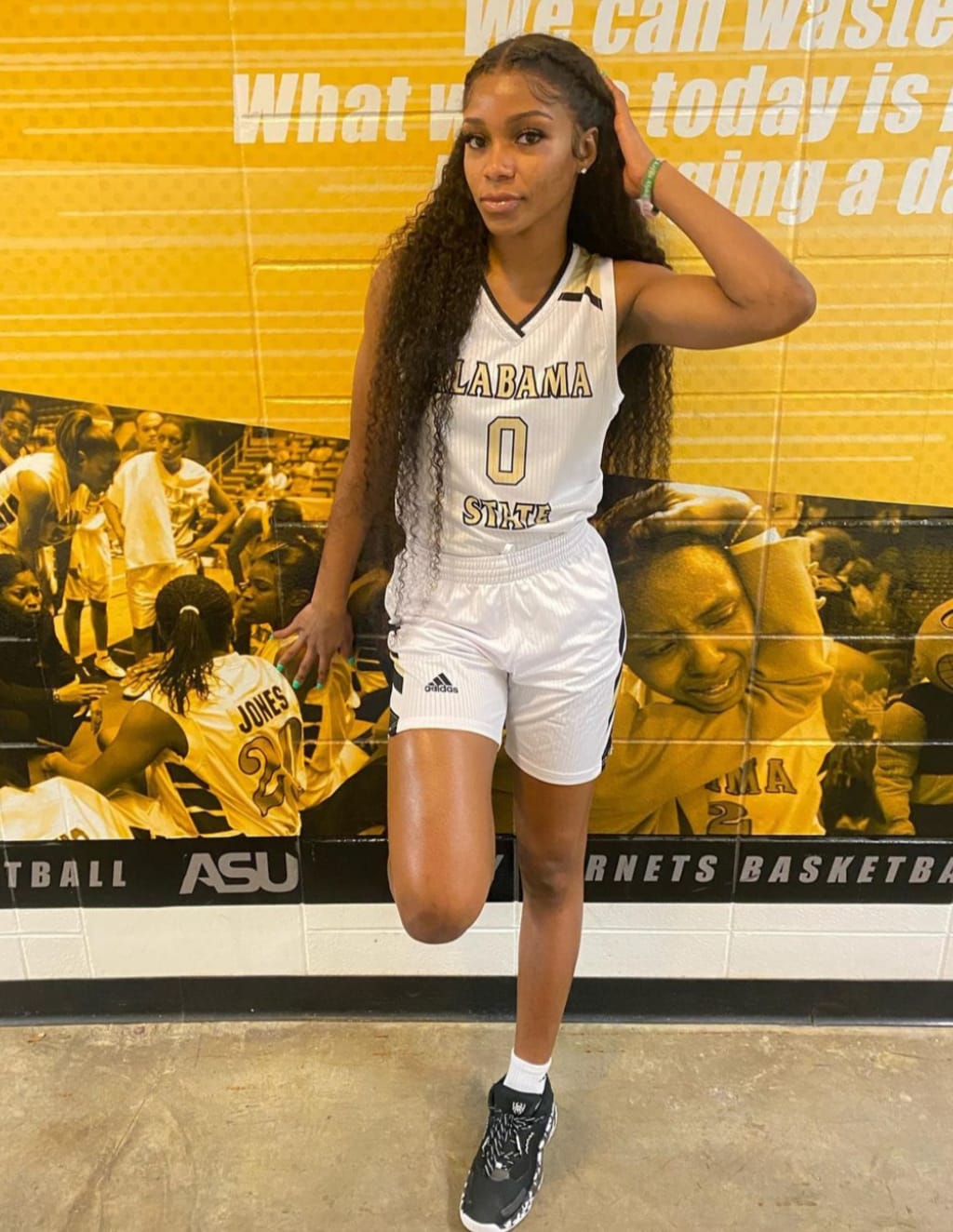 Alabama State's Ayana Emmanuel
Jan. 11
UCF 62, Houston 59
UCF (11-2) defeated Houston (9-6) for the 11th straight time but the Knights had to fight off a hardcore comeback in order to survive.
UCF went into the fourth quarter with a 43-28 lead after outshooting the Cougars 50 percent to 36 percent in the first three quarters. In the fourth quarter Houston outscored the home team 31-19. Houston's Britney Onyeje scored 12 of her 20 points in the final period.
UCF survived as Tay Sanders got a steal with 34 seconds to play as it led 60-59. The Knights' point guard Diamond Battles hit two free-throws with 30 seconds to play, which ultimately put the game away. Houston had multiple shots to win at the end. In the final 23 seconds the Cougars shot 0-5, while getting four straight offensive rebounds before UCF secured the game's final board with three seconds to play.
Sanders scored 23 points to pace all players. Battles struggled to score, shooting 0-7, with four points. She did have a team best five assists and two steals. UCF's Alisha Lewis scored just two points but she dominated on defense with 10 steals. Brittney Smith came off of the bench for the Knights to score 16 points and shoot a near perfect 8-9.
Jan. 10
Alabama State 74, Alcorn State 39
Shmya Ward shot 9-11, scoring 18 points as Alabama State beat Alcorn State by 35 points at home.
Alabama State is 4-9 but Ward has only played in six contests this year. In the games she has played the Hornets are 3-3. After averaging a career high 16.5 points and 10.4 rebounds per game last season, the six-foot senior forward is averaging a career low 9.7 points and five boards per game. In the past two contests Ward has had her best two scoring outputs as she is averaging 16 points while shooting 16-24 (.666) in both games.
Alabama State guard Jayla Crawford scored 14 points in 18 minutes of action. She came out of a shooting slump, making six of her 11 shot attempts. In the previous two games she shot 4-15. Ayana Emmanuel scored 13 points for the Hornets after shooting 3-7 from long range. She has shot 6-13 from three over her last two games.
Point guard Dakiyah Sanders led Alabama State with six assists opposed to just one turnover. She has done a stellar job over her past three games recording 16 assists and just three turnovers. Sanders is also averaging two steals per game in the last three.
Alcorn State had one player who had a strong performance. Diamond Hall came off of the bench to score 10 points, swipe six steals and get two rebounds.
Norfolk State 80, North Carolina Central 70
Guard Camille Downs drained four three in six attempts as she led Norfolk State (5-7) with 28 points in a 10-point road victory.
Downs, a 5-10 senior guard has scored at least 20 points for the last three games. In a win over UNC-Wilmington, Dec. 16, she posted 22 points and 10 rebounds with four steals. She followed that with 20 points, six rebounds and three steals, Dec. 19 in a loss to William & Mary. The win on Monday night saw her compliment her 28 points with eight rebounds and three steals.
Other Norfolk State players who had solid contributions include forward Makoye Diawara who had 10 rebounds and nine points. Guard Deja Francis had 12 points and six assists and Janay Turner had an eight-point performance off of the bench with four rebounds and two steals.
North Carolina Central Ashlyn Lockard led her team with two blocks. The forward scored 15 points, grabbed seven rebounds and shared the team lead with three steals.