WAYNE ROONEY (2002–2021)
WAYNE ROONEY (2002–2021)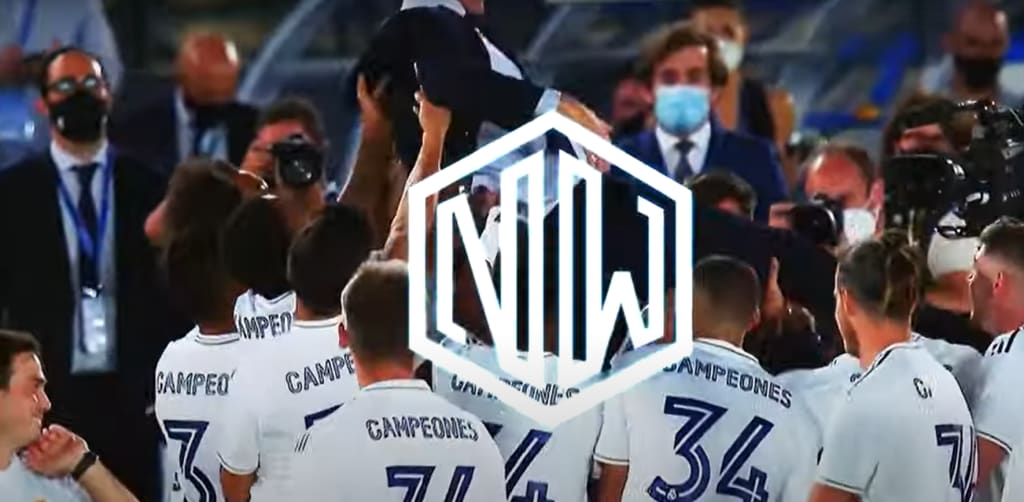 🏴󠁧󠁢󠁥󠁮󠁧󠁿Everton (2002–2004 / (2017–2018) – 28 goals 117 appearances
🏴󠁧󠁢󠁥󠁮󠁧󠁿Manchester United (2004–2017) – 253 goals, 146 assists, 559 games, 101 yellow cards, 3 red cards
🇺🇸D.C United (2018–2019) – 23 goals, 48 appearances
International:
🏴󠁧󠁢󠁥󠁮󠁧󠁿England 53 goals, 20 assists, 119 appearances
Individual Honours
2009/2010 PFA Player of the Year
2x PFA Fans Player of the Year
2009/2010 FWA Player of the Year
2x PFA Young Player of the Year
3x PFA Team of the Year
2004 Golden Boy Award
2011 FIF Pro World XI
5th Ballon d'Or voting in 2011
Team Honours
2007/2008 UEFA Champions League
5x Premier League
2015/2016 FA Cup
3x League Cup
2016/2017 UEFA Europa League
Born on Merseyside, a boyhood Everton fan, Wayne Rooney joined the Everton youth team at age 9.
He broke into the main-stream media spotlight with a long-range 25-yard strike in a 2–1 victory over Arsenal (ending the Gunners 30 game unbeaten run), on his debut, he was just 16 years old at the time, but the confidence and swagger within which he scored that goal were a sign of things to come.
If there were a moment when Rooney captured the imaginations of the country and went from talented, raw, promising prospect, to a superstar-child-wonder it was Euro 2004:
He become the youngest scorer in the history of the competition when he scored twice in England's 3–0 rout of Switzerland. He then went on to score two more in a 4–2 win over Croatia. His four goals lead to him being voted into the UEFA Team of the tournament.
On the back of his international performances, Manchester United signed Rooney and he become the most expensive teenager in British history costing 27 million pounds.
The 2004 version of Rooney was a direct player, a street footballer on and off the pitch (Rooney admitted that much himself on Gary Neville's Soccer Box – that he would often go home after a match in his early playing days and play football outside with his mates.)
A young Rooney would drive at defenders with the ball, with pace and power, but they would have no clue how to defend him, do they drop off and risk the shot which would very likely end up in the bottom corner, or do they get tight and risk Rooney dribbling by them.
Nicknamed Wazza, Rooney made a habit of scoring long-range thunderbolts. He was a scorer of great goals and a great goal scorer.
A tactically a fascinating player throughout his career – Rooney went from the second striker at Everton and in his early Manchester United days, to playing as a wide forward/winger for Man United in the Cristiano Ronaldo era, where the team was built around Ronaldo. He eventually become the offensive fulcrum and main goal scorer after Ronaldo left for Real Madrid. He ended his career as a ball-playing midfielder.
Rooney captained England and Manchester United in his illustrious career.
Wayne Rooney retired in 2021 as England's all-time top scorer, ending his career with 53 goals and Manchester United's all-time top scorer with 253 goals, finishing four ahead of Sir Bobby Charlton – 249.
In 491 Premier League appearances, Rooney scored 208 Premier League Goals, finishing second all-time in the scoring charts in league history behind Alan Shearer.
Rooney's 183 Premier League goals for Manchester United is the most in league history for one club. Rooney went eleven seasons in a row scoring a minimum of 10 goals. (2004–2015.) He finished with 103 Premier League assists, third all-time. A stat that is indicative of Rooney's abilities as a creator and scorer.
His talent was not lost on his peers as Rooney won two PFA young players of the season and two PFA players of the season, he was voted three times into the PFA team of the season. He also picked up the FWA player of the season in 2010.
At Manchester United Rooney won it all – A Champions League winner in 2008, a Five-time Premier League Champion, one FA Cup, three League Cups and one Europa League.
Moments Rooney will be remembered for;
In a star-studded career, there are plenty of iconic moments to recount.
Champions League debut: Scoring a Hat-trick at Old Trafford in front of 67,000 people against Fenerbache in the 2004 group stage. Rooney was wearing the number eight shirt.
His first goal was a left-footed finish from a through ball from Van Nistelrooy.
In the second goal, later in the first half, he receives the ball off Giggs, dummies the defender and fires a low shot in the bottom corner.
The third goal was a free kick outside the box.
One of the more iconic Premier League games of the last ten years was Manchester United 8–2 Arsenal, In August 2011 (Arsenal's heaviest defeat since 1986.) In which Rooney was voted man of the match he scored his sixth hat-trick of his United career (he ended his career with 8 hat tricks for the Red Devils). He also scored his 150th United goal in the match.
2011 was his best-ever-scoring season, ending the campaign with 27 Premier League goals.
Of course, we couldn't have any Wayne Rooney discussion without mentioning his Bicycles kick in the Manchester Derby. Martin Tyler's commentary was pure gold, "it defies description".
The goal was voted best goal at the Premier League 20 season awards and will be in contention for the 30 season awards.
United beat City 4–3 and Rooney described the significance of the victory in his book "My Decade in the Premier League": "A goal that puts our noisy neighbours – the other lot – in their place. A goal that reminds them United have more history and more success than they do right now. A goal that warns the rest of the country we're on our way to winning another Premier League title."