WB2k23: National Players of the Week
Our Top Players from Nov. 14-20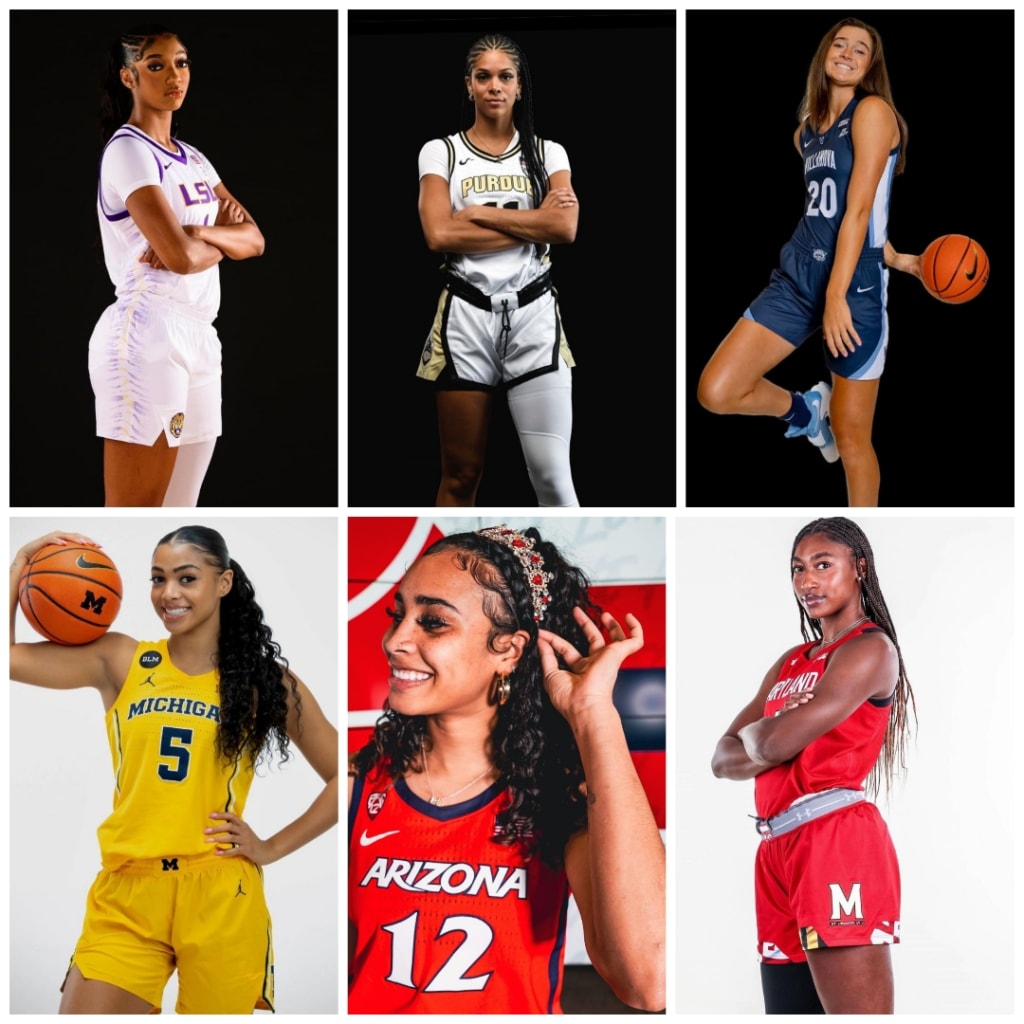 Angel, Lasha, Maddy, Laila, Esmery & Diamond
The following feature is brought to you by the Prolific Sports page on TikTok. Follow the best in women's sports including track and field, basketball, volleyball, soccer and more for the 2022-23 collegiate season on TikTok by clicking the link below.
Laila Phelia - Michigan
A six-foot guard from Cincinnati, sophomore Laila Phelia has gone from a solid team contributor, to a star performer. On Sunday, Phelia helped Michigan improve to 4-0 as she scored 17 points with three assists, three rebounds and two steals in a 69-53 win over host Fairfield. On Wednesday, Phelia scored a season high 25 points with three rebounds, two steals and one blocked shot in a 99-67 win over Western Michigan. Phelia is now averaging 20.7 points on 68.6 percent shooting.
Angel Reese - LSU
Angel Reese is stomping all over the competition so far at LSU. She scored 23 points, 19 rebounds, four assists, three steals and two blocked shots in a 100-45 thrashing of Northwestern State. One of just two players to earn a spot on the National Players of the Week list for a second straight week this season, Reese started the week with 29 points, 16 rebounds and two blocked shots in a win over Houston Christian. After five games she is averaging 23.2 points, 15.6 rebounds, 2.6 steals and two blocked shots per game.
Diamond Miller - Maryland
Maryland experienced a mass exodus but one star that remaind was Diamond Miller. Staying put has paid off for the senior from Somerset, New Jersey. She helped her team improve to 4-1 after a 73-68 win over No. 17 Baylor on Sunday. Miller scored 32 points with 10 rebounds and three assists. The 6-3 guard scored 19 points with six assists, four rebounds, four steals and two blocks in a win over Davidson on Wednesday. Miller is averaging 21 points so far this season.
Esmery Martinez - Arizona
After a down but still productive season at West Virginia, senior forward Esmery Martinez is better than ever during a fresh start at Arizona. The 6-2 forward led Arizona with 19 points and nine rebounds in an 86-64 win over Long Beach State. Arizona is now 4-0. Martinez shot 7-9 in the victory. On Friday night she scored 14 points with 11 rebounds and four assists in a victory over Loyola Marymount. Overall Martinez is averaging 17 points, 10 rebounds and one blocked shot per game. She is shooting 78.5 percent from the field, missing just six of her first 28 shot attempts.
Maddy Siegrist - Villanova
For the second straight week, Maddy Siegrist has found her way to National Player of the Week honors. The 6-1 forward continues to be an unstoppable force, this time scoring 41 points on Sunday in a narrow 74-71 win over Temple. Villanova improved to 4-0 as Siegrist posted her fourth double-double of the season. She grabbed 16 rebounds against Temple. In two games last week she tallied 63 points and 27 rebounds. She is averaging 29 points after her first four games.
Lasha Petree - Purdue
A six-foot guard from Detroit, Michigan, Lasha Petree is off to her best start as a shooter during her five-year collegiate career. She entered Sunday's game shooting 52.5 percent and averaging 17.7 points after three contests. On Sunday Petree shot 6-9 overall, including 2-4 from three on her way to 17 points in just 14 minutes in a 77-54 win over Indiana State. Prior to that she scored 17 on the Nov. 17 in a 100-58 win against SIU Edwardsville. Petree shot 53.8 percent in that game while collecting three steals and one blocked shot.