WB2k23: National Players of the Week
Our Top Players from Nov. 21-27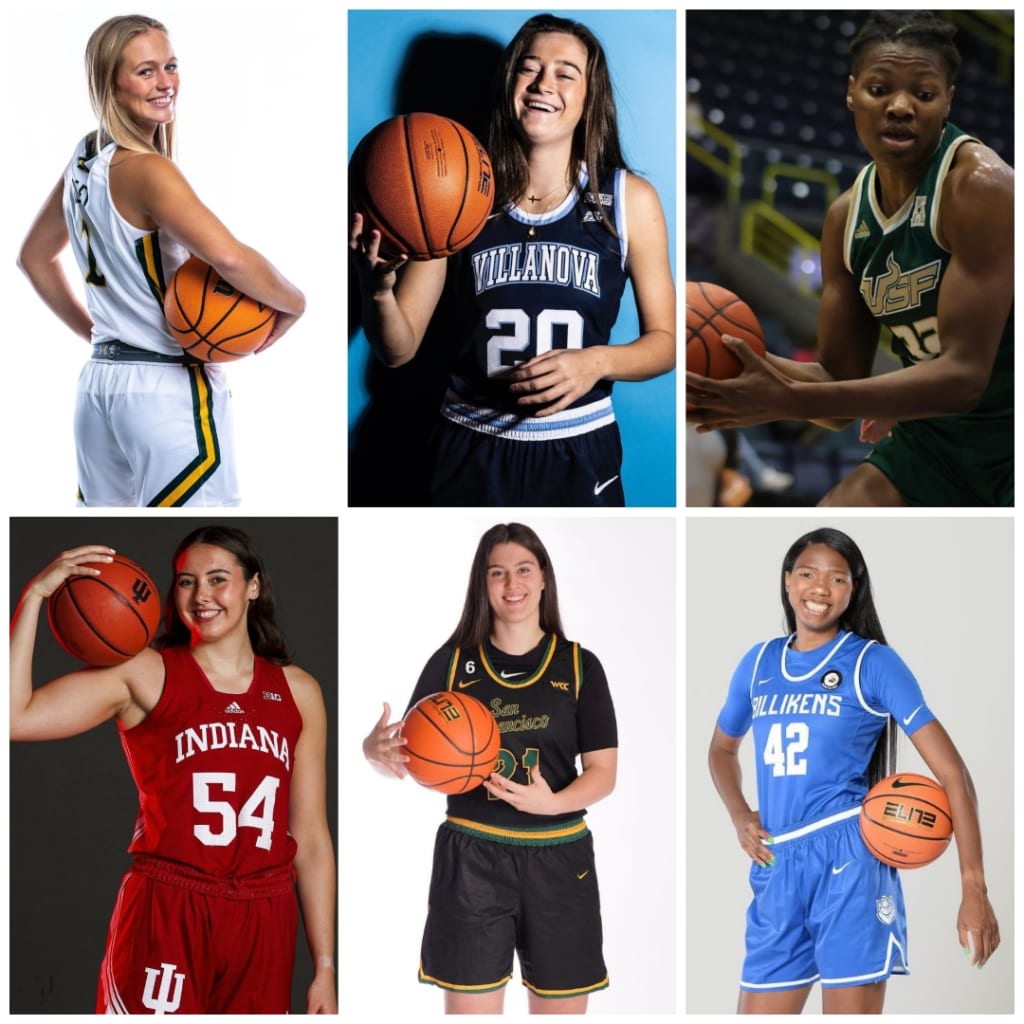 Riley, Maddy, Dulcy, Mackenzie, Ioanna & Brooke
Riley Casey - William & Mary
So far, Riley Casey is having the season of her career. Last season the 5-8 senior from Brentwood, Tennessee averaged a career best 14.5 points per game. This season she is averaging 22.6 points while shooting an unreal 54.5 percent from three. She scored 31 points twice last week in a loss to George Mason and a win against Army. Casey shot a combined 11-17 from long distance. Against Army, Casey hit her 200th career three-pointer in 91 career games.
Maddy Siegrist - Villanova
For the third straight week, Maddy Siegrist earns National Player of the Week honors. She is averaging career highs of 27.4 points and 10.1 rebounds after her first seven appearances of the season as Villanova is 6-1. She is also shooting career bests 52.2 overall and 40.7 from three. On Nov. 25 she inched Villanova past Belmont 83-80 with 29 points and five steals. After scoring 22 points with four steals in a loss to No. 21 Baylor, Seigrist scored 25 points with two blocked shots in a victory over South Florida, Nov. 27.
Dulcy Fankam-Mendjuadeu - South Florida
A 6-4 forward from Nkongsamba, Cameroon, Dulcy Fankam-Mendjuadeu is off to her best start as a collegiate player. After her first nine games she is averaging 15.2 points and 11.7 rebounds per game, all career highs. She's also shooting 62.9 percent from the field. Fankam-Mendjuadeu has never had a season where she has shot over 48.7 percent. The senior, in her fourth season posted four double-doubles last week. Her best game was a 21-rebound, 19-point effort in a 62-50 win over Georgia Tech on Nov. 25. Two games later she had 17 rebounds and 14 points in a loss to No. 23 Villanova. She is currently tied for seventh in the NCAA with an average of 11.7 boards per game.
Ioanna Krimili - San Francisco
After a rough start, Ioanna Krimili found her three-point shot last week. She started the season missing her first 10 shots from long range in the first two games of the year. Last week she drained 15-of-29 threes in three contests. On Nov. 21, Krimili, a junior guard from Heraklion, Greece, drained eight threes on 61.5 percent shooting from behind the line. She scored 35 points in a 73-65 win over Penn. In two following wins against South Carolina State and Long Beach, Krimili hit a combined 7-16 from three. In a victory over Long Beach she dished out a season high six assists to go along with five rebounds and 18 points. Krimili is averaging 18 points after seven contests.
Brooke Flowers - Saint Louis
A 6-5 forward from St. Louis, Missouri, Flowers is leading all NCAA players with an average of 4.2 blocked shots per game. She swatted 12 shots in three games last week, starting with four rejections in a 92-58 loss to No. 21 Baylor on Nov. 25. She posted 13 points, shooting 5-8 from the field along with five rebounds and two steals in that contest. A day later she had 12 points, nine rebounds and three blocks in a 78-68 loss to Belmont. Flowers got her team a victory with 15 points, 13 rebounds and five blocks in a 77-58 win over Air Force. She shot 7-9 in the win. Flowers is averaging a career best 12.3 points per game. During her five-year career she has collected 1,507 rebounds and blocked 303 shots in 116 games.
Mackenzie Holmes - Indiana
Mackenzie Holmes is a 6-3 senior forward from Gorham, Maine who could barely miss a shot last week. She scored 26 points on Nov. 25 in a 96-81 win over Auburn at the Las Vegas Invitational. Holmes shot a perfect 10-10 while also hauling down 12 rebounds with three steals and two blocked shots. On Nov. 26, Holmes led the Hoosiers to a 79-64 win over Memphis. He scored 27 points on 12-15 shooting to go along with five rebounds. After the first seven games she is averaging 20 points which is a career best. Her previous career high is 17.8 points per game during the 2020-21 season.
Reader insights
Be the first to share your insights about this piece.
Add your insights