WB2K23: Live at ODU 2
A look at action on Nov. 21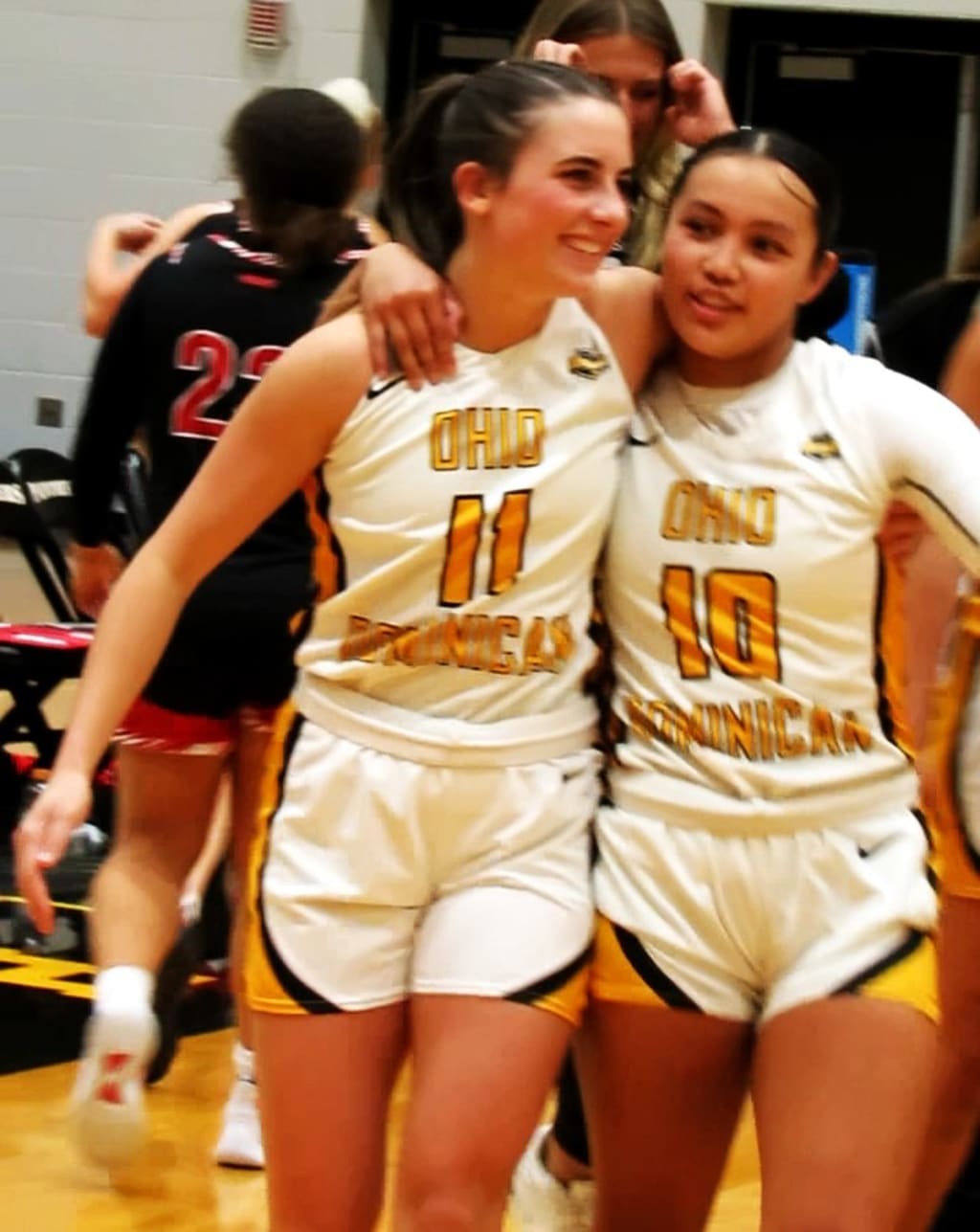 Camryn Pickerill & Trinity Ramos
The following feature is brought to you by the Prolific Sports page on TikTok. Follow the best in women's sports including track and field, basketball, volleyball, soccer and more for the 2022-23 collegiate season on TikTok by clicking the link below.
Ohio Dominican 72, Maryville 70
Host Ohio Dominican (2-2) entered the fourth quarter with a 61-52 advantage, before a visiting Maryville squad decided to clamp down on defense and go on an 18-11 run.
With 12 seconds remaining, Maryville found itself with an opportunity to tie or win the game and it was Ohio Dominican that stepped up big on defense to hold on to the narrow 72-70 lead and win the game. Maryville's Antoinette Mussorici attempted to score in the final second and Ohio Dominican's Camryn Pickerill made the play of the game with a blocked shot that sealed the visiting team's fate.
Pickerill finished the game with just six points but she filled the stat sheet with a team best eight assists to go along with five rebounds, three steals and a block.
Ohio Dominican shot the ball a magnificent 12-21 from three. Guard Gabby Stare was on fire. She made six of her seven three-point attempts, scoring 34 points. She also had six steals, four rebounds and three assists. Stare is averaging 23.8 points in four games this season.
Freshman Trinity Ramos had another strong effort. The rookie guard has shot over 50 percent in each of her four appearances. She scored 10 points on 4-7 shooting, including 2-5 from three. Ramos also had three assists, three steals and three rebounds.
Maryville was led in scoring by Mussorici, who had 18 points. Her teammate Taylor Kirby had an effective game from the center position. She scored 15 points with 11 rebounds, three steals and a block.
No. 20 UCLA 66, Marquette 58 OT
UCLA remained unbeaten, improving to 6-0 with a home win over Marquette. Freshman KiKi Rice led the Bruins with 18 points after going a perfect 6-6 from the free-throw line. She also paced the team with seven rebounds, while recording two steals and a block. The 5-11 guard from Bethesda, Maryland has scored 15 or more points in three of the last four contests. She is averaging 14 points after her first five collegiate games.
San Francisco 73, Penn 65
San Francisco's Ioanna Krimili has resurrected. The potent scorer put up 35 points, connecting on eight of her 13 three-point attempts and shot a perfect 7-7 from the free-throw line. The junior guard from Herakilion, Greece was off to a slow start as she entered the game with a career low 24.1 percent clip from three. Krimili's best season was 2020-21 when she drained 45.5 percent of her threes going 97-213 for the season. On Monday night she returned to form as her team improved to 3-2 in the home win.
Cincinnati 71, Lindenwood 60
Junior guard/foward Jillian Hayes posted her second double-double in the last three games, leading visiting Cincinnati (3-2) to a road win. Hayes posted 18 points, 10 rebounds with three steals. She shot 7-12 from the field marking the third time in the last four games that the six-foot-one native of Cincinnati has shot over 50 percent. Hayes also shined from the free-throw line making all four of her attempts from the stripe. Cincinnati survived a strong effort from Mary McGrath. The Lindenwood guard scored 22 points on 9-14 shooting.