WB2K22: Weekly Honors
National Players of the Week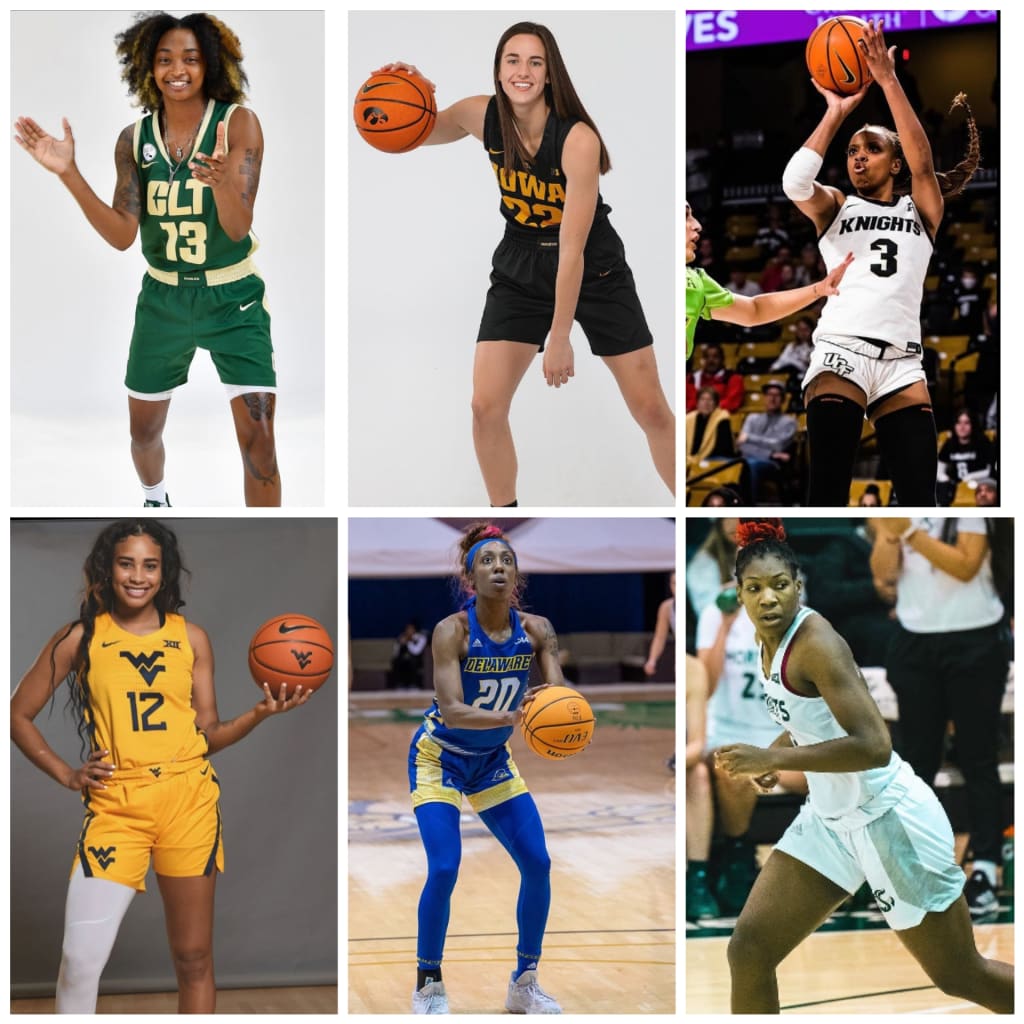 Octavia, Caitlin, Diamond, Esmeri, Jasmine & Isnelle
Jan. 16 - Jan. 22
Octavia Jett-Wilson - Charlotte
After winning two straight the week before, Charlotte grabbed two more wins last week. Octavia Jett-Wilson had her top two games of the season. On Jan. 20, she scored 27 points against North Texas, where she hit a season high nine of her 10 free-throw attempts. Jett-Wilson also shot 8-15, including 2-4 from three-point territory.
Jan. 22, the senior guard posted a season best 36 points to go along with seven rebounds and five steals. She also shot 4-9 from three. Over those two games, Jett-Wilson shot over over 40 percent in back-to-back performances for the first time this season.
Jasmine Dickey - Delaware
Jasmine Dickey is averaging career high 24.6 points per game after the first 13 contests of the season. Last season she averaged 23.6 in 22 games. She posted two double-doubles last week. The first was a 31-point effort where she grabbed 10 rebounds with two steals against Northeastern, Jan. 16. Two days later, Dickey had 26 points, 14 rebounds, five blocks, four assists and two steals against James Madison.
Dickey has had six double-doubles this season. The most recent three has come in the last three games. She is also averaging a career best 1.3 blocked shots per game.
Caitlin Clark - Iowa
Sophomore guard Caitlin Clark has recorded four triple-doubles this season. She had two of those last week. The first of the week came Jan. 16 against Nebraska. Clark scored 31 points, with 10 assists and 10 rebounds. She also collected a season bests with four steals and two blocks.
Her second triple-double of the week in a 56-point win over Minnesota. Clark scored 35 points with 13 rebounds and 11 assists. She shot 14-21 against Minnesota, shooting a season high .667 (4-6) from three.
Diamond Battles - UCF
Diamond Battles climbed out of a shooting slump last week. From Dec. 18-Jan. 11 she shot 9-46 (19 percent) in four games. Last week, Battles shot .500, going 16-32. In a home win against South Florida, Jan. 16, Battles dropped 19 points with two assists and one steal. She shot 3-4 in the win. Jan. 22, Battles hit a season best five threes, missing just three. Her 21 points in a road loss to Cincinnati kept her team in the hunt. The 5-8 senior guard is averaging a career best 13.9 points, while also shooting career highs of .392 from three and .825 from the free-throw line.
Esmery Martinez - West Virginia
A 6-2 power forward, Esmery Martinez struggled to start the month. In her first three games of January she never scored more than four points or grabbed more than seven rebounds. Last week she returned to the premier form that she showed for all of last season. Martinez scored 26 points, grabbed 10 rebounds, stole the ball five times and rejected two shots in a home loss to Oklahoma, Jan. 19. Three days later Martinez yanked down a season best 18 boards and scored 13 points with three blocked shots in a win over Oklahoma State to stop West Virginia's three-game losing streak.
Isnelle Natabou - Sacramento State
Isnelle Natabou may be one of college basketball's best kept secrets. The 6-5 center is averaging 14.1 points, 11.1 rebounds and 1.4 blocks per game. She has posted seven double-doubles and in the midst of three straight. Last week she posted three double-doubles, the first was a victory against Eastern Washington, Jan. 20. Natabou posted 17 points, 13 rebounds shooting 7-9. On Jan. 22, Natabou had 22 rebounds and 18 points with two steals and a block in a close three-point win over Idaho.