Villanova wins Big East again
Jada Thomas takes 60-meter hurdles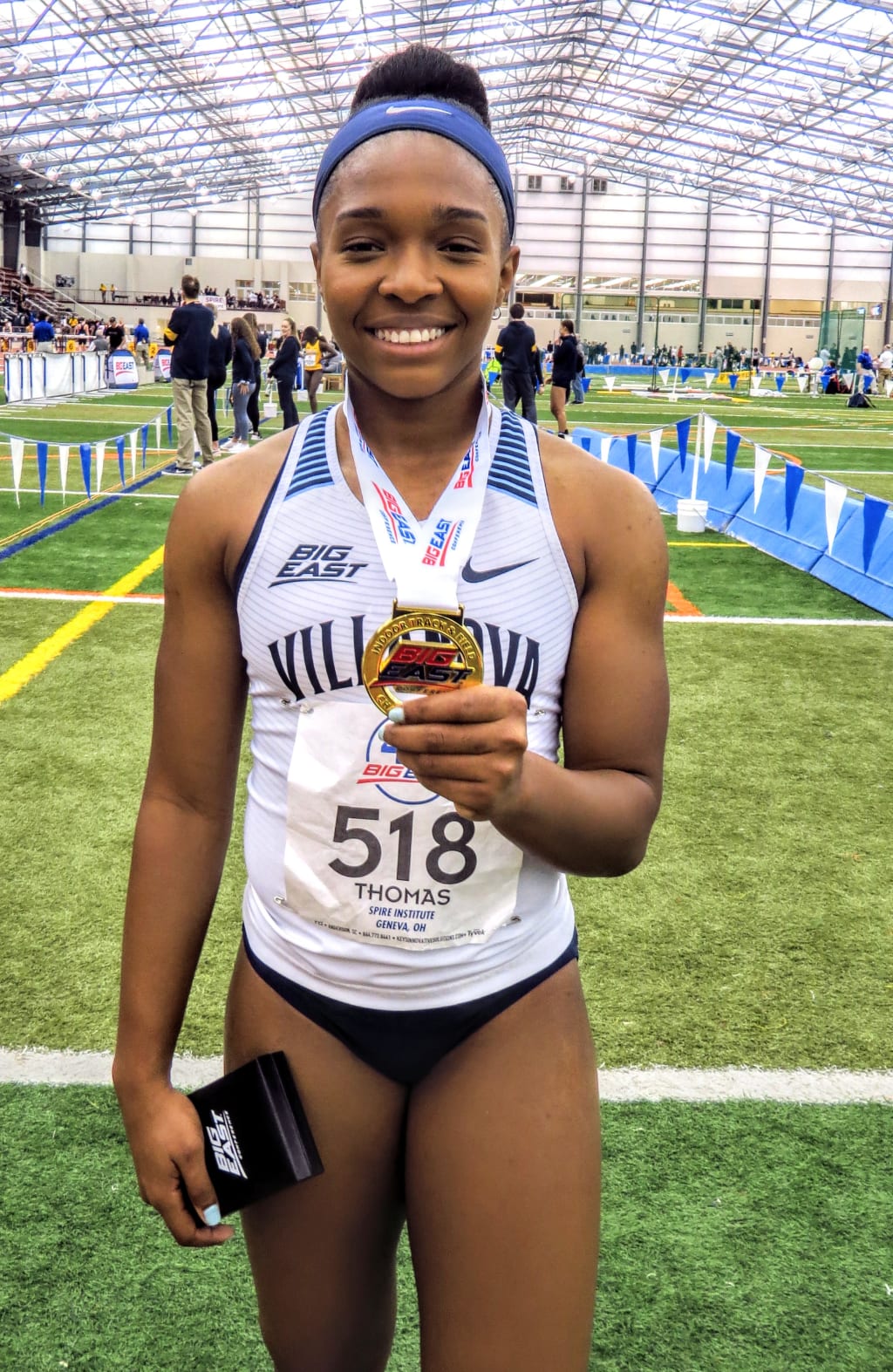 Jada Thomas
As Jada Thomas lined up to start the finals of the 60-meter hurdles at the Big East Indoor Track and Field Championships, there was a fiery look of confidence in her eyes.
"I was just really confident," said the sophomore. "You should always go into a race feeling that you can win. What's the point of going into a race thinking you're going to come in second. That doesn't make sense."
Thomas of Villanova, won the 60-meter hurdles championship (8.52), March 2, at Spire Institute in Geneva, Ohio. She placed ahead of teammate Sarah Jones (8.55) and Isabel Ingram of DePaul (8.61).
Last season Thomas, a Jamaican native, competed for Liberty University where she won the 60-meter hurdles title in the Atlantic Sun Conference. "It was really hard work," she said about adjusting to her new school and second collegiate season. "I have a lot of good teammates to train with as well and compete with every single day. It's a good atmosphere to be in especially for hurdles ... and I'm really glad my teammate got second too, so it's a good feeling."
Villanova won its third straight championship this season with 134 total points. Marquette was second with 112. Villanova junior sprinter Trudy-Ann Williamson rolled off a dominant win in the 60-meter dash at 7.35. The closest finisher was DePaul freshman Tori Carroll at 7.66. Williamson also placed second in the 200-meter dash at 23.72, finishing behind St. John's Leah Anderson winning time of 23.63.
Anderson, a junior also captured a win in the 400-meter dash at 53.76, before finishing her day with a third first place medal as a member of the 1,600-meter relay with teammates Avon Samuels, Brianna Burkley and Skyy Diop. St. John's finished fourth among the eight teams in overall scoring (98) as Anderson contributed 30 points to the teams total.
Second place Marquette had some strong performances in the jumps events. Junior Lindsey Mirkes, freshman Emma Ludwig and junior Marin McClowry finished in the top three spots for Marquette in the high jump competition. Mirkes won with a mark of 1.68. She went unscathed in four jumps between the heights of 1.55 to 1.68.
In the long jump, Georgetown freshman Aniella Delafosse won at 5.81, but Marquette once again had competitors in the mix as senior Madison Marko (5.77) and freshman Mila Puseljic (5.64) rounded out the top three.
The pentathlon saw Butler junior, Niki Ezeh (3678) beat defending champion sophomore Olivia Morgan (3588) of Villanova. There were eight competitors in the entire competition.
Ezeh took first in the 60-meter hurdles and shot put during the pentathlon. Ezeh also finished third in the long jump portion as well. Morgan didn't win any individual part of the competition but she placed second in the long jump and 800-meter run and third in the 60-meter hurdles, shot put and high jump.
Butler sophomore Nina Hilt was third in the pentathlon with 3,515 points. The Bulldogs had four competitors in the competiton which contributed to 22 of the team's total of 99 points that gave it a third place showing. Ezeh also scored five additional points with a fourth place finish in the 60-meter hurdles (8.75). Hilt also collected four points in that event placing right behind Ezeh (8.76).
In distance competition, Georgetown sophomore Smai Corman won the mile at 4:55.38. The 3,000-meter run was taken by Providence junior Abbey Wheeler at 9:25.32. Wheeler was also victorious in the 5,000-meter run at 15:49.65. With her dominance in the distance races, Wheeler scored 20 of her teams total of 58 points. Providence also got a win in the women's distance medley relay at 11:41.69 behind the legs of Tessa Hunt, Niamh Gowing, Alex O'Neill and Lilly Tuck.