VB2K22
Wild Wednesday Night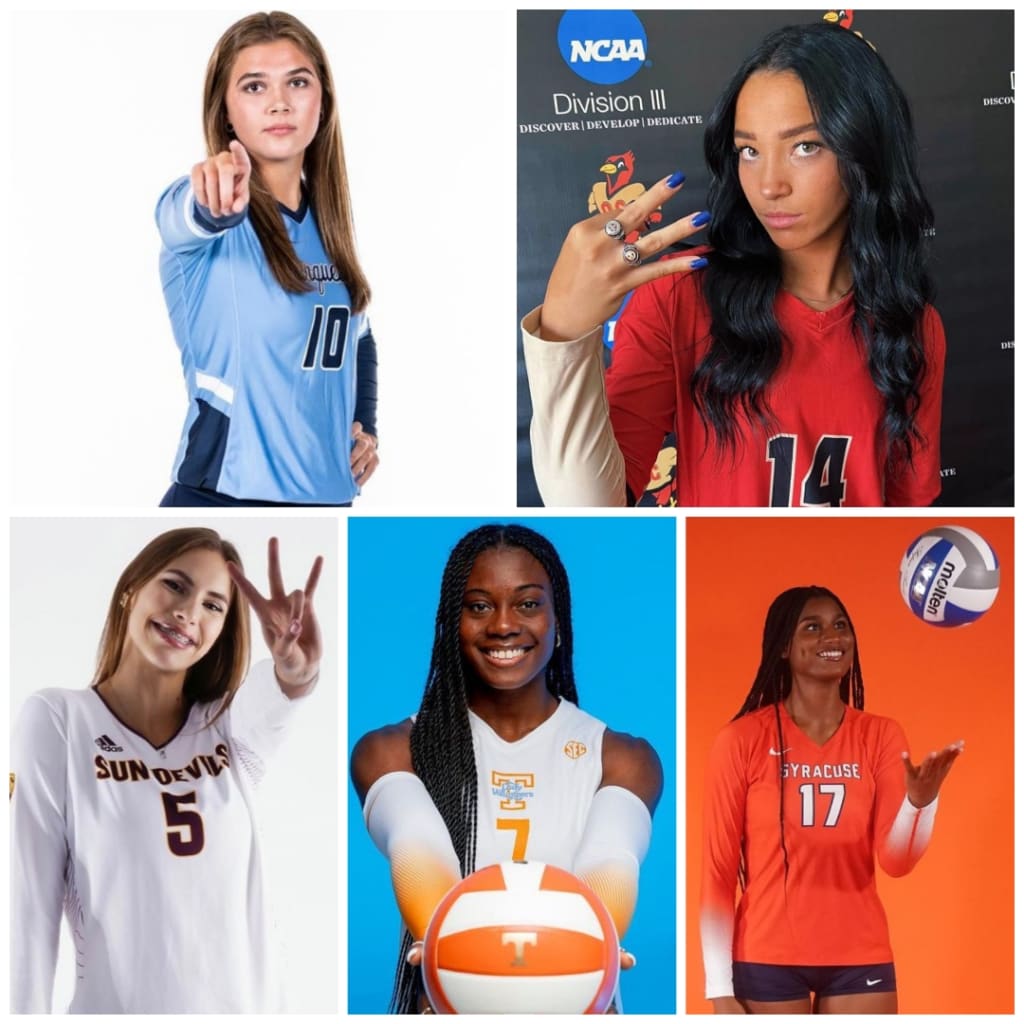 Aubrey, Madison, Iman, Morgan & Naomi
All results recorded from games played Sept. 21, 2022
McCoy's hitting improves as Otterbein wins
The Otterbein Cardinals, who are the 11th ranked team on the Division III level of the NCAA, travelled to Gambier, Ohio and took on struggling Kenyon and won 3-0 (25-15, 25-14, 25-22). Otterbein improved to 12-2, while Kenyon dropped to 1-9. Middle hitter Madison McCoy had her second-best hitting performance of the year with a .444 hitting percentage, collecting five kills and a block in two games. The junior from Wooster, Ohio, that stands at 5-11, has recorded three-straight matches with a hitting percentage over .300 for the first time this season. She has recorded 20 kills in the last three matches which is her best three-game stretch as well.
Hamilton hammers DePaul to lead Marquette
Aubrey Hamilton posted a double-double with 14 kills and 10 digs in Marquette's 3-0 (25-15, 25-20, 25-15) win over DePaul. Marquette now 10-1 and 1-0 in the Big East got a strong hitting performance on its homecourt from Hamilton as she hit .444. The 6-2 outside hitter from Hartland, Wisconsin came off of a .560 hitting percentage during the previous game which was a win over Illinois State. Hamilton has recorded 14 or more kills in less than four games in four separate matches this season. She is leading the team with an average of 3.20 kills per set.
Fingall & Tennessee rock Missouri in sweep
In front of a hometown crowd of 1,041 fans, Tennessee stopped a three-match slide to earn its first conference win of the year. The Vols, now 7-6 and 1-0 in SEC play toppled Missouri 3-0 (25-14, 25-21, 25-20). Missouri is now 7-4 and 0-1 in the SEC. Tennessee's Morgan Fingall posted 12 kills and three blocks with a hitting percentage of .333. A 6-1 right-side hitter from Fairfax, Virginia, Fingall was recently named AVCA National Player of the Sept. 13. She was also named SEC Offensive Player of the Week, the day before. The senior recorded a combined 61 kills in the first three matches of the season, wither her a season high of 24 coming in the season opening win over Loyola.
Isanovic lifts Arizona State to win at Arizona
Arizona State opened its PAC-12 season with a gratifying win 3-1 (23-25, 25-20, 26-24, 25-20) over state rival and host Arizona, in front of 2,664 fans. The Sun Devils crept back over .500 to improve to 7-6, while Arizona dropped to a still impressive 10-2. Iman Isanovic led the way for Arizona State with 18 kills and 12 digs. The 6-1, senior outside hitter from Sarajevo, Bosnia and Herzegovina earned her fourth straight double-double. Over her past four matches Isanovic has tallied 67 kills and 46 digs in 16 sets. Isanovic is averaging 3.29 kills, while posting career highs with a hitting percentage of .244 and an average of 2.08 digs per set.
Cuse upsets BC behind Franco's hitting
Naomi Franco posted 12 kills with a hitting percentage of .500 leading Syracuse to 3-2 (13-25, 25-13, 25-18, 15-25, 19-17) win over Boston College. Syracuse improved to 5-6 and 1-0 in ACC competition. Boston College dropped to 11-3 and 0-1 in the ACC. Host Syracuse saw its 6-3 junior right-side hitter, Franco have one of her best performances of the season. Her best match from a hitting perspective came earlier in the month in a win over North Florida when she posted 13 kills on a .684 percentage. Prior to the win over Boston College, Franco had a season best 15 kills against Bryant, Sept. 17. Franco is a native of Fayetteville, Georgia.