VB2K21: The Recap 3
Arizona, Fort Wayne, UNLV victors over weekend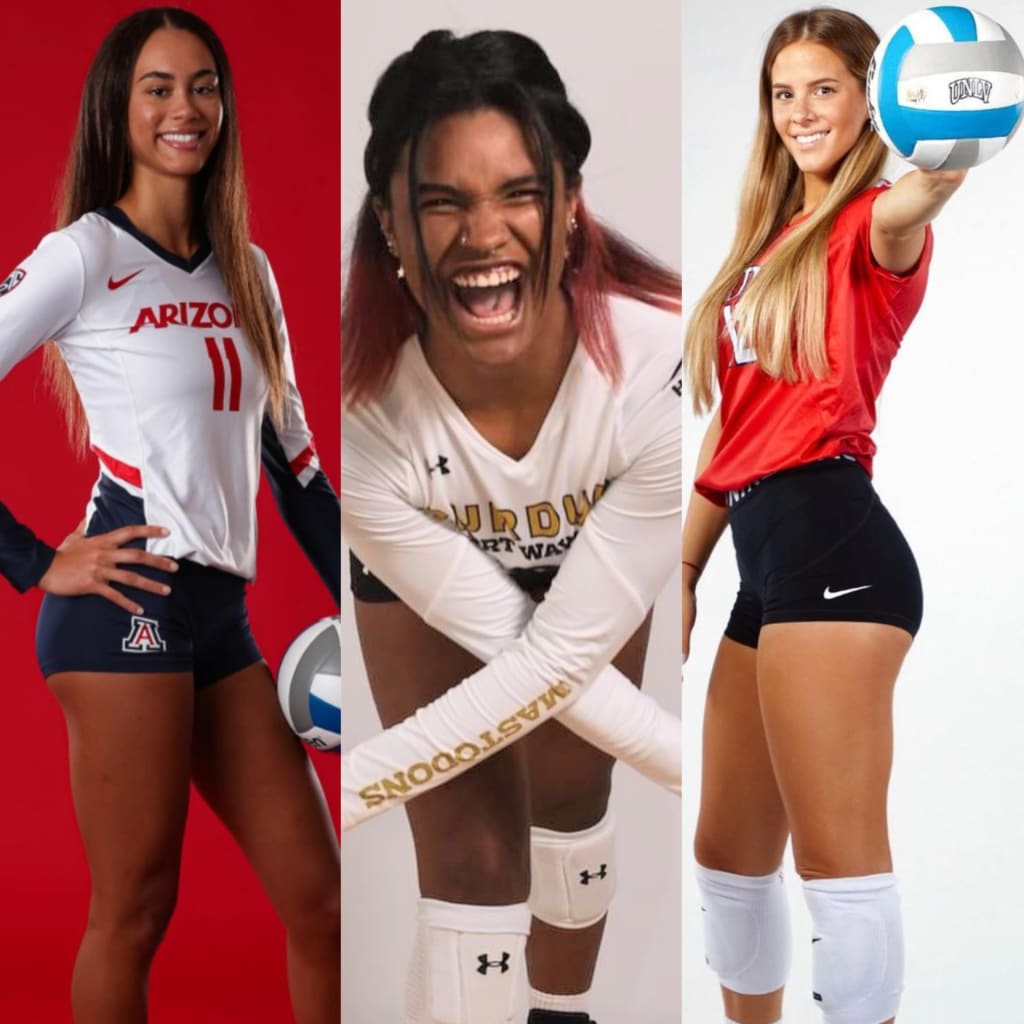 Jaelyn Hodge, Ramei Jackson & Milica Tasic.
September 4
Indiana State 3, Belmont 1
Indiana State (3-2) went over .500 with a 3-1 (25-13, 20-25, 25-22, 25-20) win over Belmont (2-1) on Saturday in Nashville, Tennessee. Emma Kaelin led the Sycamores with 42 assists. She also recorded 13 digs as she was the only player in the game with a double-double. Kaitlyn Hamilton paced Indiana State with 14 kills and a .313 hitting percentage. She collected five blocks assisted. Madeline Williams was tops in the game with eight blocks assisted as she scored on 10 kills for Indiana State. Melina Tedrow led Indiana State with 17 digs. Belmont's Rachel McBride led all players with 26 digs. Laura Shoopman was Indiana State's leader in kills with 13. Indiana State beat Alcorn State the day before 3-0 in a contest that was played in Murfreesboro, Tennessee. Both wins were a part of the Middle Tennessee/Belmont Invite.
Purdue Fort Wayne 3, Western Michigan 1
After a big win over Indiana, Western Michigan (4-2) fell short to Purdue Fort Wayne (1-5) that won its first match. Western Michigan was upset on its home court in front of 326 fans as it dropped the contest 3-1 (25-15, 25-21, 20-25, 25-28). Fort Wayne outhit Western Michigan .297 to .191. Ramei Jackson had 13 kills on a .550 hitting percentage and her teammate Maggie Castleman knocked down 11 kills on a .435 hitting clip for Fort Wayne. Katie Crowe guided the Mastadons with 15 kills while getting 12 digs as she was one of three Fort Wayne players with a double-double. The others were setter Madison Gates who had 27 assists and 10 digs and setter Nicole Jones, who posted 17 assists with 12 digs. Western Michigan's Case Logan had 45 assists and 11 digs. Mairead Boyle led the Broncos with 20 digs. Madison Merz had 11 kills on a .421 hitting percentage for Western Michigan.
UNLV 3, Washington State 1
After two straight losses to nationally ranked opponents, UNLV overcame 25th ranked Washington State to improve to 3-2. The host Rebels kept Washington State (0-4) winless with a 3-1 (25-22, 21-25, 25-19, 25-22) victory. Marlena Hayden put away 18 kills and Milica Tasic had 10 kills, 10 digs and three blocks for the Rebels. Kate Brennan led UNLV with five blocks assisted and also paced the squad with a .563 hitting percentage, scoring nine kills on 16 attempts. Paris Oliveira scraped out 16 digs for the home team. Washington State struggled with an overall .143 hitting percentage but got a strong performance from Magda Jehlarova who posted 11 kills on 21 attempts for a .476 hitting clip.
Arizona 3, Northwestern 2
The Wildcats of Arizona (5-1) beat the Wildcats of Northwestern (1-4) in a seesaw neutral contest at Las Cruces, New Mexico, 3-2 (20-25, 27-25, 25-17, 15-25, 17-15). Sofia Maldonado Diaz and Jaelyn Hodge had 17 and 15 kills respectively for Arizona. Kamaile Hiapo led Arizona with 14 digs and three service aces. Emery Herman had 40 assists, 10 digs and a team best four blocks for the winning squad. Northwestern's Alexa Rousseau had 51 assists, seven digs, five kills and three blocks in the loss.
Division II
Central Missouri 3, Alaska Anchorage 0
Host Alaska Anchorage swept through its first three matches at the Seawolf Invitational but when it crossed paths with 18th ranked Central Missouri things came to a halt. Central Missouri (4-0) stopped Anchorage (6-2) 3-0 (25-18, 25-13, 25-17). Kersti Nix's 15 kills and 12 digs helped the travelling Jennies remain undefeated. Setter Ally Offerdahl had 32 assists and 10 digs for Central Missouri. Anchorage struggled with a .008 hitting percentage. It's lone bright spot was Ellen Floyd who had 25 assists and 13 digs.