Tyson Fury vs Anthony Joshua – Will the Boxing Giants Come Out to Play
amansguide.co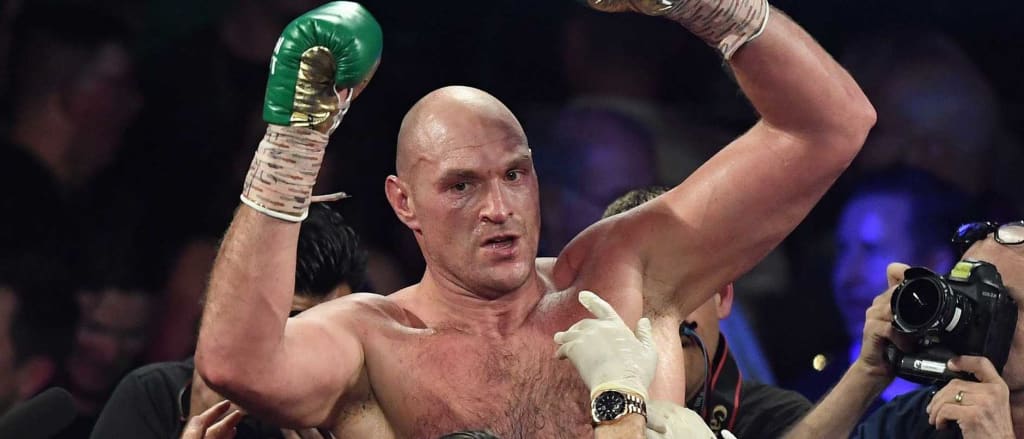 After much contractual wrangling and arm twisting, it appears we may have a heavyweight boxing match on our hands between the flawed and heroic Tyson Fury and the eternally chiselled Anthony Joshua.
Heavyweight boxing is a fickle sport. Decades can pass without a worthy title holder stepping forward or even a single decent fight taking place. And then suddenly there are a plethora of possible champions vying for the alphabet of heavyweight belts. Rumours are building that the highly-anticipated rumble between two of the greatest contemporary talents in Fury and Joshua might be official, and fight fans may be treated to a bout for the ages.
Tyson Fury is an enigmatic hero. His life is prone to swing wildly in all directions depending on his mental state and interaction with mind-altering drugs. On his darkest day, he is an overweight, depressed alcoholic, while on his finest he is a heavyweight boxer without equal, a born fighter with a chess-like ability to dismantle opponents. His record stands at 31-1-0, the draw coming in a blatantly rigged bout versus heavyweight arch-villain Deontay Wilder. Fury corrected the fraud with a comprehensive knockout victory in the rematch and has since been enjoying the perks associated with a bulging bank account. Fury is no fitness fanatic and prone to periods of extended decadence and appears to be carrying excess weight in recent photos. The coming months will tell whether he can find the motivation to strap on the running shoes and recapture his fighting weight and condition.
The road to the bout should prove almost as entertaining as the fight itself. Fury is a jester with a sharp mind and nothing to hide. His pre-fight routines are the stuff of comedic legend, and he will look to rattle the straight-faced Joshua during the promotional lead-up. Joshua is a less charismatic figure, not endowed with a sharp wit, but he will smile, look professional, and play his part. The fight barely needs promoting and should do significant business. One of the major contractual difficulties appears to have centred on the bout's location, with many possible international venues labouring under open-ended, business-killing lockdown.
The fight will pit giants with huge wing-spans in an enthralling contest. It remains to be seen whether Joshua's chin can handle the heavy leather following his disastrous loss to Mexican party boy Andy Ruiz, and Fury will certainly bring the heat. It should be a largely technical affair and a towering demonstration of classic boxing. Both men look best when fighting from the outside behind a stiff jab, and the victor may simply possess the stronger will to win and a greater dose of fighting spirit. Documentary film-makers will undoubtedly chart Fury's lengthy journey to the ring, as he sheds the pounds, tells the jokes, and looks to uphold his fighting Gypsy traditions.
Betting markets have Fury installed as the early favourite, but he is faced with a mountain of work. Joshua is a natural athlete who rarely gets too far out of shape and is probably worth an early investment with the expectation that the betting markets will narrow over time. A fit and focussed Fury is likely to duck, weave, and test Joshua's chin and markets have priced in the latter's possible inability to fight through relentless pressure and adversity.
In other heavyweight news, Andy Ruiz may square up against Deontay Wilder in what should be another classic bout. Both men need a victory to lift them back into the Fury/Joshua echelon and the financial incentive will be enormous. Another knockout defeat would see Wilder demoted to the second tier, while Ruiz has nothing to lose and will likely throw caution to the wind. Ruiz appeared lean and healthy in his latest images, and although giving away significant height and weight, he can be a devastating puncher in close. Wilder may mistakenly look beyond the shorter man to future huge money bouts with either Fury or Joshua, so Ruiz might be a value proposition.
As always, many stars need to align for these huge events to occur. Fighters need to remain injury and distraction-free. The money men and lawyers need to hammer out the mutually beneficial terms. A venue must be secured. And only then can the magic happen.
As always, stay tuned to AMG for your combat sports updates.
Jackson Byrne – Combat Sports Editor
https://amansguide.co/tyson-fury-vs-anthony-joshua-will-the-boxing-giants-come-out-to-play/