Trae Young and the Hawks are officially part owners of New York City
First Round Recap, EC Semis Preview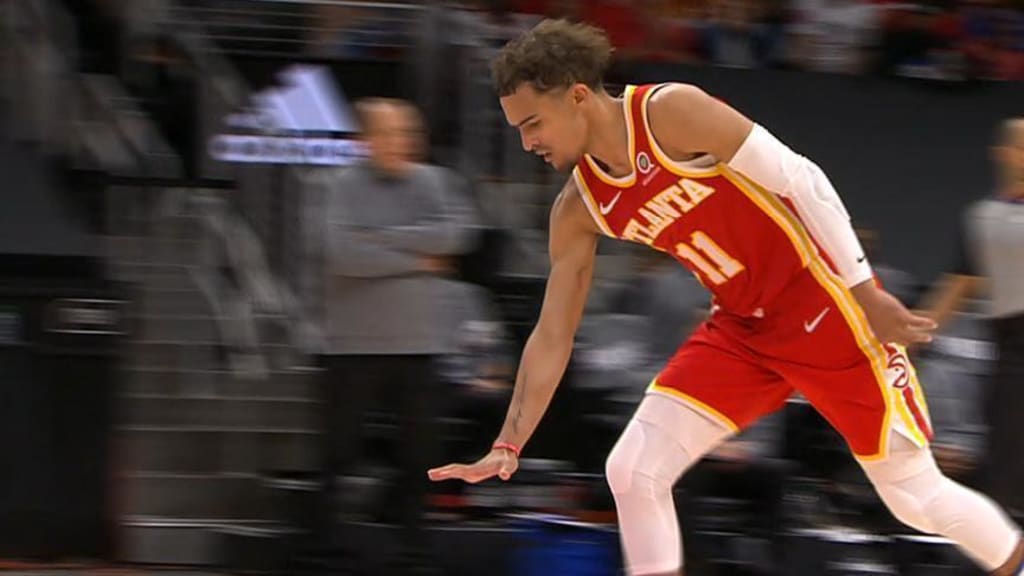 "go on and take a bow" - Rihanna
Game 5
Hawks: 103
Knicks: 89
Well there ya have it folks.
The Hawks have officially put the Knicks and the entire city of New York out of their misery after an absolute beat down in this 5 game series. I think it's safe to say the majority of basketball analysts, fans, and even players had Julius Randle and the Knicks taking this series in 6 or 7 but our guys changed that narrative before it even had a chance to become reality.
Besides the second half of game two, the Hawks had the upper hand for pretty much every minute of the series, and I couldn't be more proud. Trae Young has asserted himself as a star in this league and is finally getting the credit he deserves. Throughout the course of NBA history, we have seen some of the best players and teams of all time travel to Madison Square Garden in the playoffs and get taken down. It happened to Larry Bird's Celtics, Michael Jordan's Bulls, Reggie Miller's Pacers, and many more. Given those facts (that I didn't research but think are true), it can be determined that MSG is an incredibly difficult place to play especially in the playoffs. Although they're absolute scumbags, Knicks fans are good at being insanely loud and obnoxious which make it hard to hear, think, and play. But the Hawks made it look easy. They won 2 out of the 3 games in MSG by a combined 16 point advantage. Hearing the silence and feeling the embarrassment of the Knicks crowd last night was truly amazing. I mean you can only chant "Trae is balding" so many times before it starts getting old and you just sound dumb. Kinda makes ya cringe. You also know your team is bad when the only thing you can chant about is the slight thinning of a a grown mans hair. 90 percent of you guys are bald anyway. Maybe the chants were a welcoming ritual that bald New Yorkers do when that spot someone potentially joining the club.
Anyway, enough about "the MECCA".
This Hawks team is special. Trae Young is obviously a super star, but the talent of the team goes much further than that. We have so much depth, we're young, fast, big, we've got shooters, we've got defenders, we've got veterans, and so much potential. Throughout this series we've seen guys like Clint Capella, Bogdan Bogdanovic, and Deandre Hunter really shine and separate themselves from other young guys in the league. As Ive said before, I've been a die hard Hawks fan since I found out what basketball was. I've seen teams with Joe Johnson and Josh Smith. Then I expirienced the 2015-2016 team with 4 All Stars. But I can honestly say that this is the most exciting era I've gotten to watch so far in my time as a Hawks fan. Yes, we struggled the past few years, but I've seen flashes of greatness in the midst of the rebuilding process. Eventually (sooner than people are expecting) they won't be "flashes" anymore. Simply put, this Hawks team will be a dominate force in the NBA before we know it.
I know it may seem like I'm getting ahead of myself. I get it: it's only the first round and it was against a team who was one of the worst in the league just a few months ago. Although it may seem like it, I'm not basing these takes off of this one series. These are thoughts I've had for a good while now and that first round was the first time they've really been able to prove the points I've been making.
Alright....
It was fun, but round 1 is over and the challenge only gets tougher from here.
In a pretty quick turn around, the Hawks are facing the 76ers in game one of the Eastern Confrence Semifinals this Sunday at 1:00 PM.
This is gonna be interesting. The 76ers have been pretty dominate this year but with their star player, Joel Embid, out with a partially torn meniscus the Hawks shouldn't be taken lightly. Like I said before, and will continue to say, when the Hawks are playing their best, we can beat any team in the league. I think these guys are mentally prepared too. They handled one of the toughest atmospheres in history with ease, so as long as everyone plays to their full potential, it is fully possible for Atlanta to take Philly to 7 and come out on top. I know it sounds crazy saying that out loud but it's true. At the moment the 76ers are short handed and the Hawks are looking better than they ever have. Philly is known for having the best teams but always finding ways to mess it up. The Hawks are fully aware that they are the underdogs, but they are also fully aware that they thrive with a chip on their shoulder.
Like I said in my first blog about round 1: "The Hawks are going to surprise some people against the Knicks" and that's exactly what they did. It's no different going into this round with the 76ers. This Hawks team is going to make fools out of ESPN analysts and everyone else who has been trashing them for the past 5 years.
It's been so long since I've been able to watch the Hawks play deep into the summer and I'm loving every second of it. NBA fans have been acting as out of pocket as we've ever seen them and I have a feeling there won't be any shortage of scumbaggary in Philadelphia. I'd put money on their popcorn privileges being taken away by game 2.
I'm not gonna make game by game predictions this time, BUT my official statement is:
......
Hawks in 7.
yeah. Go Hawks.
I think imma livestream myself watching these games. More blogs to come.
peacenlove
About the Creator
Pretty much just whatever is on my mind:
lil bit of everything!
peacenlove
Reader insights
Be the first to share your insights about this piece.
Add your insights