Track Stars App National Athletes of the Week
Ten athletes receive honors in week one of NCAA indoor season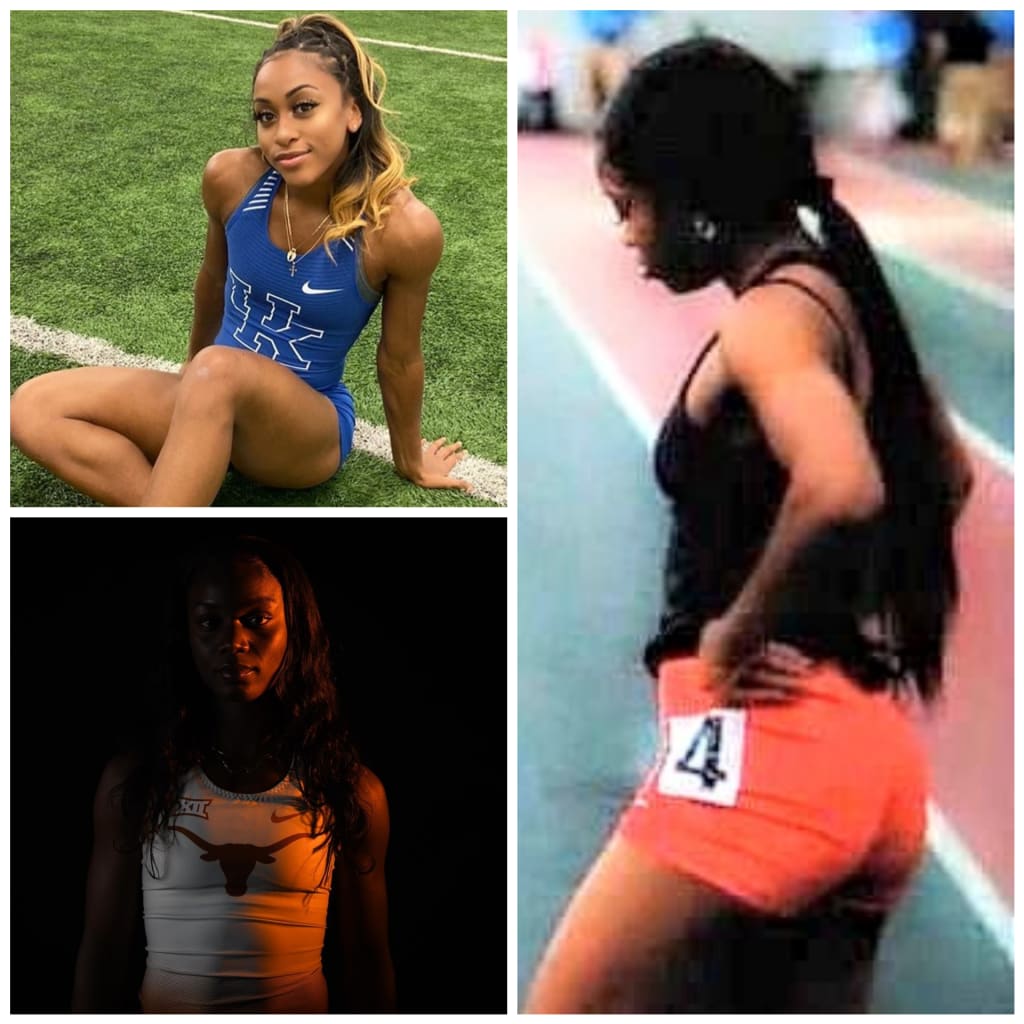 Clockwise: Celera Barnes, Jahniya Bowers and Julien Alfred
The 2019-20 indoor track and field season kicked off this weekend and we've already got some jaw dropping performances to share with you! Brought to you by the Track Stars app, available for iPhone and iPad users at: https://apps.apple.com/us/app/track-stars/id1489617224?ls=1
Track Stars app is also available for Android users at: https://play.google.com/store/apps/details?id=com.app.trackstars
Track Stars App National Athletes of the Week
Celera Barnes runs fastest time since sophomore season
Athlete: Celera Barnes - School: Kentucky - Class: Senior - Events: 60-Meter Dash, 200-Meter Dash, 1600-Meter Relay
Celera Barnes took wins in the 60-meter dash (7.27) as well as the 200-meter dash (24.18) at the Jingle Bells Open hosted by Kentucky. Her 60-meters time was just off of her personal best time of 7.25 which was recorded Feb. 10, 2018. She hadn't run that fast in all of her previous indoor season. Along with her two wins, she had a runner-up finish as part of the 1,600-meter relay team which included Darci Khan, Nami Wilson and Makilah Williams.
Youngstown State Freshman Jahniya Bowers did what?????
Jahniya Bowers - Youngstown State - Freshman - 60-Meter Dash, 200-Meter Dash
In the Horizon League, the rich get richer. Youngstown State already has All-American senior Jaliyah Elliott as well as many other talented sprinters. At its first meet, the YSU College Icebreaker, freshman Jahniya Bowers recorded a time of 7.38 to win the 60-meter dash. Put this in perspective, no freshman has ever ran that fast in the history of the Horizon League. Also no sprinter from the conference other than Elliott has ever finished under 7.4 seconds. Bowers finished ahead of Elliott's 7.4 finish while beating out 44 other competitors. She was fourth to Elliott (24.31) in the 200-meter dash with a time of 24.92.
Longhorn Julien Alfred only sprinter under 7.2 in opening week
Julien Alfred - Texas - Sophomore - 60-Meter Dash, 1,600-Meter Relay
At 7.18, Julien Alfred ran the fifth fastest time in Texas history during the 60-meter dash prelims at the FasTrak Athletix Collegiate & Unattached Indoor Opener. Alfred went on to win the finals at 7.23 as well. The sophomore wrapped her day as a member of the winning 1,600-meter relay with teammates Serenity Douglas, Kennedy Simon and Sanique Walker.
Savannah Nevels dominates Bowling Green meet
Savannah Nevels - Bowling Green - Junior - 60-Meter Dash, 1,600-Meter Relay
Junior Savannah Nevels ran a career best time of 7.64 at the BGSU Opener. The win was a bit of an upset as Miami senior Olivia Bechtel entered as the favorite to win. In the prelims Bechtel (7.70) outran Nevels (7.72), but the finals saw Nevels outpace Bechtel who finished third at 7.80 behind Cleveland State freshman Azsah Bradley's 7.77. The victory is Nevels' first 60-meter win since she won a preliminary race as a freshman at Kent State on Jan. 13, 2018. Nevels also won this weekend as a member of the 1,600-meter relay squad with her teammates Anna Roach, Iyanna Ross and Hannah Shoemaker.
Horizon Outdoor Champ Kayla Thompson PRs indoors
Kayla Thompson - Northern Kentucky - Junior - 60-Meter Hurdles, Long Jump
At the Mastodon Open hosted by Purdue-Fort Wayne, Northern Kentucky junior Kayla Thompson ran her career best indoor time of 8.81 in the 60-meter hurdles. Thompson dominated the field of 24 hurdlers during the prelims with a time of 8.82. She and Ball State's Anasja Troutman (8.92) were the only competitors to finish under nine seconds in the opening round. In the finals Thompson's time of 8.81 defeated Troutman's 8.85 and Indiana Tech's Mary Leighton's 8.94 finish. Thompson won the Horizon League outdoor 100-meter hurdles championship last season.
Memphis' DeeNia McMiller throws for career best
DeeNia McMiller - Memphis - Junior - Weight Throw, Shot Put
DeeNia McMiller was a winner at the BSC Panther Indoor Icebreaker, in Birmingham, Ala. with a throw of 22.20 meters in the weight throw. Last season McMiller placed second in the weight throw at the American Athletic Conference indoor championship meet at 20.67, her previous personal record. This weekend's throw would've won the American Athletic Conference indoor championship in both 2018 and 2019. McMiller had the best throw in the NCAA during opening weekend, finishing ahead of Notre Dame's Rachel Tanczos (22.10) and Michigan State's Rebecca Mammel (21.44).
Nayoka Clunis opens season at 17.05 meters in shot put
Nayoka Clunis - Minnesota - Senior - Shot Put, Weight Throw
Hardwork during the off-season has paid off immediately for Minnesota's Nayoka Clunis. The senior led all throwers in shot put competition with a throw of 17.05 at the SDSU Holiday Invite meet, hosted by South Dakota State. She is a back-to-back champion at that meet, winning last season at 15.81.
Northern Illinois' Jehvania Whyte continues winning ways
Jehvania Whyte - Northern Illinois - Senior - Triple Jump
All-American Jehvania Whyte was a winner in triple jump action at the Fred Wilt Open, hosted by Purdue. Her jump of 12.79 meters held off eight other competitors. Whyte has swept the Mid American Conference indoor and outdoor championships the last two seasons.
Tyra Gittens takes high jump at home opening meet
Tyra Gittens - Texas A&M - Senior - High jump
After missing the 2018-19 indoor season due to injury, Tyra Gittens reclaimed her high jump championship at the Texas A&M Reveille Invitational. She won the title in 2017 with a jump of 1.79 meters. This time she claimed the event at 1.82 meters. Her jump was the best in the NCAA for week one. Along with the win, she placed third in the 60-meter hurdles at 8.48. An All-American, Gittens placed 16th in high jump at the NCAA Outdoor Championships last season. She was also second in the heptathlon at the national meet.
Ellen Ekholm breezes to win at Kentucky opener
Ellen Ekholm - Kentucky - Senior - High Jump
Winning is what Ellen Ekholm does and she does it often. The reigning SEC outdoor high jump champ took first place at the Jingle Bells Open with a jump of 1.80 meters. Last season from the last week of March to the second week of May, Ekholm won five straight meets including the Florida Relays, Tennessee Relays and SEC Championships. Her jump was the second best in the NCAA during its opening week.