Track Stars App All-Star Ohio Indoor High School Team
Lakota East's Serena Clark named state's top athelete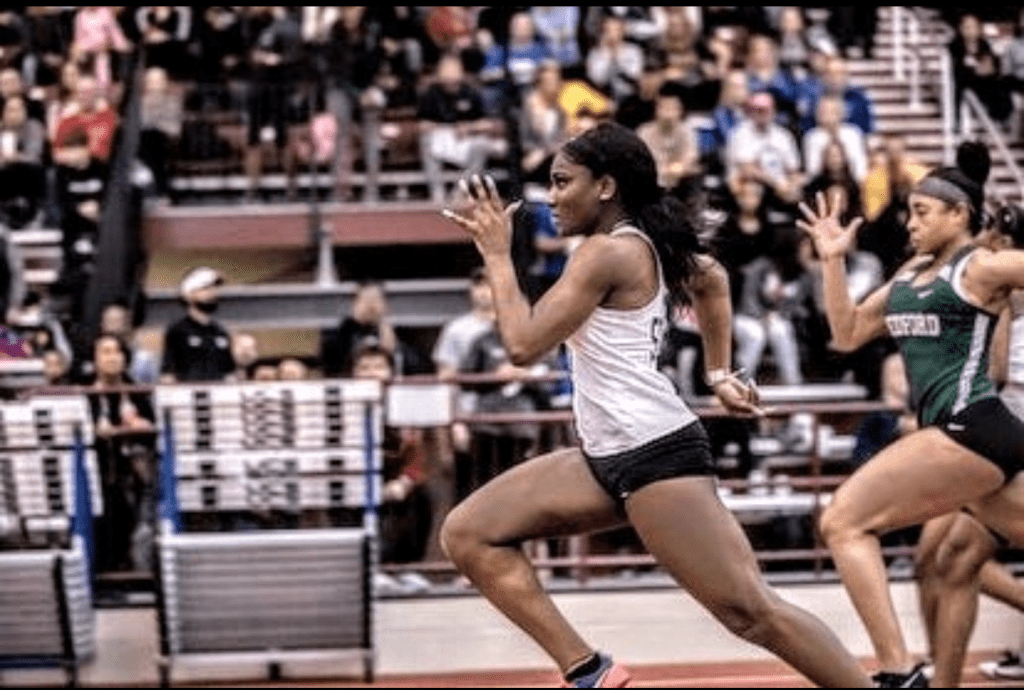 Serena Clark
For the first time ever the Track Stars App announces its All-Star Ohio Indoor High School Team. Click the links below to download the world's first video streaming app for women's track and field for iPhone and Android users.
Track Stars App, available for iPhone and iPad users at: https://apps.apple.com/us/app/track-stars/id1489617224
Track Stars App, available for Android users at: https://play.google.com/store/apps/details?id=com.app.trackstars
Track Stars All-Star Ohio Athlete of the Year
Serena Clark, School: Lakota East, Class: Senior
Serena Clark wrapped up her senior year with an amazing showing at the state indoor track and field championship meet. She won the 60-meter dash at 7.47 which was the state's fastest time of the season and the third fastest time in the United States.
She followed that with a 200-meter dash win at 24.31, which again was the fastest time in Ohio and the 10th fastest time in the nation. Clark sprinted her way to a track and field scholarship at Clemson where she will compete as a collegiate athlete.
Here's a look at her high school career accolades.
2020 - Indoor State Champion: 60-meter dash, 200-meter dash.
2019 - Outdoor State Champion: 200-meter dash, 400-meter relay
Outdoor State Runner-Up: 100-meter dash
Indoor State Champion: 200-meter dash
Indoor State Runner-Up: 60-meter dash
2018 - Outdoor State Champion: 400-meter relay
Outdoor State Runner-Up: 100-meter dash
Outdoor State Third Place: 200-meter dash
Indoor State Runner-Up: 60-meter dash
Indoor State Third Place: 200-meter dash
2017 - Outdoor State Runner-Up: 400-meter relay
Outdoor State Third Place: 100-meter dash
Track Stars All-Star Ohio Sprinters
Serena Clark, School: Lakota East, Class: Senior
Paige Floriea, School: Mentor, Class: Junior
Kaira Granger, School: Bedford, Class: Junior
Azariyah Bryant, School: Lakota East, Class: Sophomore
Skylar Themelaras, School: Westerville, Class: Junior
Moriah Johnson, School: Westerville, Class: Junior
Chante' Clinkscale, School: Niles McKinley, Class: Junior
Madison Murry, School: Franklin Heights, Class: Senior
Zaria Robinson, School: Bishop Hartley, Class: Sophomore
Ka'Niya McGowan, School: Wayne, Class: Senior
Track Stars All-Star Ohio Runners
Carina Napoleon, School: Thomas Worthington, Class: Junior
Taylor Ewert, School: Beavercreek, Class: Senior
Reilly Zink, School: Granville, Class: Senior
Halle Hamilton, School: Lexington, Class: Junior
Daniella Santos, School: Hilliard Darby, Class: Senior
Aiamyia Dudley, School: Cuyahoga Falls, Class, Senior
Maddie Ullom, School: Mason, Class: Senior
Savannah Dennison, School: Mentor, Class: Freshman
Colbi Borland, School: Big Walnut, Class: Senior
Maria Kaylor, School: Princeton, Class: Senior
Avery Blaszak, School: Shaker Heights, Class: Junior
E'Moni Saxton, School: New Albany, Class: Freshman
Track Stars All-Star Ohio Hurdlers
Kerrigan Myers, School: Galion, Class: Senior
Josephine Conti, School: Mayfield, Class: Junior
Miya Brines, School: Loveland, Class: Junior
Marissa Saunders, School: Westerville South, Class: Freshman
Mabinty Kebe, School: Westerville Central, Class: Senior
Folake Olujide-Ajibade, School: Dublin Scioto, Class: Senior
Camryn Nelson, School: Lincoln, Class: Sophomore
Jazmyn Potts, School: Chaminade Julienne, Class: Junior
Bailey Smith, School: Bishop Hartley, Class: Senior
Track Stars All-Star Ohio Jumpers
Azariyah Bryant, School: Lakota East, Class: Sophomore
Katherine Mendenhall, School: South, Class: Senior
Kerrigan Myers, School: Galion, Class: Senior
Paige Floriea, School: Mentor, Class: Sophomore
Kenna Stimmel, School: Margaretta, Class: Sophomore
Sanai Lynch, School: Wayne, Class: Sophomore
Shamaria Davis, School: Wayne, Class: Junior
Maddie Alexander, School: Beachwood, Class: Senior
Riley Hunt, School: Greenville Senior, Class: Senior
Selene Weaver, School: Franklin Monroe, Class: Senior
Camiyah James, School: Lakota East, Class: Junior
Trisha Singh, School: Twinsburg, Class: Senior
Track Stars All-Star Ohio Throwers
Lenea Browder, School: Troy, Class: Senior
Ella Rigel, School: Leipsic, Class: Junior
Emma Kowalski, Hilliard Darby, Class: Senior
Lacey Stringer, School: Lincoln, Class: Senior
Brooke Lumpkin, School: Avon Lake, Class: Junior
Amya Livingston, School: Steubenville, Class: Sophomore
Molly Radcliffe, School: Avon, Class: Sophomore
Smaria Newton, School: Kings, Class: Junior
Krista Okeafor, School: Brecksville, Class: Senior
Breanna Brammer, School: Zanesville, Class: Junior