Track Stars App 2k21 Indoor Recap: Kent State
Bailey, Pasqualetti, Choi lead Flashes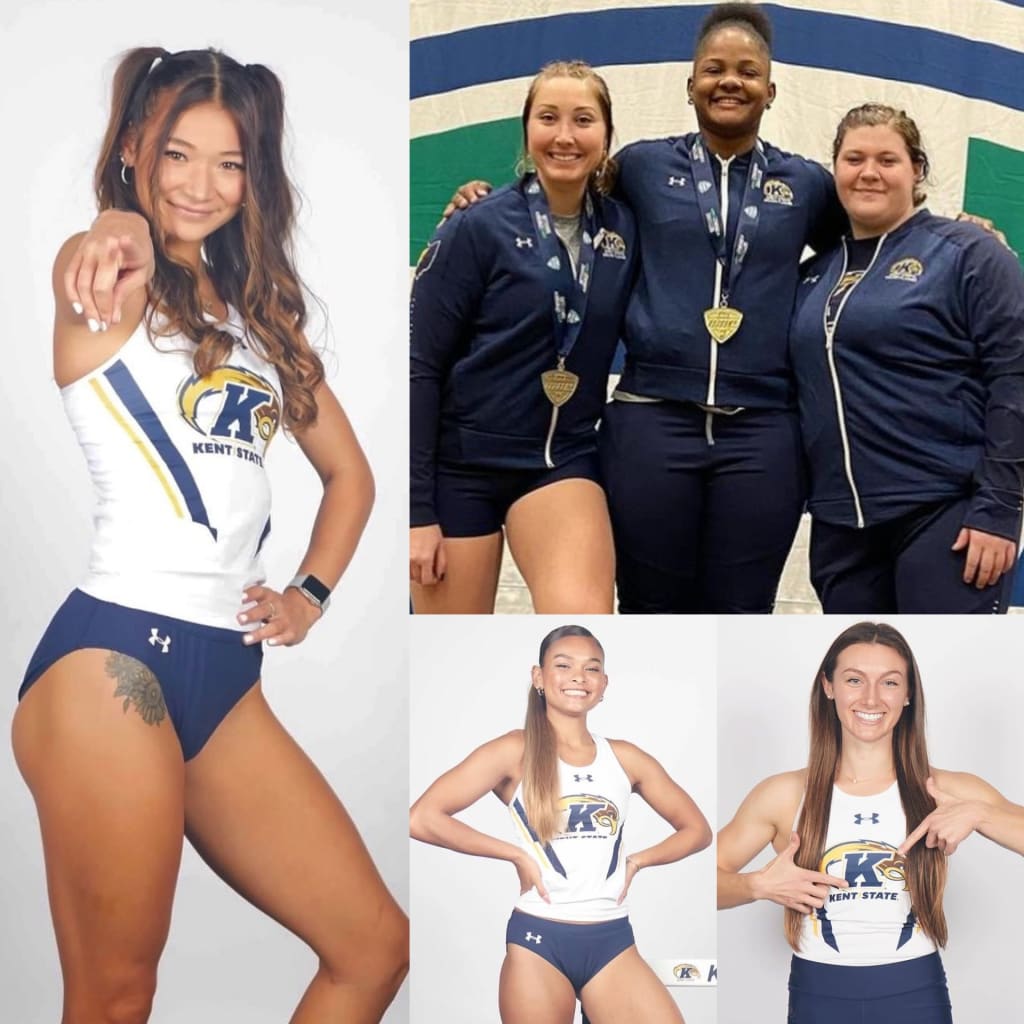 Photo: Sarena Choi, Grace Tennant, Gabrielle Bailey, Meghan Daly, Mi'Angel Daniels & Leah Pasqualetti.
Kent State finished sixth at the Mid American Conference indoor championship meet. The Golden Flashes had some good moments during the 2021 indoor season.
Freshman Leah Pasqualetti took first place at the Mid American championship meet in the pole vault with a mark of 4.16. During the season she tallied first place finishes in four of her five meets.
Junior Gabrielle Bailey led the Flashes to victory with a conference championship win in the shot put at 16.84. Her teammate Grace Tennant took third place in the same competition with a throw of 15.84. Bailey's mark was the best throw of the season by any Mid American Conference thrower. It was also Bailey's first win of the indoor season. Tennant was last year's champ. She entered the meet undefeated with five straight wins before placing third in the finals.
Senior Sarena Choi qualified for the conference championship finals in both long jump and triple jump competitions. She placed third in the triple jump with a career best mark of 12.26. It was her first time medaling at the Mid American Conference championships in her four years at Kent. Choi placed fifth in the long jump finals with a leap of 5.80. Prior to the championship meet Choi earned her first long jump win since Jan. 25, 2019, when she won at this year's Kent State University Collegiate Meet Tune-Up, Feb. 20.
Senior hurdler Mi'Angel Daniels qualified for the 60-meter hurdles finals, where she placed fourth in the conference. Her time of 8.76 was her second best of the season. She was a winner at the Kent State University Doug Raymond Invitational, Feb. 13, when she crossed the finish line at 8.75. In that race she beat two eventual conference champions. Her time that day was better than Youngstown State freshman Madison Murry who won the Horizon League 60-meter hurdles and Jacqueline Pokuaah, a junior at Akron who won the Mid American Conference 60-meter hurdles race.
Other notable moments throughout the season was Lauren Hadley's debut when she ran her fastest time in the 60 meters placing third at 7.93, Jan. 22. Junior Ruby Greenwood ran her best 400 meters race at the Kent State University Collegiate meet, Feb. 20. She placed second out of 23 competitors with a time of 56.78. Grace Luther scored a point for Kent State at the conference championship meet, finishing eighth out of 18 throwers in the weight throw. The sophomore made her best collegiate throw of 17.85. Luther scored a win during the season at the Akron/Kent State/Buffalo Tri meet, Jan. 22. Her throw of 16.57 bested five other Mid American Conference competitors. Sophomore Meghan Daly through a career best 14.31 in the shot put to finish eight in the conference finals.
Kent State also got a regular season win from its 1,600-meter relay squad when Alexandria Verbancic teamed with Mi'Angel Daniels, Benja Duff and Ruby Greenwood to win at the Doug Raymond Invitational (3:55.45).
Top Marks
60-meter dash Lauren Hadley, Freshman 7.93
200-meter dash Lauren Hadley, Freshman 25.55
400-meter dash Ruby Greenwood, Junior 56.78
800-meter run Bella Wolford, Freshman 2:23.57
Mile Leah Lisle, Freshman, Junior 5:13.16
3,000-meter run Maddie Dunlap, Senior 10:12.03
5,000-meter run Maddie Dunlap, Senior 17:53.65
60-meter hurdles Mi'Angel Daniels, Senior 8.75
1,600-meter relay Alexandria Verbancic, MiAngel Daniels, Benja Duff, Ruby Greenwood 3:55.45
High Jump Desiree Thomas, Senior 1.72 meters
Pole Vault Leah Pasqualetti, Freshman 4.28 meters
Long Jump Sarena Choi, Senior 5.96
Triple Jump Sarena Choi, Senior 12.26
Shot Put Gabrielle Bailey, Junior 16.84
Weight Throw Grace Luther, Sophomore 17.97
Click the links below to download Track Stars App, the world's first video streaming app for women's track and field for iPhone and Android users.
Track Stars App, available for iPhone and iPad users:
Track Stars app is also available for Android users at: