Track & Field 2k21: Tennessee Relays Preview 2
Checkin' out the hurdlers and the javelin throwers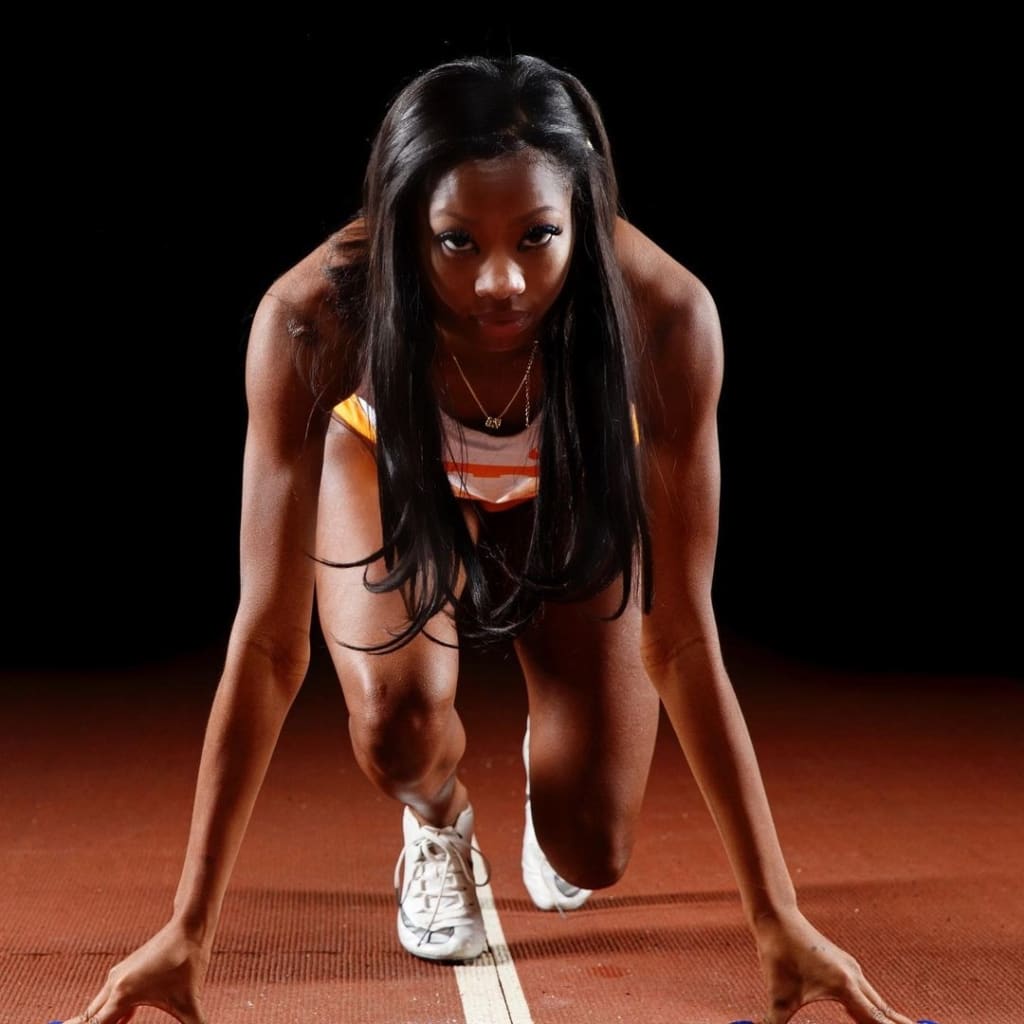 Britton Wilson
The Tennessee Relays take place, April 8-11 in Knoxville, Tennessee, USA. The first portion of this preview included information about three of the teams that are participating. The participating schools have since been updated. From here on out we will share previews of the events that will be taking place. We have learned the hard way, participants are subject to change. Okay, that made us laugh too, enjoy the preview!
100-Meter Hurdles (Friday, April 9)
Above: Alexis Duncan
There are 24 participants scheduled to compete in the 100-meter hurdles. Tennessee hurdlers Alexis Duncan and Domonique Turner represent the home team. Duncan owns her team's top time so far this season at 13.45. She ran that time when she captured a win at the Florida State Relays, last month. Turner was third in that race, clocking in at 13.65. The field included nine other hurdlers from Clemson, Florida, Georgia Tech, Florida State and Auburn. They will participate in heat one.
Below: Domonique Turner
Also in heat one are three hurdlers from Cincinnati. Victoria Abunaw, Leah King and Calista Manns will all represent the Bearcats in the event. Abunaw was a winner last weekend at the Oliver Nikoloff Invitational with a time of 13.90. Ayesha Muhammad and Eddita Pessima will compete for Pitt and Mi'Angel Daniels will run for Kent State.
Below: Victoria Abunaw
Pessima ran a career best time of 13.29 at the Raleigh Relays, which is Pitt's top time of the year. Daniels is Kent State's top hurdler, as she placed fourth in the 60-meter hurdles at the Mid-American Conference's indoor championship meet in February. This will be her first outdoor race of the year.
Below: Eddita Pessima
Heat two: Kaneisha Raymond and Jazmyn Potts (Pitt), Bailee Dierks, Salmata Korgho and Ansley Schug (North Dakota), Kristen Carter (SE Missouri), Benja Duff (Kent State), Lindsay Cooper (East Tennessee State).
Below: Mi'Angel Daniels
Heat three: Glory Nyenke and Regina Yeboah (Middle Tennessee State, Ellie Vest (Virginia Tech), Caroline Nguyen (Furman).
400-Meter Hurdles (Friday, April 9)
Above: Britton Wilson
Tennessee's Britton Wilson will participate in the 400-meter hurdles as the lone Lady Vol in the competition. She has competed in two races so far this season. She placed third at the Auburn Tiger Track Classic at 59.04 and second at the FSU Relays at 59.07. In heat one she will face a trio of Pitt Panthers in Breanna Phillips, Eddita Pessima and Ayesha Muhammad.
Middle Tennessee State's Glory Nyenke is a freshman hurdler who competed against Wilson at the Auburn Tiger Track Classic, where she finished seventh with a time of 1:02.37. She will race alongside Kent State's Alexandria Verbancic and Southeast Missouri State's Kendall Long. In her second meet of the season, Long had a runner-up finish at the Joey Haines Invite last weekend with a time of 1:02.84.
Heat two: Britney Griffith and Lindsay Cooper (East Tennessee State), Isabelle Angerman (Louisville), Jazmyn Potts and Kaneisha Raymond (Pitt), Ansley Schug and Bailee Dierks (North Dakota).
Heat three: Caroline Nguyen(Furman), Salmata Korgho (North Dakota) Benja Duff (Kent State).
Javelin Throw (Friday, April 9)
Above: Kylee Carter
Seventeen competitors will participate in the javelin throw at the Tennessee Relays. Auburn's Kylee Carter is in the field as she looks to get back to the NCAA championship final. She was the runner-up in the javelin throw at the national championship meet. She threw a winning mark of 57.38 at the Pepsi Florida Relays, which is the third best throw in the NCAA. The rest of the field includes Addie Wanner and Raeli Howerton (Louisville), Regina Yeboah (Middle Tennessee State), Ashley Carter, Alex Webb and Shaniya Holley (Auburn), Grace Tennant and Vanessa Vodan (Kent State), Kaylee Johnston and Jaden Kight (Southeast Missouri State), Hayley Schmidt, Kari Wolfe and Emily Poole (North Dakota), Brianna Spirnak (Pitt), Stefanie Aeschlimann (Virginia Tech), Leonie Troeger (Cincinnati).
Below: Grace Tennant