Toronto Blue Jays Have Bright Future With Prospects Vlad Guerrero Jr and Bo Bichette
The Jays' top two prospects are both expected to make their big league debuts by 2019.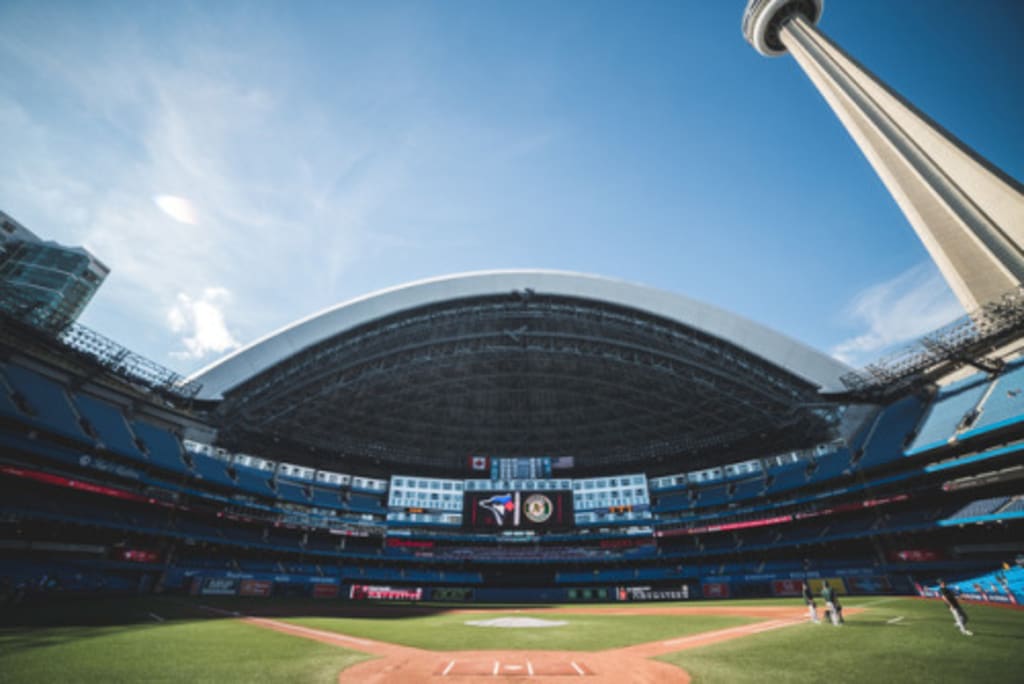 The Toronto Blue Jays have had several productive seasons in the past few years, advancing to an ALCS in 2015 and losing in the division series in 2016. Last year, though, was a disappointment for Toronto, failing to make the postseason. One thing they have lacked in past years is talent that the Jays have drafted and brought up through their minor league system. But now there is Vladimir Guerrero Jr and Bo Bichette.
Guerrero, the son of former big league Vladimir Guerrero, was signed by Toronto back in July of 2015 for 3.5 million as a 15-year-old. Guerrero Jr can really swing the bat well, just like his father did for 16 seasons in the big leagues.
Bo Bichette also comes from some deep baseball bloodlines. His father Dante Bichette was a four-time All-Star who spent 13 years in the major leagues. Bo Bichette was taken by the Jays in the second round of the 2016 draft and already made his way up to high A Dunedin last year in just his second professional season.
Let's examine what these two prospects can bring to the Rogers Centre by 2019.
Guerrero Jr
Guerrero Jr is a very special player and his bloodlines definitely show in the way he swings the bat. In his first pro season in 2016 for the rookie league Bluefield Blue Jays, Guerrero Jr hit an impressive.271 with 8 homers. He was just getting his feet wet in professional baseball in 2016, but 2017 was his breakout season where he really put his name on the map as one of the best prospects in all of baseball. Between Single-A Lansing and High-A Dunedin, Guerrero Jr produced a .323/.425/.485 line with 13 home runs. That performance earned him a trip to the Futures game in July, which features the top prospects in the minors. The 18-year old hasn't even hit his prime yet. He's still growing and developing, and his power potential has an extremely high ceiling. Guerrero Jr has the definite chance to be a future 30 plus homers a year type guy. He has an impressive combination of bat speed, hand-eye coordination, and physical strength. He's really improved his plate discipline as well, drawing 76 walks in 2017 with just 62 strikeouts. When it comes to defense, Guerrero plays third base really well, collecting a .933 fielding percentage across two seasons. He's really improved his arm strength since his professional career has began as well. The only concern with him staying at the hot corner is his size. He's 6'1" and a hefty 200lbs at just 18-years-old, so there's a possibility he could make the move over to first base or possibly left or right field, especially if he gets bigger. Guerrero has all the abilities to be a future All-Star for the Jays, and even a future MVP thanks to a natural talent to swing the bat. The sky is the limit for the 18-year-old.
Bo Bichette
Bichette has absolutely raked at the plate throughout his short tenure in the minors so far. He began his professional career in 2016 with the rookie league GCL Blue Jays hitting an astounding .427 in 22 games that summer, going deep four times. In 2017, Bichette picked up right where he left off. Bichette compiled an impressive.362 average across Single-A Lansing and High-A Dunedin alongside Guerrero Jr. Bichette also hit 14 homers on his way to collecting the Midwest league MVP honors. Just like his teammate, Bichette has a natural feel for hitting. His swing isn't quite as smooth as Guerrero, but he does have lightning quick bat speed and the ability to spray balls from line to line. Bichette won the home run derby in the Under Armour All-American game at Wrigley field back in 2015, showing early in his amateur career that he has extremely raw power. Bichette plays a solid shortstop with good range and a strong arm. The Blue Jays plan to try and keep him at shortstop as long as they can. Bichette has the ability to hit 25 plus homers a year in the major leagues when he arrives and looks to be a centerpiece at shortstop for the Jays in the future.
Future is bright.
If Thursday's win over the Orioles was a glimpse into the future, Jays fans should be ecstatic. Bichette and Guerrero Jr combined for six hits in their Spring training debuts for the big league club in a 9-3 win over Baltimore. Both these young prospects have tremendous upside and look to have all the potential to be stars once they reach the major leagues.