Top 10 spinners in the world
Since its inception, spin bowling has developed as an art form. Any batsman's ability to stay on the wicket is hampered by the abundance of variations available, including googly, topspin, slider, and flipper.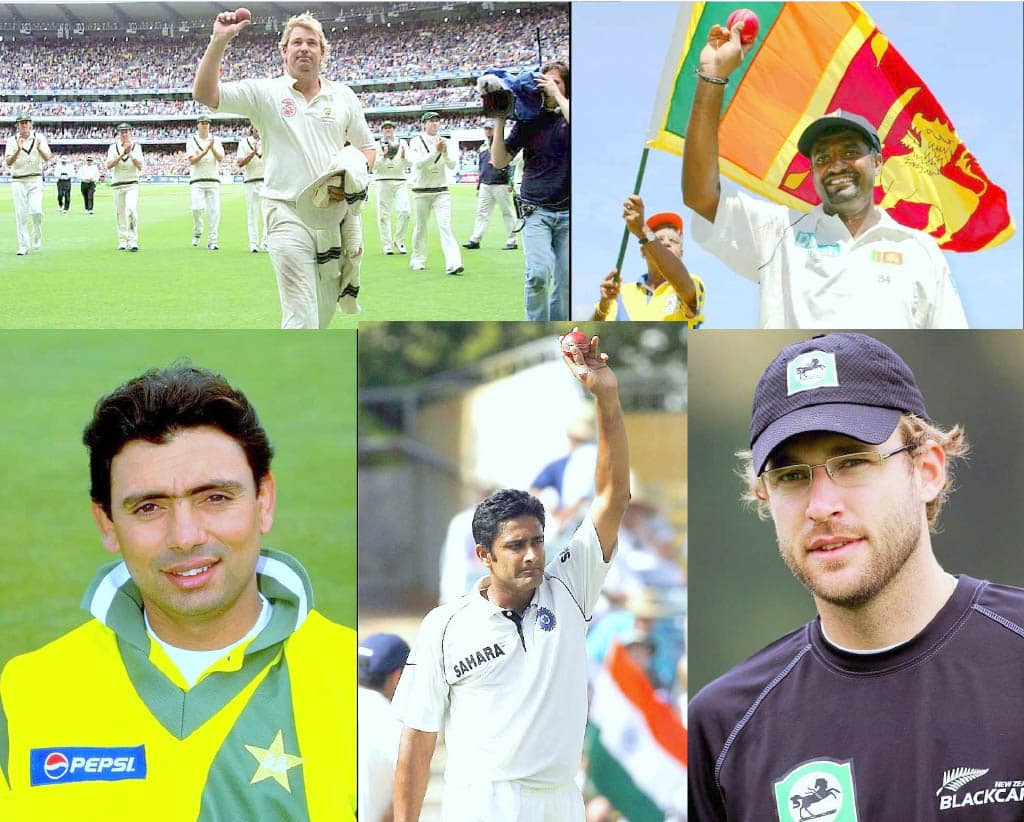 In all forms of cricket, spinners have been deceiving the batsmen for years with their web of spin. Since its inception, spin bowling has developed as an art form. Any batsman's ability to stay on the wicket is hampered by the abundance of variations available, including googly, topspin, slider, and flipper. Only after developing the ability to spin the ball well against the opposition can it be employed as a weapon. Any team they play for would be lucky to have them as a match winner. 
Here's a list of Top 10 spinners in the world –
1.Shane warne
Undoubtedly, Shane Warne is the finest test match spinner of all time. For almost two decades, he was the best match winner for Australia. He took 40 wickets in the 2005 Ashes, 16 more than any other player on either side, even though his team lost. In the late 1990s and early 2000s, the Australian cricket squad was virtually unbeatable and ruled the sport. He was skilled and could bowl endlessly with such accuracy. His mental tricks were sufficient to render batsmen helpless before they even confronted a ball. The men's test squad selected by Shane Warne for the decade 719 test match wickets were taken by Warne, who had a 25.42 bowling average. 37 five-wicket hauls and 10 ten-wicket hauls were taken by him.
2.Muttiah Muralitharan
The majority of the test matches that were played in Sri Lanka were won by Sri Lanka thanks to their bowling, which also guaranteed that they would stay competitive away from home. Batsmen found it challenging to choose which stroke to play against Muralitharan because of how much he spun the ball. When he used his doosra, hitters had a difficult time picking him because it was so deadly. With 800 wickets at the conclusion of his career, Murali had the most of any bowler in test history. He has the highest bowling average of any spinner on this chart at 22.73. In the modern age, 67 five-wicket hauls and 22 ten-wicket hauls are practically unimaginable.
3.Anil Kumble
Anil Kumble represented India in 132 test matches and amassed 619 test match wickets with a bowling average of 29.65. He was a great bowler at home, taking 350 wickets at just 24.89 on surfaces that were primarily used for batting. He also had success in Zimbabwe, the West Indies, and South Africa, where he averaged close to 30. Kumble amassed 15 wickets in Bangladesh at a meagre 16.53. He didn't have as much ball spin as Warne or Muralitharan, which may be the reason he couldn't get as much out of foreign surfaces. He was extremely intelligent, though, which enabled him to manage the run rate while India was travelling. For a leg-spinner, Kumble's total economy of 2.70 is impressive.
4.Saqlain Mushtaq
Saqlain Mushtaq's game altered the entire game, despite the fact that he may not have taken as many wickets as the other players on the list. Saqlain is well known for developing the wellliked "Doosra."When Saqlain Mushtaq arrived, legspin was becoming more and more of an art form while off spinners were at their lowest point.Then, however, Saqlain revived offspin bowling by inventing his "doosra" and revolutionising the sport. Saqlain has taken 496 wickets in international play, including 288 in tests and 208 in ODIs.
5.Daniel Vettori
Daniel Vettori, who made his international cricket debut in 1997 at the age of 18, is still the youngest player to represent New Zealand. He is regarded as one of the all-time greats of the game in addition to being the best spin bowler New Zealand has ever created. One of the few spinners with more than 300 wickets at the international level was Vettori, who used his leftarm orthodox spin to weaponize various variations against batsmen. His highest scores in an innings at the Test level are 7/87, in ODI play they are 5/7, and in T20 they are 4/20.
6.Lance Gibbs
When fast bowlers were meant to be the backbone of any team, Lance Gibbs, one of the best spinners of his era, preserved the art of slow bowling. He achieved 300 wickets in the longer form of the game, becoming the first slow orthodox bowler to do so. On February 5, 1958, at Queen's Park Oval in Port of Spain, the off spinner made his debut against Pakistan. He held four wickets in the match, which his side won by 120 runs. The best figures were 8 for 38 runs in an innings and 11 for 157 for a match. He participated in 79 matches and held 309 wickets at an average cost of 29.09 runs per wicket.
7.Abdul Qadir 
The moniker Abdul Qadir is one that no real sports fan can ever forget. On numerous instances, this Pakistani leg spinner has completely destroyed the opposition. He participated in 67 test matches for Pakistan and has 236 catches to his credit. He also has the greatest bowling statistics of any Pakistani bowler. Against England in 1987, Qadir claimed 9 wickets for 56 runs. Abdul Qadir is without a doubt one of the greatest leg spinners of all time, with a variety of bowling techniques up his sleeve, particularly the googly that caused more damage to the opposition.
8.Nathan Lyon
Although Nathan Lyon lacks Ravi Ashwin's variety, he has still been able to help Australia win many test matches both at home and overseas. Due to his bowling technique and use of overspin, Lyon ultimately defeats Ashwin in SENA (South Africa, England, New Zealand, Australia). Lyon's statistics in New Zealand, England, and Australia are 22.60, 31.62, and 32.02, respectively. He hasn't been as productive in the subcontinent as Ashwin, but he has performed admirably against batters who are excellent against spin.
9.Rashid Khan
Rashid Khan is a well known associate player whose skills are on par with the finest in the world. The Afghan spinner's toolbox contains a dozen distinct variations, making him virtually unplayable. Rashid has participated in numerous t20 leagues around the world and is frequently referred to as the greatest spinner in the world by both critics and fans. He has appeared in 135 international cricket games and claimed 277 wickets, the majority of which have come in T20I and ODI matches. Rashid is without a doubt the greatest spinner in the world right now.
10.Derek Underwood
Derek Underwood, a left arm spinner and was the greatest magician of his time, achieving astonishing results for England and having the ability to cast lengthy spells that had favourable effects. On June 30, 1966, at Trent Bridge in Nottingham, he played his first game against the West Indies. He played in 86 Test matches and has taken 297 wickets at an average of 25.83, with his best figures being 8 for 51 runs in an innings and 13 for 71 in a game.
About the Creator
My name is Manish Nirwal, I live in Delhi, India, and this is my website thevintagecricket.com. I am a digital marketer that's why I have created this website thevintagecricket.com.
Reader insights
Be the first to share your insights about this piece.
Add your insights