Top 10 Rising Sports Stars in Baseball
The rising sports stars in baseball are hitting homers like no other.
These athletes are turning into some real heavy hitters! Welcome to WatchMojo.com, and today we'll be counting down our picks for the "Top 10 Rising Sports Stars—Baseball."
For this list, we'll be looking at the most talented younger players currently playing in the MLB. We won't be considering minor league players, so as good as he is, you won't see Vladimir Guerrero Jr. on this list.
#10: Aaron Nola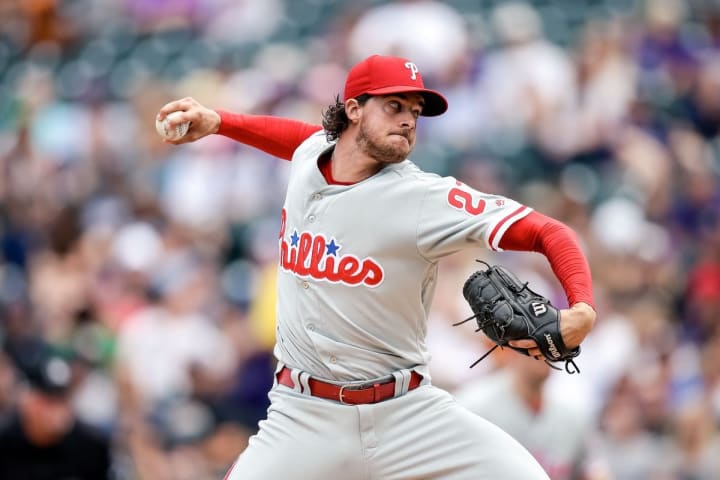 Just one year after being drafted by the Philadelphia Phillies in the first round of the 2014 draft Aaron Nola made his big league debut by striking out six batters. The following season admittedly came with some growing pains for the Louisiana native, but he turned things around in 2017, posting a 3.54 ERA and striking out countless batters en route to a 12-11 record. However, to be considered a rising star in our books you need a breakout year; and that's exactly what 2018 has been. A first team All-Star, Nola boasts a 15-3 record heading into September. Opposing batters be warned.
Often referred to as Thor thanks to his thunderous pitches, golden locks and towering frame, Noah Syndergaard has enormous big league potential. In 2016, he put up a 2.60 ERA and helped the Mets win 14 games. His stats earned him a spot on the All-Star game roster and he finished the year 8th in Cy Young Award voting for the league's best pitcher. Sadly, Syndergaard's 2017 season was cut short by injury and he only managed to start seven games. He's bounced back in 2018 despite spending considerable time on the disabled list, and if he can stay healthy Syndergaard will be terrorizing batters for years to come.
#8: Willson Contreras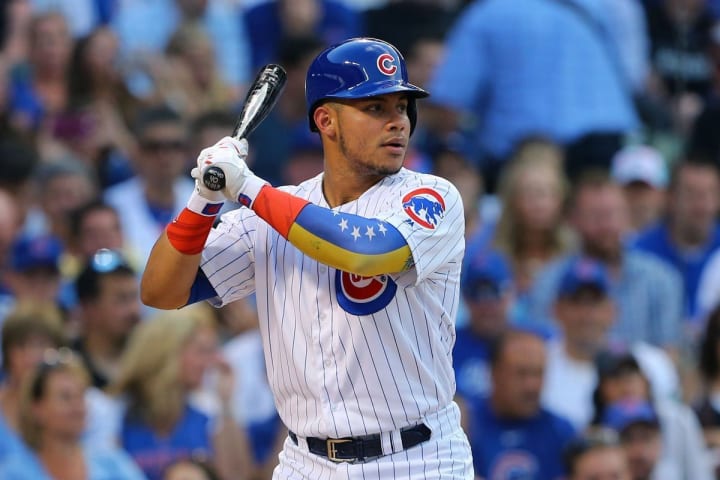 Contreras spent a handful of years in the minors before finally earning a full-time roster spot with the Chicago Cubs in 2016, which coincided with their first MLB championship in 108 years. An eagled eyed catcher who can hit with power, Contreras proved an invaluable piece of that 2016 championship squad. He followed it up with an equally impressive 2017 season; one in which he finished with 104 hits, 21 home runs and 74 RBI's. Despite seeing a dip in his stats the following season Contreras was voted to his first All-Star game and continues to be a staple in the Cubs starting lineup. You'd be wise to keep an eye on him going forward.
#7: Corey Seager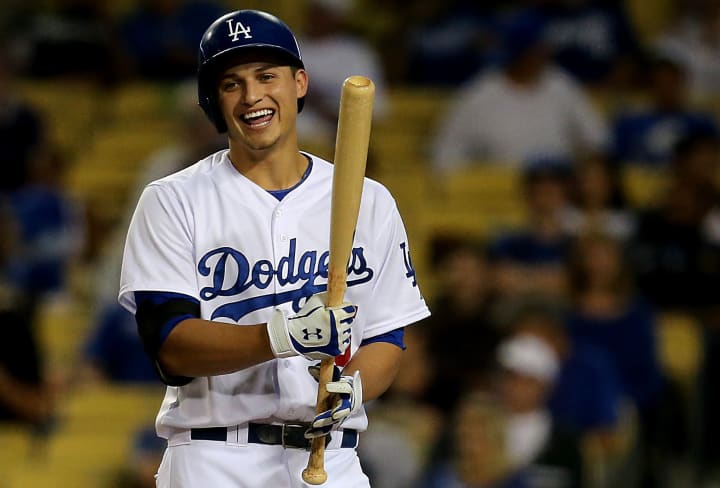 Seager's rookie season was one for the ages and he quickly won over fans with his consistent bat, excellent defensive play and smart base running. He made the National League All-Star team and finished the season with 193 hits, good enough to put him ahead of Steve Sax for the most in a rookie season by a Dodger. He also hit 26 home runs and took home Rookie of the Year honors. His 2017 campaign saw him finish with a .295 batting average and his second Silver Slugger award in as many seasons. His 2018 may have been cut short due to injury but we still believe this star can only keep rising!
Despite only playing in 53 games during his rookie campaign, Sánchez still managed to rack up 20 home runs, 60 hits and 42 RBI's, finishing second in Rookie of the Year voting. The following season Sanchez continued right where he left off. That is, frequently picking off base runners from his position behind home plate, hitting more dingers in a season than any catcher in Yankee's history, and being named to his first All-Star game. Sánchez has proven that he is a force to be reckoned with every time he steps up to bat and while his 2018 season has been a little underwhelming, we think this pinstripe sportin' catcher has potential to spare.
#5: Cody Bellinger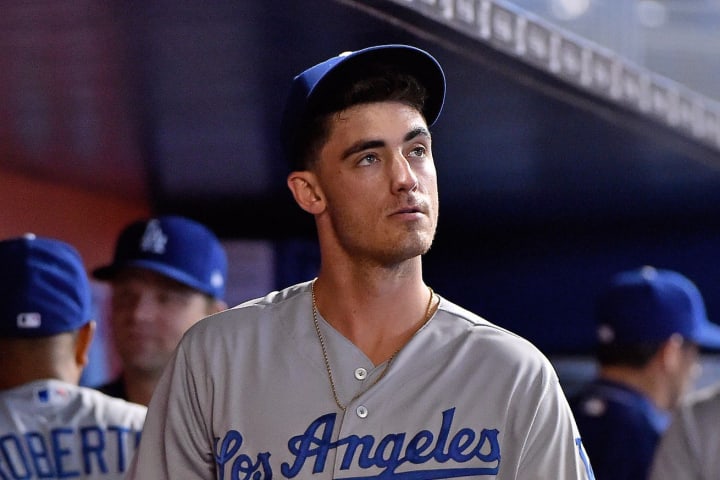 Not many rookies hit 39 home runs in their first MLB season; but then again, not many rookies are as good as Cody Bellinger. The Los Angeles Dodger took the league by storm in 2017, finishing with 128 hits, 97 RBI's and a .581 slugging percentage. His play earned him a trip to the All-Star game, National League Rookie of the Year honors, and helped the Dodgers reach their first world series since 1988. In other words: Cody Bellinger had officially arrived on the scene. The multifaceted Bellinger has struggled in his sophomore season, but we have faith he'll turn it around in the years to come.
#4: Christian Yelich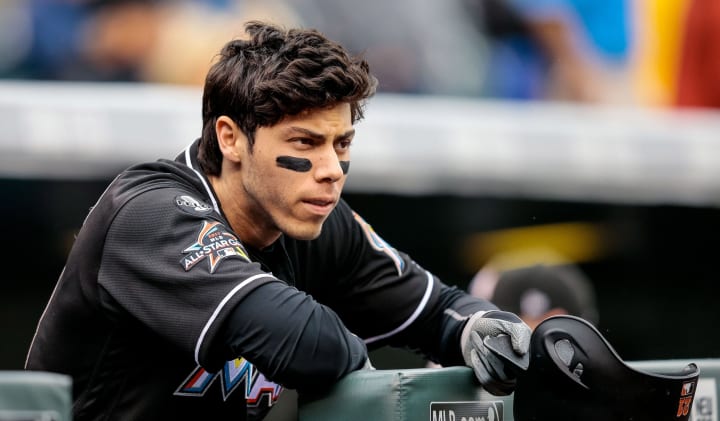 We'll be the first to admit that putting a 26-year-old on a "rising stars" list is a little far fetched, but hear us out. The current Milwaukee Brewer toiled for five seasons on a Miami Marlin's team that failed to make the playoffs the entire time he was there. Despite a less-than-stellar supporting cast, Yelich was a pillar of consistency for the organization, totaling 140 hits or more in 4 of his 5 seasons; picking up a Gold Glove and a Silver Slugger award along the way. He was finally named to his first All-Star game in 2018, and sports an impressive .293 career batting average. 26 or not, he's still rising.
Houston Astros shortstop Carlos Correa is only 23 years old and he is already a World Series Champion and a Rookie of the Year. But that's just the tip of the iceberg. A power hitter with a knack for making mind boggling plays on defense, Correa already has more than 475 career hits, 300 career RBI's and 260 career runs. In 2017 he made his first All-Star game thanks to a .315 batting average and 24 home runs. The sky appears to be the limit for this youngster!
#2: Francisco Lindor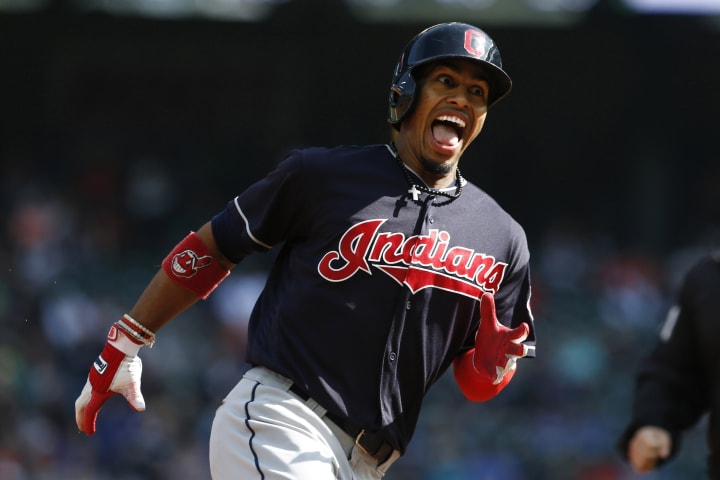 At 24 years of age Francisco Lindor has already established himself as one of the Major League's premier shortstops. The Cleveland Indian is a three time All-Star and a Gold Glove winner who is equally at home knocking in runs as he is preventing runners from scoring. His dependable play and gung-ho work ethic has led to many in the baseball community labeling him on of the best shortstops in the game and we are hard pressed to disagree. His .292 career batting average speaks for itself, and his pedigree as both a consistent hitter and reliable fielder have us thinking he'll be an MVP sooner rather than later.
#1: Aaron Judge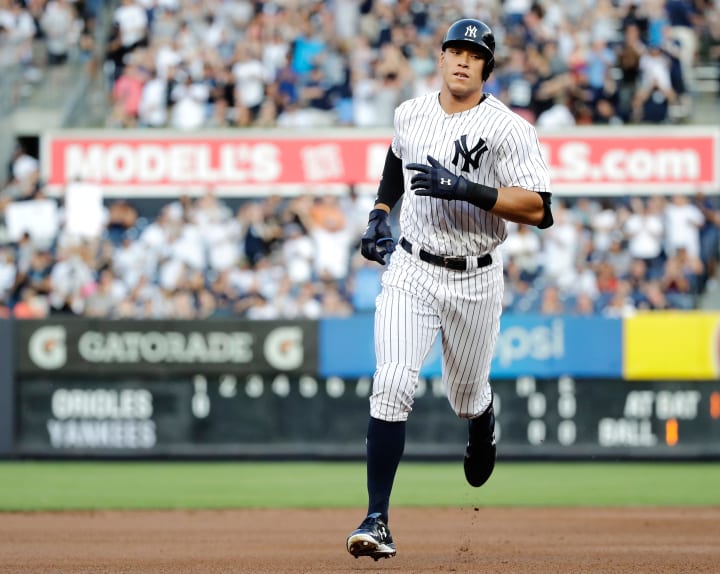 At 6'7 and 282 pounds, Aaron Judge, is frankly speaking, a beast. In his rookie season the New York Yankee outfielder broke a slew of long standing rookie records, including most home runs, most walks and more dubiously, most strikeouts. He also became the first rookie to finish the season with at least 45 home runs, 100 RBIs and 100 runs scored. Not too shabby. That season Judge took home American League Rookie of the Year honors and became the first rookie to win the Home Run Derby. His 2018 season has been equally impressive and we feel confident in assuming he'll be a staple in All-Star games for years to come.