Tinkering with the Yankees' ALCS Roster
Everyone wanted to play manager last Friday, so we might as well do it again this Friday.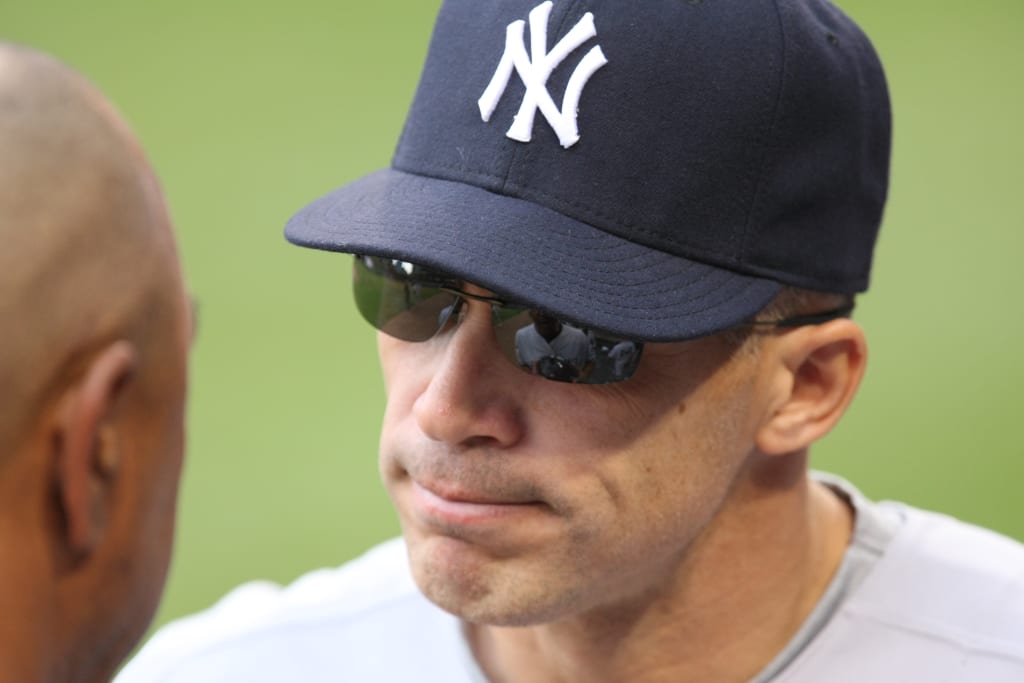 Mandatory Credit - Keith Allison
After an impressive win in the American League Division Series against the Indians, Joe Girardi is a good manager again! Like many baseball fans were last Friday after Game 2, we will be playing "manager" as the Yankees set themselves up for the American League Championship Series against the Houston Astros. There are a quite a few things to consider, but before we do, let's have New York's ALDS roster on hand for reference: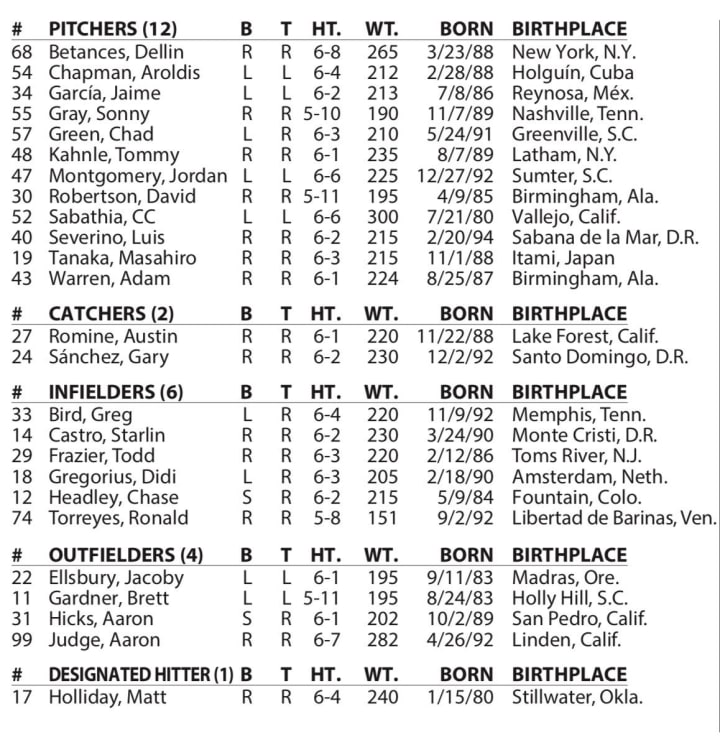 The first thing that will jump out at you is that Matt Holliday was on the roster. I say that because I looked at this photo after Game 5 and said out loud, "Matt Holliday was on the roster?" Holliday, who did not appear in the Wild Card Game against Minnesota, also did not have a plate appearance in the ALDS. Holliday had a rough second half (34 wRC+, with some injuries mixed in) and he was a waste of a roster spot in the ALDS. He's the easiest target to put on the chopping block.
To determine who comes on in his stead, consider the Astros pitching staff. So far, Houston skipper AJ Hinch has announced LHP Dallas Keuchel will start Game 1. In theory, the Yankees could be seeing Keuchel anywhere from one to three times in this series, so they'll want to keep as many non-lefties in the lineup to face him. That means Chase Headley at first base instead of Greg Bird, but no replacement on hand for Brett Gardner (62 wRC+ against LHP).
The solution to that is by giving Holliday's spot to the young Clint Frazier, who can slot in at left field. Problem solved, right? Well, not quite. There's no replacing Didi Gregorius at shortstop, despite his being a left-handed hitter, but at DH, you're left with Gardner (again, 62 wRC+ against LHP) or Jacoby Ellsbury (71 wRC+, not much better). Is there a right-handed hitter in the Yankees organization that can DH? Are we really considering keeping Matt Holliday on the roster?
First, let's consider why the Yankees decided last winter that there was still some juice in his bat. In 2016, check out the top ten Exit Velocity leaders on fly balls and line drives: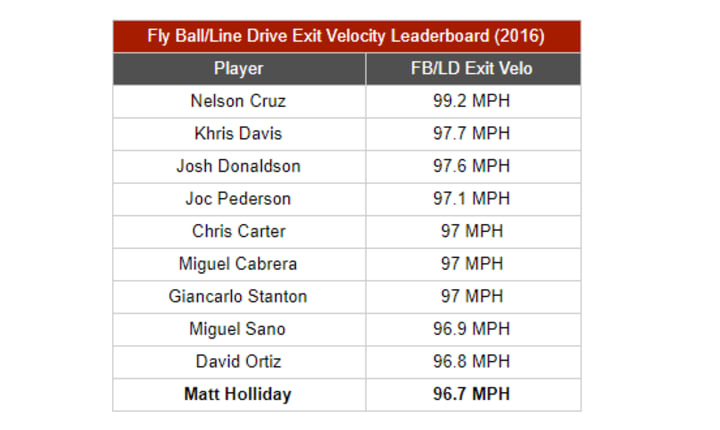 Well, he was packing some serious heat. The question is whether he has that now. The last time Holliday played was actually the first day of October, which was two weeks ago, but recent enough for us to gauge his recovery from injury/slump. Here's a clip from that game:
Exit Velocity? 105.5 MPH. Maybe there's some juice left after all. Of course, two weeks is enough time to get rusty, and only Joe Girardi knows the full story on Holliday, but he did have him on his ALDS roster for a reason. Maybe he also believes the juice is still there, but couldn't find the right at bat for him. Regardless, the right at bats are there in the ALCS against Dallas Keuchel, if he can take them. It's also important to consider that Holliday had a 125 wRC+ against LHP this season. So if we want both Clint Frazier and Matt Holliday around, that means a pitcher has to go, right? Fortunately, that's not too difficult.
Ask yourself how many left-handed hitters the Astros have in their lineup. If you're an Astros fan, you probably already know the right answer. If you're just guessing, you might think they can squeeze three, maybe even four guys in there. Trust the Astros fans; they only have two left-handed hitters in their lineup (Brian McCann and Josh Reddick).
Since the Yankees will be facing so many right-handed hitters (which is good for them, considering their top three starters are RHP and the bullpen can pitch to anyone), it raises the question of whether both of southpaws Jamie Garcia and Jordan Montgomery are necessary on the roster. If you're looking to cut one, I would personally lean toward Garcia, for reasons I will display for you in a neat chart:

I'm sure the Yankees would love to limit Montgomery's innings, but I'm also sure they would love to win the pennant. Garcia was atrocious as a whole in the second half (as evidenced by his high FIP), and atrocious to right-handed hitters all year (as evidenced by his high wOBA against), so I'm not sure why one would trust him against this Houston lineup. Montgomery would only be used in:
Extra innings
Blowouts
At any point all of the relievers are unusable
None of these scenarios is particularly likely to happen enough for the Yankees to be concerned about Montgomery's workload. He's in, Garcia is out. Matt Holliday stays (yeah, leap of faith, but would you really prefer to keep Garcia?) and Clint Frazier joins for his first taste of playoff baseball. I'm not saying Joe Girardi is going to do this — he knows how to do his job better than any of us do — but it sure is fun, isn't it?
baseball
About the author
Matt is an undergrad at the UConn School of Business. He knows that Joey Votto has been in an MLB leading 434 3-0 counts since 2010, and that Carlos Santana is second with only 388. You can follow him on twitter @matthewmocarsky.
Reader insights
Be the first to share your insights about this piece.
Add your insights