Three Surefire Ways Minnesota Can Get Better as the Season Winds Down
Find out what needs to happen for the Timberwolves to improve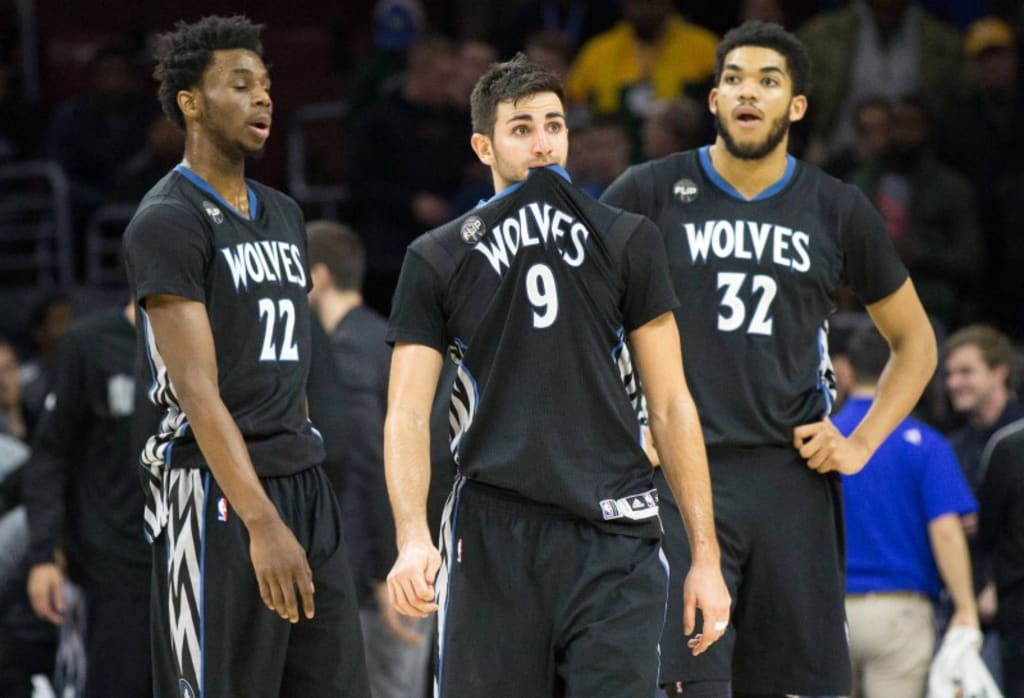 Pace and Space Hoops
The Minnesota Timberwolves came into this season with high hopes, a new coach, and a roster full of young talent that was sure to blossom. That hasn't quite been the case. Although there has been progress made as a team, there is not nearly enough evidence to say that the Timberwolves are competing with the "Dubs" for Western Conference supremacy. The "Big KAT," Karl Anthony-Towns continues to impress, along with Andrew Wiggins and a now injured Zach Levine. However some of their other pieces just haven't quite been there as consistently — such as fellow big man Gorgui Dieng, who regressed after signing a lucrative deal earlier in the season. Much more notable is point man Ricky Rubio, even though his issues aren't so much play related as they are well, everything else. In any event, there are 3 surefire things that need to be done in order for this young pack of wolves to take the next step.
1. Move Ricky Rubio
As mentioned above, Ricky Rubio has been part of the reason the Timberwolves haven't been able to take the next step — but by no fault of his own. If you ask me it is management's fault, and a bit of responsibility should also be placed on the coaching staff. I take most, if not all responsibility off of Rubio because he averages almost a double double with points and assists, while also collecting ~4 rebounds per game. Although his three ball has never been a strength (28% this year), he has a total shooting percentage of near 40 percent. The issue from a "management" perspective is that Rubio is the wrong type of point guard for this team.
It could go either way in terms of the mistakes the Wolves front office has made: they have either held on to Rubio too long while building something else around him, or they built the wrong type of team to utilize Rubio's strengths. Rubio is a play-making point guard who would do well in the pick and roll and in an offense that saw a lot of the shots depend on his play-making ability. For example, in an offense where he had one pick and roll/pop big and three dead eye shooters, he would be deadly — but that is not what he has to work with. He plays with guys who all need the ball to be their best in KAT, Wiggins, and Lavine, which plays against what makes Rubio great. You can also look at coaching here, too. Regardless of what anyone thinks, I believe this is because Tom Thibodeau absolutely hates Ricky Rubio. If this isn't the case, Thibs sure has a funny way of showing affection, since it seems that he has done all in his power to give the job to first round pick Kris Dunn. He even pushed to move Rubio at the deadline, according to most of the noise. Regardless of what the case may be, Rubio must be moved in the offseason — both for his and the T-Wolves best interests.
2. Figure out the Andrew Wiggins/Zach Lavine Dynamic
This is actually a pretty interesting one because it touches on facets I discussed above. However, a bit of backdrop must be filled in first. This is a topic that should have crossed everyone's mind prior, but especially since Levine went down a week or so ago. Wiggins has literally taken off, increasing his numbers across the board. This makes you wonder: is Levine hindering him or is there simply not enough ball to go around between Levine, KAT, Wiggins and the aforementioned Rubio? That is something that can only be answered with time, but here is where it also syncs with number 1. That issue can be solved by moving Rubio. You could bring Dunn in and "Patrick Beverly" him, meaning although he would be the "1" by default, your "2" would do all your handling since he is a one/two tweener, above average playmaker, and a much more dynamic player with the ball in his hands. This would not only appease Thibs (see HATES RUBIO), but would also allow the team as a unit to work at its peak efficiency by giving each of its stars their best opportunities to be great.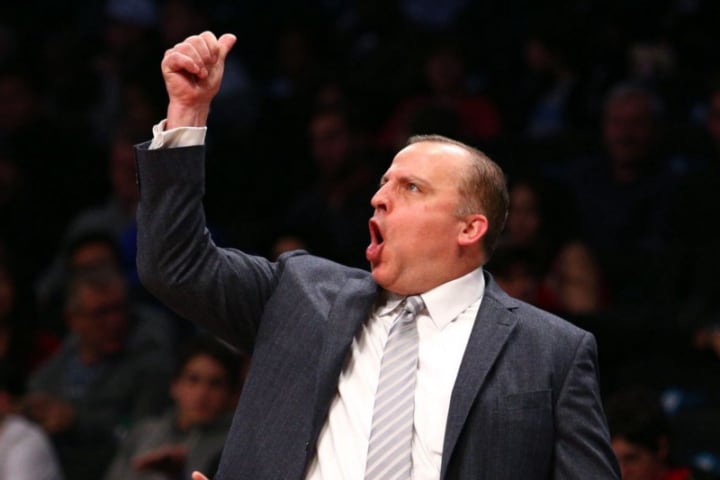 3. Get Older
The last one is kind of obvious and "tongue in cheeky," but it is absolutely the truth. Although you may find yourself saying this every year about one young team or another, the Wolves will absolutely be better next year with another year of experience under their belts. This also will be another year in Thibs defensive system, and under his tutelage in general, which lends itself to bringing out the very best in all of the players he coaches. Another specific key to Minnesota getting better is that with experience comes "know how," and specifically the "know how" to finish games. The T-Wolves have contended throughout many of their games this season, however have also seen themselves constantly giving up leads or allowing insurmountable runs. Another year in this system, another year in the NBA, and another year of age in general will all lend itself towards being able to correct this specific issue. And when it does, the Timberwolves will be hell.
Although this season hasn't been a complete wash, it hasn't been what one would call a "success" either. Although the Wolves have about as much young, elite talent as any team in the league, that can be as much a curse as a gift. But with the right coaching and a few tweaks, they can definitely maximize and reach their potential.
About the Creator
SPORTS...food...culture...music! VA raised me. Can't handle the real..........you might want to make like a tree....10-4?!
Follow me on twitter @Ksaidwhat
Reader insights
Be the first to share your insights about this piece.
Add your insights