The Veto That Changed the NBA: How the League Would Look with Chris Paul as a Laker — Part II
Somewhere in a different world, Chris Paul is raising banners as a Laker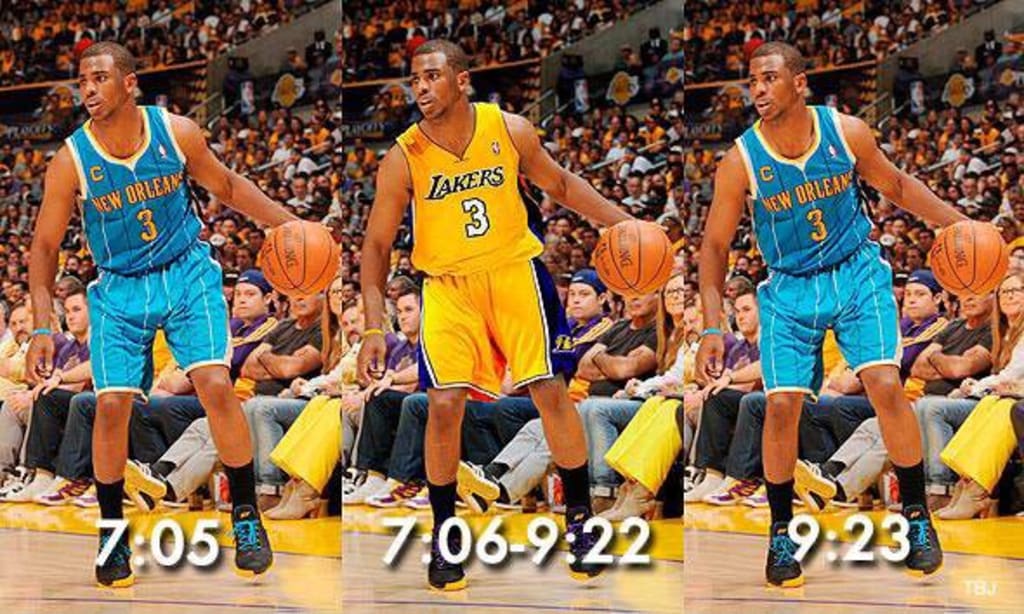 In this different dimension where David Stern doesn't play puppet master and lets this trade go through, the Lakers are far from the bottom-feeding laughing stock they currently are. They are able to dump the contracts of Gasol and Odom, leaving them room for Howard. Kobe and Howard would still have the issue of needing touches on a consistent basis, but they finally have the man for the job. If CP3 can make DeAndre Jordan into an 80 million dollar man, then imagine what he could've done with Howard. With a team like this, Mike Brown may have been able to last more than 10% of the season. Paul has the record and the statistics to give himself the push he needs to be a legitimate MVP candidate. With the proper facilitator in place, Howard doesn't bump heads with Kobe, and ends up enjoying the bright lights of LA, ending his short stint as a coach killer with just one body count.
The big three in LA not only fights for supremacy in the Western Conference, but they could have challenged Miami for a title as well. LeBron haters everywhere could've basked in the glory of Kobe winning a 6th ring while LeBron's crying face becomes a meme long before the Jordan crying face even exists.
With Pau in Houston, the Rockets can't afford to trade for Harden with all their assets heading to New Orleans in the trade. With Harden, Durant, and Westbrook back for another full season, the young guns in OKC could've battled it out with the Lakers for a date with the Heat in the Finals. If Harden and the Thunder had a second crack at a title, that could've been enough of an audition to realize these three should stay together. If they still can't afford to keep all three super stars in OKC, they may have let the lefty gun for hire walk into free agency. Think about all the money that would've been thrown at Harden from across the league. Who knows where he could've ended up?
Speaking of Houston, they finally find the star to replace Yao in the post. They can finally make some noise and sneak into the playoffs, and in the process, display some other talent on their team. Kyle Lowry would have been approaching his prime when Pau arrived, and finally could have reached the potential he found in Toronto. Without having Howard or Harden to pay, Houston would've been able to afford to pay Lowry and then promising sharp shooter Chandler Parson. That combination could have been good enough to keep Gasol happy in Houston, or he could have found a way to become a third piece on another dominant team. That's where the NBA continues to take even more turns.
He would've had less of a reason to leave the Rockets than he did when he departed from LA, so Pau could've never ended up as a Bull. Without an All Star big man to help him out, Jimmy Butler would've had no one else to help him carry the load. Derrick Rose's glass body surely wouldn't have helped, and the Bulls would've floundered earlier than before. The Bulls could have hit the restart button seasons earlier, getting rid of Butler for picks, steering them away from Dwayne Wade. Wade doesn't head to Chicago, and ends up waiting for Pat Riley to finally call him, keeping him in South Beach.
With Lowry finally showing he can be a top point guard in the league during his time in Houston, he never becomes a Raptor. Toronto keeps the pick that ended up being traded to Oklahoma City, who drafted Steven Adams with the 12th pick overall. If Toronto did stick with Adams, it surely wouldn't have been enough to lift Toronto to the current spot they're in. Without Lowry, The North is never as good, Canadians can stick to caring about hockey, and Drake doesn't have to show up court-side with a lint roller anymore as the Canadians token fanboy. If the Raptors somehow went with a different option with the 12th pick, say a Greek Freak by the name of Giannis Antetokounmpo, who knows how good he could be paired with DeMar DeRozan. Maybe we'd see Drake court-side after all.
With a team led by Odom and the roster of misfit NBA players, the Hornets wouldn't have had the awful record that they did, thus removing themselves from The Brow Sweepstakes. Trying to figure out where Anthony Davis would end up would be harder than figuring out how to pronounce the Greek Freak's name. Without a legit building block in Davis, the Hornets could have let players like Martin and Odom walk in free agency, thus delaying their initial tank-job one year. That puts them in the front running for the first pick in the 2012 draft, for the lovely prize of Anthony Bennett. They could've drafted someone who actually competes at an NBA level, changing the career path of players like Victor Oladipo, Nerlens Noel, and of course, Bennett. What would've happened to Oladipo if he was the face of a different franchise? If Bennett goes to New Orleans instead of Cleveland, does he actually have an NBA career?
If Noel doesn't go to the 76ers is there still a process to even trust? Sure they would still be terrible, but the path to relevancy would still have taken different twists and turns.
Without CP3 making sure the ceiling is high enough for alleys, LA is still Laker Town. What happens to Blake? Is he just a circus act who dunks over Kias instead of becoming a perennial All Star? DeAndre probably never becomes the player that he is without a point guard as good as CP3, which means we never get to experience Emoji Gate with the Clippers and Mavericks players. The Clippers continue to be a laughing stock, or they could've tanked their way towards another player to pair with Blake. Maybe then they could've made it to the Conference Finals.
There are still a million smaller stories circled around players and personnel. If Lamar Odom goes to New Orleans instead of ruining his career in Dallas, does that possibly keep him from falling off the deep end? Is he still playing basketball instead of becoming a cautionary tale?
Goran Dragic may have reached the potential we saw him achieve in Phoenix during his time in New Orleans. The Suns then never have a crowded backcourt, keeping Isaiah Thomas as a Sun. Without their undersized star, Boston's rebuild takes much longer.
Speaking of Boston, they may never lose their coach to the Clippers. Without LA re-branding the city as their own, he likely doesn't want to bolt to the West coast. Without Rivers departure, Boston never headhunts Brad Stevens. Stevens could very well have stayed at Butler, getting numerous chances at National Championships. Even the collegiate level was affected by the veto.
With Harden possibly staying in Oklahoma City, would Durant want to leave the perennial powerhouse? One less MVP on Golden State, and one less villain to be found in the NBA.
Who knows if Andrew Bynum would ever become the punchline he currently is. What happens to the state of the Bucks if the Greek Freak is snagged by Toronto in the draft? No matter where you look, the ripple effects can be found.
The entire NBA was reshaped by this veto. This trade affected every single facet of the NBA. Rosters can look totally different. Draft orders wouldn't have looked the same, influencing where each rookie would have gone. Free agents would've had different landscapes to look at when deciding who to sign with. This trade influenced players' entire careers. Playing for a different situation with a different team can make or break somebody's career. In this twilight-universe NBA, maybe Anthony Bennett goes somewhere else and dominates. Harden might not have ever been the player he is now. Division and conference titles would've changed and maybe even an NBA title or two.
All because David Stern wanted to make a couple more millions.
About the Creator
Staff Writer at The Unbalanced. Aspiring trophy husband. Can be found arguing hot takes and hating Spike Lee. Stay positive, test negative.
Reader insights
Be the first to share your insights about this piece.
Add your insights