The Unbalanced 2017 NBA Mock Draft 1.0: The Lottery
Worst NBA Mock Draft on the Internet, Version 1, Part 1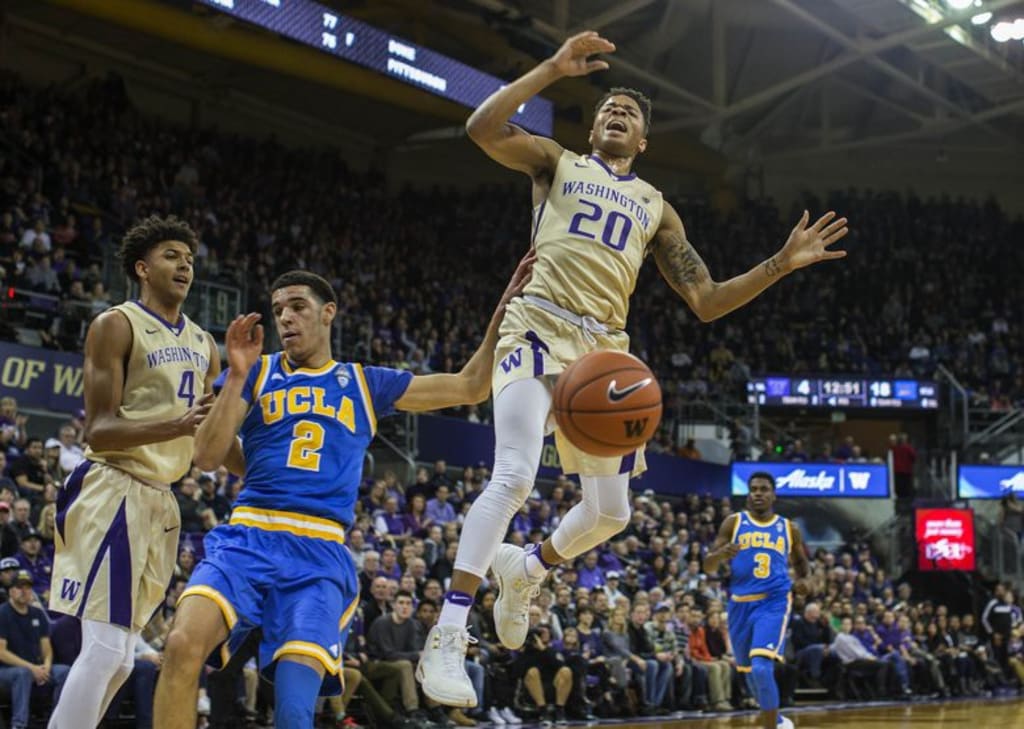 The NBA Finals are upon us! And so is the NBA Draft. For fans of the 28 teams not partaking in part III of the Finals trilogy, free agency and NBA Draft rumors are starting to heat up. Even with the basketball season coming to a close, the news, rumors and fake trade articles will only start to heat up. My sources tell me that this time of the year is when NBA websites receive the most #views.
This draft has been praised for the talent at the top of the board. Players have received comparisons to Russell Westbrook, Jason Kidd, James Harden and even more of the league's best, past and present. Several players have been projected as All-Stars. There are no generational, megastar type players (from what I've seen), but several players have the potential to be great. For teams with lottery picks (and Nets fans) draft season is like Christmas.
So let's get to the draft!
1. Boston Celtics — Markelle Fultz, G, Washington
The first three picks seem pretty straightforward for every NBA mock draft. Fultz projects as a surefire thing as an NBA prospect, a super smooth scorer paired with solid ball handling and size. Fultz ticks off every box, and while his Washington squad struggled, he shined. He may not be a megastar, but he'll surely make a few All-Star teams if all goes as planned. Whether Boston decides to keep the pick is still a matter of #rumorz, but any team he goes to will gain a long-term starter to build around.
2. Los Angeles Lakers — Lonzo Ball, G, UCLA
Is this a match made in heaven? Or marketing hell? Despite the attention Ball (and his dad) have received off the court, Lonzo is still the second best player in the draft. He's the best floor general in the draft, with the type of playmaking ability that NBA fans salivate over. Ball has received some lofty comparisons (Penny Hardaway and Jason Kidd to name a few), and those expectations will surely magnify under the L.A. lights. But Ball seems prepared to take the challenge — and the backlash when the Big Baller Brand Fall collection drops.
3. Philadelphia 76ers — Josh Jackson, F, Kansas
Jackson is the two-way player that any team would find a spot for. He has ideal size at 6'8" for a scoring small forward that can shift to the four spot in hyperathletic lineups. Jackson also is a fearsome defender that competes on every play. Jackson's athleticism and fluidity will propel him to some major highlights. In a 76ers system chock full of buzzworthy talent, Jackson could be a super role player — or a star alongside Joel Embiid and Ben Simmons.
4. Phoenix Suns — De'Aaron Fox, G, Kentucky
I know. The Suns already have Brandon Knight, Eric Bledsoe, Tyler Ulis and Devin Booker at the guard spots. They're all Kentucky products. But with Knight's subpar play last season and Bledsoe being a low-key trade candidate, Phoenix could dip into the Calipari hair gel pool again. Fox could pair really well with Devin Booker, a skinnier version of the John Wall-Bradley Beal duo in Washington. Speaking of Wall, the Washington guard believes Fox will be a better pro than Fultz and Ball. It may be the Kentucky connection speaking, but Fox has at least one supporter. Fox may need to work on his shooting, but his speed and IQ would be welcomed on one of the league's fastest teams in 2016–2017.
5. Sacramento Kings — Malik Monk, G, Kentucky
My biggest takeaway from the DeMarcus Cousins trade is that Vivek Ranadive loves the Warriors. That was evident in his insistence on Buddy Hield possessing Steph Curry potential (Hield was pretty good for a rookie, but let's not get carried away). Monk is the best shooter in the draft, and illustrated it with some mercurial performances at Kentucky, including games of 47, 37 and 33 points. He may create a logjam with Hield at the 2, but The Ringer's Kevin O'Connor suggests that the undersized (6'3" with a 6'4" wingspan) Monk has the potential to slide over to the point guard position.
6. Orlando Magic — Jayson Tatum, F, Duke
In my player assessments, one of my favorite categories is "bucket getter." Tatum has tremendous scoring instincts, with nice jab steps and moves off of the dribble. As we've seen this postseason, the simple ability to create shots and get buckets outside of a team scheme is not passé. The Magic may be looking for more shooting, but Jackson's ability to score and create for himself would be welcome on a team that ranked 27th in points per game and 28th in shooting in 2016–2017.
7. Minnesota Timberwolves — Jonathan Isaac, F, Florida State
The Timberwolves haven't made the playoffs since Kevin Garnett's MVP days. They find themselves in the lottery again, looking for a prospect to add to a core of budding star Karl Anthony-Towns and lottery picks Kris Dunn, Anthony Wiggins and Zach LaVine. Isaac is slotted at No. 7 by both DraftExpress and The Ringer, and I agree with that assessment. Canis Hoopus, the Wolves' great SB Nation website seems to be a fan of Isaac's skills as well. Isaac's potential as a plus defender and developing scorer would be just what Tom Thibodeau is looking for after seeing a disappointing rookie campaign from Kris Dunn.
8. New York Knicks — Frank Ntilikina, G, Strasbourg
Knicks websites and print media have probably droned on about how "X-prospect" would fit in the triangle. Yes, it's still an issue — and so is the apathy of the Knicks players to head guy Phil Jackson. Ntilikina is a jumbo point guard at 6'5", ideal for a triangle system. New York hoops writer Adam Zagoria thinks that Ntilikina/Filthy Frank/Frankie Nicotine (shoutouts to @netw3rk!) would fit in the system. Questions still remain on his off-ball shooting and trajectory, but that could be said of many draft prospects. Ntilikina may have the highest "bust" potential of all the lottery picks, but his potential is tantalizing.
9. Dallas Mavericks — Dennis Smith Jr., G, NC State
Dennis Smith is a super athlete, drawing comparisons to another explosive guard from years past, Steve Francis. While Smith shouldered much of the load for NC State — exposing a few bad habits and a lack of consistency, he also displayed his upside as a scorer and an athlete. Smith has the stop and go speed and explosiveness at the cup seen in many of the NBA's elite athletic point guards. Mavericks coach Rick Carlisle is a wizard at getting the best out of his point guards — Smith could fall under his spell.
10. Sacramento Kings — Lauri Markkanen, F, Arizona
Do the Kings have a thing for big men? Yes. They've selected Willie Cauley-Stein, Skal Labissiere and Giorgios Papagiannis the past two seasons in the Vlade Divac era. Markkanen is a bit more polished as a scorer and perimeter threat than the Kings' current big man trio. Markkanen may be receiving comparisons to Dirk Nowitzki, but he at least could pan out as a solid role player in today's NBA. Sometimes comparisons can suck. Expect the Kings to target trading one of their big men for a point guard (Brandon Knight makes sense and could be had for relatively cheap).
11. Charlotte Hornets — Zach Collins, C, Gonzaga
Collins played super limited minutes both in high school and at Gonzaga. But in those minutes, Collins showed potential as a solid presence at the NBA level, averaging 10 points, 6 rebounds and nearly 2 blocks per game in only 17 minutes. Collins is fluid on the offensive end and has solid defensive potential. His skill level in the post and off the dribble would pair well with the frenzied energy of Cody Zeller in Charlotte's backcourt (insert jokes about a white front court here).
12. Detroit Pistons — Donovan Mitchell, G, Louisville
I go with the trend again! Mitchell had a great combine, showing off his elite athleticism and freakish 6'10" (!) wingspan at 6'3". Mitchell is a bit of a tweener due to his size, but could play a role similar to Avery Bradley — a havoc creating defender with an improving jumper. He may not project as a point guard in the long term, but pair him with a few ball pushing wings and he could flourish. Mitchell's athleticism would fit well on the Pistons, a team that could create an identity as a hard-nosed, long defensive team with Andre Drummond, Kentavious Caldwell-Pope, Stanley Johnson and the immortal BOBAN.
13. Denver Nuggets — O.G. Anunoby, F, Indiana
O.G. Anunoby is every NBA writer's favorite draft prospect. The guy's wingspan is freaky at 7'2". He's strong and well built, and has the potential to be a lockdown defender for years to come. Some see Kawhi Leonard in him, but Anunoby would be a steal at 13 if he becomes Kawhi on defense, and Tony Allen on offense. Jonathan Tjarks even projects him as a center due to his length and mean streak on the defensive end. Anunoby is still super raw on the offensive end — and an ACL injury added even more mystery to his game. But Anunoby going 13 to the Nuggets (who may need a wing with Danilo Gallinari entering free agency) is probably the lowest he'll go.
14. Miami Heat — Justin Jackson, F, UNC
Justin Jackson is another guy that I put in my "get buckets" class. Jackson is a smooth, slender scorer that helped North Carolina win the National Championship this past season. He possesses a quick release on his shot and a long frame to shoot over defenders. Jackson broke the single-season three-point record this past year as a junior. When he's not nailing spot up shots, he makes smart decisions on the offensive end with a general knack for solid play. He may receive a lot of punishment down low (he weighed in at 193 pounds at 6'8") but has the potential to be solid right away.
Well, that's it for the lottery! Stay tuned to The Unbalanced for the second part of the draft, coming very soon. With the draft only three weeks away, the takes will get spicier and the irrational love for prospects will only grow.