The San Antonio Spurs Make Interesting Boring — Again
San Antonio is one of the best teams in the NBA, yet nobody is talking about them. But that's just how they like it.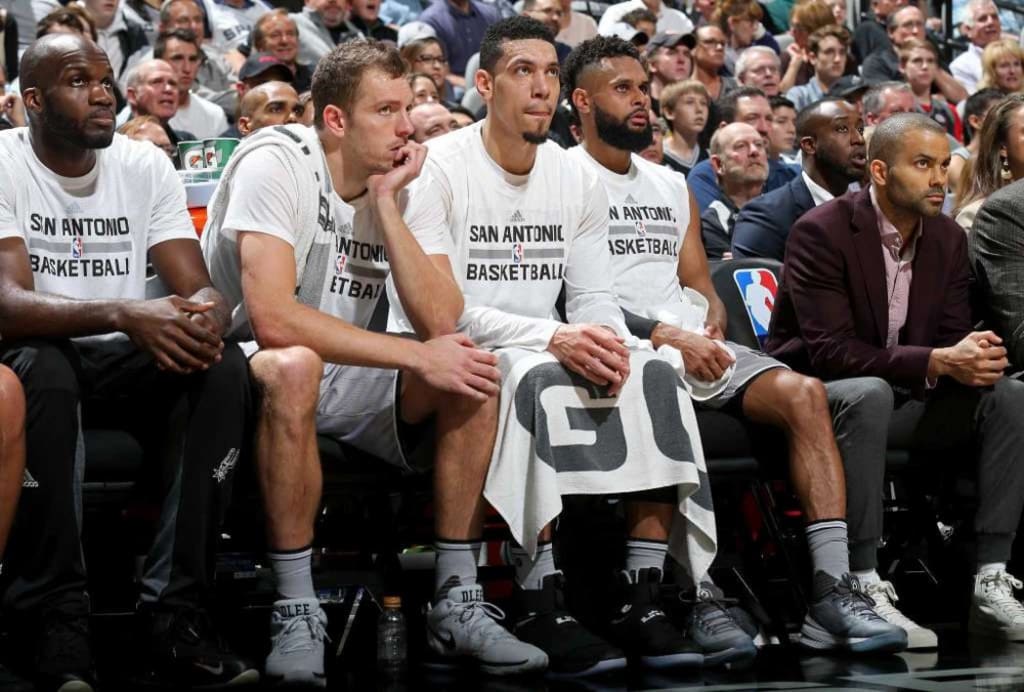 (via San Antonio Express-News)
The 2016–2017 NBA season has been so rad. Even with the all-but-certain Cavs-Warriors Finals tiebreaker, there are more exciting individual storylines than the current Wrestlemania card. This season we've seen Russell Westbrook go supernova, James Harden turn into a deity, and Isaiah Thomas become the greatest 5-foot-9 hero since Tobey Maguire's days as Spider Man. (Regards to Andrew Garfield and Tom Holland). LeBron James has had another LeBron season too.
That barely scratches the surface on the season. The Warriors have demolished teams, the Kings shipped their franchise player for (potential) peanuts, and the Knicks became an off-court basketball telenovela. This season has been a whirlwind. And it's not even the playoffs yet!
But the San Antonio Spurs, as usual, have been dominant. Quietly, of course.
As of Wednesday, the Spurs trail the Golden State Warriors by half a game for the best record in the NBA. The Warriors' (healthy) starting lineup is Stephen Curry, Klay Thompson, Kevin Durant, Draymond Green, and Zaza Pachulia. The Spurs have featured a Tony Parker, Danny Green, Kawhi Leonard, LaMarcus Aldridge, and Dewayne Dedmon starting lineup. It's continued excellence for a team that has changed identities constantly.
One of Coach Gregg Popovich's biggest strengths is his ability to change and adapt to both personnel, and the NBA landscape. When the Spurs steamrolled the LeBron James-led Miami Heat in 2014, they played differently, just judging from their metrics. They were 10th in the league in pace, at the peak of their "Beautiful Game" powers. No player on that team averaged over 17 points per game in the regular season, and only Tony Parker scored over 17 during their playoff run. They were in the bottom third in the NBA in free throw rate and offensive rebounding. San Antonio's defense also forced a lot of turnovers.
Now flash forward to this season. San Antonio is 25th in the league in both pace and three-point attempt rate, per basketball-reference. Their offensive rebounding has improved as well compared to 2014. They force fewer turnovers defensively.
But the differences end there. San Antonio was the best shooting team in 2014, as they are today. They have top 10 offenses and defenses, just like in 2014. San Antonio is also on pace to match their 62–20 record from their last championship season. To win over 60 games while resting players is remarkable.
The Spurs are finding new ways to win. Constantly.
What's Different?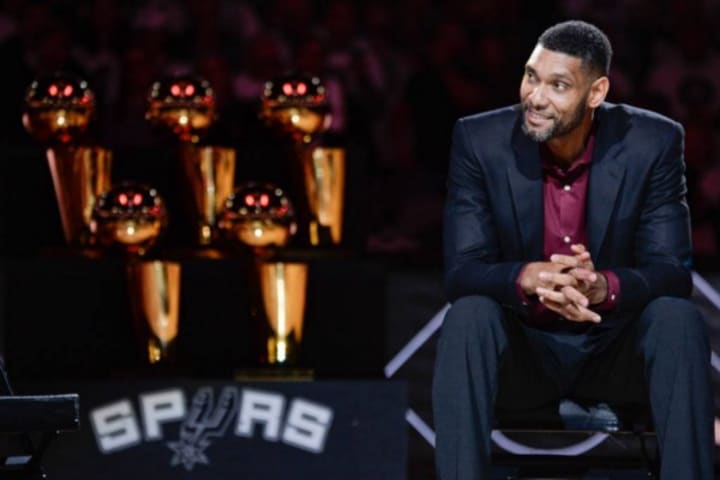 Well, Tim Duncan retired. That's a thing. But the Spurs are heaps more athletic at every position. They have adjusted to the NBA's switch heavy defensive schemes by adding length and versatility, rather than defined positions. (Shoutout to Matt Bonner) Several teams are influenced by the Spurs' previous schemes, including the Hawks, Warriors, and Celtics. Instead of pushing the pace with their ball movement, the Spurs have gone the opposite way, slowing the game down to a sensual, slow dance rather than a frantic tango. While the Spurs may not shoot a lot of threes, they make them at a league-leading rate.
San Antonio is athletic and efficient. That's scary. Where the NBA has zigged, the Spurs have zagged. It's brilliant, but frustrating for opposing NBA coaches. No matter who the personnel, the Spurs will seemingly have a chance to win any game.
Here are a few of the key pieces that have ushered in the Spurs' New Era.
Kawhi Leonard
If Kawhi-desu doesn't garner first-place MVP votes, I'll protest. His ascension to mega-stardom was just like the rest of his career — quiet. But he has become the first go-to isolation scorer since…I can't even remember a similar Spur. Duncan, Parker, and Ginobili all thrived off of ball movement and secondary penetration to generate their offense. But Leonard can use his length and improved handle to shoot over defenders or Go-Go-Gadget his way past them off the dribble. It's incredible how Leonard has unleashed his offensive juggernaut game this season. Take a look at his shot chart.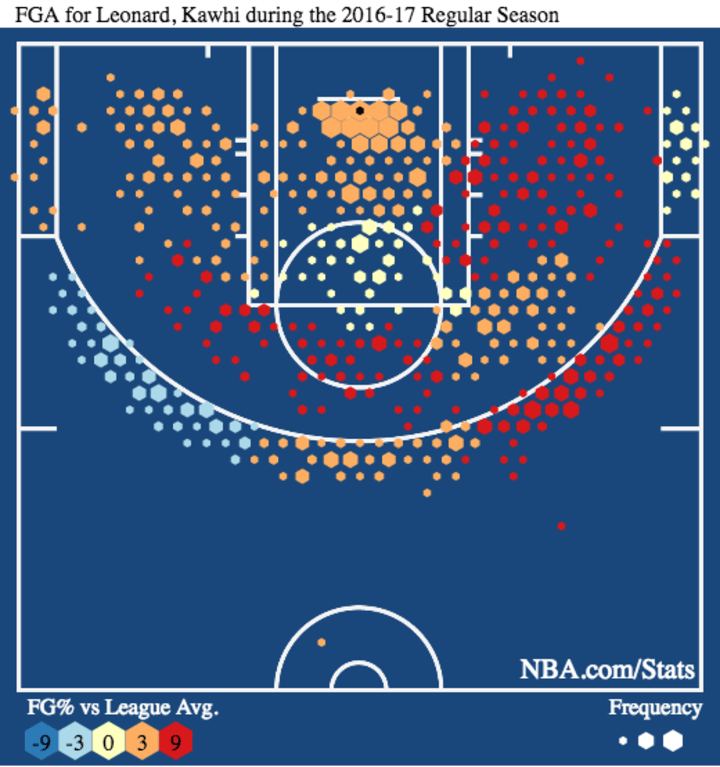 There's a lot of red in there. In playoff games where defenses will anticipate the Spurs' offensive sets, having a go to scorer like Leonard (and Aldridge) will pay dividends. And of course, Leonard is still a ferocious defender. His athleticism, versatility and length have been key for the Spurs this season. Leonard may not be averaging a triple double, or leading the NBA's most exciting offense, but his importance can't be understated. He's the best two-way player in the league not named LeBron.
Dewayne Dedmon
Dewayne "The Deadman" Dedmon is awesome. He's all arms and legs, and would have probably been a poor fit with the Spurs in a previous era. He kind of looks awkward running up and down the court, but that may just be me. Dedmon is one of the best rim protectors in the league, on par with more popular (and less boring) players like Rudy Gobert and Hassan Whiteside. Dedmon has shown fantastic lateral movement to block driving guards.
Look at that footwork! He's able to get into a defensive stance and recover quickly. Dedmon even can get up to block players his size as well.
Dedmon is efficient on offense, shooting 64% from the field. He may be limited, but he plays within his skillset. As a reminder, Dedmon was undrafted out of USC, and has bounced between the D-League and NBA in his career. Now he's one of the Spurs' best defenders.
Jonathon Simmons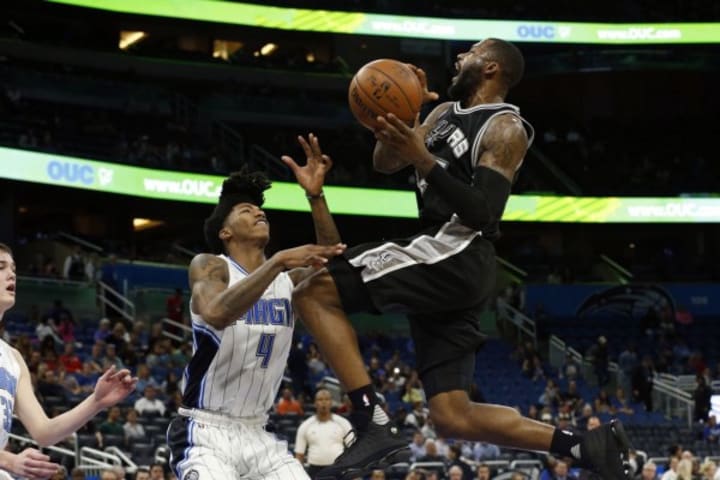 Remember Gerald "Crash" Wallace? It's ok if you don't. He played most of his prime with the Expansion Era Charlotte Bobcats. In his heyday, Wallace was a disruptive force on both ends of the floor. He succeeded on pure effort and intensity alone, overcoming his lack of offensive polish. The same could be said of Simmons. Another D-League success story, Simmons is all-motor. He plays frantically, but never out of control. He can take it coast-to-coast…
With flashy blocks sprinkled in…
Simmons, like Dedmon, is a raw athlete. That may have been why he spent years in the D-League before earning an NBA contract. Simmons likely would not fit in with Spurs teams of old as well. He's the worst three-point shooter on the team, shooting at 29% But as an off the bench option, he is energy personified. The Spurs have never had a second unit athlete on par with Simmons. Kawhi Leonard may need a second defender to shut down teams in the playoffs. Simmons could fill that role.
Pau Gasol and David Lee
I'll put these two together. Gasol and Lee were looked upon as pariahs, deemed too slow and too un-athletic to fit in "the modern NBA." They were seen as defensive liabilities in an ultra-fast league. But again, Popovich carved a role for these two outcasts (Big Pau and David 3000?). Lee has provided a mid-range game that may be needed with LaMarcus Aldridge out. He runs a pretty effective pick-and-roll tandem with Patty Mills.
His game is simple. Set screens and try to get open. He's shooting a blistering 61% from the field.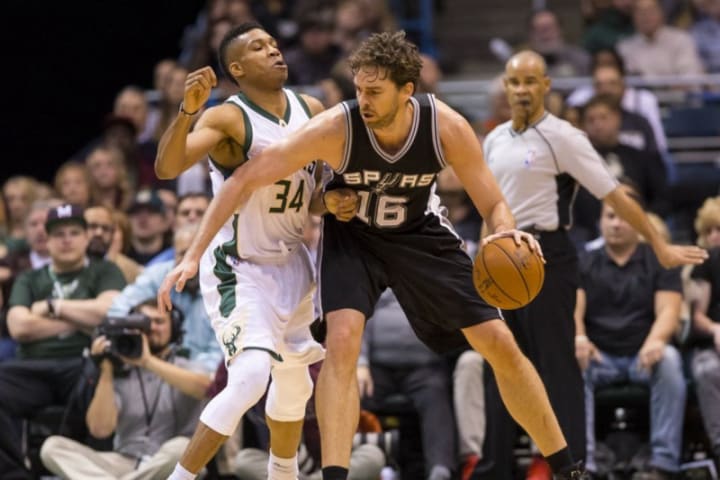 Gasol, now in his 16th season, was the most "Spurs-ball" player in the NBA prior to joining them this season. Along with his effective post-up game, Pau can be used as a trailer on the break. He shoots it at 50% from three this season.
Pau may not be Tim Duncan, but he has the ability to find cutters in the post and as a hand off man on screens. The threat of his post game opens the defense up for his teammates. He's averaging 2.6 assists per game, respectable for a big man.
The surprising thing about those two is their defense. Gasol is the third best defender, using defensive rating, on the Spurs this season. Attribute that to basketball IQ or having Kawhi Leonard on the floor, there's no denying that Gasol has had a renaissance year on defense. Lee may not be having as strong a year, but he has performed well defensively.
Versatility
The Spurs are more versatile than ever, especially with their frontcourt. When they need a strong rim protector, Dedmon can pair well with Leonard. If the offense is in a rut, Gasol can facilitate the offense from the high post. Even Kyle Anderson and Dejounte Murray provide much needed length in the backcourt. The Spurs seemingly have lineups to match against every team in the Western Conference.
Do you have attacking guards? Here's Dewayne Dedmon.
Is your defense porous? Here's Pau Gasol and David Lee to slice you on offense.
Do you like getting beat by seemingly older vets? Here's Tony Parker and Manu Ginobili.
Is your team led by a megastar? Kawhi Leonard, ready to shut you down.
The Spurs have their most flexible rotation in years. Yet, people are more interested in talking about Lonzo Ball's dad.
How far will they go in the playoffs?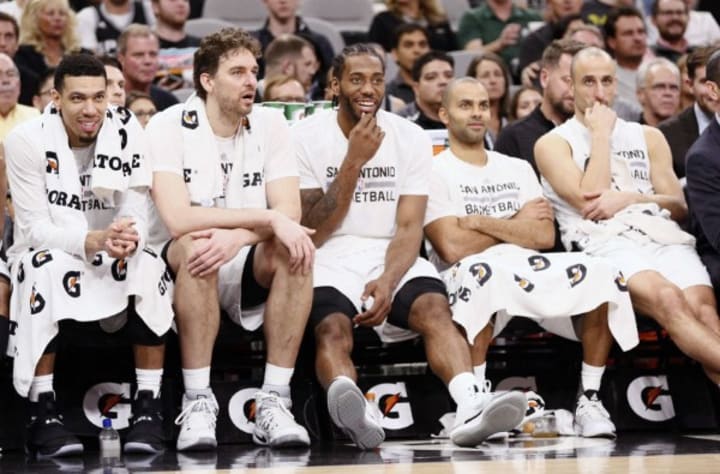 San Antonio is seemingly built for the playoffs with their current style. The presence of a solid rim protector in Dedmon, and the presence of offensive options with Aldridge and Leonard increase their chances for success greatly. They will have a top-2 seed, most likely, matching them against Russell Westbrook and the Oklahoma City Thunder, or against Pau's brother, Marc and the Memphis Grizzlies. It would be a defensive master class.
So… how likely would a Spurs-Grizz first round series be the NBA TV exclusive series?
Their only glaring issue is their guard depth. They may not be able to stop Russell Westbrook or Stephen Curry and the Warriors. But no other team has been able to stop these two forces of nature either.
Yes, the Spurs are boring. Personally, I can't even think of a standout moment or storyline for them this season. All I remember is the awkwardness of Leonard's All Star Game shoe thing. There's no drama with the team. Their best player, Leonard, could be MVP, but he's overshadowed by historic offensive performances by Westbrook and Harden. Players like Pau Gasol and David Lee have had career renaissances, but the media is more apt to discuss Phil Jackson's choice of seats at a Knick game, or the signing of Larry Sanders. Even the rise of Dewayne Dedmon should be noted, but it's fallen by the wayside.
Historically, the continued excellence of a team has been seen in several sports. The Patriots, Yankees, and Real Madrid are continually excellent. But no team has been as low key as San Antonio. The three teams mentioned underwent huge headline-grabbing events. That can range from a cantankerous owner, to subpar coaches, or the deflating of a ball. But San Antonio seems to never grab headlines.
Sure, there have been NBA franchises that have dominated quietly for years. Utah did that with John Stockton and Karl Malone for nearly 20 years. The Detroit Pistons made three consecutive Eastern Conference Finals without much notoriety other than the usual morning radio host takes. The Spurs are uncanny. Compliments to the Chef(s) R.C. Buford and Gregg Popovich for cooking up a team that's like the Dim Sum place in Chinatown that I frequent — never high profile, but consistently good.
There are no juicy headlines in San Antonio, and that's for a reason. They're the gold standard for franchises. But people always seem to forget that. The same statement could have been said in 2002. Things in the NBA change, but the Spurs (and the Timberwolves) are the constant. Whether they're constantly boring or constantly great is your choice. But maybe they're both.