The Numbers Say Lance Mccullers' Future Is in the Rotation
Houston has lined him up to pitch Game 4 and Game 7 of this World Series. He is not going to the bullpen.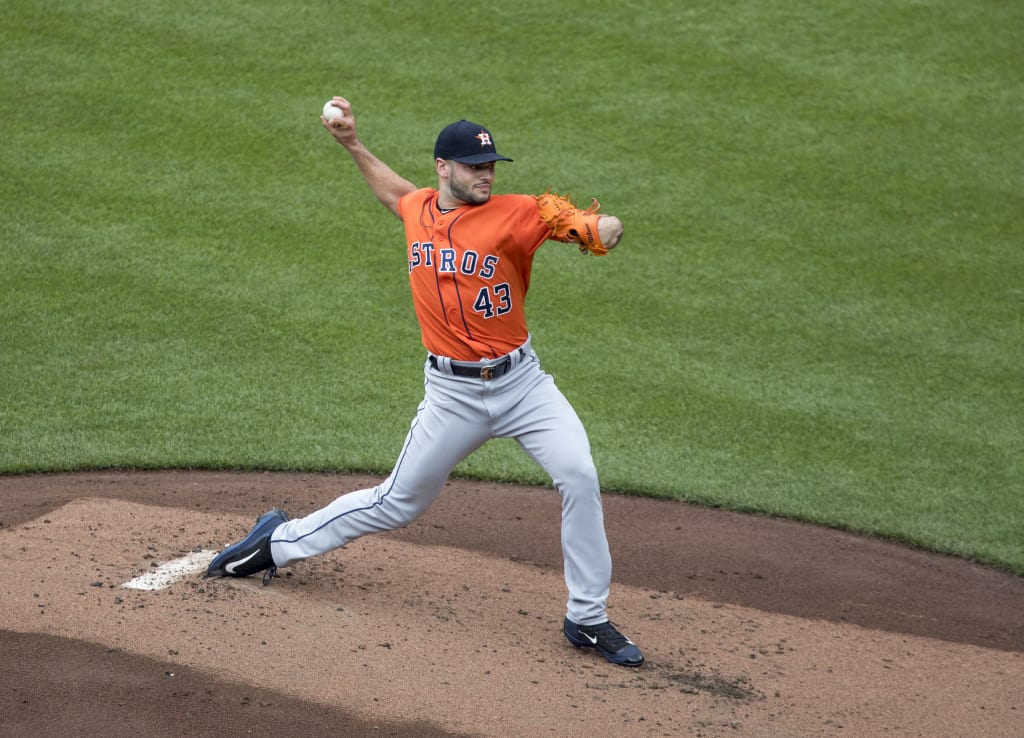 Mandatory Credit - Keith Allison
After stymying the Yankees offense over the course of four shutout innings in the decisive Game 7 of the American League Championship Series, questions have arisen regarding Lance McCullers. Is he durable enough to be a starting pitcher? Is he effective enough over the course of a game to be a starting pitcher? If the answer to either or both of those is no, does that mean McCullers will end up being a reliever who can go multiple innings?
These are all fair questions to ask. McCullers has never been healthy enough to pitch a full season since arriving to the big leagues in 2015. After returning from a back injury, McCullers suffered from a bout of fatigue and was a question mark leading into the postseason. As for his potential as a reliever, we saw it in full form on Saturday night. He finished his night with 28 (!) consecutive curveballs, so we know we have some sort of futuristic baseball weapon on our hands here. In my opinion, and from observations of the Astros' unique pitching practices, McCullers will be a rotation cog for the Astros in the long term.
First, let's look at the effectiveness of the curveball. The Yankees flailed away at it like a fish out of water, and from what I can see, that's what McCullers has been getting from a lot of people lately: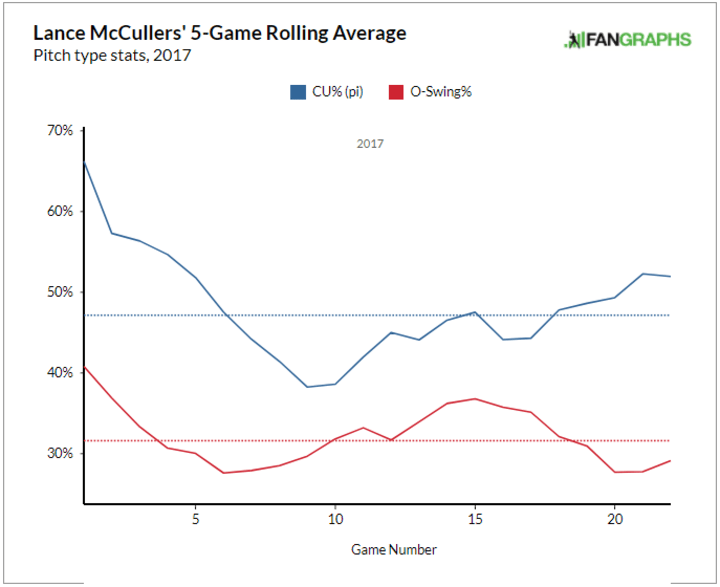 As you can see, there is a direct correlation between the rate at which McCullers throws his curveball and how many swings he induces outside of the strike zone. McCullers' overall usage rate on his curveball is upwards of 50 percent, which is extreme — nobody else exceeds 40 percent. Even Rich Hill, who has been lauded for his heavy curveball usage, threw his (less effective than normal) curve 37.5 percent of the time this season. In addition to having the most deployed curveball in the game, it held the distinction of having the second highest velocity. At 85.6 MPH, McCullers' curveball has more velocity than a power breaking ball like Corey Kluber's while still maintaining enough big movement to bury in the dirt for a swinging strike. This is the weapon that will allow McCullers to be an effective starter in the big leagues.
While I could continue with more stats on McCullers' curveball, the important thing to talk about now is application. McCullers dominated on Saturday night, but over 30+ starts in a 162 game season, he is bound to have off nights where he often finds himself behind in the count. Well, here are relevant stats about McCullers when he was behind in the count this season:

By all accounts, this is a guy who was one of the top pitchers when behind in the count this season. At face value, a statistic such as Expected Fielding Independent Pitching (xFIP) shows he was the fifth best pitcher when behind in the count this year, and the underlying peripherals support it. The quality of batted balls against him was relatively poor, so his Expected Weighted On-Base Average (xwOBA) when behind in the count was 25th best in the league. Despite throwing a curveball that was in the strike zone only 36 percent of the time, McCullers managed the fifth best Strikeout-to-Walk percentage (K-BB%) in baseball. One might believe that his curveball is what got him behind in the count, so he then throws fastballs in the zone to claw his way back; this is not so. Consider the leaderboard for curveballs thrown while behind in the count this year: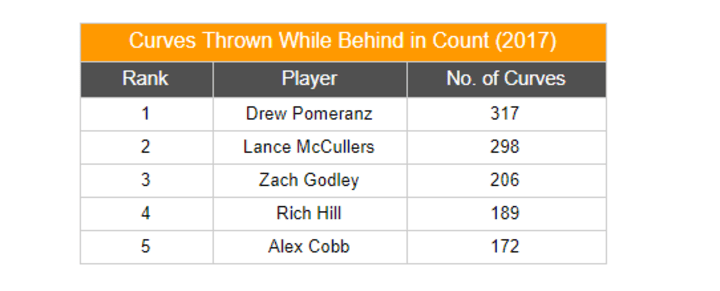 Drew Pomeranz, who threw 174 innings this year, led the league with 317 curves when behind in the count. McCullers, who threw 119, was barely behind him with 298. After that, nobody was even close to them, even though Godley, Hill, and Cobb are all noted for their curveballs. When behind in the count, McCullers threw the curve — and found incredible success in doing so. This is a guy you can trust on a day he has trouble locating his fastball.
For all the talk about McCullers' lack of durability, his DL stint this year was not related to his arm (it was a back injury). Sure, McCullers did have a mild elbow sprain that ended his 2016 season, but research has proven that pitchers who throw high velocity fastballs are most susceptible to significant elbow injuries. As a breaking ball enthusiast, McCullers is a much lower risk for a serious arm injury than most others going forward. Additionally, there have been questions about McCullers' ability to go deep into games, but in his 58 career starts, he's pitched at least seven full innings 13 times. However, I would argue that McCullers doesn't even need to be a workhorse to earn his keep in the rotation.
Houston utilized a perfectly executed tandem start between Charlie Morton and McCullers to down the Yankees in Game 7, so I'm guessing that they would be interested in continuing that strategy over the course of a 162 game season to keep their staff fresh come October. Without even accounting for future offseason acquisitions, the Astros have up to nine options in 2018 for the rotation (Keuchel, Verlander, McCullers, Peacock, Morton, McHugh, Whitley, Martes, Musgrove), three quality short stint relievers (Giles, Gregerson, and Harris), plus a Chris Devenski. A team as progressive as the Astros is planning to utilize this depth to ease the burden on everyone, so guys like McCullers might be expected to only get through five innings, or through the order twice at most. There's nothing wrong with that, and McCullers should be a big part of that strategy. Check out the leaderboard for xwOBA against pitchers in their first and second bouts through the opposing lineup: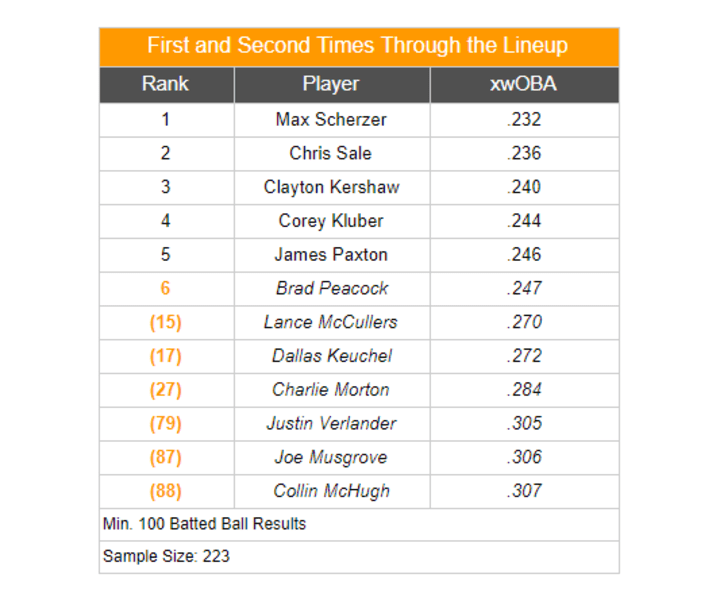 In the first four slots, you have the four best pitchers on the planet, so you know this is a good list. The man in fifth place will soon join them when healthy, and then you've got Brad Peacock, who also pitches for the Astros. Then there's McCullers, sitting at 15th best in all of baseball in xwOBA through the first eighteen batters faced. His mark is incredible. It should be noted that the Astros have four (!) pitchers in the top 30, Joe Musgrove and Collin McHugh with above average marks a little further down the leaderboard, and their staff ace Verlander in between them. The Astros have quantity. The Astros have quality. They're going to take advantage of both, and they're definitely going to use Lance McCullers in the starting rotation. He's a big part of their plans in this title window they have created.