The Jaw-Dropping Career of Connor McDavid (So Far)
A look at Connor McDavid's brief but plentiful career as he turns 26 years of age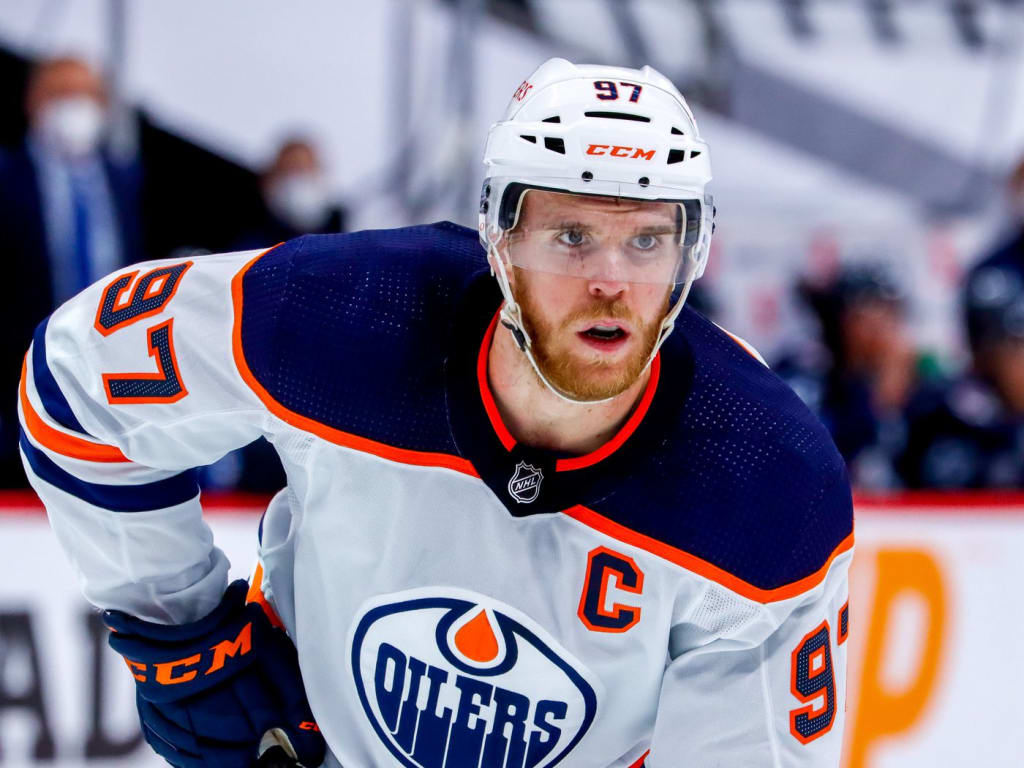 Connor McDavid was drafted #1 overall by the Edmonton Oilers in 2015
I am a Colorado Avalanche fan. I am also a Connor McDavid fan. These things can happen. When the name Connor McDavid is mentioned, I think about what he's done so far and I just shake my head. I don't do it out of shame, mind you. My head shaking is out of incredulousness. I always ask the one word question: "How?" How is he doing all of this? How is he just racking up points at will? I've said many times, "McDavid's not human." His offense is absolutely and deliciously monstrous. It's insane that he's doing this at such a crazy pace, and just think, he was nearly a Buffalo Sabre.
I remember that buzz in the tail end of the 2014-15 season. Connor McDavid was the central prize in the draft that year. It was believed that the Buffalo Sabres would end up with him; after all, they literally tanked for him that season. They ended up with the worst record in the NHL, but they didn't win the lottery. The Edmonton Oilers won the draft lottery, and they ended up drafting McDavid #1 overall that year. The Sabres had the #2 pick and drafted Jack Eichel. Other notable players from the 2015 draft: Mitch Marner, Jake DeBrusk, Joel Eriksson Ek, and last but not least, Mikko Rantanen.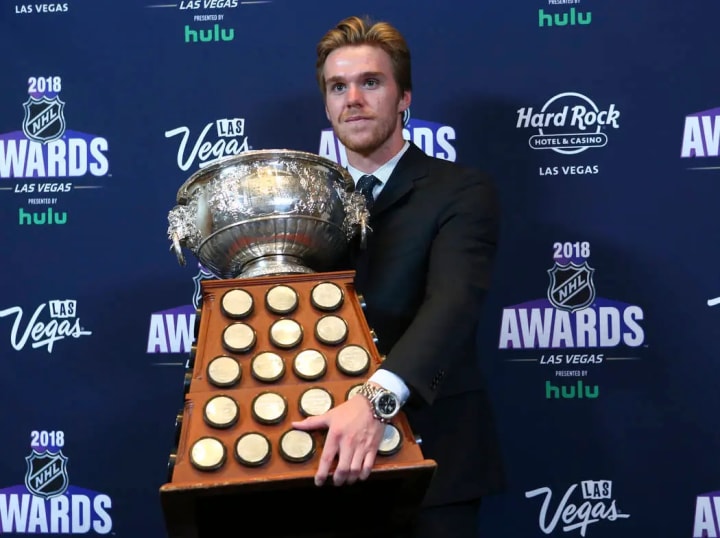 In his first year, McDavid racked up 48 points in 45 games, with sixteen of those points being goals. A point per game in his rookie season isn't bad, though McDavid finished third in voting for the Calder Trophy, which went to Artemi Panarin that season. McDavid would start to get used to this whole point per game thing on the following season, as he picked up an even 100 points (30 G/70 A) and captured his first Art Ross Trophy as the league leader in points, and also won the Hart Trophy as the league's MVP. He would also get his first taste of the playoffs that year, as the Oilers returned to the playoffs for the first time since 2006--the year that saw them one win away from capturing the Stanley Cup. The Oilers had a decent run, falling one win short of reaching the Western Conference Final. As for McDavid, he had nine points (5 G/4 A) in 13 playoff games.
The 2017-18 season saw McDavid top his points total from the previous year: 108 points (41 G/67 A), which earned him his second straight Ross. He topped himself again on the following year with 116 points (41 G/75 A), but finished 12 points behind that year's points leader, Nikita Kucherov. Despite those stellar seasons, the Oilers missed the playoffs each of those two times, but they would return to the postseason in the 2019-20 season. That season was paused due to the ongoing COVID-19 pandemic, though in 64 games played, McDavid had 97 points (34 G/63 A). The Oilers finished fifth in the Western Conference and ended up playing in the Qualifying Round, as the top four teams in each conference were already in the playoffs, but played in the Round Robin seeding games. All of the West teams played their early round games in Edmonton, so the Oilers were on their home ice for their series against the lowly, 12-seeded Chicago Blackhawks. However, the Oilers actually lost the best-of-five series in four games, with McDavid racking up another nine points (5 G/4 A) to his budding playoff total.
I had always been a McDavid fan, but the evening of May 8, 2021 increased that fandom. I remember that Saturday night, because the Oilers were facing the Vancouver Canucks, and McDavid had 96 points, four away from another 100 point season. Now, I knew how good McDavid was, but I didn't know if he could get those four that night. He didn't waste time and scored in the first minute to reach his jersey number: 97. He would get three assists afterwards, with the third helper putting McDavid at the century mark. McDavid did this in two periods! Here's the thing: the 2020-2021 season was 56 games long, yet even then, McDavid finished with 105 points (33 G/72 A)! He captured his second Hart Trophy that year, as well as his third Ross Trophy, and as for the Oilers, they finished second in the localized, all-Canadian North Division, and faced the Winnipeg Jets in the opening round of that year's playoffs. Unfortunately, the playoff woes continued, as the Oilers were swept out of the playoffs. McDavid had only four points (G/3 A) during that series, and was shut down for the first two games.
Those two seasons had many fans, myself included, wondering if McDavid was going to stay around in Edmonton much longer. One of the best players in the league, yet at that time, he had only one playoff series victory in six seasons. But then, the 2021-2022 season arrived, and McDavid tore it up, even more than usual. 44 goals (a career best, at the moment), 79 assists (also a career best, again, at the moment), 123 points (same applies). A fourth Ross Trophy for McDavid. Ho hum, business as usual. However, the playoffs were another story. The Oilers finished second in the Pacific Division, and went through the Pacific's portion of the playoffs--needing seven games to defeat the Los Angeles Kings, and defeating the Calgary Flames in the Battle of Alberta in only five games. They reached the Western Conference Final for the first time since their magical 2006 run, but they were swept by the eventual Stanley Cup Champions, the Colorado Avalanche.
As for McDavid, oh boy! Keep in mind, this is in 16 games. 10 goals (including the OT series clincher in Game Five vs CGY), 23 assists, 33 points. 33 points in 16 games, just a hair over two points per game! Again, the kid's not human. Even this season, McDavid's on a beastly pace. Entering his 26th birthday, McDavid has 35 goals and 44 assists for a grand total of 79 points. Keep in mind, the All-Star Break is three weeks away! McDavid could enter the break with 90 or even 100 points! That is the definition of "beast mode." Again, McDavid's only 26, yet he has 776 points (as of now), meaning that he'll definitely reach 1000 career points before he turns 30. Also, the 2022 run managed to inflate McDavid's playoff numbers; he now has 55 playoff points in 34 games.
With all of those stats, there's still the million dollar question: "When will McDavid win his first Cup?" I myself have been critical of the lack of depth that surrounds not only McDavid, but also his equally dominant teammate, Leon Draisaitl. Others have as well, but the depth has hit the Oilers recently. Despite this, the Oilers are not having a good season. They have been dancing around the playoff line for a good part of the season, even after a big time off-season that saw them acquire Jack Campbell, who has been vastly struggling this season. Even so, McDavid is tearing it up, having yet another superhuman season, adding on to his beastly numbers. Connor McDavid is the best player to wear that Oilers jersey since some player who wore #99 for them decades ago. The numbers definitely say it. He's on one hell of a record pace as far as his stats and accolades are concerned, and he really shouldn't worry when it comes to the Stanley Cup. McDavid's 26. He has plenty of time to get (at least) one.
About the Creator
Born on March 18, 1985. I am an avid fan of sports and wrestling, and I've been a fan of female villains since the age of eight. Also love movies--especially comedy and horror--and among my favorite TV shows are The Simpsons and Family Guy
Reader insights
Be the first to share your insights about this piece.
Add your insights