The Hottest Spring Bods in Women's Sports of 2021 Pt. 15
Here's to the last week of a great season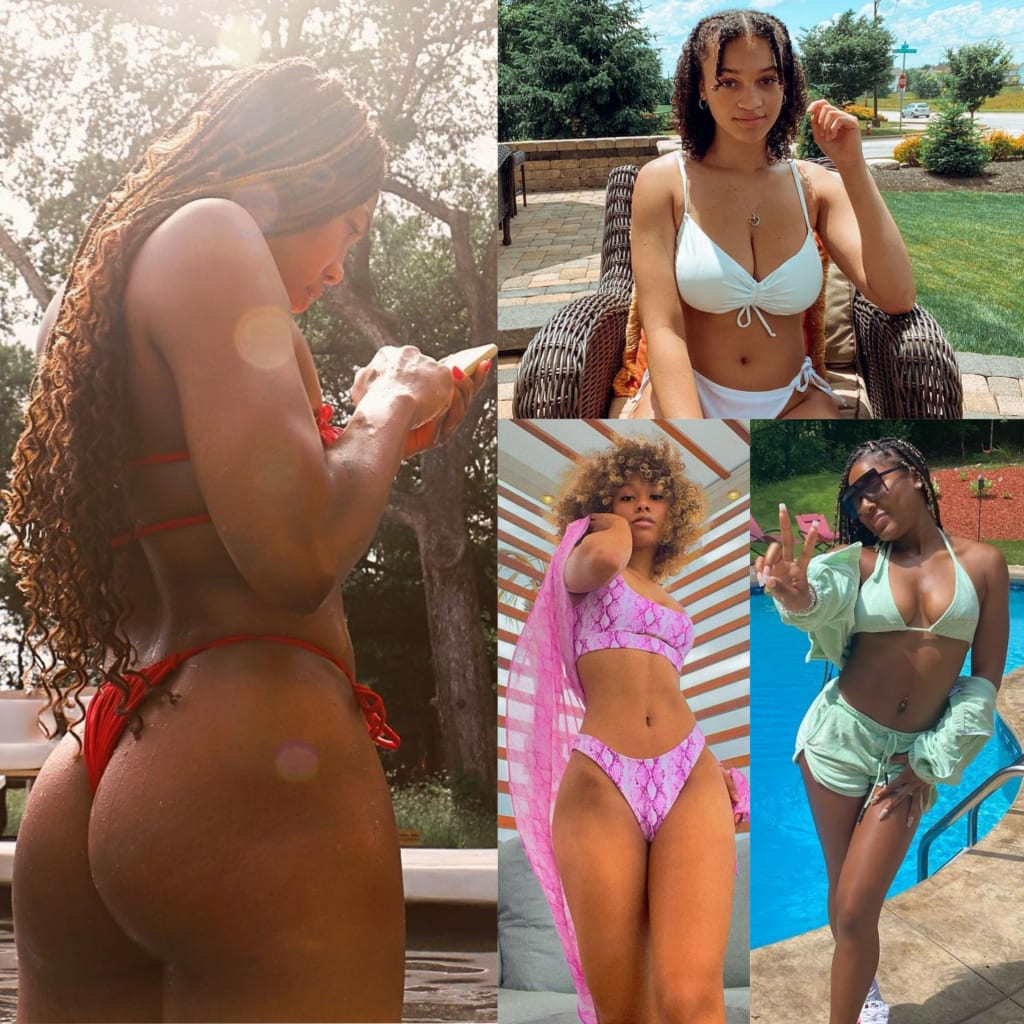 Khat, Macenzie, Ivyanna & Darci
Darci Khan
Kentucky's Darci Khan kicked off her collegiate career in December of 2019, with a runner-up finish in the 1,600-meter relay at the Jingle Bells Open which was hosted by her school. She also finished third in the 60-meter hurdles that day as well. Her first collegiate win came at the Weems Baskin Relays this outdoor season as a member of the 1,200-meter relay squad.
We said it before when she was featured in our winter sports bods series. Darci Khan is an All-American when it comes to charisma. Her growing TikTok audience of over 17,500 followers get to laugh out loud as she comically performs dance challenges and other memes. She has a unique talent of being funny without speaking a word. In Hollywood she would be referred to as a physical comic. Legends like Lucille Ball (I Love Lucy), John Ritter (Three's Company) Dick Van Dyke (The Dick Van Dyke Show) and Martin Lawrence (Martin) all had very successful and iconic runs in television because of their physical comedic skills. Khan shows promise in that field, but who knows if she's just having fun or really wants to pursue a career as an actress when her athletic days are behind her.
Khat Bell
Back in 2013, Khat Bell competed at Texas and she was crowned the Sexiest College Volleyball Player on earth by Rebel Life Media. That was an unofficial title but it was valid as Bell was a bit of a tough but beautiful heartthrob during her time as an All-American college star. She helped to lead Texas to the national championship in 2012. During her career Texas made it to the Final Four three times in four years.
As a pro she has made a name for herself in various countries. She has competed in South Korea, Puerto Rico, Turkey and the Philippines. Now at 28, Bell looks better than ever as she is in the her prime years as an athlete. Her over 70,000 followers on Instagram can watch her life on and off of the court. On the business side, Bell has made herself available as a personality on Cameo. She also has become a TV star on the Netflix's The Circle.
Macenzie Richards
North Carolina A&T's Macenzie Richards is a six-foot junior who plays right side on the volleyball squad. This past season Richards helped the Aggies finish with an 11-2 record including 8-0 in the Mid Eastern Athletic Conference. North Carolina A&T qualified for its first NCAA Tournament and advanced to the second round where it loss to the 12th ranked team in the NCAA, Penn State. Richards who will be 21 in August, had a big game against Delaware State with 12 digs and eight kills. She had her top hitting percentage in a game against South Carolina State when she registered on 80 percent of her attempts. Richards had four kills on ten attempts against Penn State during the NCAA Tournament.
Before college at Pickerington High School in Ohio, she became the top blocker in the history of the program and was an honor roll student.
Ivyanna Lewis
With over 21,000 followers on Instagram and over 50,000 followers on TikTok, Ivyanna Lewis is becoming a bit of a social media darling. The sprinter from Beaumont, Texas began her collegiate career this year at Neosho County Community College in Kansas. She was a part of two wins this season. In her second meet she was one fourth of a 1,600-meter relay win at the Tom Bond Invite during indoor season. Her second win came as a member of the distance medley relay team that won at the Coffeyville Last Chance meet. She was able to compete in the NJCAA Indoor Track & Field Championships where her distance medley relay team finished 10th in the national final.
After finishing her outdoor season at Neosho, Lewis has transferred to Fort Scott Community College, also in Kansas.