The hottest pics of golf's sexiest star: Paige Spiranac
This golf star is simply irresistable
There's something about female golfers, with many of them ranking among the world's most beautiful athletes. But few golfers are as scorching hot as is Internet sensation Paige Spiranac.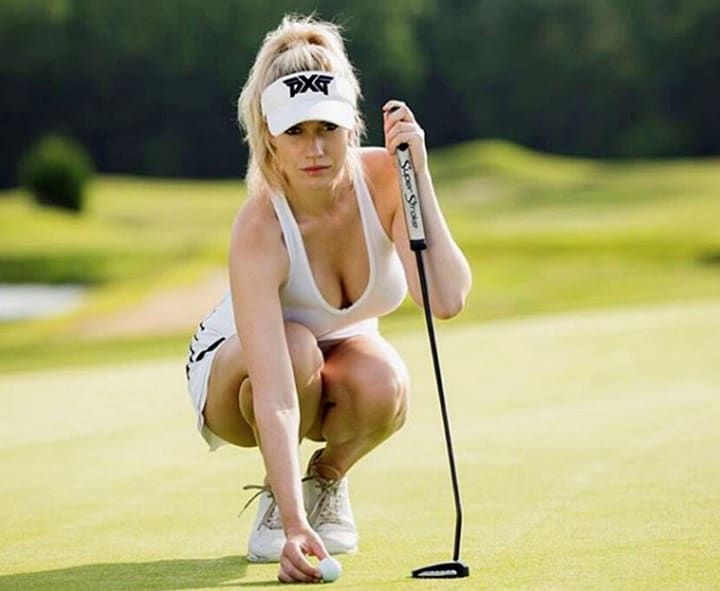 Spiranac first made a name for herself during her college days, where she played golf at both the University of Arizona and San Diego State University. And though Spiranac received plenty of attention for her figure and looks, she was also a talented golfer.
How good was Spiranac? She earned All-Mountain West Conference honors during her 2012-2013 and 2013-2014 seasons. She also played a key role in leading San Diego State University's women's golf team to its first Mountain West Conference Championship, a feat the Aztecs accomplished in 2015.
After graduating, Spiranac did go on to play golf professionally, though she didn't rack up many victories. During her brief professional career, Spiranac's only win came on the Cactus Tour in 2016 at Orange Tree Country Club in Scottsdale.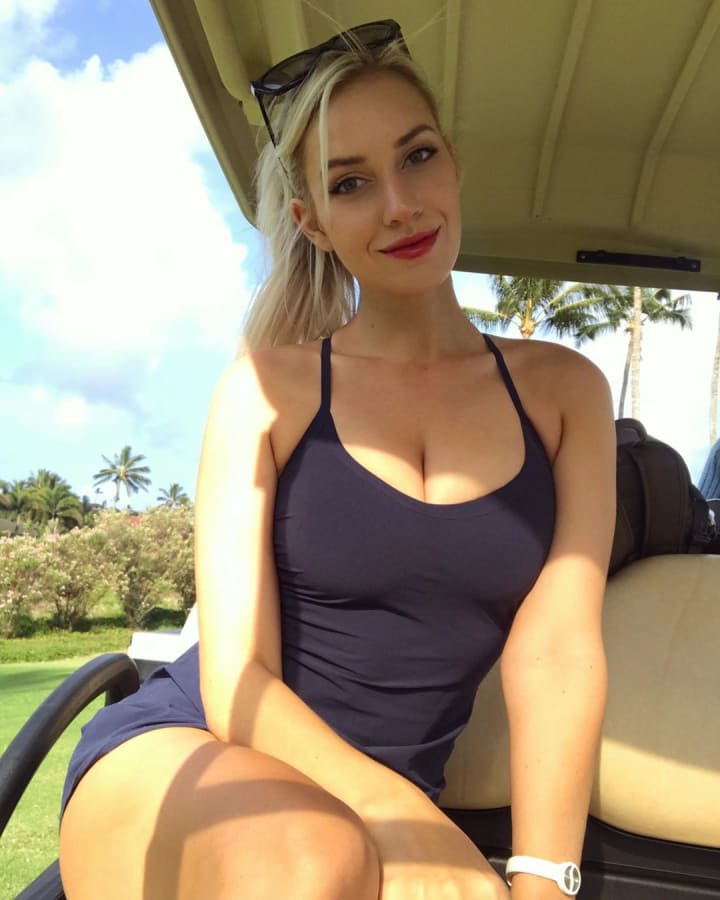 But let's be honest. Today, Spiranac is more famous for her looks and her social media activity than she is for her golf. And that's perfectly fine.
Spiranac has courted some controversy in golfing circles for flaunting her body. She's especially well known for showing off her cleavage in tight, low-cut dresses and outfits. This has undoubtedly helped boost Spiranac's fame, and has exposed her to plenty of opportunities to build her brand.
Spiranac's greatest success, then, has come through social media. Today, she has more than 2 million followers to her Instagram account. She's also created her own podcast, Playing-A-Round, which debuted in February of 2020.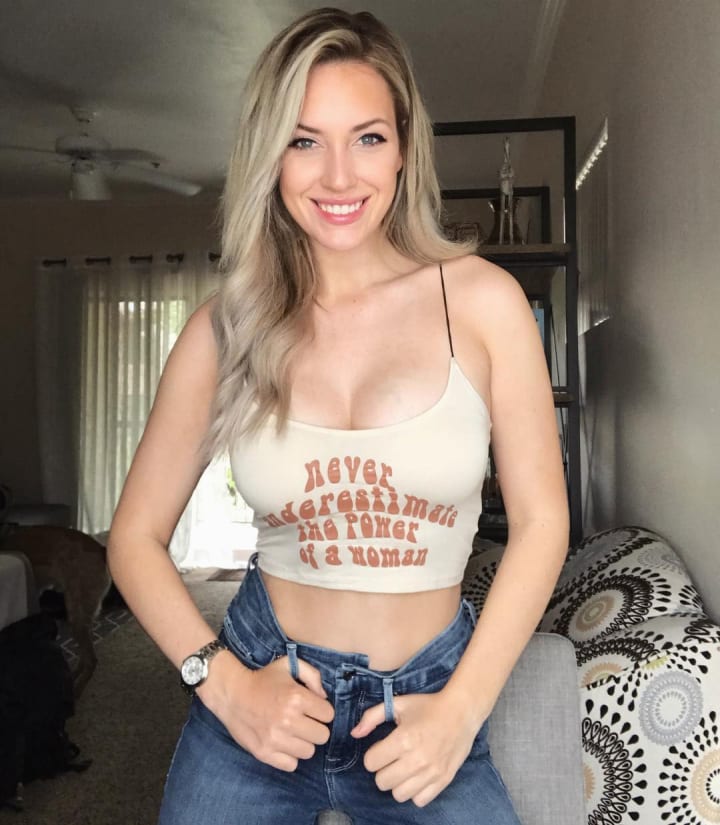 That last appearance also created controversy, with critics saying that Golf Digest rarely features female golfers on its cover and should have featured a professional with more career accomplishments. These critics alleged that Spiranac was only featured on the cover because of her looks and her penchant for showing off her chest.
On her podcast, and on social media, Spiranac has said that controversies such as these have hurt her. She said that she hasn't enjoyed being attacked because of her looks and her willingness to show off her body. As Spiranac has frequently said on her social media attacks, women should still be respected even if they do show off their body.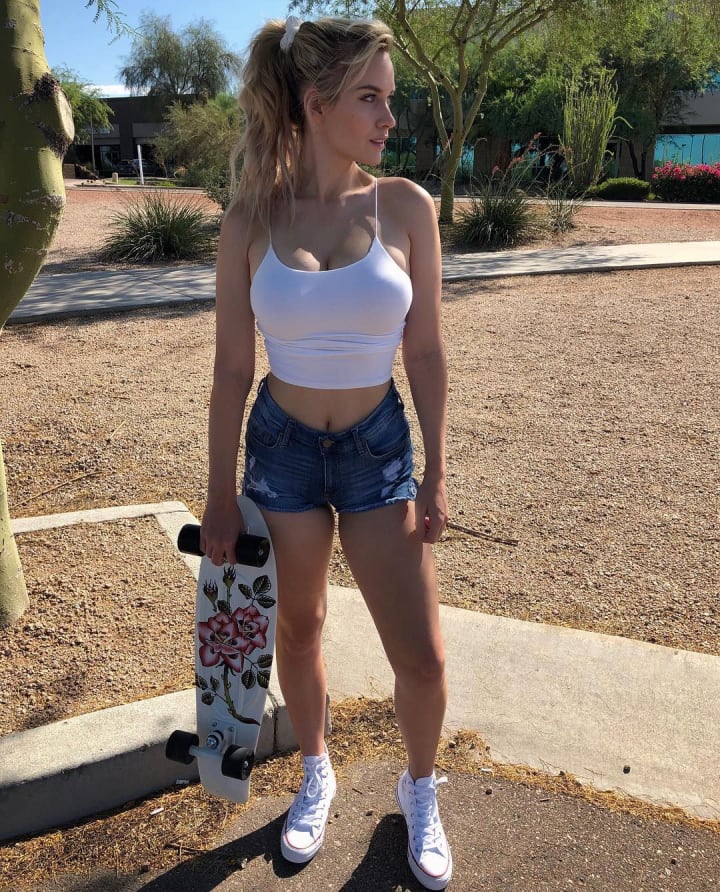 Spiranac has also said that her large chest – which she says is natural – has helped her golf game. Why? They help with her balance and her swing, she says. That doesn't mean that her chest and appearance haven't brought some negatives, though. In interviews, Spiranac says that many men have dated only because of her large chest and appearance. In other interviews, though, Spiranac says that some men have dated her in the hope of receiving free golf lessons.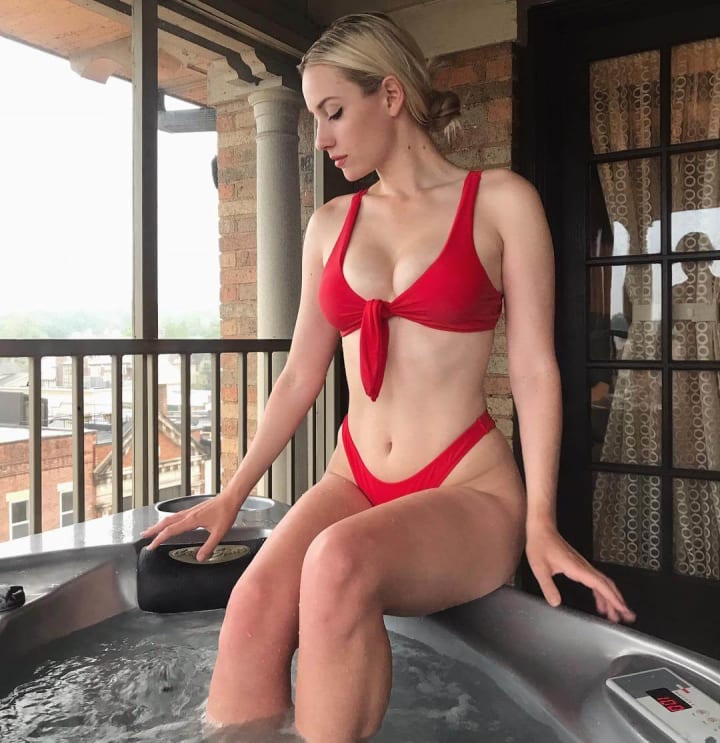 In addition to her looks and figure, Spiranac has gained fame on her social media sites for posting a series of trick shot videos. A favorite – to no one's surprise – features Spiranac bouncing a golf ball off her cleavage. Yes, that video has earned plenty of views from Spiranac's fans.
Another popular Spiranac video? A video of her rolling on a golf green in her favored outfit type – tight, curve-hugging, cleavage-exposing – did go viral, and was applauded by her many fans. Spiranac also earned plenty of views for a video in which she imitated a golf shot made by Adam Sandler in his comedy Happy Gilmore.
Whatever the reason for her fame, it's clear that Spiranac has earned the title of golf's top Insta-Girl.