The Family Tree of Baseball Legend Hank Aaron
The baseball legend has deep southern roots
Image Credit: si.com
Henry Louis Aaron was born February 5th, 1934 in Mobile, Alabama to Herbert Aaron and Estella Pritchett. He was one of seven siblings and one of which, his brother Tommie, also went on to play professional baseball. Hank Aaron grew up on 666 South Wilkinson Street in Mobile, Alabama. His father worked as a ship fitter's helper, a person who works on ships when they come in for repairs, and made $900 a year (the equivalent of $16,923 today). Hank Aaron's family was very poor, to the point where Hank would make his own baseball bats and baseballs out of materials he found in the street. Hank first tried out for the Brooklyn Dodgers when he was just 15 years old. He did not make the team that year but a year later would join the Pritchett Athletics where he made $2 per game (the equivalent to $22 today). Later that year, he would join the Mobile Black Bears, an independent Negro League team, where he earned $3 per game (the equivalent to $33 today). In the fall of 1951, Hank signed a contract with the Indianapolis Clowns where he played 26 games as a shortstop with a batting average of .366, 5 home runs, 33 runs batted in, 41 hits, and 9 stolen bases.
In 1952, the Boston Braves, now the Atlanta Braves, purchased Hank Aaron's contract with the Clowns for $10,000 ($99,209 today). Hank would play two years of baseball in the minor leagues before being invited to spring training in 1954. He would make the team and would play until 1976. During his career, he had a batting average of .305, had 3,771 hits, hit 755 home runs, had 2,297 runs batted in, and made the all-star team 25 times. In 1982, he was inducted into the baseball hall of fame.
During his stint in the minor leagues, Hank married Barbara Jean Lucas in Duval, Florida when he was 19 years old. They would have five children together, Gary, Lary, Dorinda, Gale, and Hank Jr. before they divorced in 1971. Two years later, in 1973, Hank married his second wife, Billye, and they had one child together name Ceci. Hank is currently serving as Senior Vice President for the Atlanta Braves.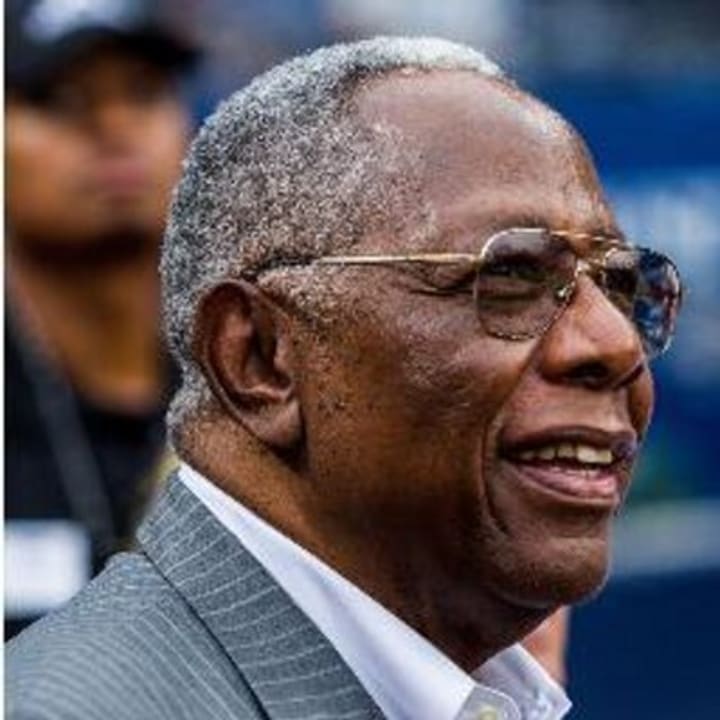 The Parents of Hank Aaron: Herbert Aaron and Estelle Pritchett
Herbert Aaron was born in Alabama on October 24th, 1908 to Reverend Henry Aaron and Mariah Archie. Estella Pritchett was born in Alabama on November 20th, 1911 to parents whose names are unknown. Herbert and Estella married on August 22nd, 1929 in Mobile, Alabama when Herbert was 19 and Estella was 17. However, they did put that they were 22 and 19 years old.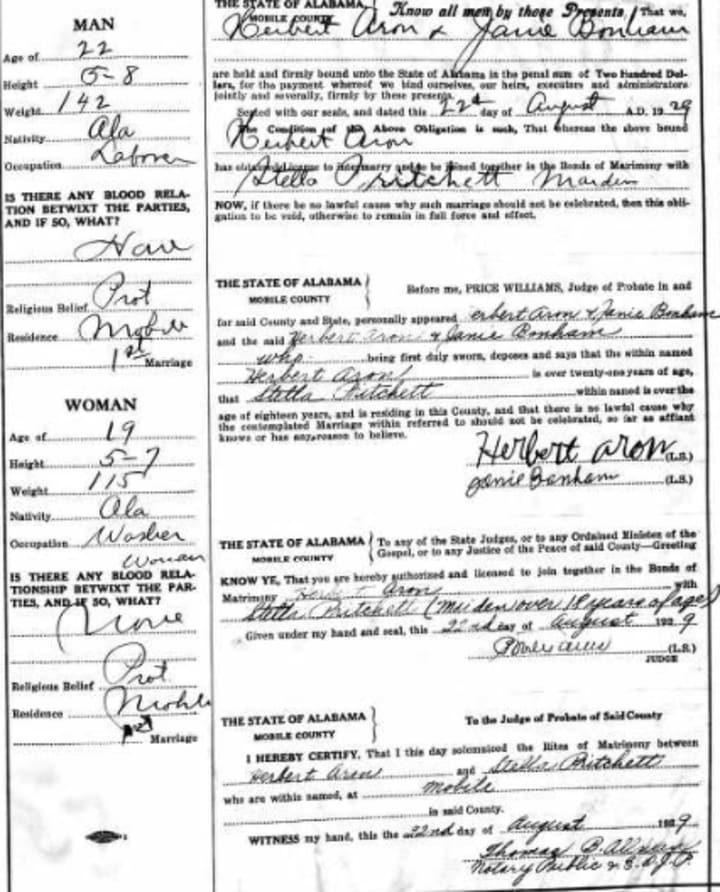 A year later, in 1930, Herbert and Estella were living in Mobile, Alabama on O'Gevinns Alley. During this time, Herbert listed on the census as being a truck driver and Estella is working as a laundress.
On October 16th, 1940, Herbert registered for the draft as the United States entered World War Two. He was listed on his draft card as being 5'4, 158 lbs, and working at the Alabama Dry Docks and Shipping Company.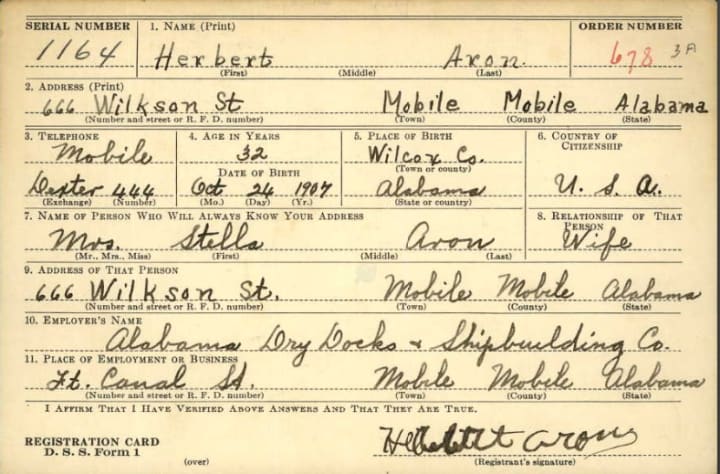 Herbert died on May 21st, 1998 in Mobile Alabama at age 89 and Estella died April 7th, 2008, at age 96. They are both buried in Magnolia Cemetery in Mobile, Alabama. According to his obituary, Herbert worked at the dry dock in Alabama for 30 years and would eventually become a welder. His obituary goes on to state that he became Mobile, Alabama's first prominent African-American businessman but did not go into further detail about this.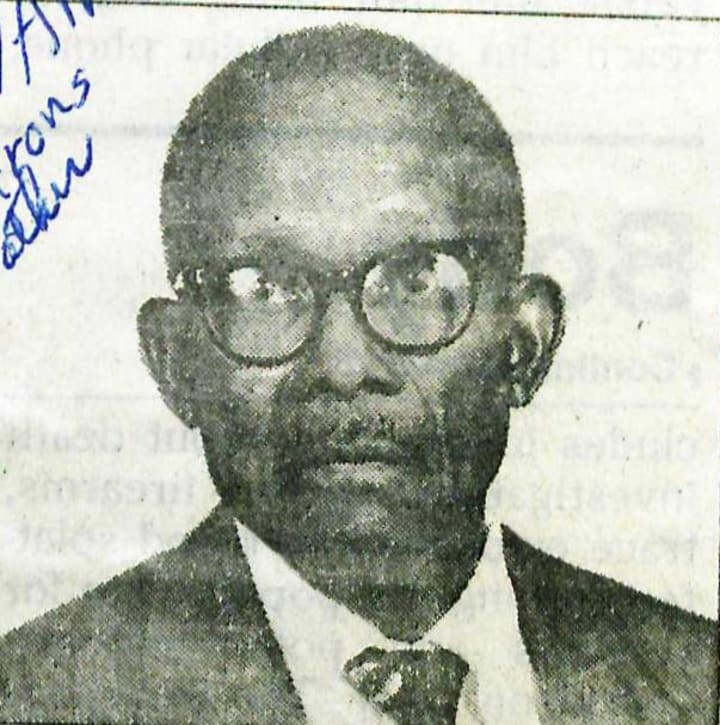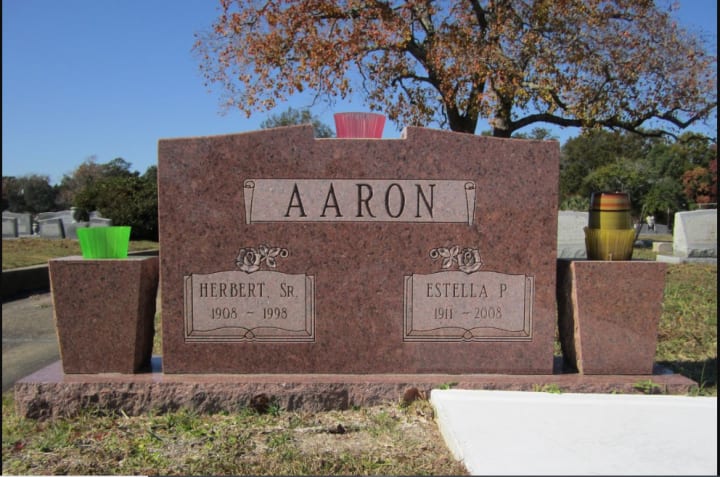 The Paternal Grandparents of Hank Aaron: Henry and Mariah Archie
Henry Aaron was born December 20th, 1887 in Alabama to parents whose names are unknown. Mariah Archie was born in November of 1887 in Alabama to William and Amelia Archie. Henry and Mariah married in 1909 when Henry was 25 and Mariah was 22 years old. A year later, in 1910, Henry and Mariah were listed in the United States Federal Census as living in Canton, Alabama. Henry is listed as working as a farmer and Mariah is listed as working on a farm.
On September 17th, 1918, Henry registered for the draft in Camden, Alabama when he was 34 years old as the United States entered into World War One. At this time, he was working as a farmer, was described as being medium height and build, and had black eyes and black hair. It is unknown if Henry was drafted into the military during this time.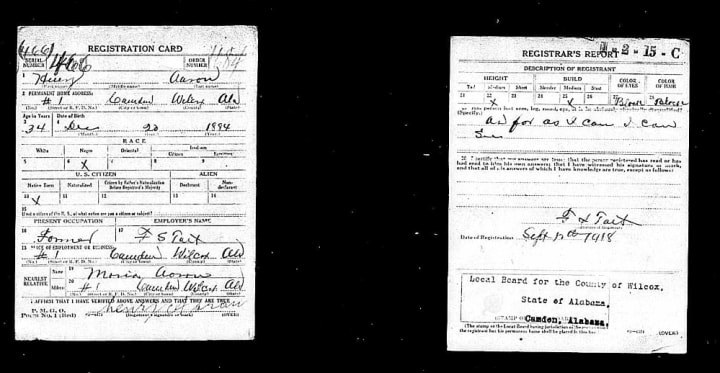 Not much else could be found about Henry and Mariah Aaron but we can determine that Henry did become a reverend at some point in his life according to his son, Herbert's, obituary.
The Paternal Great-Grandparents of Hank Aaron: William and Amelia Archie
William Archie was born in 1846 in Alabama to Ester Archie and a father whose name is unknown. Amelia Archie was born in 1855 in Alabama to parents whose names are unknown. Given the year William and Amelia were born, it is likely that both of them were born into slavery.
After the abolition of slavery, the Freedman's Savings and Trust Company was created. Its purpose was to create a place where former slaves and their dependents to put their money and savings. The bank eventually had 37 branch offices in 17 states and had over 70,000 depositors before closing in 1874. During the brief time when the bank was open, Hank Aaron's great-grandfather William opened an account there.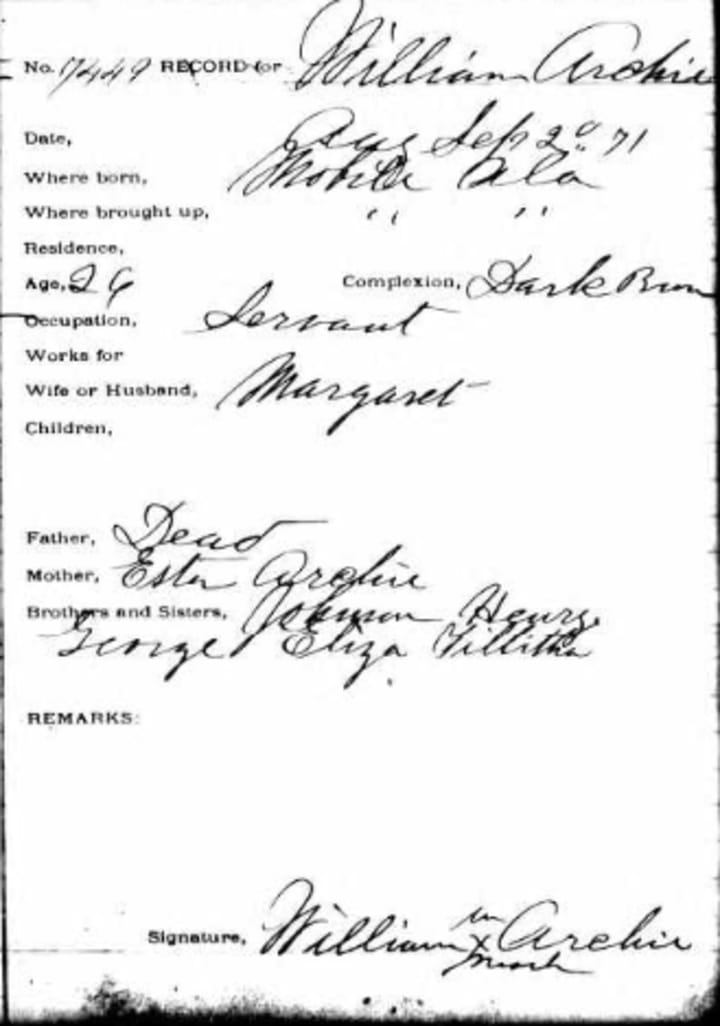 The last record I could find on William is the 1920 United States Federal Census. In this Census, William is listed as working on his own farm in Canton, Alabama at age 75.
This is, unfortunately, is where the paper trail ends for the Aaron family. I hope you enjoyed reading this story and that you also think about learning more about your family tree.
baseball
About the author
Bradley Greenland is a freelance genealogist looking to tell the stories hidden in your family tree.
Reader insights
Be the first to share your insights about this piece.
Add your insights