THE BALLAD BETWEEN A FAN AND A FANTAGONIST
The Divide is Real; and the CHOICE is Yours...
College football season (remember THOSE? We had them, WITH fans in the seats in the yesteryear of pre-2020) is almost here, Sports Fans.
Whether you're like me and "COLLEGE Sports will ALWAYS be about 10x more watchable than 'the pros'" is the hill that you are choosing to die on (cloaked in your alma mater's colors and with their Alma Mater Song as your funeral march) or you are of the belief that Professional Sports are superior with college being a mere stepping stone to further greatness, if you're a football fan (in North America, of course), you have one more reason to LIVE FOR Fall/Autumn.
So, if you're like me, you've already been humming the school's fight song or googling the lyrics to the alma mater in anticipation. You have no fewer than five specific t-shirts/hoodies/hats/gloves/caps to wear to the games (and one of them is brand new just for this season). You have your posterboard ready. You have warmed up your vocal chords to scream yourself in hoarse in appreciation of your team of choice ("GO LAKERS!"); or to holler AT the referees over every single "bad" call (or 100% of the calls that don't favor YOU) or razz the opposing team (more on this later).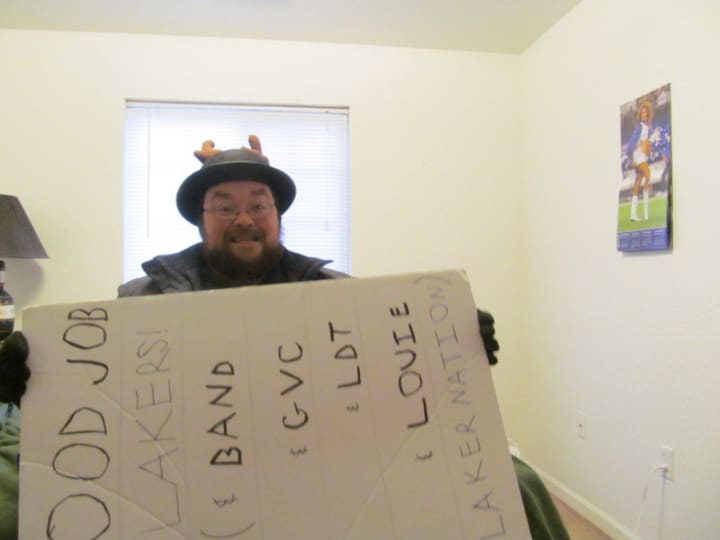 It's been a long time since many of our great sports venues have allowed fans into the stands. Being a fan (especially one in attendance) is meant to be viewed as a PRIVILEGE. Besides, our behavior CAN reflect back on our fellow fan base and even on our TEAMS themselves.
There are guidelines separating the true and sincere FAN from what I have coined as "The Fantagonist" (and while, in the moment, some might be ENTERTAINED by the Fantagonist's antics, in secret, no one should aspire to emulate them).
Let's explore a couple of points.
THE FAN IS AT THE GAME TO BE A SPECTATOR; THE FANTAGONIST HAS ARRIVED TO BE A SPECTACLE...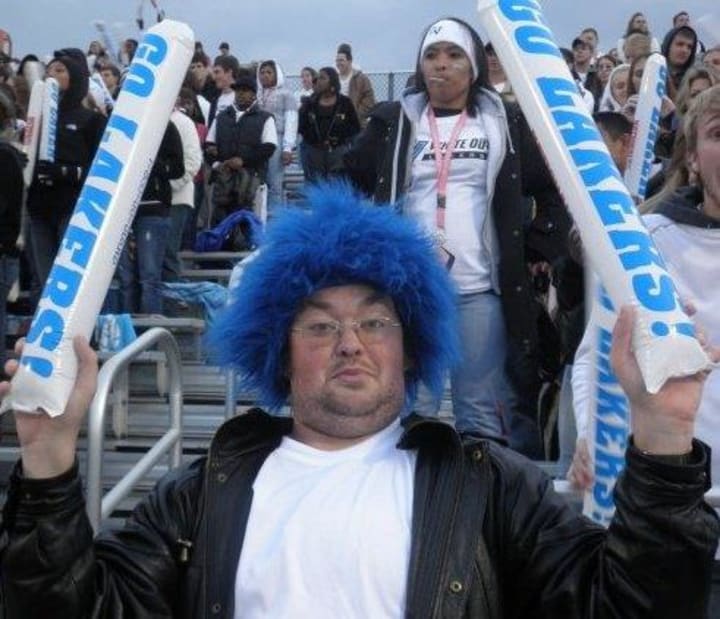 (Yes, the guy in the blue hair is me. Yes, I added a chain of "High-Fives" after every touchdown that I'm afraid is going on the wayside this year by personal choice [Cough-Cough-Cough-Covid]. First of all, these guidelines are, at least in part, for me to look back on as well; secondly, SOME wiggle-room DOES exist between spectator and spectacle. A specTATOR is still free to CELEBRATE a team's success, even to the point of audience INTERACTION).
...So if the FAN is just such a huge fan that he/she is going to interact with his/her FELLOW fans, the fan also knows well enough to find their seat again in a timely and orderly fashion once the game begins again (the thing about football is there is plenty of time for wiggle-room/celebration in style after a successful touchdown, even after a successful kick).
The Fantagonist sees the need to CONTINUE to interrupt fans' views of the game already in progress; and feels the need to "interact" with OPPOSING fans as well as their own.
(Opposing fans, I don't ignore you due to a superiority complex; I pass you by in my celebration so as to not cross the moving line of RUBBING our success IN SOMEONE ELSE'S FACE. Unless you hail from Big Rapids or Saginaw or [heaven forbid] Ohio, I think you're awesome. If you DO hail from a University in a "no-no" zone, I'm going to have to learn something else about you as a person before determining if I like you or not).
THE FAN KNOWS WHERE THEIR HOME SECTION IS AT HOME GAMES, AND STRIVES TO SIT THERE; THE FANTAGONIST HAS ALREADY ESTABLISHED WHERE THE VISITOR'S SIDE IS AND THAT IS WHERE THEY HOLD SEASON TICKETS...
The best chance to avoid an undue altercation between two rival fan sections is to at least TRY to get seats in the home section when you're at a home game (with the understanding that MAJOR rivalry games could cause overflow between sections).
The fan can have a little bit of fun with two rival sections spilling into one another; lightheartedly. The line between lighthearted banter and becoming a Fantagonist should always be fresh in your mind however.
Basically, when at "Home," the fan has some idea about how to be a gracious "host."
The fantagonist is another creature altogether (There is ONE particular rivalry school that comes to town and causes me to lose track of who I'm supposed to be when our fan sections intermingle. Therefore, for as "fun" as attending most games can be, there's one particular game every other year [when we'd host] that I sit on the fence about for maybe a couple of seconds before ordering tickets and "oh, I'll behave myself THIS time...")
The Fantagonist LOVES to pick (at least VERBAL) scraps with the visiting fans (since they can't, technically, get to the team). They exist to remind you whose "house" you're at at a given moment; and to make the "guests" miserable.
(Again, good naturedly, in good fun, and in miniscule doses, I can see that as part of the experience or in good fun. The Fantagonist always CROSSES the line).
WHEN THE FAN MUST TRAVEL TO AN AWAY GAME, THEY REMEMBER THEIR ROLE AS A VISITOR; THE FANTAGONIST GOES THE EXTRA MILE TO MAKE THEMSELVES RIGHT AT HOME...
...Sometimes, you MUST travel. The playoffs are usually on the road somewhere. Some in-State/Historic rivalries just BEG the fact that you gear up, go out, show up, and turn up at someone else's home field.
The Fan is as gracious of a "guest" (Visitor) as possible (at least, initially, and until provoked otherwise). They relegate themselves to the visitors side if at all possible and, even then, do what they can to remain respectful in case of spill over. (No; we're not NEUTRAL, silent observers either. We're still FANS. In fact, we're FANS who have just gone the extra mile to visit someone ELSE'S field).
The Fantagonist makes themselves right at "home" wherever they land; this BEGINS with shoehorning themselves and their brood into the "Home" section at whatever football field their visiting. And now that they're "right at home," their ANTICS at a legitimate home game remain the same; at someone else's home field.
THE FAN KNOWS THE RULES OF THE VENUE OF CHOICE; THE FANTAGONIST MAKES THEIR OWN...
(...and when I imply that one knows and the other doesn't, I'd like to clarify that both parties are AWARE).
About six years ago, after I was LONG SINCE an alumnus, I started bringing cardboard signs to Grand Valley's Football and Basketball games.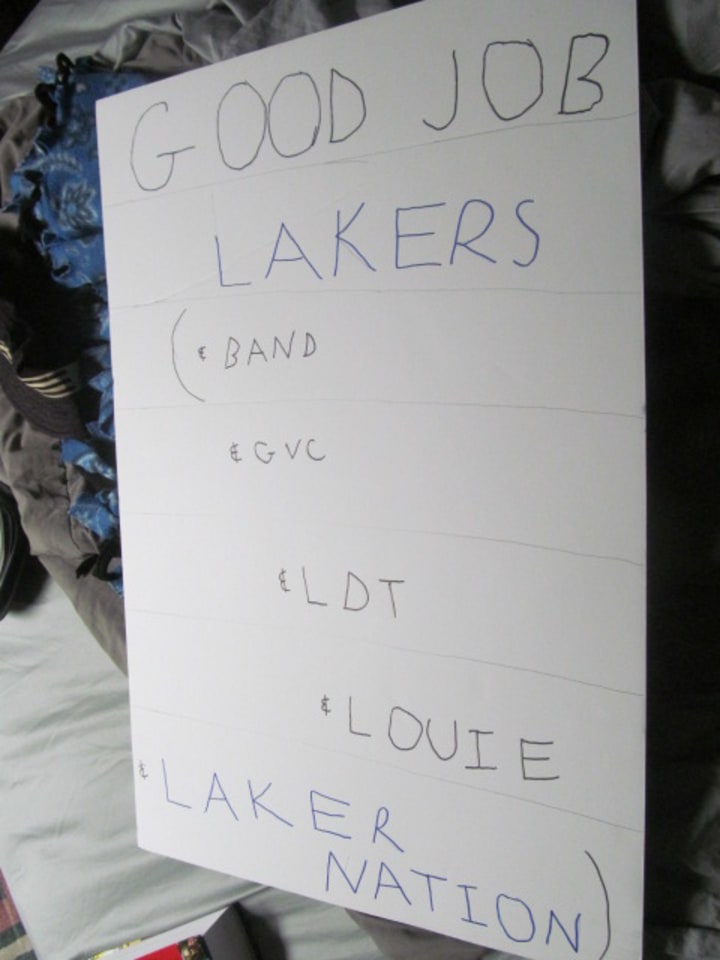 I brought the posterboard into games with me for a while (especially the playoffs). To this day, it follows me to Basketball games (Regular Season or not). As for football...
Suddenly, one day, mid-season in 2016, I was carrying the sign with me through tailgating (everyone got a big kick out of the sign; or maybe it was the wig. The world may never know...).
Anyway, I went to enter the stadium at game time and...the sign, today and from now on, couldn't come with me.
Was I perplexed? Sure; we always sat in the front row where it would have plenty of room, I was always cautious to not hit anyone with it, I would find my seat, then set it beside me on the floor in a timely fashion; just like I still do at basketball games until I am officially told otherwise.
Back to football and the sign. I took this new bit of news and my confusion and compliantly took the sign back to the vehicle, went into the stadium, and, upon being prompted by my folks who I attend the games with, told them that I had been told to not bring the sign IN anymore. (Tailgating, to this day, is another story).
In Post (-Lockdown-if-MID-)Covid world, other stipulations are in place (clear bag policy, cashless campus, the peddling of the idea of digital tickets, etc.). Out of the comfort of other fans (and to the disappointment of some), I might not do the sprinting "high-five-train" down the first row of bleachers this year and, for the comfort of others, I might at least BRING a mask (despite my double-vaxxed status), then see how I feel about how long I can keep the covering in place.
The point being, my "home" team's campus is "home" to so many other fans as well and I can at least make them all feel a little more comfortable.
The Fantagonist NEEDS no such rules when they can make their own and they will be the first to tell you so; just before they are politely escorted out of the venue for the offense of, for instance, smuggling in their own alcohol...
THE FANS YELL THE PRAISES OF THEIR TEAM; THE FANTAGONISTS PREFER TO SCREAM AT THE REFS AND OPPOSING TEAM...
(...No, the refs are NOT infallible. Neither is YOUR coach/team. Think about that for a moment).
Fans are free to yell the praises of their team's successes to the high Heavens; when the refs DO make a mistake, they are still free to express disapproval. (They can also be honest about their own team's mistakes; to a certain point).
The Fantagonist is too busy belittling the refs and opposing team for the words to mean anything anymore except to make everyone else feel uncomfortable
In short, The Fan is there to enjoy the game and help at least their fellow fans to do the same; the Fantagonist seems to only get joy out of the discomfort of those around them just trying to enjoy the game.
(And the best of "Fans" can make the mistake of sliding into Fantagonist. I'm thinking of you, Blue-Haired, Sign-Wielding Grand Valley Fan who then felt antagonized into regrettable action by a Ferris fan whom had intentionally slid into your section, then started bashing your precious team right in your ear. Yeah, when you reacted, thereby making YOU the misfortunate spectacle rather than the spectator, you had fallen short; pushed/antagonized into action or not).
Suit up. Lace up. Go out and enjoy your favorite teams again; you deserve it. And, in the case of my (Grand Valley State University) Lakers, "ANCHOR UP."
Thanks for reading, fans/Subs! Your support means so much to me. If YOU'RE looking to join the Vocal+ community with exclusive opportunities, click the link to help yourself out...
culture
Smalltown guy from Southwest Michigan
Lifelong aspiring author here; complete with a few self-published works always looking for more.
https://www.instagram.com/kmoney_gv08/
Receive stories by Kent Brindley in

your feed