The 8 Powers in the Art of 8 Limbs That Define Your Life
How the martial art enriches one's lifestyle.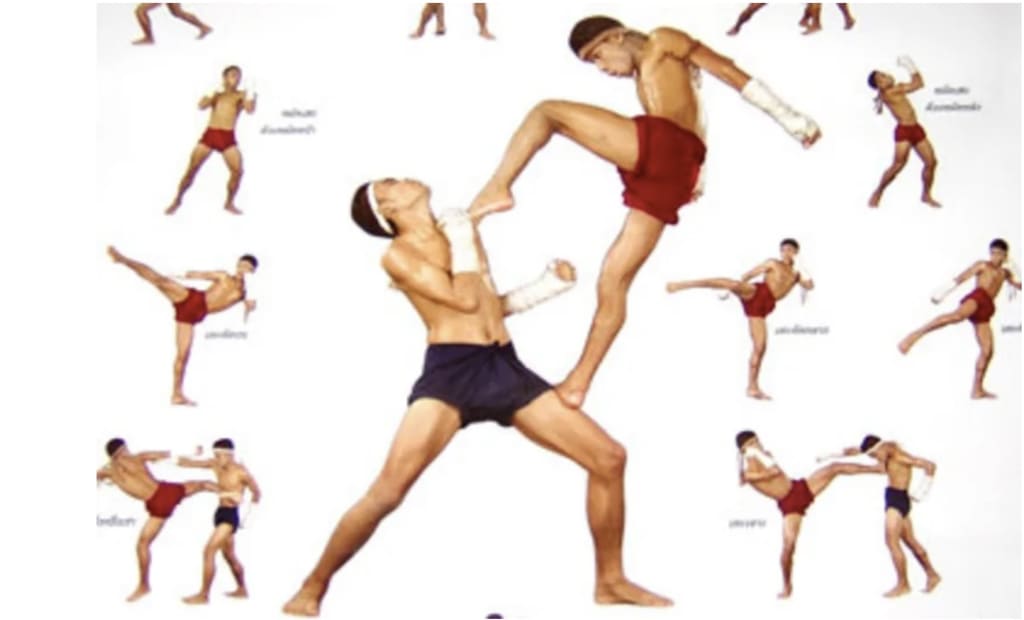 Art of 8 Limbs
The art of eight limbs, more commonly known as Muay Thai, is the national sport of Thailand.
It is widely regarded as the most devastating and feared martial art in and outside of the ring.
Early morning runs and four hours per day of training, pounding through Thailand's hot weather is the staple that makes a Nak Muay (Thai fighter in Thai).
It is hard work and dedication that Muay Thai fighters and fans respect.
Legendary martial artist Bruce Lee once stated, "The individual is more important than any style." Thus the key in any martial art is not how many punches or kicks one can execute, but rather how martial arts can help improve one's life.
To many Westerners, Muay Thai is a luxury commodity in the 21st century. Nowadays one can Google and find hundreds, if not thousands of martial art gyms nationwide.
There is an easy sign up process, show up for class when you feel like it vs having to show up as survival. 
This is for many true martial artists and Nak Muay's the underlining truth that distinguishes a true Muay Thai Kickboxer. 
As a pure martial artist, I have trained around the world and nothing more thrilling than going to the country of origin to absorb and experience the essence of pure Muay Thai. 
6 years I was going back and forth to Thailand to train at world renowned Sasiprapa Muay Thai Gym in Bangkapi.
Living in China at the time made things much easier as I could envision my journey going into Hong Kong to exchange money for the Thai baht. And then catching a flight from Hong Kong into Suvarnabhumi Airport. 
The sights, sound and massive traffic jams can truly drain your energy upon arrival. But once settled into the hotel, I know the following day will be a great start in seeing old coaches, friends and the quintessential pad men. 
One aspect I want to address in how Muay Thai changes lives is first to thank the pad man. This is one of the single most important aspects in Muay Thai, if not all martial arts. 
Your training partner or in this example, the pad man is the person who is working in sync with you round after round absorbing brutal punishment from punches, kicks, knees and elbow strikes. 
Without the pad man, you are left on your own hitting the heavy bag or shadow boxing until it is your turn to train. 
The respect between the pad man and student is to me the same as a professor and his or her students in a classroom.
The professor explains, showcases and works with you as the pad man does with his nak muay student to improve your mind, body and soul. 
Over the many years of training, the key lessons learned sometimes are not during the "pad session," but rather when you are doing your sit ups and pull ups where you see a fighter preparing for an upcoming battle. 
The intensity, poise, composure and repetition of kicks is what the eye captures into the mindset of being a martial artist. You will also hear lots of noise from everyone in the gym as each kick and knee exasperates with power or force (aka แรง/ reng in Thai). 
The end of a solid training session should leave you drained. Body is on fire, muscles loose and flexible yet the mind and body are alive. This feeling of exhaustion is a good exhaustion.
You have achieved a daily dose of wisdom from the pad man, the coaches, owner of the gym and your training partners. 
The martial arts as a whole encompasses many aspects. It does not matter what style you embrace.
It is a personal journey of self enlightenment that one must embark on to discover the true essence of martial philosophy. 
For me, this is the heart of living the Muay Thai lifestyle.