Tennis: When Hoad was king of the castle
Aussie legend one of greatest of all time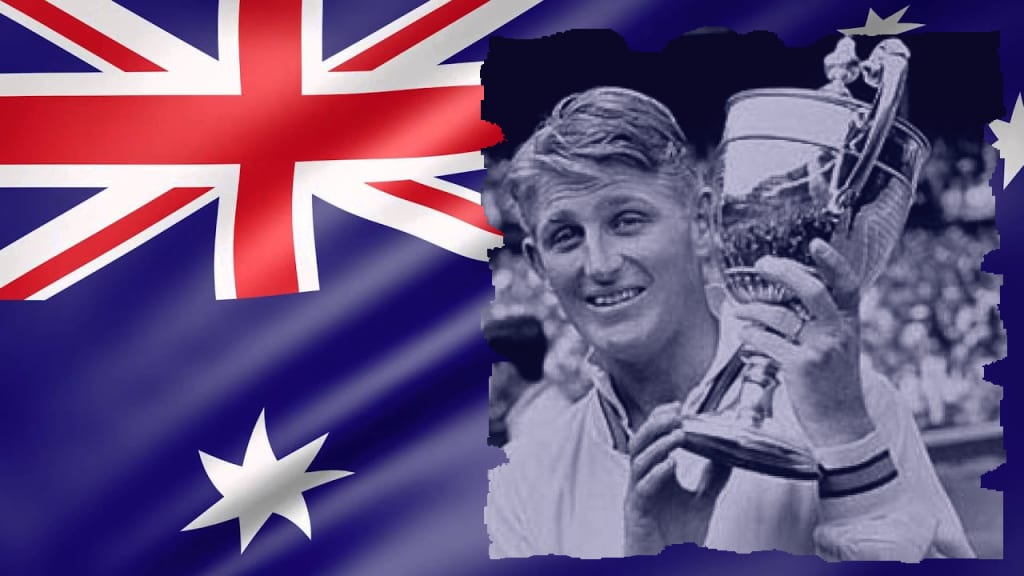 Four-time Grand Slam winner Lew Hoad
If 2020 had gone to plan, the UK would currently be in the middle of the Wimbledon tennis fortnight, with Serbia's Novak Djokovic probably still in the running to defend his title and secure a sixth championship crown.
But this year is not a normal year, Wimbledon was cancelled due to an alleged pandemic sweeping the world and Djokovic, who won this year's Australian Open for the eighth time, did not have a chance to improve on his 17 Grand Slam singles titles.
But on this day 63 years ago another tennis great, Lew Hoad, did seal the Wimbledon title. On 5 July 1957, the Australian legend won his second Wimbledon championship and the last of his four Grand Slam singles crowns.
Not quite up to Djokovic's amazing record, but that's not down to his ability... more to the era in which Hoad played the game, when "professionalism" was raising its ugly head.
Hoad won all his Grand Slam titles when the championships were open to amateurs only, before the upheaval preceding and following the dawn of the "open era" in 1968, when the sport was making the transition towards professionalism.
Born in Sydney on 23 November 1934, Hoad was only 22 when he claimed his second Wimbledon title by beating fellow Australian Ashley Cooper 6-2 6-1 6-2 on Centre Court.
Already troubled by back problems, Hoad had required an upper body cast in the early part of the season before returning to competition in April that year. Playing pain-free for the first time since becoming world number one the previous year, when he ran up 16 singles titles and 17 doubles, Hoad smashed Cooper in a straight-sets final that lasted only 57 minutes.
But it was to be Hoad's last tournament as an amateur... following his victory he turned professional by signing a two-year contract for a record "guarantee" of US$125,000, which included a $25,000 bonus for winning the Wimbledon crown.
His decision to turn professional robbed Hoad of 10 years of Grand Slam competition, with his next appearance at Wimbledon coming at the start of the open era when he returned from retirement, brought about through back problems, to reach the third round in 1968, appearing again in 1970 and 1972 when he went out in the second and first rounds respectively. His only other Grand Slam appearance after his return came at the 1970 French Open when he reached the fourth round.
Hoad played his first Grand Slam quarter-final at the age of 17 at the 1952 US Open, going out at the same stage in the French Open and Wimbledon the following year, when he also advanced to his first semi-final at Forest Hills.
Having never before been beyond the third round at his home championships, Hoad reached his first Grand Slam final at the 1955 Australian Open, when he was beaten 9-7 6-4 6-4 by his great rival and top seed Ken Rosewall.
With Rosewall as his partner, Hoad led Australia to the Davis Cup in 1953 with victory over the United States, the formidable pair helping Australia to regain the trophy in 1955 and 1956.
As a doubles team, Hoad and Rosewall were a devastating partnership, winning the Wimbledon, French, Australian and Italian titles in 1953. But it wasn't until 1956 that Hoad opened his singles Grand Slam account, beating Rosewall 6-4 3-6 6-4 7-5 in the Australian Open final in Brisbane.
Hoad repeated the feat at the French Open, defeating Sweden's Sven Davidson 6-4 8-6 6-3 in the Roland-Garros final, and made it three in a row at Wimbledon when Rosewall was again his final opponent.
But this time Hoad was top seed and pre-tournament favourite, reaching the final with the loss of only two sets along the way. In the first all-Australian final since 1922, Hoad won in four sets to gain his first Wimbledon crown and third successive Grand Slam championship, also winning the doubles with Rosewall for the third time to defend the title they'd won the previous year.
It put the Australian on course for an elusive tennis Grand Slam in 1956 when he encountered Rosewall again at Forest Hills in the US Open final. But Hoad went down in four sets 4-6 6-2 6-3 6-3 to his great friend, depriving him of the landmark feat which Djokovic is also yet to achieve.
The Serbian came closest in 2015 when only defeat in the French final prevented a seasonal Grand Slam, although his win the following year in Paris meant he has held all four Grand Slam titles at the same time after championship glory at Wimbledon and Flushing Meadows in 2015, and at Melbourne Park in 2016.
Back pain interfered with Hoad's Australian and French Open bids in 1957, when he lost in the semi-final in Melbourne and third round in Paris, but his return to form at Wimbledon brought him his fourth Grand Slam title. Partnering Neale Fraser in the doubles that year, the pair lost in the final to Americans Budge Patty and Gardnar Mulloy.
In all Hoad also won eight doubles Grand Slams, six with Rosewall and one each with Fraser and Rex Hartwig.
After announcing his retirement in 1967 due to persistent back problems, Hoad moved to Spain where he and his wife owned and operated a tennis resort, although following the open era he returned to action briefly. In September 1978 his back problem was successfully treated with spinal fusion surgery to repair two ruptured discs and a herniation. The doctor asked one of Hoad's friends, "How on earth did this man walk, let alone play tennis?"
Hoad was diagnosed with leukemia in January 1994 and passed away on 3 July at the age of 59.
In a 1975 issue of Sports Illustrated another former Wimbledon champion, Arthur Ashe, was quoted as relating a remark which Pancho Gonzales, a two-time US Open winner and Hoad's great rival on the professional tour before the dawn of the open era, had said to him: "If there was ever a Universe Davis Cup, and I had to pick one man to represent Planet Earth, I would pick Lew Hoad in his prime."
And, in 100 Greatest of All Time, a 2012 television series broadcast by the Tennis Channel, Hoad ranked as the 19th greatest male player.
Also in 2012, another Australian legend, Rod Laver, rated Switzerland's Roger Federer as the greatest player of the "open era", while putting Hoad as the greatest player of the "past champions" era.
Who knows how close he'd have come to Djokovic's amazing career if not for persistent back problems and those 10 lost years before the open era?
About the Creator
From Covid to the Ukraine and Gaza... nothing is as it seems in the world. Don't just accept the mainstream brainwashing, open your eyes to the bigger picture at the heart of these globalist agendas.
JOIN THE DOTS: http://wildaboutit.com
Reader insights
Be the first to share your insights about this piece.
Add your insights