Tasha Steelz and Jamie Senegal Enter the Knockouts Knockdown Tournament
A former Knockouts Tag Team Champion and an indy sensation are set to compete at the all-Knockouts event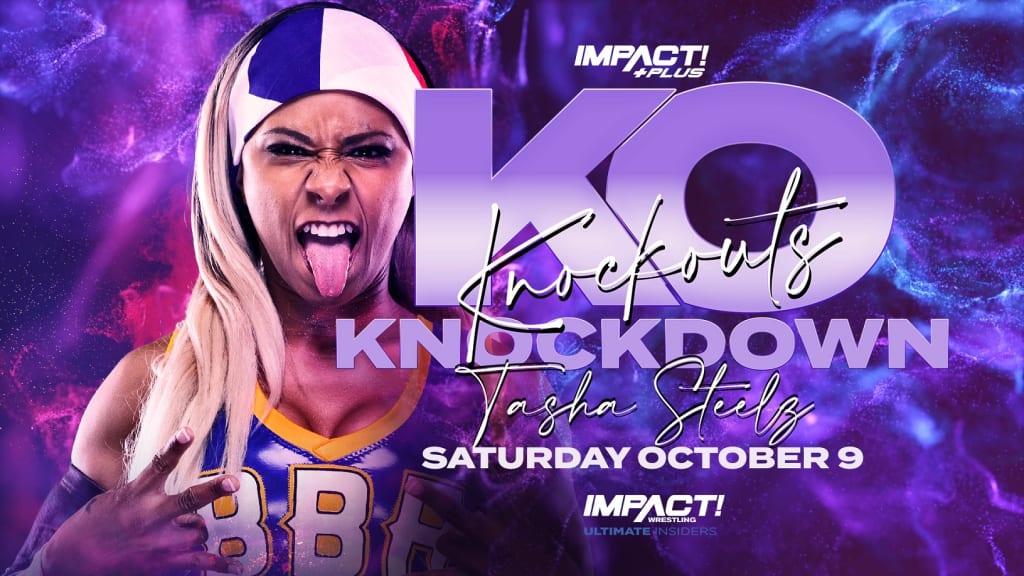 Knockouts Knockdown, Impact Wrestling's returning all-Knockouts event, is less than a week away, and this past weekend saw two more women announced for the Knockouts Knockdown tournament: Tasha Steelz and Jamie Senegal.
Tasha Steelz is one of the regular Knockouts on the roster, but I've seen her compete in various promotions, with one of them being Queens of Combat. She also made appearances for NWA in 2019 and 2020 before beginning her appearances on Impact Wrestling. Tasha was signed shortly afterwards, and we would see her being propositioned by Kiera Hogan, who wanted to form an alliance with Tasha. The offer was quite tempting, and it was cemented when Tasha delivered an attack to Kylie Rae backstage.
So with that, Tasha became a heel--a role I had never seen from her, and it did wonders for both her and Kiera. The duo made waves for months en route to entering a tournament for the returning Knockouts Tag Team Championship. Tasha and Kiera, having become known as Fire n Flava ended up winning the tournament and the titles by defeating Jessicka Havok Nevaeh, with their big win coming at Hard to Kill on January 16, 2021. The pair held the titles for three months until losing to Jordynne Grace and Rachael Ellering, but they defeated the pair just weeks later to regain the titles.
Fire n Flava's second reign ended just two months later, and there appeared to be problems between them following the loss. After losing the rematch, Tasha watched as the debuting Savannah Evans attacked Kiera, disbanding the team and giving Tasha a new partner, though they were unsuccessful in regaining the titles from Havok and Rosemary.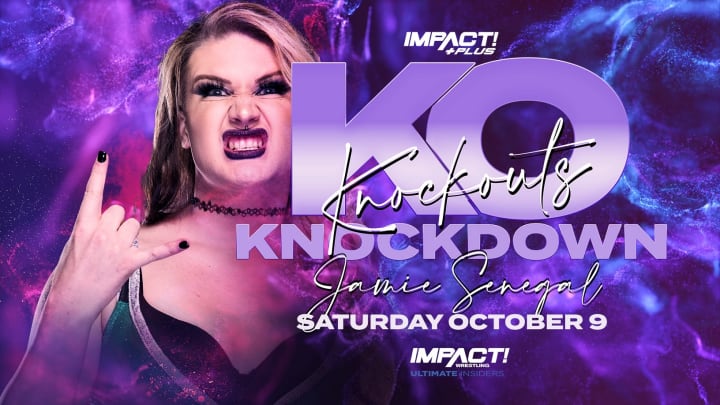 I feel like Jamie Senegal is new to me. I take women's wrestling very seriously, and one thing that bugs me as a fan is not being aware of talent who is mega-popular. Jamie Senegal is mega-popular, but I hadn't seen her in anything until NWA EmPowerrr. Despite being familiar with the name and her amazing persona, I haven't seen much of Jamie's work, but I really, really want to.
NWA EmPowerrr was a start, and I loved what I saw from Jamie. She was one of the women who competed in that epic Women's Invitational, and she showed out. I loved everything about her: her personality, her drive, her outright determination. I may have only seen her in action once, but even once is enough for me to know how amazing Jamie Senegal is. Once is enough for me to be elated over seeing Jamie Senegal at Knockouts Knockdown. And once is enough for me to know full well that Jamie Senegal will show out, that's for sure.
The field is almost completed. Jamie Senegal and Tasha Steelz will join Mercedes Martinez, Lady Frost, Chelsea Green, and Renee Michelle in the eight-woman tournament at Knockouts Knockdown. The winner will receive a future shot at the Knockouts Championship, and speaking of the title, Deonna Purrazzo will defend that very championship at the event. That's not all. The aforementioned Knockouts Tag Team Championship will be defended as well, as Havok and Rosemary will defend against The Influence (Madison Rayne and Tenille Dashwood).
In addition, a Women's Monster's Ball match will take place; the participants still haven't been announced. With the fact that this match will be done as a tribute to Daffney, I would think that Taylor Wilde would compete in this, considering that she competed in the first Women's Monster's Ball Match in Impact history, with Daffney as her opponent. And now that I think of it, I expect Su Yung (with minions Kimber Lee and Brandi Lauren with her) to be Taylor's opponent; would be so epic if that is the case. The announce team will consist of Veda Scott (play-by-play) and Mickie James (analyst), and will feature Melissa Santos as the ring announcer.
Knockouts Knockdown takes place on October 9.
If you like this story, feel free to click the heart below, and if you really love this story, feel free to leave a tip (if you want)!
fighting
Born on March 18, 1985. I am an avid fan of sports and wrestling, and I've been a fan of female villains since the age of eight. Also love movies--especially comedy and horror--and among my favorite TV shows are The Simpsons and Family Guy
Receive stories by Clyde E. Dawkins in

your feed