Taking a Closer Look at the Top 5 Prospects of the 2017 MLB Draft
There is a solid core of polished college talent and raw high school players rounding out the top five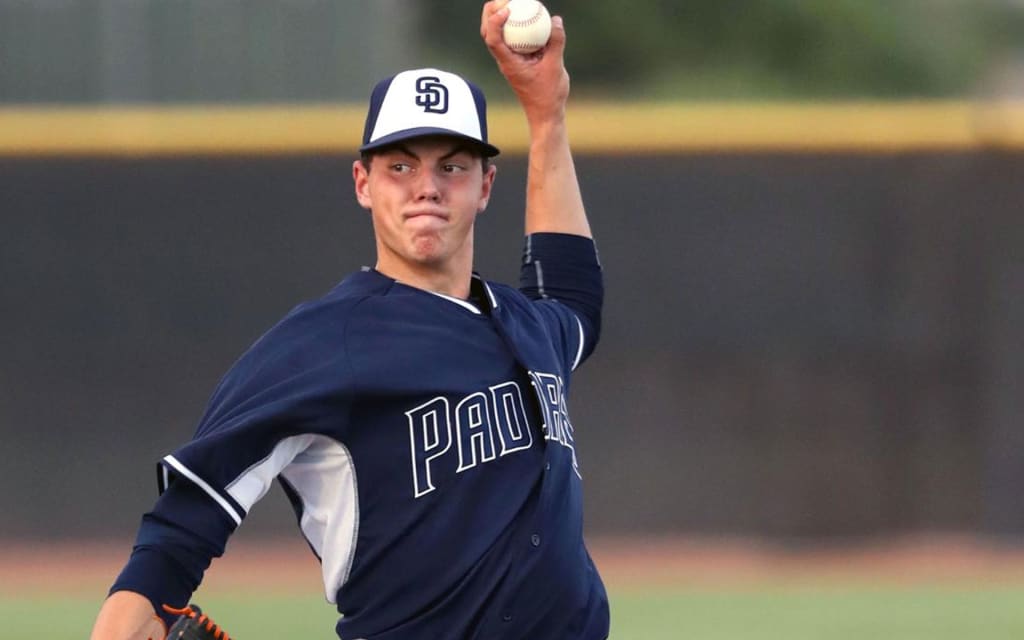 Image Source: Bill Mitchell/MiLB.com
The 2017 MLB Draft is just weeks away; a time where dreams will come true for many college and high school players. According to MLB pipeline, there could be three high school players picked within the top five. Headlining the high school ranks is Hunter Greene, a player who scouts have been drooling over thanks to a triple digit fastball.
Let's take a look at the top five:
Hunter Greene: Notre Dame HS (CA)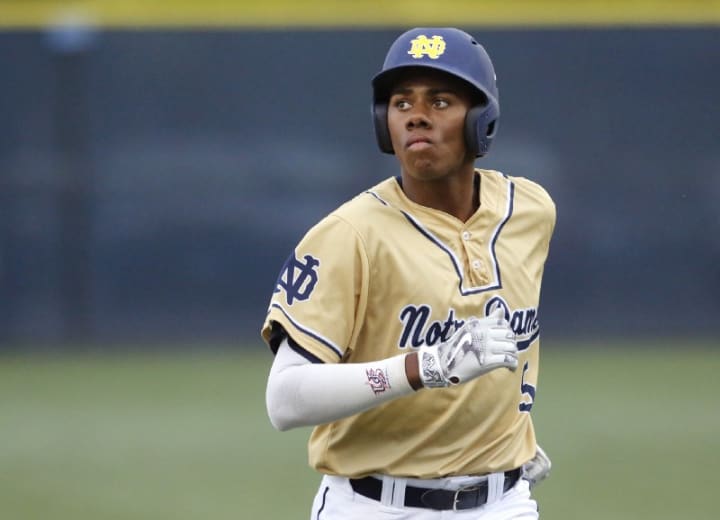 His name has been heard all over the country after hitting 102 mph on the gun at just 17-years-old. Greene is an extremely talented two-way player, but his future looks like it will take shape on the mound. If he wasn't such a stud on the bump, Greene would be going towards the top of the draft as a shortstop.
Greene plays at Notre Dame High School in Los Angeles, the same school that produced Marlins slugger Giancarlo Stanton and Angels infielder Brendan Ryan, among others.
The 6'3" Greene relies mostly on the heater when on the mound, since most high schoolers can't catch up to most pitches in the 90's. Unlike most young prospects who throw at a high velocity, Greene throws strikes consistently. He rarely gives up free passes and generally uses two different breaking balls along with the fastball. He throws a hard slider that has a very sharp break, and a power curveball that has a lot of depth. Greene also has a change up, but doesn't throw it much. It could develop as he faces more advanced hitters at the next level. He has a three quarters arm slot that produces a ton of side tail on his fastball, making it very difficult to square up. Greene's delivery is quite smooth and effortless. The 17-year-old profiles as a future No. 1 starter for a big league club.
He's committed to UCLA, but there isn't much doubt about if he's going to sign.
Brendan McKay: Louisville
McKay is another talented two-way player from the University of Louisville. The 21-year-old won the John Olerud Award for best two-way player in his first two seasons for the Cardinals.
Where McKay will be drafted is not the mystery — it's what position. He led the Collegiate U.S. National Team last summer with an astounding .326 batting average. This season at first base, McKay hit .363 with 17 bombs, including a four home run game against Eastern Kentucky back in April. McKay has a very smooth left-handed swing with very little movement with his front foot. His hands stay stationary when he loads up and explode through the ball with a short, compact swing. He's shown the ability to hit the ball all over the field, which is a good sign of a mature hitter. Scouts have voiced that McKay could be the best college hitter in this draft, with the ability to hit 20 homers a season at the major league level. He doesn't run particularly well, so he would probably stay at first base.
On the mound, McKay has a smooth and sound delivery with nice deception. He generally sits in the low 90's to start, but the velocity tends to drop off around the middle innings. He does have outstanding command though, and scouts believe he could still have success sitting in the high 80's. If McKay focused on pitching full-time, the velocity would increase. He generally relies on a fastball and curveball, with the change up being there from time to time. The deception in McKay's delivery really helps towards his success on the rubber. The ball jumps towards hitters rather quickly because he hides the ball well prior to releasing.
It's said that teams are still trying to figure out if they should draft the Louisville product as a hitter or pitcher. Either way, there is a possibility McKay could be selected as the No. 1 overall pick in two weeks.
Kyle Wright: Vanderbilt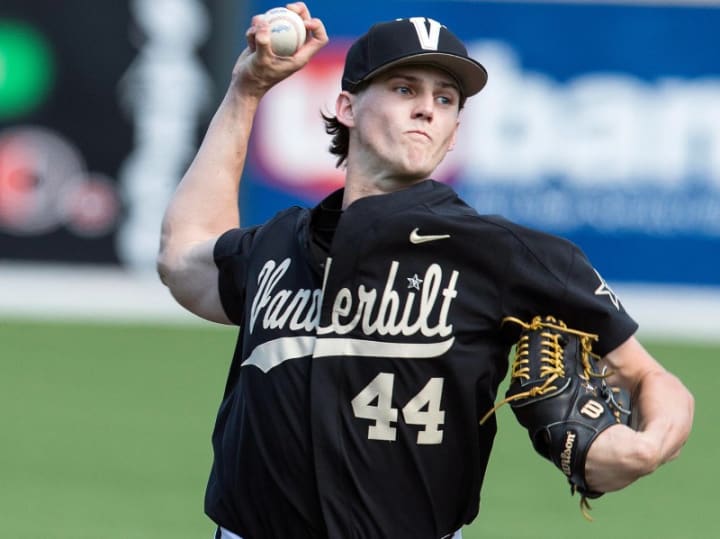 Vanderbilt has a rich history of pitchers going top 10 in the draft (David Price, Carson Fulmer, etc.), and Wright looks like he will continue that trend.
Wright has always been a solid pitcher, but the velocity wasn't always there. He arrived at Vandy in 2014, and went on to be their best reliever as a freshman that year. Wright has really hit the gym and put on some muscle, helping his velocity jump from the high 80's to the mid 90's. The 21-year-old right-hander threw 89.2 innings for the Commodores this season, compiling a 2.91 ERA and striking out 104. Wright features a nasty breaking ball as his second pitch. It's more of a power curveball, but an effective pitch nevertheless. He also mixes in a slider/cutter that he likes to use against right-handed hitters. He also has a change up that's in the developmental stage.
He has an extremely clean delivery, but I noticed he does put a lot of effort into generating mid 90's velocity. But at 6'4" and 220 pounds, he still looks quite thin. He is still projectable and could still fill out more. Wright is a great athlete and fields his position well. He tends to get wild at times, but with the right coaching in the minors, he won't have any problem making adjustments. Once he can master his command of all pitches, the Vanderbilt product will project as a possible front of the line starter for a big league team. You'll probably see Wright go within the top 3 of the draft.
Royce Lewis: JSerra Catholic HS (CA)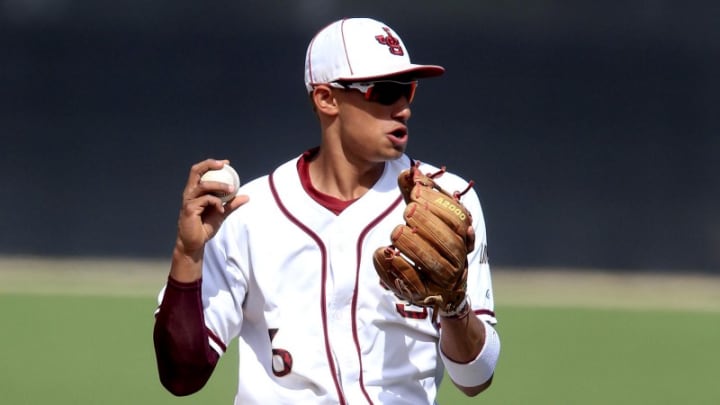 The 17-year-old Lewis is probably the best athlete featured in this top 5. His biggest strength — speed. He uses it to his advantage both at the plate and in the field. He doesn't have a ton of power at the plate, but has a nice line drive approach with gap to gap ability. He has enough speed to turn doubles into triples and swipe a lot of bags. Offensively, he has a short, quick swing. He features a high leg kick similar to Josh Donaldson. He has quick enough hands to turn around any fastball. He projects as more of a high-average type hitter rather than a power threat, but that is just fine given the position(s) he plays (SS and CF). He's got more than enough speed to steal 20 plus bags at the big league level, and he shows good instincts on the base paths.
Defensively he has great range and athleticism both at shortstop and the outfield. At SS he has soft hands and a fairly strong arm, but scouts have said his arm isn't strong enough to stay there at the next level. In the outfield, his speed can really come into play with tracking down balls in the gaps. His range out there is phenomenal, and he covers a lot of ground.
Lewis could have the loudest tools out of any high school player in this draft. He's fundamentally sound in all aspects. He's committed to UC Irvine but is expected to go top 5 in the draft, so the 17-year-old will likely begin his major league career.
Mackenzie Gore: Whiteville HS (N.C.)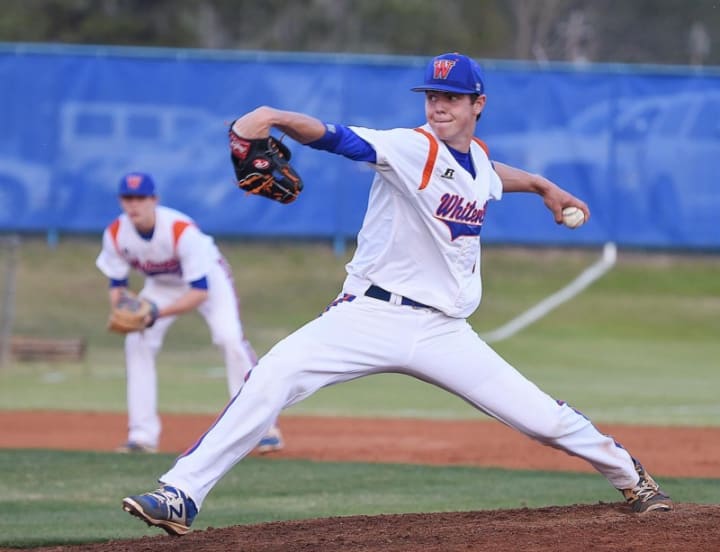 Gore, a North Carolina high school product, has seen his velocity jump this spring into the high 90's from the left side. The 18-year-old has great athleticism on the mound, with an arsenal of 3+ pitches. Gore posted ridiculous numbers in his junior year, going 12–1 with a 0.08 ERA with 174 strikeouts in just 83 1/3 innings. He sits around 93 to 94 with the heater, with the ability to gas up to 97. Gore's command on the fastball is shaky at times, but the pitch still has good life and some nice sink to it. His curve ball is the best secondary pitch. It's got tight spin and downward break thanks to an over the top arm slot. Since he does have a high arm slot, the slider tends to look more like a cutter when he throws it.
The deception in his delivery really throws hitters off, along with throwing gas and having lights out secondary offerings. He has a high leg kick, but gets good extension in his delivery. He uses his frame well to generate power from his lower half.
At only 6'2" 180 pounds, Gore has plenty of room to fill out. Once that happens, expect the maturity level and velocity to jump for the 18-year-old. Scouts have said Gore could be the best left-handed pitcher from the high school level available in the 2017 draft. He's expected to be picked anywhere in the top five, according to MLB pipeline.
Lots of Talent
With a mix of college and high school talent, all of these names have a serious chance of being legitimate big league players in a few years.
The MLB Draft begins on June 12 in Secaucus, New Jersey. The Minnesota Twins have the first overall pick, followed by the Cincinnati Reds, San Diego Padres, Tampa Bay Rays, and the Atlanta Braves rounding out the top five.
Reader insights
Be the first to share your insights about this piece.
Add your insights