TF2k23
Scout Regular Hopes to Strike Gold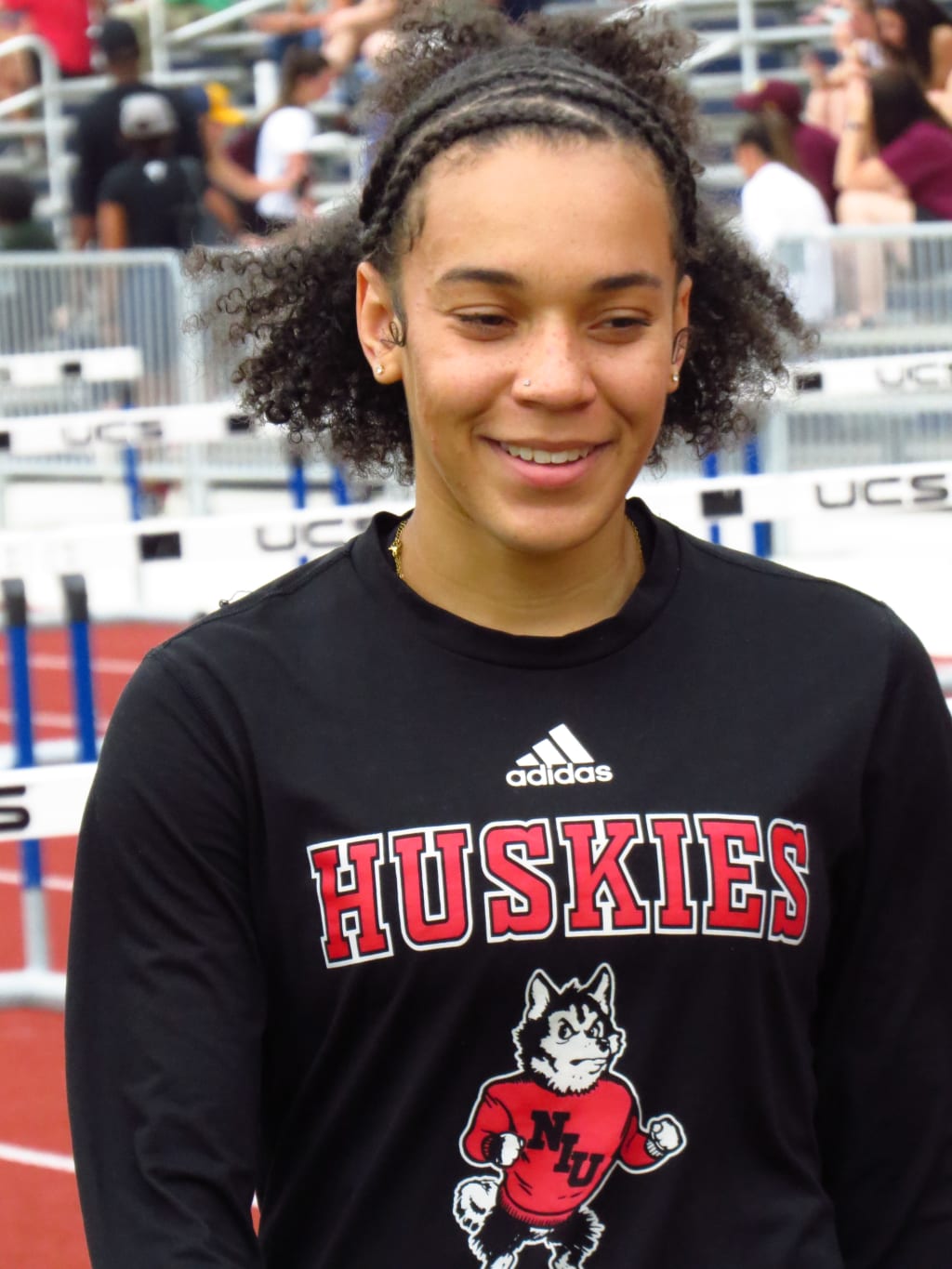 Scout Regular
Today, on a hot spring early evening in Akron, Ohio, the Huskies from Northern Illinois competed on the field at the Mid-American Conference Championships. Director of Track and Field and former Olympian Connie Teaberry walked by as her ace hurdler Scout Regular warmed up on the track for the preliminary round of the 100-meter hurdles.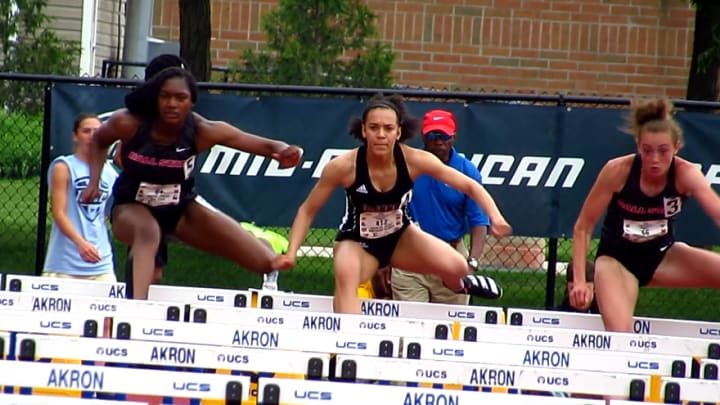 "She's been the bride's maid so many times," Teaberry said about Regular, who has twice been the indoor 60-meter hurdles runner-up at the conference meet. She also earned a third silver medal last season in the 100-meter hurdles at the outdoor championships, in Kalamazoo, Michigan.
Teaberry said that she hoped Regular could pull out a hard-earned gold medal win, as well as qualify for the NCAA West Prelimenary Round, but in order to do so, the junior has to overcome a minor leg injury. In the qualifying round of the Mid-American Championships, Scout ran her top time non-wind-aided of the season, finishing at 13.78, which was fourth best out of all competitors, allowing her to advance to the final round.
Last season, Regular ran a time of 14.01 seconds in the opening round which was third best behind defending champ Alysse Wade's (Eastern Michigan) time of 13.77 and eventual champ Benja Duff's (Kent State) time of 13.59. Regular stepped it up in the final to earn a silver finishing with her career best time of 13.64. Duff won at 13.46 and Wade was third at 13.68.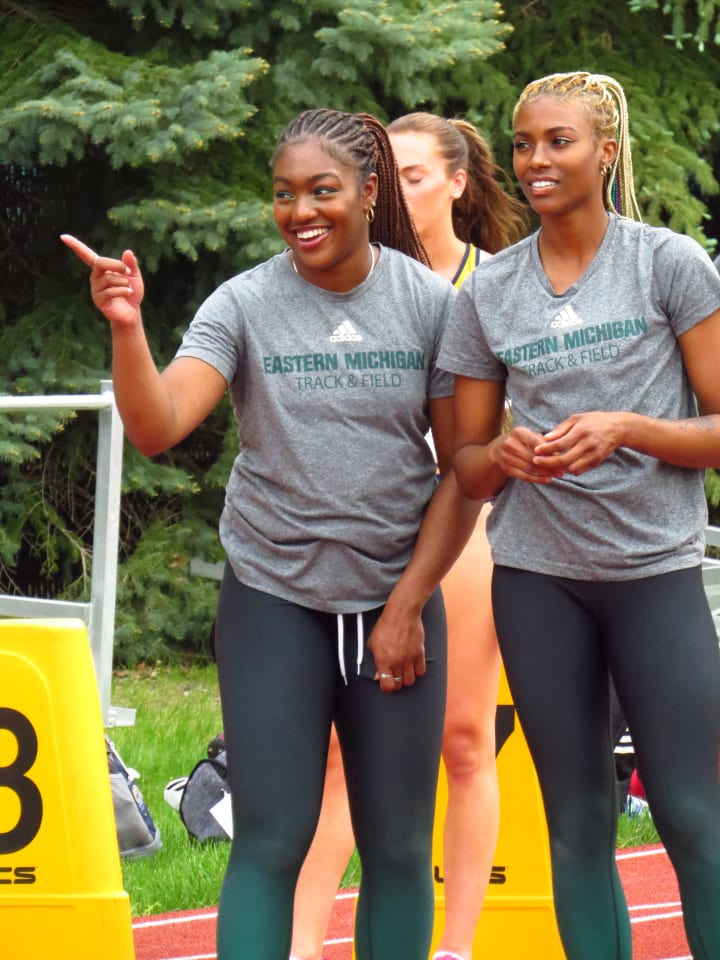 Also in that race was Angel Gazaway who has a new look and is smoking the competition on the track. Gazaway has twice competed in the 100-meter hurdles final. In each of the previous two attempts she has placed sixth, including last season. This time around, a much leaner Gazaway, who entered the meet with the top time of the season of 13.54, obliterated that with a personal best finish of 13.41.
Ball State's Jenelle Rogers was second at 13.71, Buffalo's Christina Wende was third at 13.76 and 2021 champ Alysse Wade rounded out the top five at 13.82. Other qualifiers include Adaeze Nwokike of Akron at 13.85, Ball State's Charity Griffith 13.86 and her teammate Jenna Rogers at 13.88.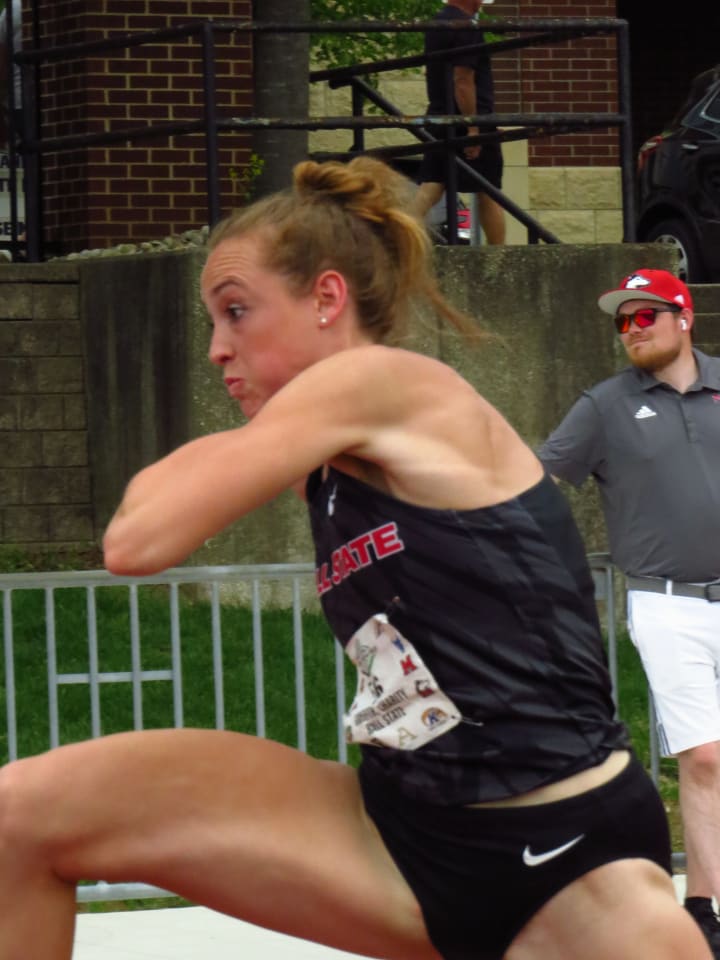 Tomorrow, Regular will see if she can strike up some more speed like she did in the final last season and this time stand atop of the podium as the Mid-American Conference Champion.
On a final note, Regular also had the fourth fastest qualifying round time during this year's indoor season, running 8.58 in the 60-meter hurdles. Gazaway was the leader there as well at 8.49. In the final, Regular placed third at 8.50 behind Gazaway's winning time of 8.41 and Western Michigan's Grace Johnson's runner-up finish of 8.48.
100-Meter Hurdlers Preliminary
1. Angel Gazaway, Eastern Michigan, 13.41 q
2. Jenelle Rogers, Ball State, 13.71 q
3. Christina Wende, Buffalo, 13.76 q
4. Scout Regular, Northern Illinois, 13.78 q
5. Alysse Wade, Eastern Michigan, 13.82 q
6. Adeze Nwokike, Akron, 13.85 q
7. Charity Griffith, Ball State, 13.86 q
8. Jennah Rogers, Ball State, 13.88 q
9. DaMya Barker, Bowling Green, 13.95
10. Kayla Walters, Miami, 13.96
11. Grace Johnson, Western Michigan, 13.99
12. Aquila St Louis, Northern Illinois, 14.01
13. Alexia Moehling, Toledo, 14.05
14. Jade Celestine, Akron, 14.14
15. Morgan Patterson, Bowling Green, 14.17
16. Matilde Carboncini, Kent State, 14.24
17. Peyton Korytkowski, Central Michigan, 14.45
18. Andrea Filote, Kent State, 14.50
19. Mayson Bates, Toledo, 14.69
20. Lydia Lanski, Buffalo, 14.93
Reader insights
Be the first to share your insights about this piece.
Add your insights