TF2K23
Sears, Griffith, Anderson Win on Friday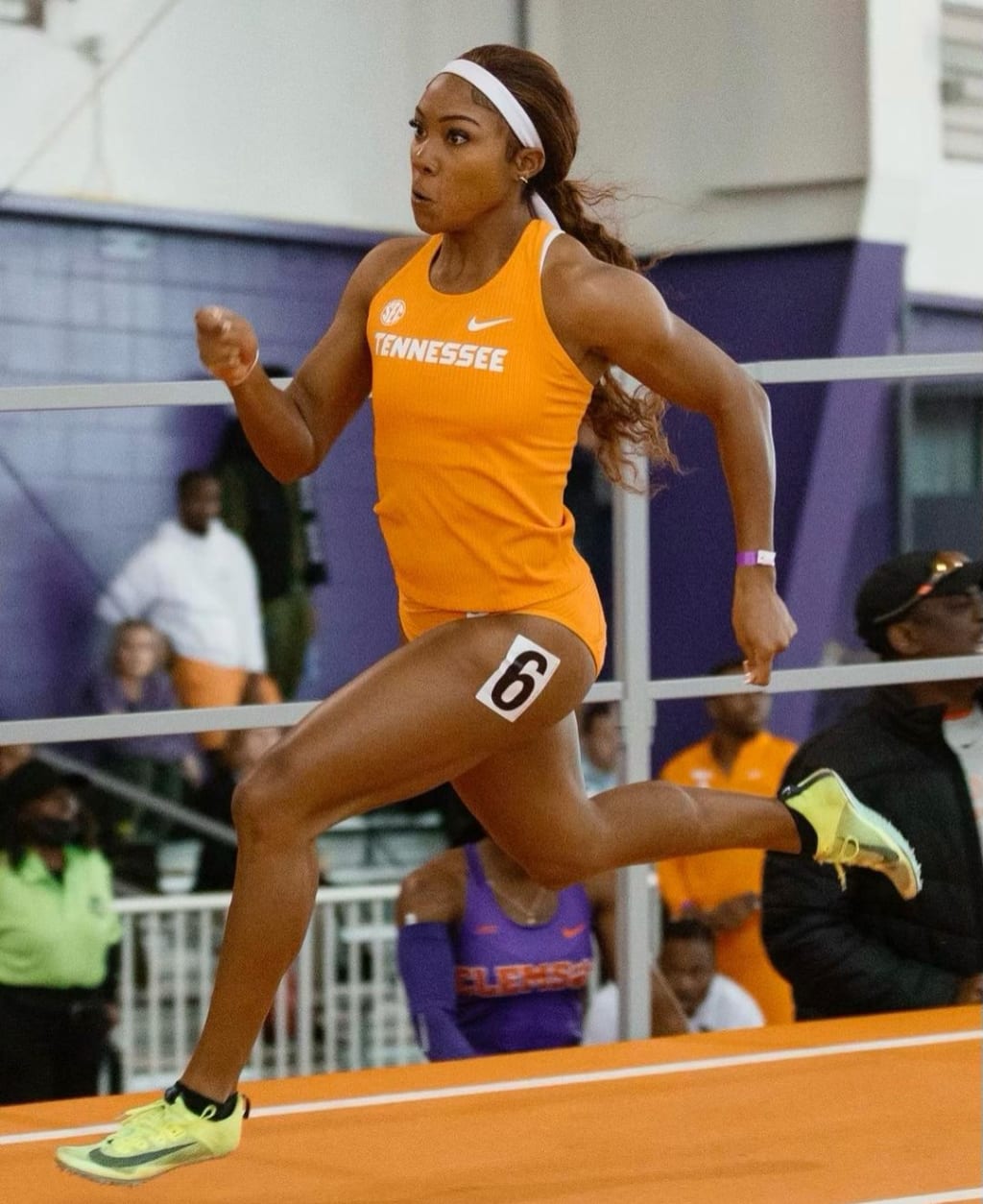 Jacious Sears
New Vol Sears takes 60 meters at Bob Pollock
After an taking the ACC gold in the 60 meters last indoor season as a Miami Hurricane, Tennessee transfer Jacious Sears is off to a great start at her new institution. Sears won the 60 meters at the Bob Pollock Invitational today, hosted by Clemson.
In the preliminary round Sears ran the fastest time of 7.30 in heat four where she outlasted former North Carolina A&T All-American Kamaya Dubose-Epps (7.45), who now competes with Mississippi State. Adidas sprinter Cambrea Sturgis who was also an All-American as well as an NCAA champion in the 100 and 200 meters during her final outdoor season at North Carolina A&T (2021), had the fastest prelim time of 7.29, which she ran in heat five.
The final was stacked as Sears, Sturgis, Dubose-Epps were joined by another former North Carolina A&T NCAA champ Kayla White, who now runs for Nike. The other four sprinters were Sears' teammate, All-American and Olympian Joella Lloyd, Rutgers' Dennisha Page, Alabama's Amari Brown and Clemson's Ockera Myrie.
Sears won the final with a personal best time of 7.17 seconds. Her previous best was a fourth-place finish of 7.20 seconds that she recorded in her Tennessee debut at the Clemson Invite two weekends ago. White placed second with a time of 7.20, while Joella Lloyd was third at 7.21.
Entering into the weekend, only four other sprinters ran faster times in the NCAA this season. Sears will take a crack at winning the 200 meters tommorow. She faces many of the same competitors along with other talents who have earned All-American honors.
Ball State All-American Griffith takes long jump at IU
Ball State's Charity Griffith added another win to her resume, taking the long jump at the Indiana University Relays with a mark of 5.91. The junior from Arlington, Indiana was having a rough day fouling on four of her first five jumps. She went into her final attempt with one good jump of 5.67 meters which would have tied her with Alimot Alowonle of New Orleans for second place. Griffith's teammate Jenelle Rogers took the lead with her fifth jump at 5.70 meters. Griffith stepped up to the runway and hit a winning mark of 5.91 on her sixth and final attempt to win the event. She topped a field of 16 competitors as Rogers (5.88) placed second and Alowonle (5.67) was third.
Last year Griffith was an All-American in the high jump during outdoor season and indoor seasons. She was also an All-American in the pentathlon.
Kansas' Anderson wins at third straight meet
Rylee Anderson of Kansas is looking to continue her All-American ways in 2023 and she has started with dominance.
The four-time NCAA qualifier earned a win at the Bob Timmons Classic on Dec. 3, where she opened the season with a personal best high jump mark of 1.88. She followed that with a victory on Jan. 13 at the KU-KSU-WSU Triangular at 1.84 meters before winning today at the Jayhawk Classic at the same height.
Anderson's opening performance was first in the NCAA going into this weekend. She is ahead of three jumpers who have hit the mark of 1.86. Those athletes are Daniella Anglin of South Dakota, Nyalaam Jok of Minnesota and Jenna Rogers of Nebraska.
Reader insights
Be the first to share your insights about this piece.
Add your insights