TF2K23
Cardinal Classic Day 1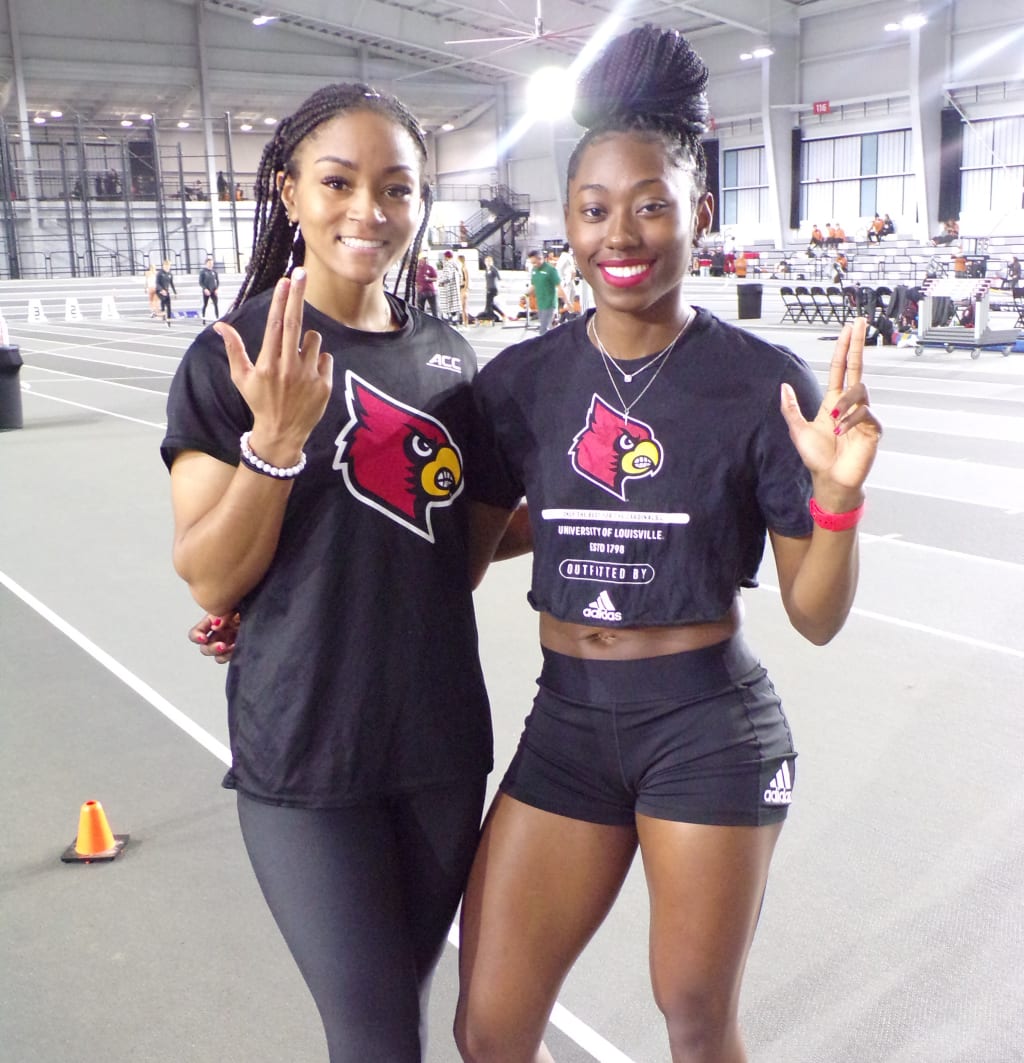 Synclair Savage and Ariel Lawrence
Day one of the Cardinal Classic started with a facility, meet and school record breaking performance by Synclair Savage on Friday, Jan. 13.
The Louisville star hit a mark of 6.44 on her fourth attempt during the long jump competition that saw her edge out unattached Melanie Winters who was the NCAA Division III champion in the long jump at the indoor championship meet in 2016. Winters finished at 6.23, which was her best indoor mark since Feb. 9, 2019, when she landed at 6.25 in a meet at Kent State.
Savage was the outdoor ACC long jump champion last season and earned Honorable Mention All-American honors at the end of the season. During indoor season, the Kennesaw, Georgia native, now in her junior campaign also placed third in the ACC final round of the indoor championships in 2022.
Texas' Michelle Graham placed third at 6.08 at the Carindal Classic, hosted by Louisville. The host school got a top four finish from Ariel Lawrence who landed at 5.97, which was the junior's second-best collegiate mark.
Louisville also got a win from Zoe Yeast in the weight throw during day one of the Cardinal Classic. Her best top was 19.67, which is a career best for the Harrodsburg, Kentucky native. University of Miami senior Hannah Hall was second at 19.09. Hall is coming off of an All-American shot put season as she qualified for and competed in the final round of the NCAA Championships during indoor season in 2022.
The Cardinals swept the field events on day one as senior Aliyah Welter dominated the pole vault competition at 4.27. Her teammates, sophomore Lily Fleetwood and Carly Pujol placed second and third respectively in the field of 10 competitors. Welter of Monticello, Illinois is a highly decorated vaulter. She was an Honorable Mention All-American during outdoor season in 2022. In 2021 she was second team All-American during both indoor and outdoor seasons.
On the track the Texas Longhorns took two of the top three spots in the 60 meters as Ezinne Abba and Kennedy Simon were first and third respectively. Abba is coming off of a second-team All-American outdoor season in the 100 meters while at California. The talented senior transfer was a silver medalist at the PAC-12 championships in both the 100 and 200 meters.
At the Cardinal Classic in her debut for Texas Abba ran her fastest career time of 7.28 which was also a facility record as well. Simon made her second appearance in Louisville, Kentucky for Texas this season. She earned a win in the 500 meters at the Commonwealth College Opener on Dec. 3. The NCAA runner-up in the 400 meters and 1,600-meter relay during indoor season was third in the 60 meters final at 7.50 as she placed behind Louisville sophomore Taylor Herbert's time of 7.38.
Cincinnati got a couple of wins as well as Rylee Penn took the mile at 4:42.36 ahead of Valery Tobias at Texas who was second at 4:52.66. Hurdler Victoria Abunaw closed the action on day one with a finish of 8.39 in the 60-meter hurdles.
Just before Abunaw's victory, Miami took its lone day one win as All-American Moriah Oliveira won the 400 meters with a facility record run of 53.48. She edged out her talented freshman teammate Sanaa Hebron who recorded a time of 53.87 during her first collegiate race. Oliveira, a junior from Fort Myers, Florida, was the ACC champ in the 400 meters during both indoor and outdoor season in 2022.
Reader insights
Be the first to share your insights about this piece.
Add your insights